Do you know how to dice an onion the easy way? This method for dicing an onion is faster and easier than the traditional way, and it'll make you a pro in the kitchen any time a recipe calls for diced onion.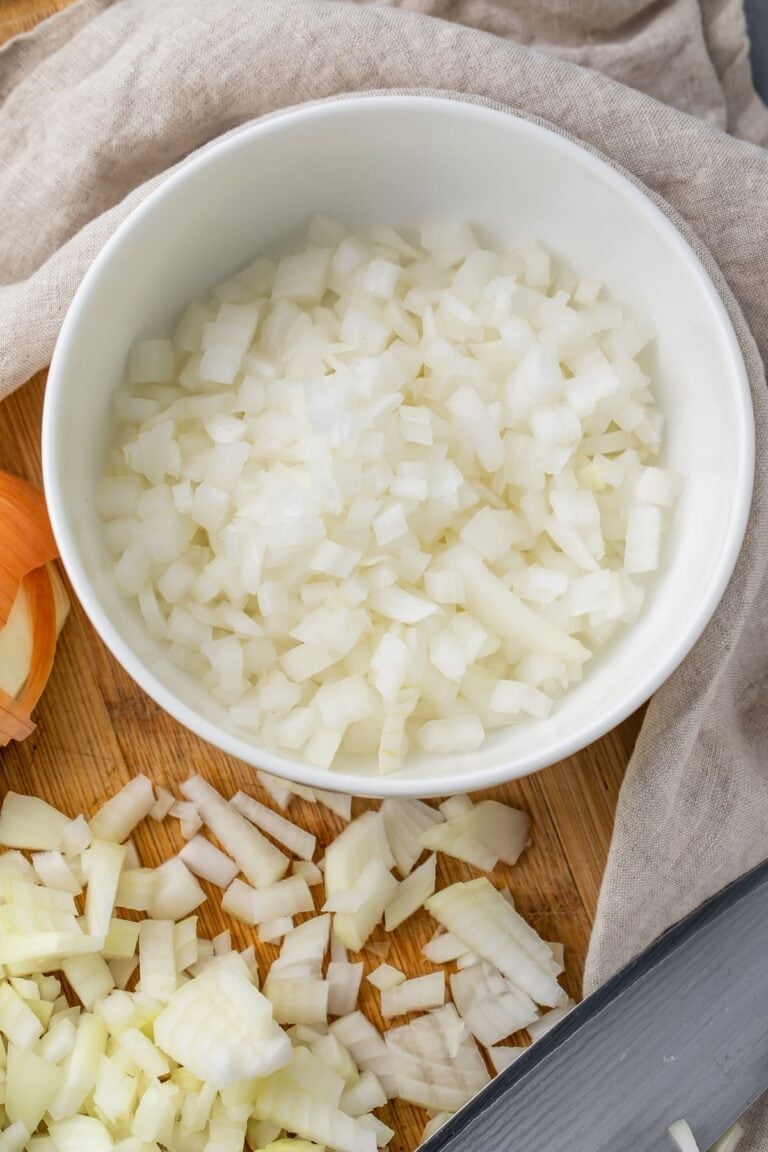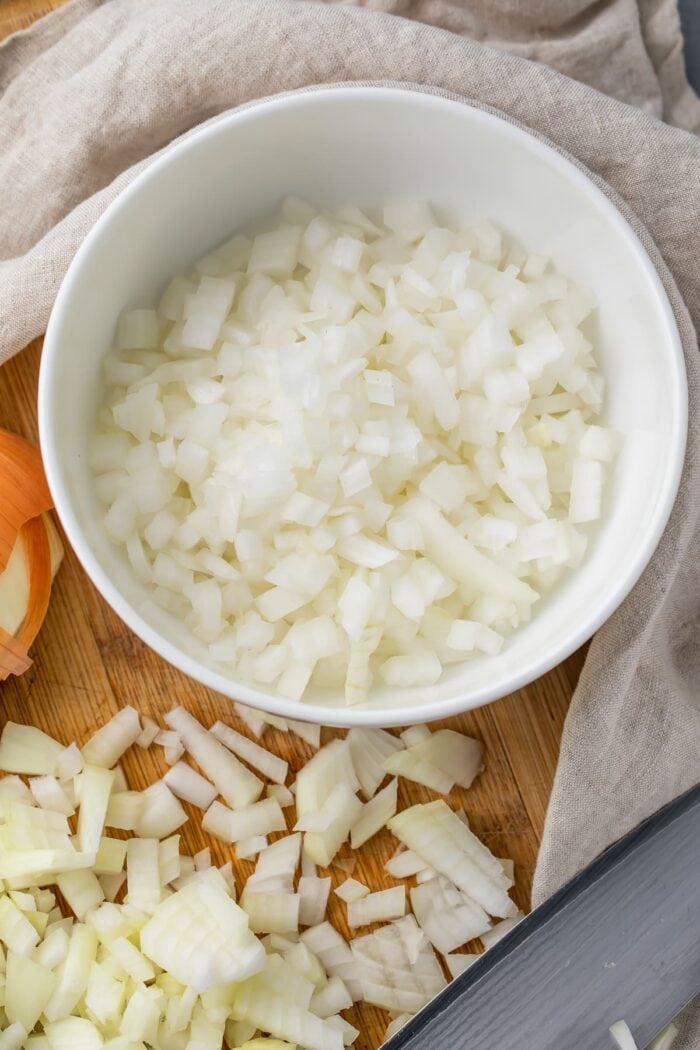 Maybe you already know how to dice an onion, but if not, don't worry. We all started somewhere! Whether you're mastering a new skill today or just looking for a refresher, this post will show you how to dice an onion easily, quickly, and safely!

We've included a handy how-to video, plus step-by-step instructions and photos in the recipe card at the end of this post. Before you scroll all the way there, though, be sure to read through the Chef's Tips section for good-to-know tidbits for dicing onions!
Why You Should Know How to Dice an Onion
It's undeniable. Knowing how to dice an onion easily, quickly, and safely is a pretty handy kitchen skill to have. There are so many times and recipes when you desperately need fine, even chunks of onion. Sure, you could probably figure it out as you go, but why make things take longer than necessary? This foolproof method makes dicing onions SUPER easy.
Onions fit in a variety of diets, cuisines, and recipes. On their own, onions are naturally paleo, Whole30-compliant, low carb, keto, gluten free, dairy free, refined sugar free, vegetarian, and vegan. Just be careful what you pair them with!
I'm not joking when I say diced onions are super versatile! They complement an incredible number of different flavors. You can eat them raw in salads or on hot dogs, sauté or caramelize them, bake them into casseroles or egg cups, or toss them in the Instant Pot with other ingredients. Since they show up in so many recipes, I'd say it's probably a good idea to know how to cut them up! Being able to quickly dice an onion will make so many recipes that much easier for you.
You can cut them in advance to make your recipe prep even easier. Diced onions will keep in the refrigerator for 7-10 days. Just make sure to store them in an airtight container – mostly so they'll stay fresh and crisp, but also so they won't make the rest of the fridge smell like onion.
What You'll Need to Dice an Onion Easily
Onion – Any type, any size, any number. This method works for them all!

Knife – You'll want a very sharp, large kitchen knife. Smaller knives will work but they'll make the process take longer and it'll be a little more involved. Even if you think your knife is pretty sharp, sharpening it a little right before slicing into your onion will only make your life easier.

Cutting Board – If you're going to dice multiple onions, or even just one larger onion, make sure to use a big enough cutting board. If your board tends to slide around when you're cutting, place a layer of paper towels or a kitchen towel underneath it.
Chop vs. Dice vs. Mince – What's the Difference?
Whoever said "size doesn't matter" wasn't talking about how to dice an onion. The key difference between chopped onion, diced onion, and minced onion is the size of the chunks!

The terms are used interchangeably a lot, especially "chop" and "dice", but they technically mean different things. Chopped onion will be the largest of the three sizes, followed by diced onion, with tiny minced onion bringing up the rear. You might see "roughly chopped" or "finely diced" in recipe notes. That just tells you how exact you need to be with your cuts. For rough chops, there's no real need to be precise or uniform.

Also, if you see "small chop" in a recipe, that's the same as "diced".

So why am I only focusing on how to dice an onion in this post? Well, the process is the same regardless of the final cut you need. What will affect the size of your onion pieces, though, is the width of the slices you cut in Step 4 below. You'll want ½-inch wide slices for "diced" onion, but ¼-inch for "minced" or ¾-inch to 1-inch for "chopped".
Chef's Tips
Knowing how to dice an onion easily is great, but you need to do it safely, too. Careful with your fingers! You don't want to catch a fingertip under the knife blade. To protect your fingertips, dome your hand that's holding the onion. This keeps your fingers tucked out of the way, making it much less likely you'll accidentally cut one.
There's no crying in baseball cooking, so how do you dice an onion without your eyes welling up with tears? Easy! Pop the onion in the freezer for 15-20 minutes. Your fingers will get cold but your eyes will stay dry! You could also store your onions in the fridge until you're ready to chop them.
Don't touch your face (especially your eyes!) after you dice your onion. Not before washing your hands thoroughly, at least! The chemical that makes your eyes tear up when you cut an onion will be on your hands, and if releasing that chemical into the air is enough to make your eyes water, you can just imagine how getting it directly in your eye will feel. If you have any cuts on your fingers or hands, wear food-safe gloves while handling the onion.
You Know How to Dice an Onion – Now How Do You Use It?
After this post, you'll be a pro when it comes to dicing onions. Never again will you look at a recipe and panic over the prep work! Diced onions are perfect both in and on a variety of dishes, like…
Talk about a versatile ingredient! Of course, that's by no means an exhaustive list of recipes that can use diced onions… it's just a few of my favorites. Once you get the hang of how to dice an onion, you'll want to use diced onions on everything!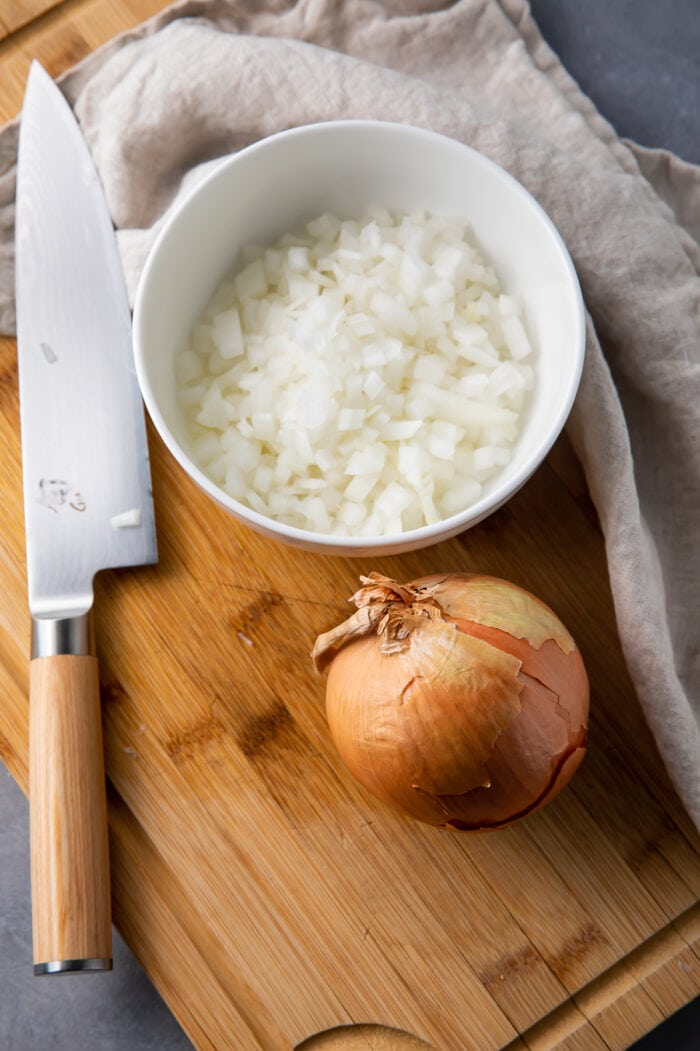 Other How To's You'll Want to Know
Hey – you've made it this far, and now we're best friends! If you make this recipe, I'd love for you to give it a star rating ★ below. Make sure you follow me on Instagram, Pinterest, and Facebook, too!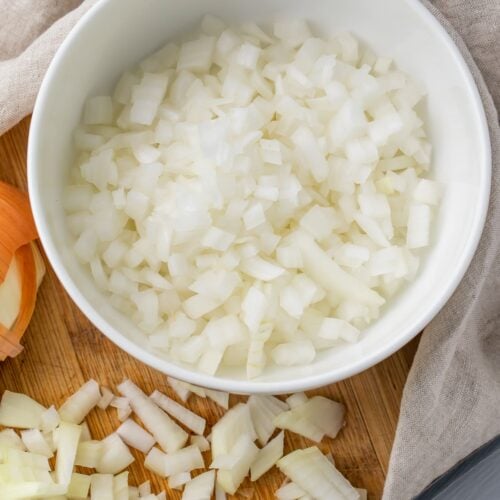 How to Dice an Onion… The Easy Way!
Do you know how to dice an onion the easy way? This method for dicing an onion is faster and easier than the traditional way, and it'll make you a pro in the kitchen any time a recipe calls for diced onion.
GO PREMIUM – AD FREE + MEAL PLANS
Instructions
Peel away paper layer of onion, then use sharp kitchen knife to cut away onion top (stem end) and bottom (root end).

Place onion upright on cutting board, standing it on one of its now-flat ends. Slice onion into two equal halves, cutting down from top to bottom.

Peel away outer layer of onion halves.

Lay peeled onion half flat-side down on cutting board with one curved edge facing you. Make vertical slices along onion, about ½-inch apart. Slices should only go to approximately ¾- to 1-inch from edge of onion furthest from you, to keep it attached.

Rotate onion so one flat end is facing toward you, with attached end opposite your cutting hand. Following natural curve of onion, make angled cuts along onion's veins, roughly ½-inch apart. Cut completely through to center of onion, working your way around onion like a fan.

When you reach attached side of onion, make ½-inch wide slices in remaining piece of onion, positioning knife parallel to edge of onion.

Rotate slices onto their sides and make cuts every ½-inch to dice remaining onion.

Repeat process with other half of onion until completely diced. Break apart any pieces with multiple layers. Refrigerate diced onion in airtight container or use immediately.
Notes
Onion: This method works for any size, any type, and any number of onions.
Chopped vs. Diced vs. Minced: This method also works whether you need diced onions, chopped onions, or minced onions.  The difference is all in Step 4. You'll want ½-inch wide slices for "diced" onion, but ¼-inch for "minced" or ¾-inch to 1-inch for "chopped".
Storage: Refrigerate any leftover diced onion in an airtight container up to 10 days.
Recipe yields approximately 8 servings. Actual number of servings will depend on your preferred portion sizes.
Nutritional values shown are general guidelines and reflect information for 1 serving. Actual macros may vary slightly depending on specific brands and types of ingredients used.
To determine the weight of one serving, prepare the recipe as instructed. Weigh the finished recipe, then divide the weight of the finished recipe (not including the weight of the container the food is in) by 8. Result will be the weight of one serving.
Nutrition
Serving:
1
serving out of 8
Calories:
6
kcal
Carbohydrates:
1
g
Protein:
1
g
Fat:
1
g
Saturated Fat:
1
g
Polyunsaturated Fat:
1
g
Monounsaturated Fat:
1
g
Sodium:
1
mg
Potassium:
20
mg
Fiber:
1
g
Sugar:
1
g
Vitamin A:
1
IU
Vitamin C:
1
mg
Calcium:
3
mg
Iron:
1
mg
If you enjoyed this recipe, be sure to check out 40 Aprons Premium! 40 Aprons Premium offers exclusive recipes, monthly meal plans, grocery lists, and more – all completely ad free!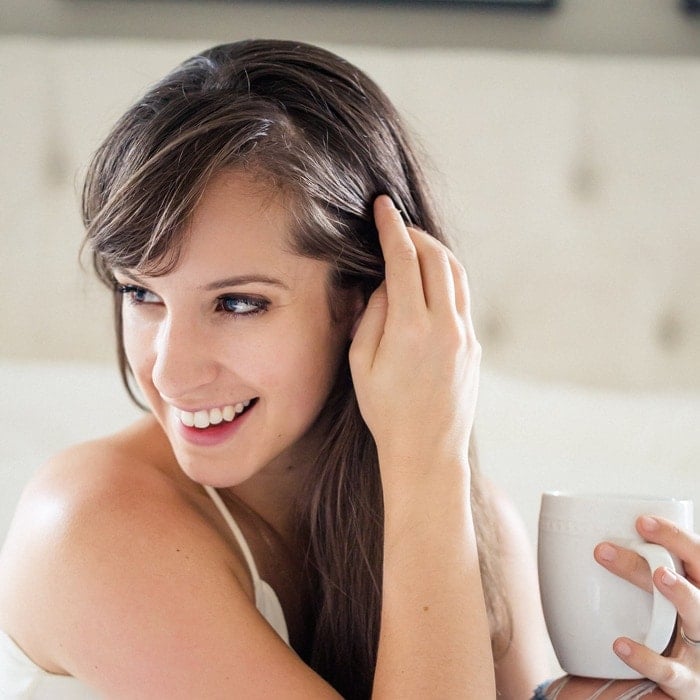 Cheryl Malik is the recipe developer, writer, and photographer behind the healthy, flavorful, family friendly recipes at 40 Aprons. She's been a blogger for 10+ years and is known for her delicious recipes and detailed recipe instructions. Cheryl is a mom of three who lives in Memphis, TN.