40 Aprons Premium

Posted: 02/25/21 Updated: 04/30/21
We're so excited to finally introduce you to 40 Aprons Premium – a new way to experience your favorite 40 Aprons recipes, meal plans, and so much more! If you've been wondering what that new "Premium Membership (Ad Free)" button at the top of our homepage is all about, then this post's for you!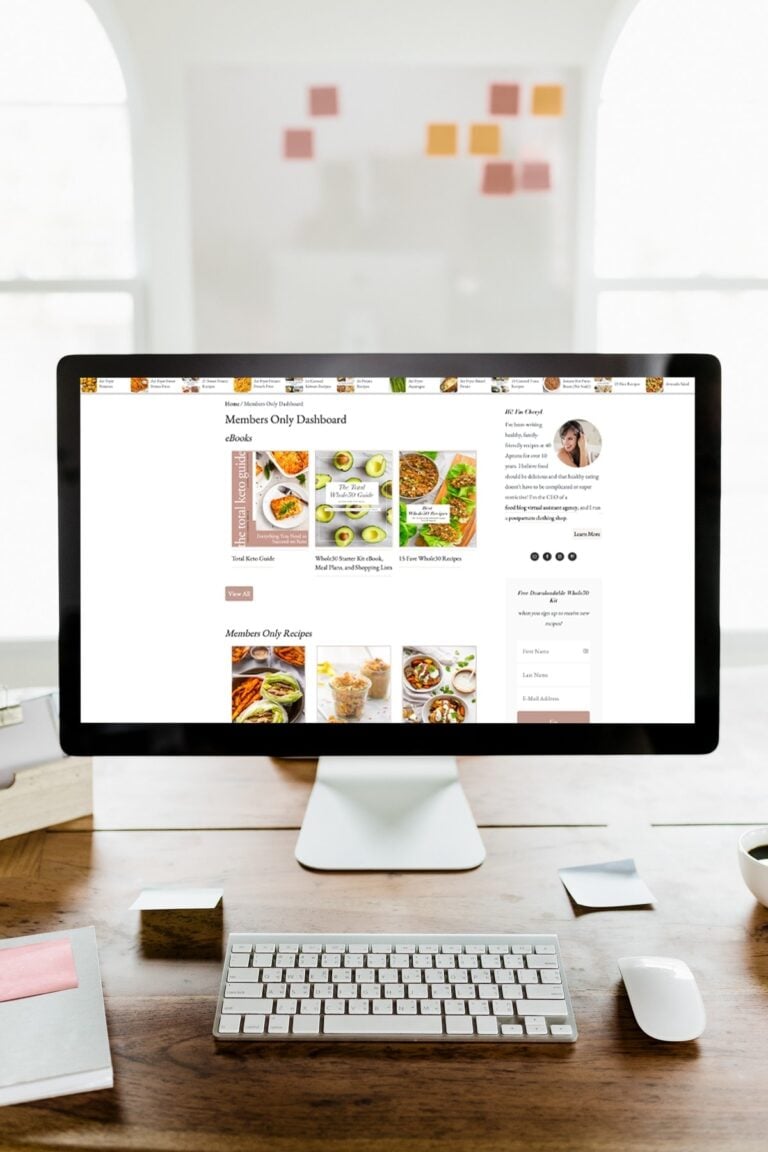 What is 40 Aprons Premium?
40 Aprons Premium is an exclusive 40 Aprons experience, full of special resources specifically created with our members in mind.

The internet is great, but there's so much information out there these days that it can be hard to keep up. Conflicting tips & tricks, rules that don't seem to make sense, untested recipes that don't work at all, outdated practices… sifting through everything can be overwhelming and frustrating. Plus, who has time for that?!
Is 40 Aprons Going Away?
No! The traditional 40 Aprons that you know and love will still be available! We're adding new content every weekday, and right now we're putting out more recipes and articles than ever before!

All of our exclusive 40 Aprons Premium content will be available in addition to our regular 40 Aprons content, not instead of!
What Does 40 Aprons Premium Include?
We have so much exciting content planned for our 40 Aprons Premium members! We don't want to reveal everything all at once, but here are a few of the things you can expect from your 40 Aprons Premium membership.

As we add more content, it will be available to Premium members right away!
In-Depth eBooks
In addition to our existing eBooks, all-new eBooks covering a variety of topics will be available to you regularly, at no additional charge! These one-stop resources pack in as much information as possible by covering the basics, highlighting must-haves, tackling frequently asked questions, and walking you through some of our favorite meals.

The 40 Aprons eBook library includes…
Eating Healthy on a Budget
The Total Guide to the Whole30
The Total Keto Guide
15 Favorite Whole30 Recipes
15 Pantry Staple Recipes
The Complete and Total Guide to Thanksgiving
Healthy and Happy at Home
Whole Body, Whole Mind Challenge
Comprehensive Monthly Meal Plans
Complimentary monthly meal plans will be included in your 40 Aprons Premium membership! Each meal plan is broken down into distinct weeks for easy planning, and the convenient-to-use shopping list rounds up all the ingredients you'll need along the way. Use them as a strict plan or a loose guideline!

We provide meal plans and shopping lists for a variety of needs, including (but not limited to)…
Whole30
Paleo
Keto
Vegan
Eating Healthy at Home
Members-Only Recipes
Specially developed member-exclusive recipes will be offered regularly! These recipes have been developed specifically with our 40 Aprons Premium members in mind.

Enjoy exclusive recipes like…
Bacon Ranch Chicken Salad
Whole30 Crockpot Taco Soup
Paleo Chimichurri Steak Nachos
Matcha Energy Balls
Italian Wedding Soup
Our "Sustainable Clean Eating Course"
We've created an easy-to-follow course with all the ins-and-outs you need to develop and maintain a clean eating lifestyle.

Instead of just laying out the "dos" and "don'ts", our course focuses on teaching you the knowledge you need to be successful long-term, plus there are also convenient meal plans and shopping lists to get you started.

Through this course, you'll learn…
What clean eating is
Why you should eat clean
How to eat clean long-term
Various approaches to clean eating
Which clean eating approach will work best for you
Exclusive Ad-Free Experience
If you've ever scrolled through a post, looking for the recipe, only to end up frustrated by ads – WE HEAR YOU! 40 Aprons Premium will unlock an exclusive AD-FREE experience across all of our new and existing content.

We want you to have the most enjoyable experience on the 40 Aprons website that you can possibly have, and we know ads can detract from that. Your membership allows us to offer our recipes to you completely ad-free.
What are the benefits to an ad-free recipe post?
No video ads. Gone are the days of needing to close extra windows or ignore distracting videos to make your favorite recipes.

Pages load even more quickly. This is especially important if you're browsing our site from a mobile device or tablet.

Easier to read. Content won't be broken up or covered by less-than-ideal ad placement.
Is 40 Aprons Premium Expensive?
Not at all! You'll get all of this amazing new content for only $3.99 per month – less than the price of one coffee-shop latte! There's no contracts or anything, either, so you can cancel anytime you like, for any reason.
Your Support Makes 40 Aprons Possible!
You may not know it, but producing a typical recipe available on 40 Aprons averages over 12 hours from beginning to end. We create, test, and tweak all of our recipes, plus there's planning, shopping, research, photography, videography, copywriting, copy editing, optimization, and so much more that goes into each and every recipe and article. And then we do it all again for our sister site, Easy Healthy Recipes!

Your support allows us to continue doing what we love – bringing you delicious, healthy, easy-to-make recipes.