How Much Turkey Per Person?

Posted: 11/02/21 Updated: 02/02/23
Though the sides are really the stars of a Thanksgiving meal, the table isn't complete without a quintessential Thanksgiving turkey. Figuring out just how much turkey you'll need per person is pretty important, especially if you're feeding a lot of people or just hoping for leftovers. With this simple formula, you'll never have to debate which size bird to buy ever again!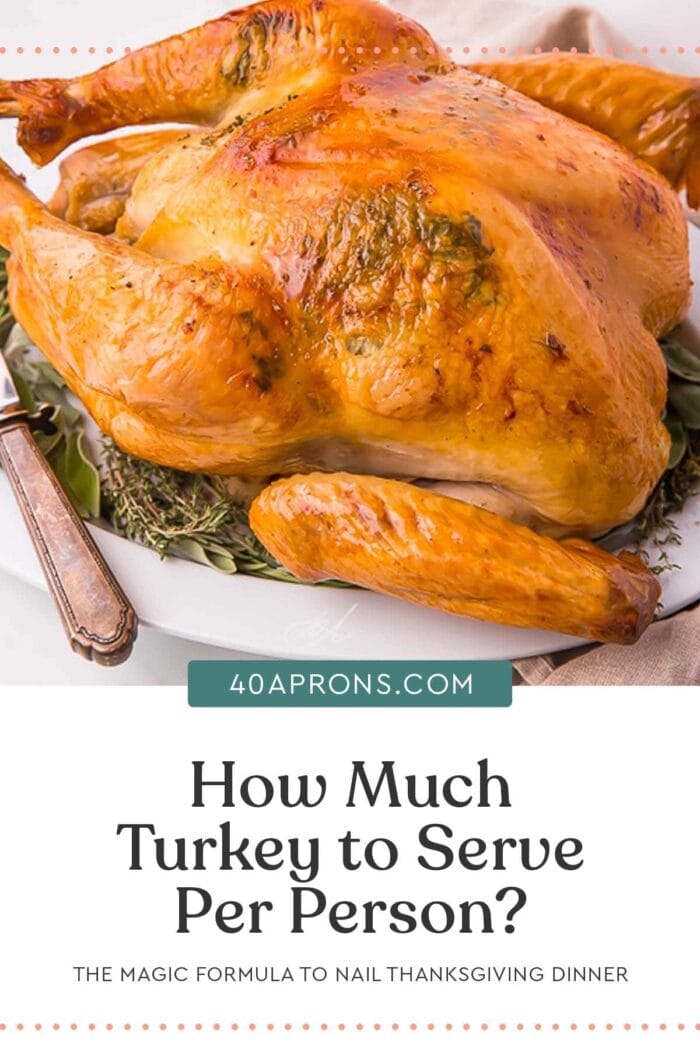 Choosing the Right Size
The most important thing to keep in mind is that, if you're buying a whole bird, you're buying way more than just the turkey meat you'll eat. There's bones and cartilage and cuts that, frankly, no one will want to eat. So don't let the weight fool you. It may seem like a lot, but generally half the weight will be inedible, and you'll lose a little of the weight during cooking, too.
The Magic Formula
The general rule of thumb is…

1 person = 1 pound of turkey

If you want to ensure you've got leftovers for sandwiches or Thanksgiving muffins or Leftover Turkey Tortilla Soup, aim for 1 ½ pounds of turkey per person. If you really want to play it safe, or if you just really love leftovers, you can even plan for 2 pounds per person.

Again, just because you're buying 1-1 ½ pounds per person doesn't mean each of your guests will actually be eating 1-1 ½ pounds of meat. It's more about factoring in all that extra stuff they can't eat, so you've definitely got enough to go around when all is said and done.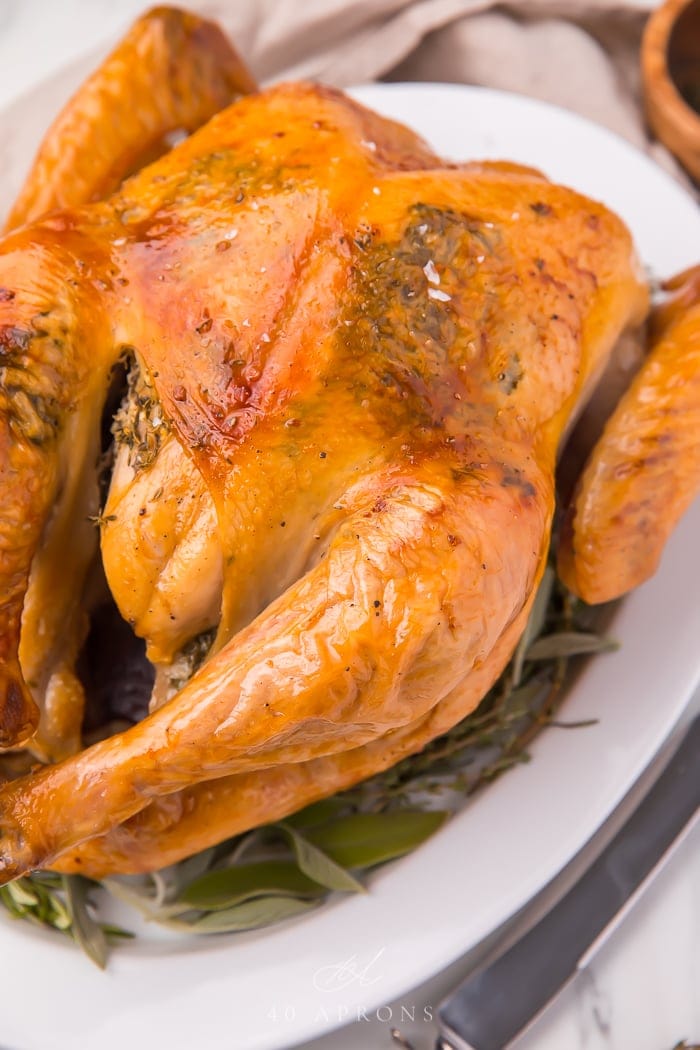 Quick Conversions
For X number of people, purchase a whole bone-in turkey that weighs Y pounds.
For No Leftovers
4 people = 4 pounds
5 people = 5 pounds
6 people = 6 pounds
8 people = 8 pounds
10 people = 10 pounds
12 people = 12 pounds
16 people = 16 pounds
To Have Leftovers
4 people = 6 pounds
5 people = 7.5 pounds
6 people = 9 pounds
8 people = 12 pounds
10 people = 15 pounds
12 people = 18 pounds
16 people = 24 pounds
Note: If you need more than 15 pounds, I recommend cooking 2 smaller turkeys, or a medium whole turkey + a bone-in breast. Larger turkeys are just harder to cook evenly. If you're not trying to recreate that dinner scene from Christmas Vacation, avoid getting a giant bird.
How to Make Your Turkey Go Further
If you're still feeling iffy about how much you'll be serving, there are some ways to make it go a little further.

First of all, Thanksgiving is all about food. There's usually a ton of it, and most of the dishes are incredibly rich and savory and sweet and (most importantly) filling. While a Thanksgiving turkey is iconic, it's really the side dishes that shine. If you serve enough sides, most of your guests will fill their plate with those, leaving little real estate (and stomach space) to load up on turkey. Plan lots of veggies (green beans, asparagus, butternut squash, mashed potatoes, etc.), casseroles (Sweet Potato Soufflé, Butternut Squash Casserole, Poppy Seed Chicken Casserole, Cornbread Casserole, etc.), cranberry sauce, spinach salad with apples and cranberries, thick gravy, mac and cheese, and of course, stuffing. OH, and the rolls! Don't forget the rolls (or gluten free cornbread).

There's also no rule that you can only serve one type of protein at Thanksgiving dinner! Roast a whole chicken or air fry some chicken breasts. Serve sausage balls or crab dip as an appetizer. Offer flank steak or filet mignon or prime rib as a red meat alternative.

This is one occasion where you really can't have too many options!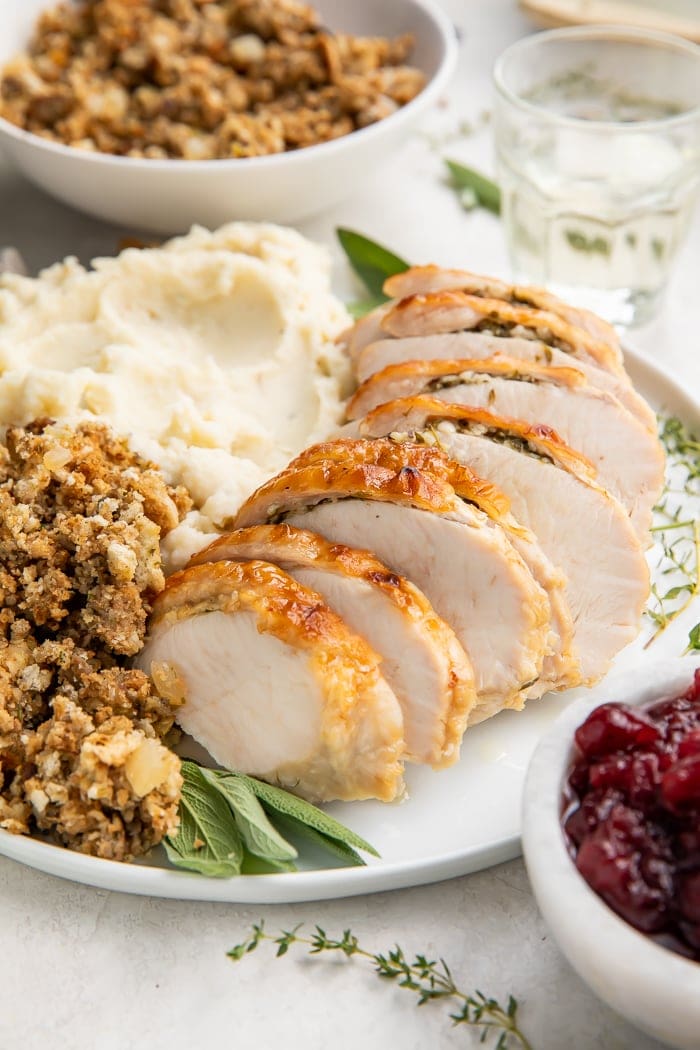 Our Favorite Turkey Recipes