Best Ever Easy Roast Chicken (With Gravy + Whole30, Paleo Options)

Posted: 01/19/19 Updated: 05/15/22
This simple and quick recipe for roast chicken is the best ever: crispy, beautifully browned skin, tender meat, and savory gravy. It's crazy easy and perfect to have in your repertoire. With options for both a regular gravy and a Whole30, paleo, gluten-free gravy.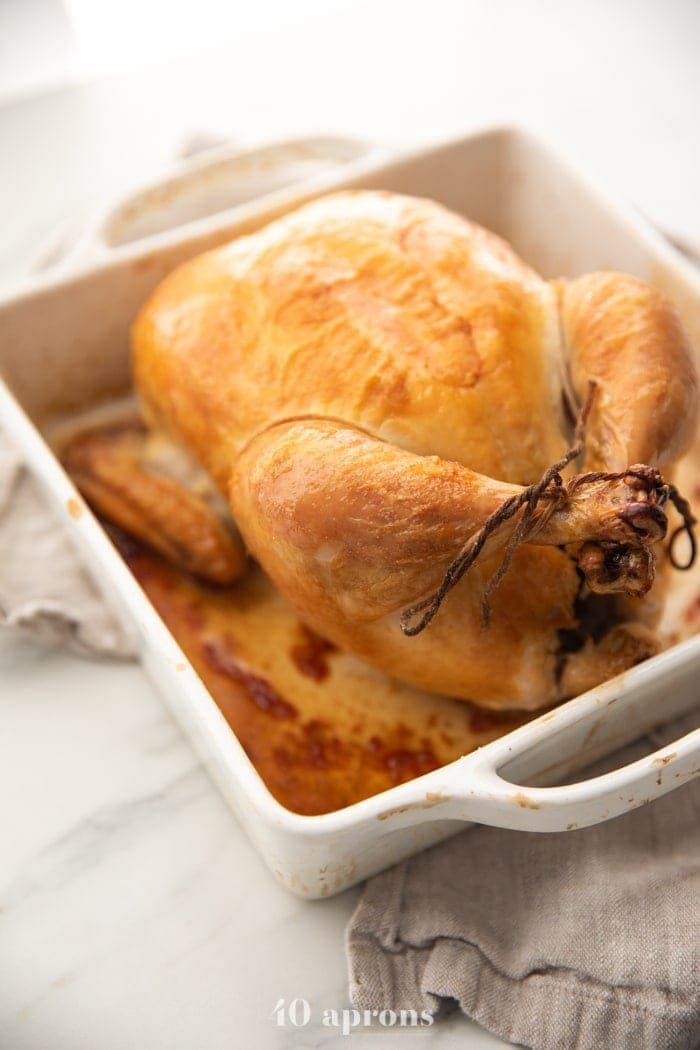 Why You'll Love This Recipe
There's not much more comforting and homey to me than roasting a whole chicken in the oven. The rich, savory smells that fill the kitchen, the promise of crispy skin, tender meat, and gravy to pour over the whole thing? I just can't get enough.
On top of that, roasting a chicken is an incredibly easy dinner to throw together any time you have a whole chicken on hand, and it's the perfect way to end up with some cooked chicken for other recipes or lunches afterward.
In fact, we tend to make a whole roast chicken each week! We eat the chicken as is the first night, then I strip the chicken of the cooked meat and save it for another recipe a day or two later. Finally, I use the bones in my Instant Pot bone broth recipe – talk about efficiency!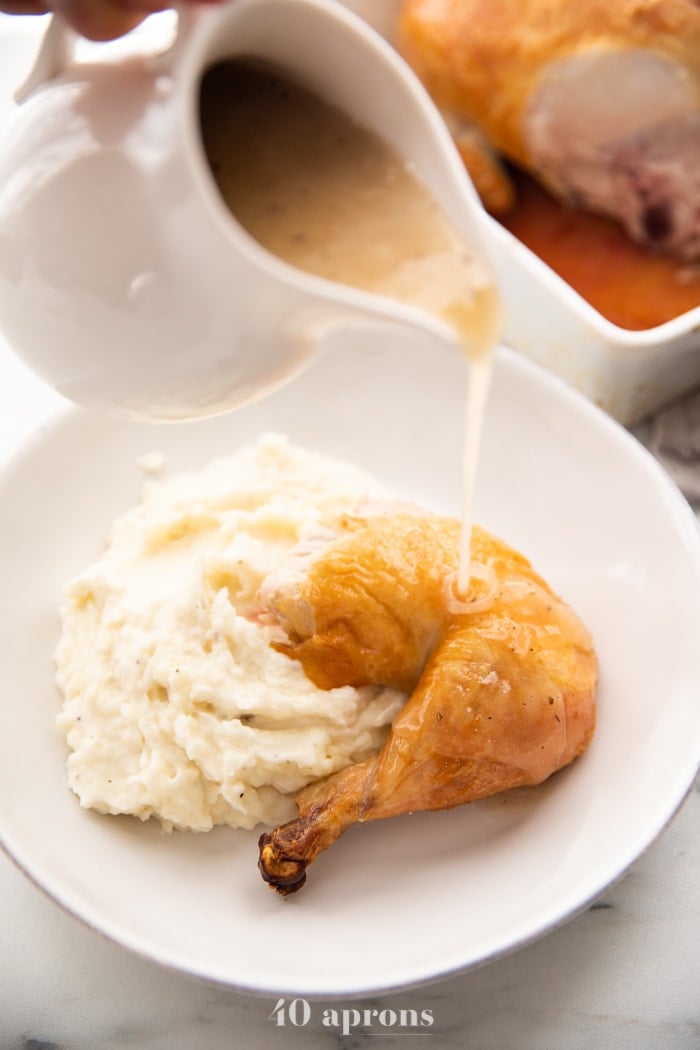 What Makes It So Good
I've made dozens of roast chicken recipes and found that they were either:
too complicated
required too many ingredients
took too much time
produced dry chicken
didn't produce super crispy skin
Finally, I threw a chicken in the oven one day and left it until it "felt right," which, I kid you not, is how I cook when I'm not writing healthy recipes for you! I kept an eye on the time, just in case, and what came out of the oven was absolutely the best roast chicken ever. It:
was insanely easy to make
super quick to throw together
roasted quickly
had the crispiest skin ever
produced a beautifully all-over golden brown chicken
had the most tender meat
This is absolutely the best roast chicken I've made at home, and it's shockingly easy, too. It requires only a few steps and is done in under an hour. Did I mention it's insanely easy, produces super crispy skin, and tender meat?! Obsession.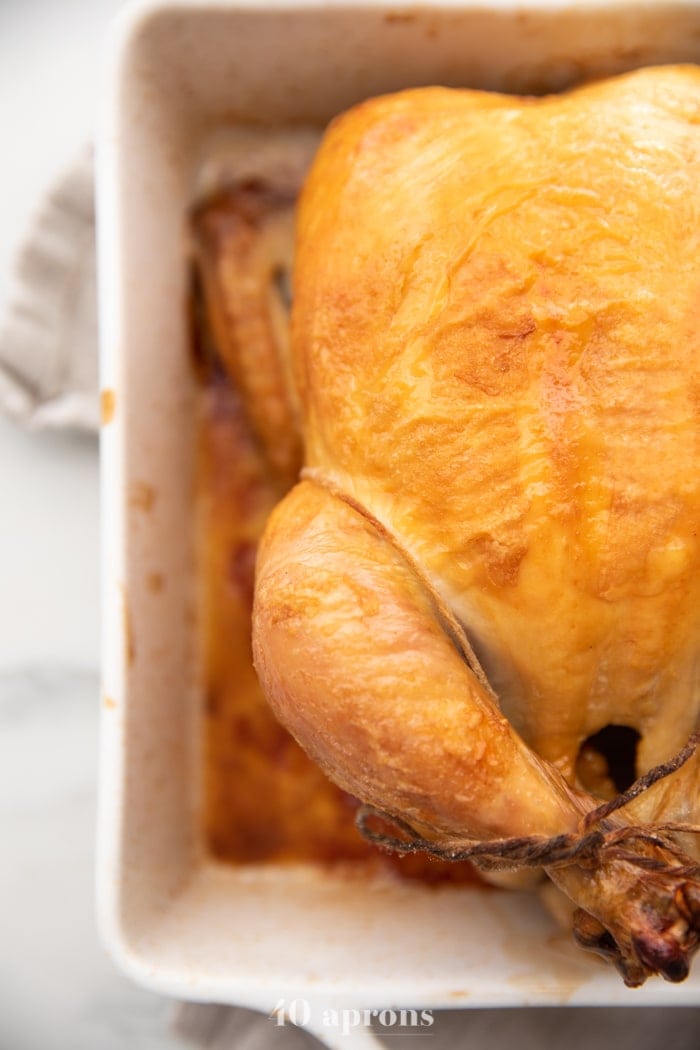 How To Make It
It's actually super simple, but there is one thing you need to do to make it the best ever. Truss it! More on that below.
Once you truss the chicken in your cast-iron skillet or roasting pan, you simply pour a good amount of a neutral oil with a high smoke point on top and cover it with salt. Pop it in the oven and roast for 50 minutes. Pull the best roast chicken out of the oven and transfer it to a cutting board, letting it rest for 5 minutes before carving.
If you make gravy to go with your best ever roast chicken, now's the time! After the gravy is made, simply carve the chicken and serve. Perfection!
This best ever roast chicken is seriously so easy. After making it a couple times, you won't even need a recipe, I promise!
Don't Forget to Truss!
Trussing is a technique used to tie the legs and wings of a bird (typically chicken or turkey) to the body to ensure even cooking. Not only that, it prevents the cavity from being too open and wide, which allows too much hot air to circulate inside of it. Trussing produces super moist chicken by creating a more even shape and preventing the air cavity from drying out the meat. It's an absolute must-know technique for any home chef in my opinion.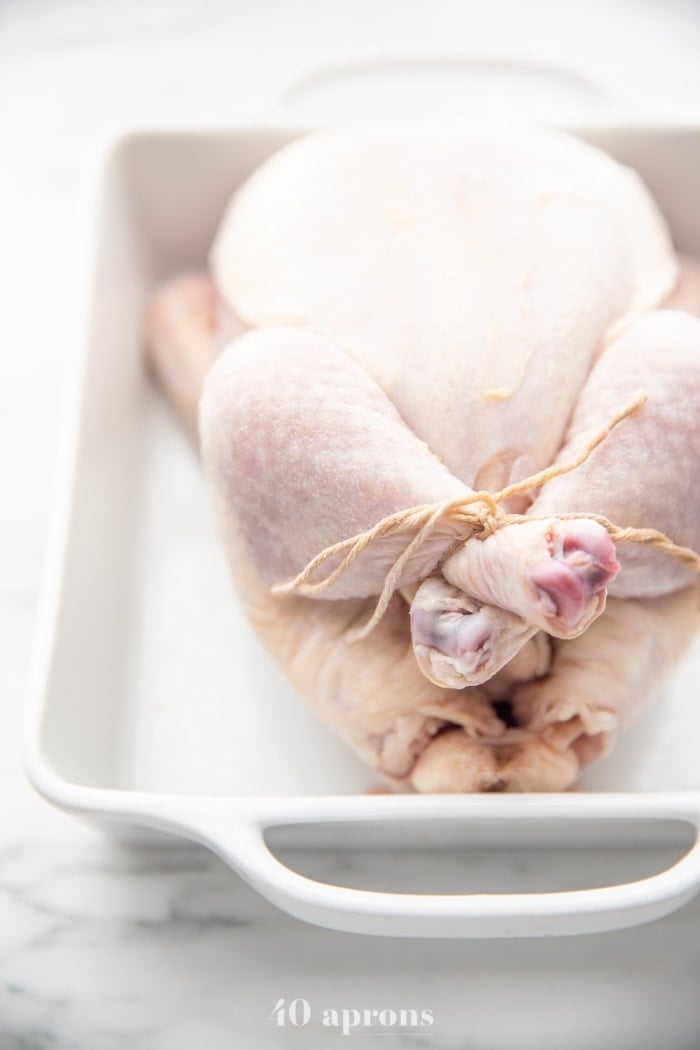 There are actually several ways to truss a chicken, but my method is super easy. Long story short, I always forget which string goes where with other, more complicated techniques, so I've Here's how you do it:
Cut a piece of kitchen string about 1 meter long, or about 3 feet. Place it centered in your cast iron skillet or roasting pan, about 2/3 from the top. Place your chicken centered on top. The string should hit right above where the top of the leg is on the chicken.
Pull the string up, over, and down the legs. Cross the strings over each other then pull each side over and around the end of the legs, essentially crossing the legs over each other. The legs should be tied together tightly. Tie the string together at the top of the crossed legs in a bow.
Now work on the wings: You can truss the wings to the body of the chicken by starting the string up along the middle of the wings and simply pinning the wings to the body when you bring it up and around the body and over the legs. However, I prefer the following method of working on the wings:
I take the wing tip and pull it up and back, pinning it behind the body of the turkey. Repeat with the other side. Your own arms will feel uncomfortable out of sympathy for the chicken, and that's when you know it's right. It's super simple, though, really: simply push the wing tips back behind the body and tuck them there.
Ronny from Primal Gourmet has a super helpful video showing his very similar method for trussing a chicken. Check it out if you need a visual by clicking here!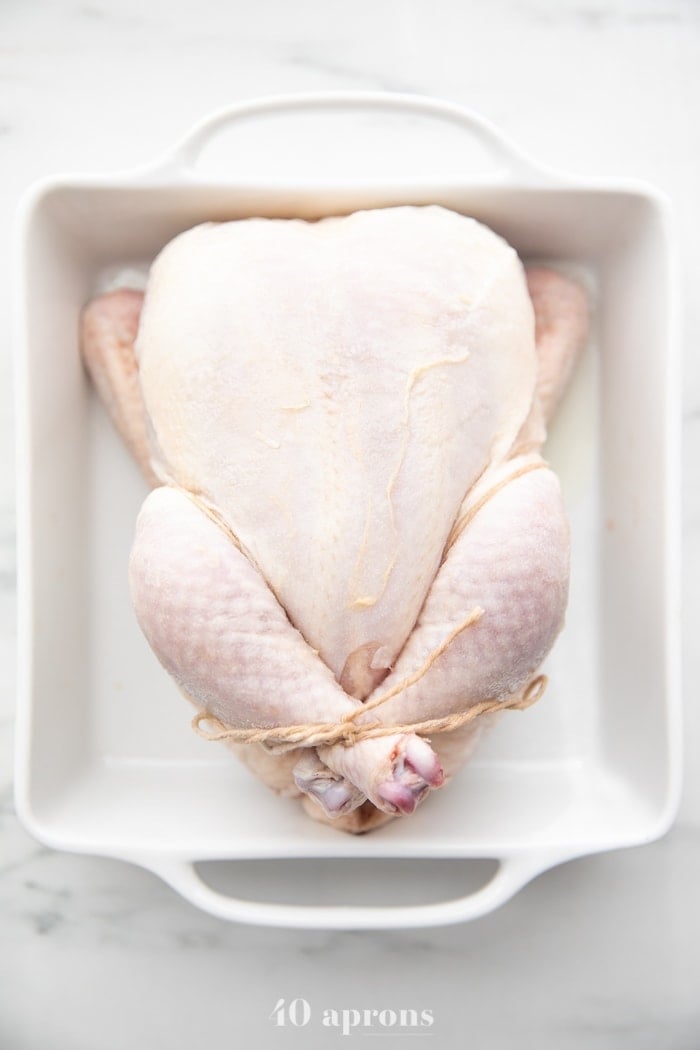 How do you make chicken crispy in the oven?
There are three things that help you make chicken crispy in the oven:
A dry environment
Cooking at the right temperature
Oil on the skin
Luckily, this best ever easy roast chicken recipe uses all of those things to make beautifully crispy skin!
How do you make tender chicken in the oven?
Keeping a roast chicken moist comes down to a couple things:
Not overcooking your chicken
Cooking it at the right temperature
Cooking your chicken at the right temperature simply means cooking it at a temperature high enough to crisp the skin and cook the chicken quickly, without cooking it at so high a temperature that the meat on the outside towards the skin would overcook.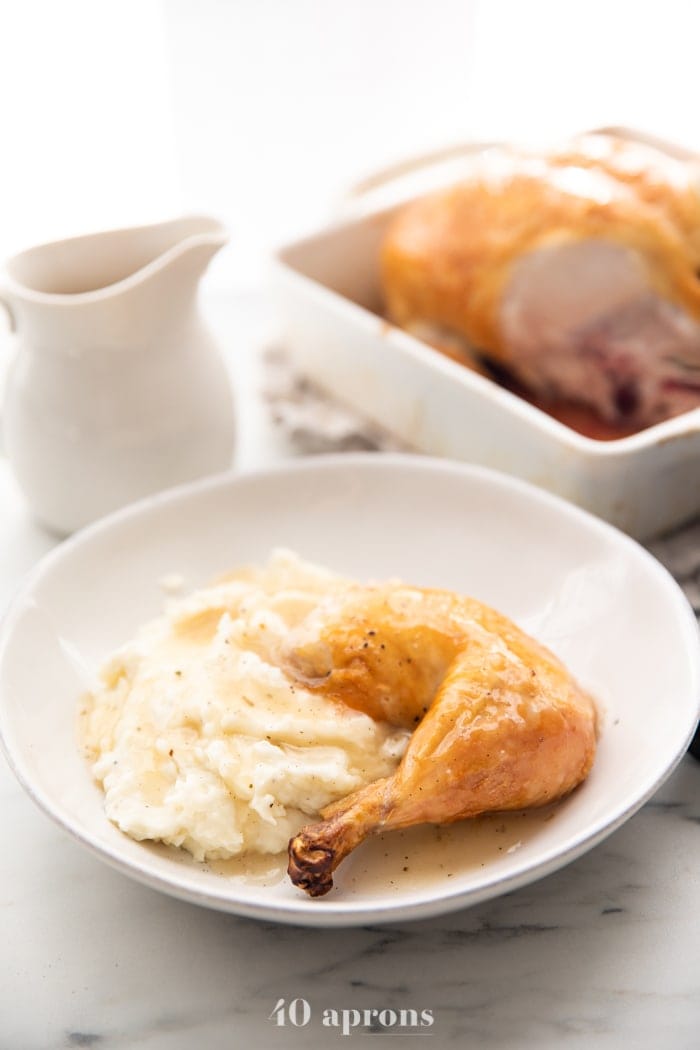 You want to make sure that you cook the chicken just to the right internal temperature and not over. Meat and poultry cook to temperature from the outside in; we've all seen chicken that's not done down at the center when you cut into it! So cooking chicken to the right temperature means the meat towards the outside of the chicken towards the skin is already at the proper temperature before the meat by the bone can get there. So overcooking chicken at all means you're really, really overcooking the meat towards the outside near the skin. Don't do this!
There's a super easy way to prevent this and produce the best easy roast chicken recipe every single time:
Chef's Tips
It can be hard to always find the exact right size of chicken to roast! But size is a super important element to roasting a chicken perfectly, as you need more or less time to roast to the right temperature. You can make sure you cook your chicken to the right temp every single time by using an internal thermometer.
I have a fantastic internal thermometer that has a probe I insert in my chicken near a bone (the coldest part) when it's in the oven. I set the desired temperature (161º F) on the digital display, and the thermometer beeps when it reaches that temperature. I take the chicken out and voila, absolute perfection every time!
I highly recommend investing in a thermometer with a probe, since this makes cooking meat and poultry in the oven an absolute breeze.
Cassava Flour vs. Arrowroot Powder
I like to use arrowroot powder in my recipes, since it's relatively easy to find and seems to be a staple in most Whole30 kitchens. However, it does produce a fairly gelatinous look to what it thickens, this gravy included. While it will have a normal texture in taste, it might look a bit funny glopping about when you pour it!
If you have cassava flour, I highly recommend using 3 tablespoons to make the gravy in this recipe, rather than arrowroot powder. Cassava flour can be a bit harder to find still, but it is the closest grain-free flour to all-purpose flour that I've found.
I love, love, love the cassava flour from Thrive Market and highly recommend you taking advantage of their free 30-day trial to order some! You will fall in love. And then we'll both be in love. With a flour! A grain-free flour of all things!
How long does it take to roast a chicken in the oven?
I cook this best ever easy roast chicken at 450º F, which allows the chicken to roast quickly and produce a beautiful, crispy, golden skin. It takes only 50 minutes to roast a 3-3.5 pound chicken at 450º Fahrenheit. I love that the whole thing is done in an hour!

Why a cast-iron skillet?
I recommend roasting your chicken in a cast iron skillet, as it for some reason produces a more golden brown skin, and it's much easier to make your gravy in afterwards. I love that it's super heavy duty and the perfect size for a roast chicken, too. Did I mention the gravy?!
I prefer a 12-inch cast-iron skillet which I use daily for everything from breakfast to dinner!
Other Recipes You'll Love
Best Ever Easy Roast Chicken with Gravy
The best roast chicken recipe with crispy skin, tender meat, and a delicious, savory gravy. It's quick and easy, the recipe every cook needs in their arsenal.
Ingredients
1

3-3.5 pound

chicken

giblets removed

2

tablespoons

avocado oil

or other oil with a high smoke point

1

teaspoon

salt

plus more

3

tablespoons

drippings or fat of choice

like butter or oil

3

tablespoons

flour

2 ½

cups

chicken stock

½

teaspoon

salt

1

pinch

dried thyme or sage

if desired

4

tablespoons

arrowroot powder

or 3 tablespoons cassava flour or all-purpose (see note)

2 ½

cups

chicken stock

½

teaspoon

salt

1

pinch

dried thyme or sage

if desired
Instructions
Preheat oven to 450º F, 232º C.

Remove giblets and neck from cavity of chicken then season the cavity with salt. Next,

truss your chicken.
Truss Your Chicken
Place a piece of kitchen twine about 1 meter long centered in your cast-iron skillet. Place the chicken on top, breast up, and bring the twine up and over the legs, down along the crease where the leg meets the body. Run twine under ends of legs and then pull twine to meet, crossing legs and pulling very tight. Tie a knot and finish with a bow. Take wing tips and pull them up and behind the body of the chicken, tucking behind the body. See our post on How to Truss a Chicken if you're unsure about this step!

Pour oil over the chicken and sprinkle liberally with lots of salt.

Place chicken in oven and roast for 50 minutes, or until internal temperature is 161º F. It will take slightly longer for bigger chickens, which is why I highly recommend a digital thermometer with an internal probe.

When internal temperature reaches 161º F, remove from oven and carefully transfer chicken to cutting board to rest.
Make Gravy
If you're on a Whole30 or are paleo, gluten-free, or grain-free, use the ingredients under the "Whole30/Paleo Gravy" heading. Otherwise, use the ingredients under the "Gravy" heading.

Carefully place cast-iron skillet on stovetop, making sure to always use a pot holder to touch the handle from this point on. Pour out all but 3 tablespoons drippings then sprinkle flour, cassava flour, or arrowroot powder over. Whisk constantly until smooth and golden brown, then gradually pour in chicken stock, whisking constantly until incorporated. Season with salt and thyme or sage. Simmer until slightly thickened, a few minutes.

Carve chicken and serve with plenty of gravy.
Notes
If you have cassava flour, I highly recommend using it instead of arrowroot flour. Use 3 tablespoons cassava flour, not 4 tablespoons. Cassava flour is paleo and Whole30-friendly.
If you have no particular dietary restrictions, you can use 3 tablespoons flour instead.
For help with trussing your chicken, click here to watch a super helpful video.
Try this recipe if you need your gravy to be low carb or keto. 
Nutrition Information
Serving Size:
4
g
,
Calories:
295
kcal
,
Protein:
8
g
,
Fat:
19
g
,
Saturated Fat:
7
g
,
Cholesterol:
32
mg
,
Sodium:
1667
mg
,
Potassium:
315
mg
,
Total Carbs:
22
g
,
Fiber:
1
g
,
Sugar:
5
g
,
Net Carbs:
21
g
,
Vitamin A:
262
IU
,
Vitamin C:
1
mg
,
Calcium:
15
mg
,
Iron:
1
mg
Number of total servings shown is approximate. Actual number of servings will depend on your preferred portion sizes.
Nutritional values shown are general guidelines and reflect information for 1 serving using the ingredients listed, not including any optional ingredients. Actual macros may vary slightly depending on specific brands and types of ingredients used.
To determine the weight of one serving, prepare the recipe as instructed. Weigh the finished recipe, then divide the weight of the finished recipe (not including the weight of the container the food is in) by the desired number of servings. Result will be the weight of one serving.