If you want to learn how to cook butternut squash, this is the article for you! With recipes for cooking this hearty winter squash 3 ways – halved, cubed, or in the microwave for a super quick and easy version. Great as a side dish, or stuff it and enjoy as a main course!
What's So Great About Butternut Squash
Butternut squash is full of fiber and vitamins, and it's low-calorie and low-fat! This fruit (YUP. Fruit! Not technically a vegetable, even though we cook it and treat it like it is.) is loaded with antioxidants, too.
It's a versatile side dish and perfect for the holidays! Pumpkin gets all the post-summer fruit attention, but butternut squash is a total autumnal rockstar in its own right. If you're not including cooked butternut squash on your Thanksgiving table, you're missing out!
You can prepare it in the oven, Instant Pot, or microwave. It takes basically no effort to prepare, too – some methods require you to just cut in half!
How Do You Use Cooked Butternut Squash?
What can you do with cooked butternut squash, you ask? Oh, SO MUCH! The options are virtually endless.

You can totally serve the squash as-is. It's a delicious side and compliments a variety of main dishes. I also like to toss the roasted cubes on top of a salad for a little color and texture.

For oomph, you can season the cooked butternut squash with salt and pepper, then mash it with butter until you've gotten a sort-of mashed potato consistency.

With a few extra ingredients, you can blend the butternut squash into an incredible soup – check out our Instant Pot Butternut Squash Soup recipe for all the details!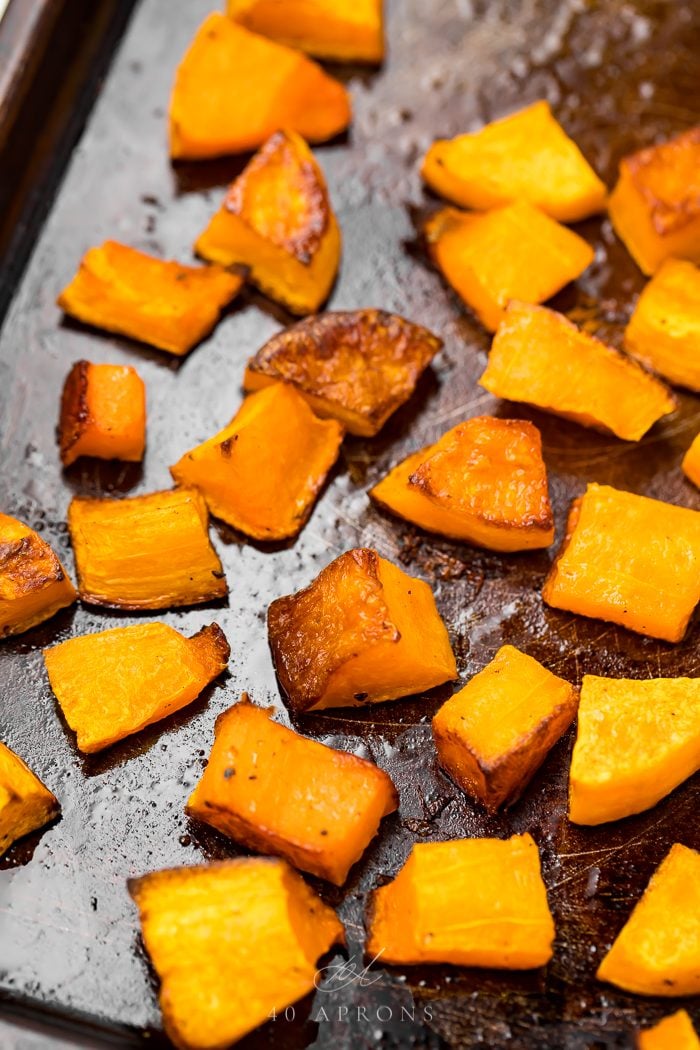 Can You Eat the Skin of Butternut Squash?
Well, yes. Technically. It depends.

Cooked butternut squash skin is totally edible and it contains a lot of fiber, vitamins, and minerals. Depending on the age of your squash, though, it can have a tough, unpleasant texture. If your squash is young, the skin may be tender enough to eat, but for older squash, you'll probably want to scoop the flesh out instead.
Chef's Tips
If you're roasting cubed butternut squash, you'll want to peel it before you cube it. Don't worry, a basic old vegetable peeler will do the trick!
Sometimes you'll want to cook butternut squash without any seasoning at all, but when you do want to add a little flavor, you can season the squash any number of ways. Sprinkle a little salt and pepper on top, or use a dash of cinnamon and brown sugar. Brush the squash with avocado oil or drizzle a little maple syrup on top. Cooked butternut squash can be savory or sweet, which is a big reason I love it so much!
How do you know which butternut squash to choose at the grocery store? It's easy! Look for one that's a solid, dark beige, without any green streaks or brown spots on the skin. If it's punctured (that happens sometimes in transit) then skip that one – punctures can let bacteria into the flesh. The best butternut squash for cooking should feel firm and heavy for its size, so pick up two or three of comparable sizes and see how they feel.
You can season and roast butternut squash seeds much like you would roast and eat pumpkin seeds, so don't throw those babies out!
More Easy Side Dishes You'll Love
Hey – you've made it this far, and now we're best friends! If you make this recipe, I'd love for you to give it a star rating ★ below. Make sure you follow me on Instagram, Pinterest, and Facebook, too!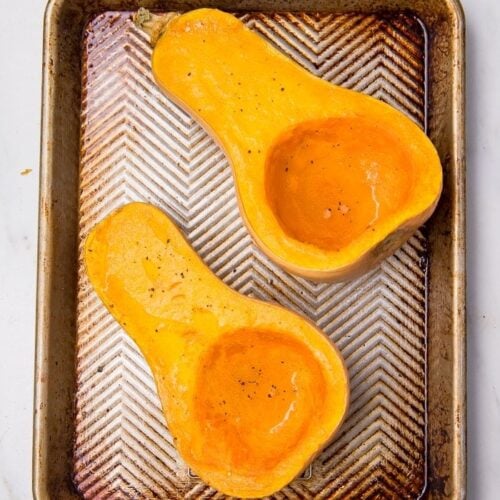 How to Cook Butternut Squash (3 Ways)
If you want to learn how to cook butternut squash, this is the article for you! With recipes for cooking this hearty winter squash 3 ways – halved, cubed, or in the microwave for a super quick and easy version. Great as a side dish or stuffed as a main course!
GO PREMIUM – AD FREE + MEAL PLANS
Equipment
Cutting board

Sharp knife

Spoon or scoop (to remove seeds)

Cooking appliance of choice

Microwave-safe dish (if microwaving)

Baking sheet (if oven-roasting)
Ingredients
1

butternut squash

washed and dried

1

tablespoon

avocado oil

or other neutral oil

seasonings

optional, as desired
Instructions
Butternut Squash in the Instant Pot
Place the trivet in the Instant Pot and add 1 cup water.

Cut the squash in half, lengthwise, and remove any seeds. Place each half in the Instant Pot in a single flat layer.

Cook on Manual High Pressure for 8 minutes, then Natural Release for 10 minutes. Carefully remove the lid and transfer squash to another bowl or dish.
Butternut Squash in the Microwave
Cut the squash in half, lengthwise, and remove any seeds. Place squash face up (skin side down) in a microwave safe dish or on a microwave safe plate.

Microwave 8 to 10 minutes, until soft enough to easily pierce with fork. Microwave time will depend on size of squash, size of microwave, and microwave wattage. For a smaller microwave, you may need to cook one squash-half at a time.
Butternut Squash in the Oven
Roasted Halves: Preheat oven to 350° Fahrenheit. Cut the butternut squash in half, lengthwise. Remove any seeds and brush orange flesh with avocado oil. Bake face down (skin side up) on baking sheet for 50 minutes, or until soft enough to easily pierce with fork.

Roasted Cubes: Preheat oven to 400° Fahrenheit. Peel squash and cut in half. Remove any seeds, then cut squash into cubes. Drizzle with avocado oil, salt, and pepper. Place on baking sheet in single, even layer. Bake for 40 minutes or until tender.
Notes
Recipe yields 1 cooked butternut squash, or approximately 4 servings. Nutritional values shown reflect the information for 1 serving. Values shown include nutritional information for avocado oil. Macros may vary slightly depending on ingredients used – i.e. if you choose to use brown sugar or maple syrup, your macros would be higher than shown here. To determine the size of one serving, prepare the recipe as instructed, then weigh the entire recipe when finished. Divide the total weight (not including the weight of the bowl, pot, or plate the food is in) by 4. Result will be the weight of one serving.
Nutrition
Serving:
1
serving
Calories:
115
kcal
Carbohydrates:
22
g
Protein:
2
g
Fat:
4
g
Saturated Fat:
1
g
Sodium:
8
mg
Potassium:
660
mg
Fiber:
4
g
Sugar:
4
g
Vitamin A:
19931
IU
Vitamin C:
39
mg
Calcium:
90
mg
Iron:
1
mg
Net Carbs:
18
g
If you enjoyed this post, be sure to check out 40 Aprons Premium! 40 Aprons Premium offers exclusive recipes, monthly meal plans, grocery lists, and more – all completely ad free!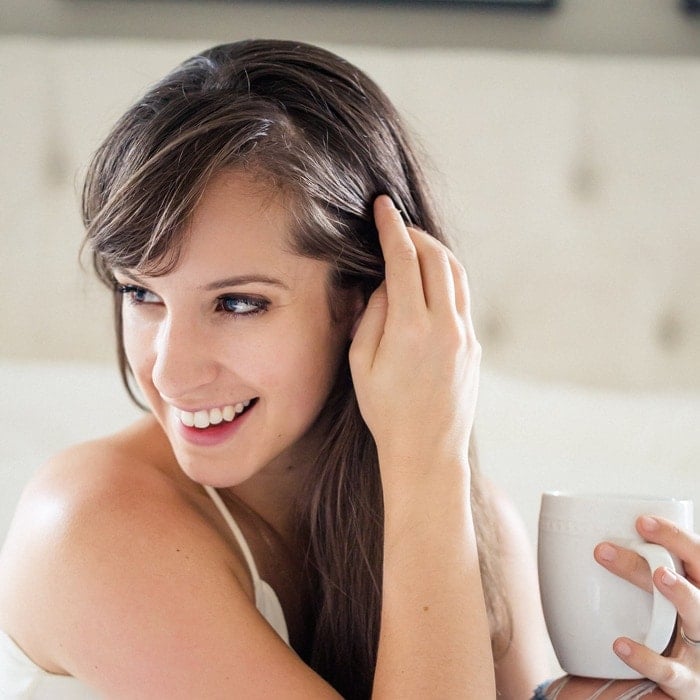 Cheryl Malik is the recipe developer, writer, and photographer behind the healthy, flavorful, family friendly recipes at 40 Aprons. She's been a blogger for 10+ years and is known for her delicious recipes and detailed recipe instructions. Cheryl is a mom of three who lives in Memphis, TN.