How to Make Paneer (Indian Cheese): Step by Step Guide

Posted: 12/13/14 Updated: 04/02/21
It's super easy to make paneer, fresh Indian cheese, at home! It's creamy and delicious and SO much better than premade! Perfect in vegetarian Indian recipes. It only takes about an hour or two to make and is super easy with this How to Make Paneer step-by-step guide.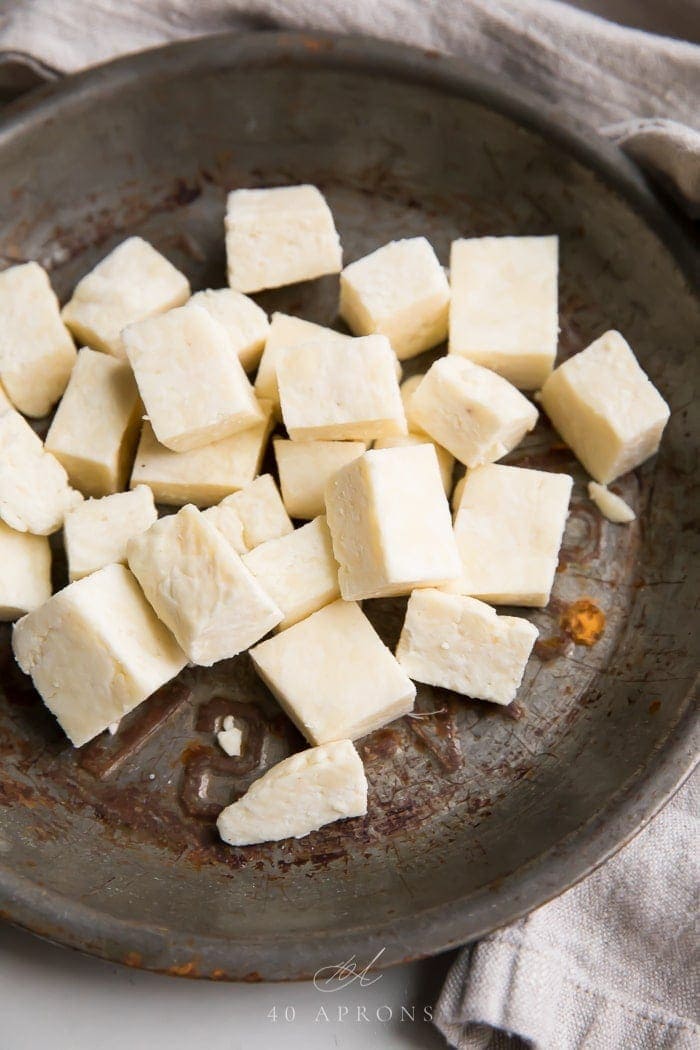 I'm pretty comfortable making this extreme statement: paneer is the best part of Indian food.
And I make a lot of Indian dishes! From my Easy Chana Masala to my Vegetable Korma, to my crazy delicious Restaurant Style Chicken Tikka Masala to my Perfect Naan… I'm a big fan and frequent Indian food cook.
Being married to a Pakistani man, it's a huge compliment when he loves my recipes better than what we get at the local curry houses or – and don't tell his family – when he says my version is better than an auntie's!
And my homemade paneer? He said it was the best he'd ever had in his life. He actually got kind of mad because there wasn't any left after his second bowl of saag paneer? If that tells you anything.
Why This Homemade Paneer Is So Good
If you're wondering why you need to know how to make paneer rather than just uh, how to buy paneer, here's the deal:
This homemade paneer is the creamiest paneer you've ever had. No contest.
Learning how to make paneer is super easy! And it comes together in about 40 minutes to 2 hours. It only takes about 15 minutes of active time; the rest of the time is the paneer pressing.
The texture is better than what you'll get at a restaurant or Indian grocery.
It's richer and tastes like melty cheese curds, rather than little hard, dry-ish cubes.
This homemade paneer is amazing in vegetarian Indian dishes, like saag paneer.
How to Make Paneer
Start by pouring your milk into a large heavy-bottomed pot and placing over medium heat. Bring the milk to just a boil. The milk should produce a layer of bubbly foam on top and smell really rich and fragrant.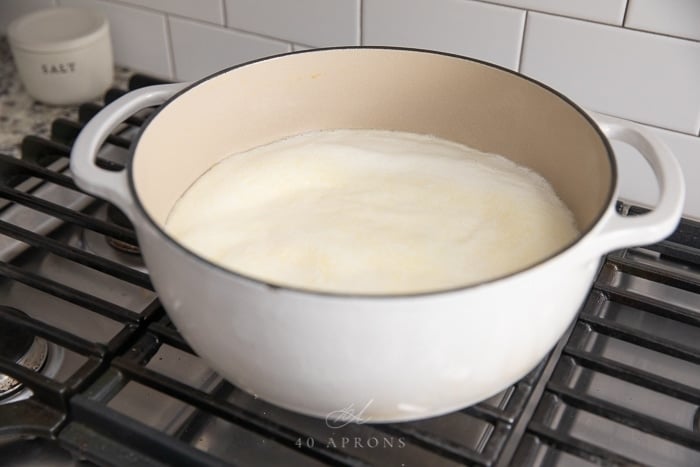 As soon as the milk boils, remove the pan from the heat and stir in the lemon juice. As you stir, the milk should immediately separate into curds and whey: white cottage cheese and yellowy liquid.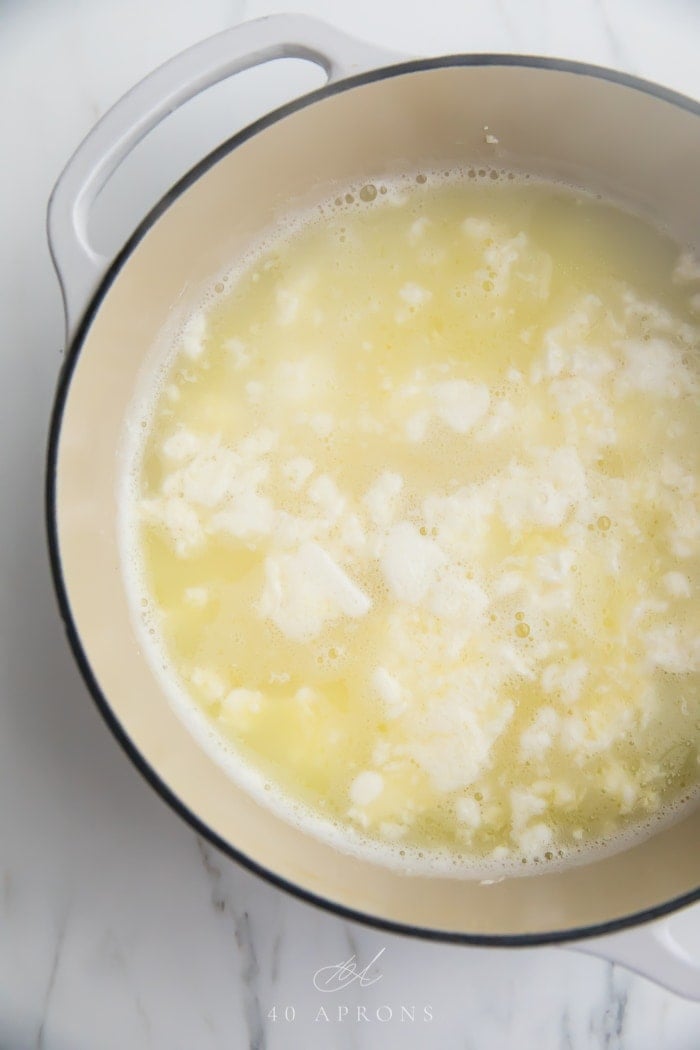 Line a strainer with 2 layers of cheesecloth and pour the curds and whey through. This will leave just the solid white curds. Discard the whey or save it for another use, like lactofermentation or whey beverages.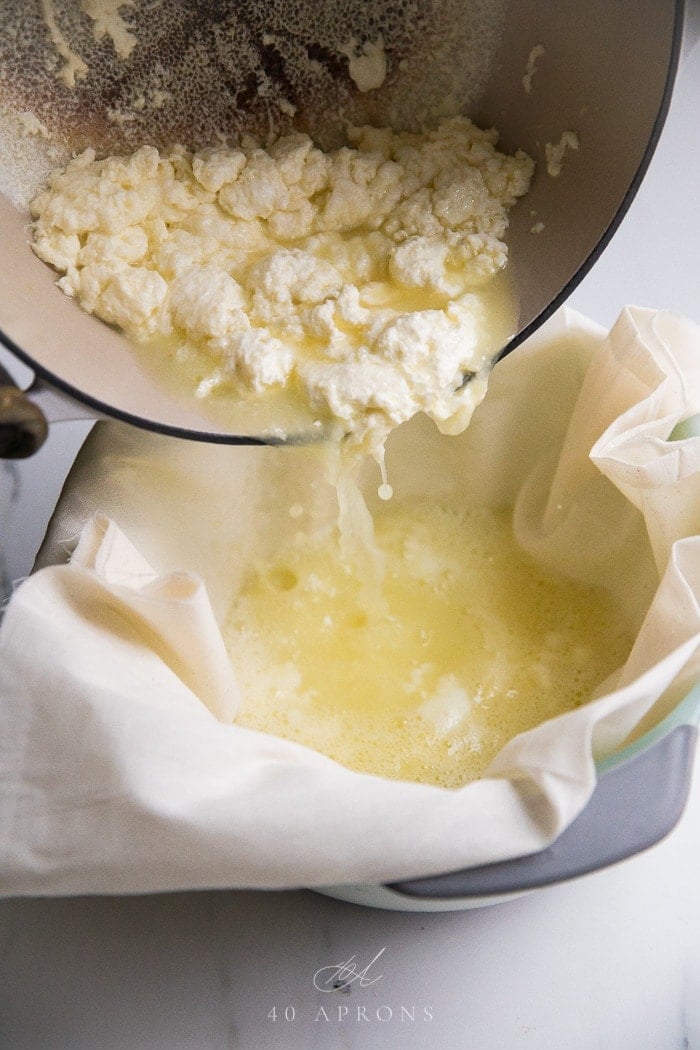 Rinse the curds under running water to reduce any lemon flavor.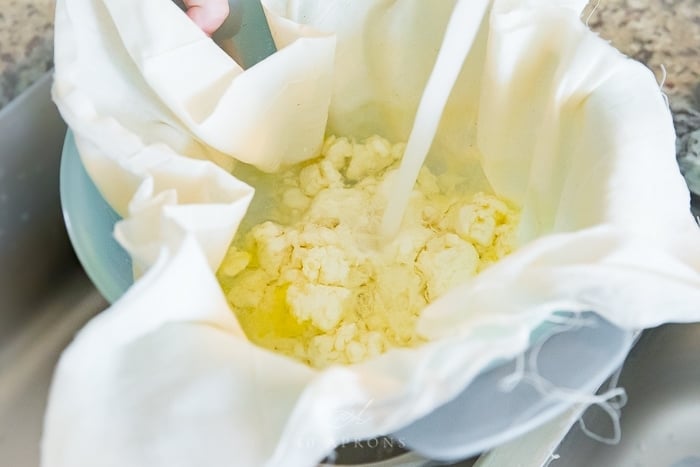 Toss the solid curds with a bit of salt then wrap up in a ball in the cheesecloth and squeeze very tightly to get out as much water as possible.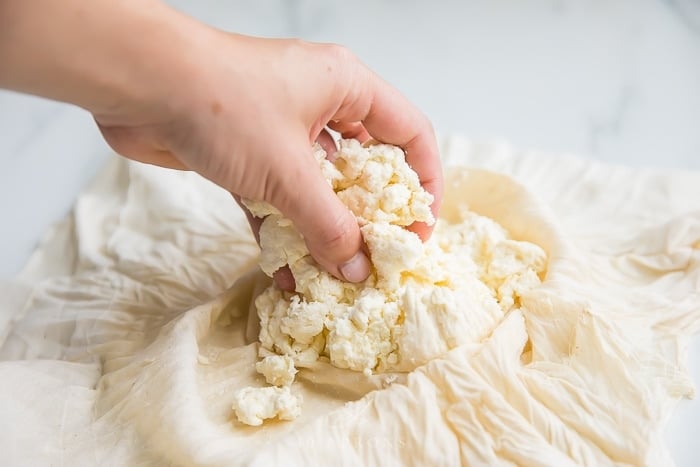 Less water = creamier cheese.
Live it.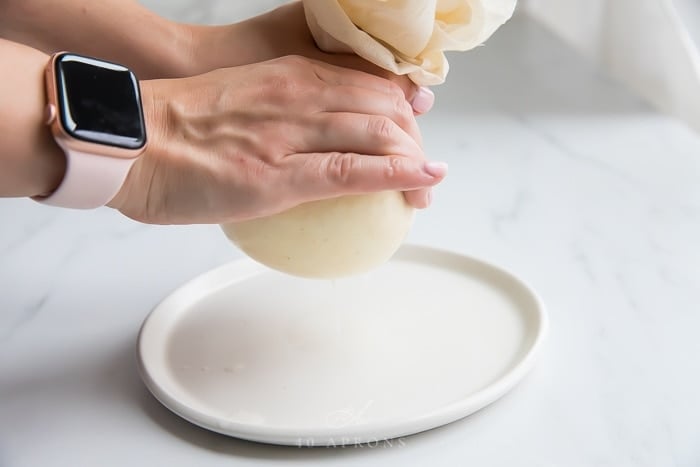 Once you've squeezed out as much water as you can, flatten the ball of curds in the cheesecloth into a disc.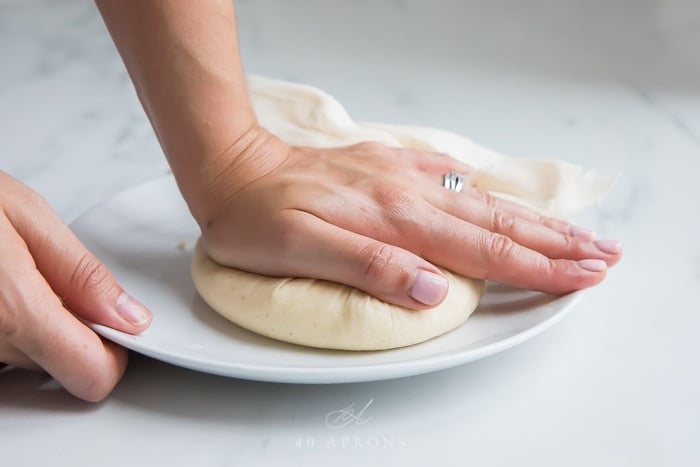 Lay the cheesecloth over the disc as flat as you can get it, to produce the smoothest top. Place a plate on top and weight the top plate down; I use a couple cans. Chill for 20 minutes to 2 hours.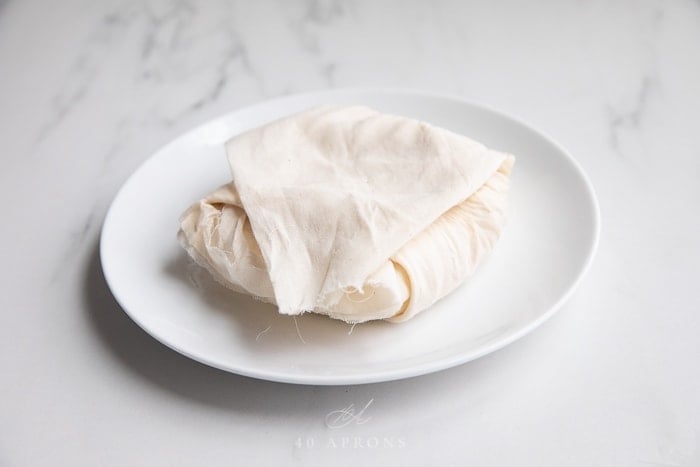 The longer you press, the firmer the cheese. It will still be rich and creamy but it won't melt into your dish. It will be hard to fry or sauté paneer that has only been pressed 20-30 minutes. I recommend pressing 90 minutes – 2 hours.
Then, unwrap the paneer, cut into cubes, and you're done!
Can I use organic milk?
Well… you can, but it cannot be ultra-high temperature pasteurized (UHT), which is a very common process for organic milk. Ultra high temperature pasteurization kills out certain structures in the milk that you need to get them to properly form curds and produce homemade cheese.
I prefer to use local, high butterfat milk for the creamiest, richest paneer ever, and it's processed at a low temperature. If you can find organic milk that does not undergo ultra high pasteurization, you should be fine.
How long do I have to press the paneer?
You can absolutely press the paneer for just about 20-30 minutes and move on about your life. However, that will result in a meltier cheese, rather than the firm cubes you have at an Indian restaurant. I personally prefer to press my homemade paneer for 1-2 hours to really firm the cheese up without losing any richness or creaminess. This produces a better result for recipes that require frying the paneer first.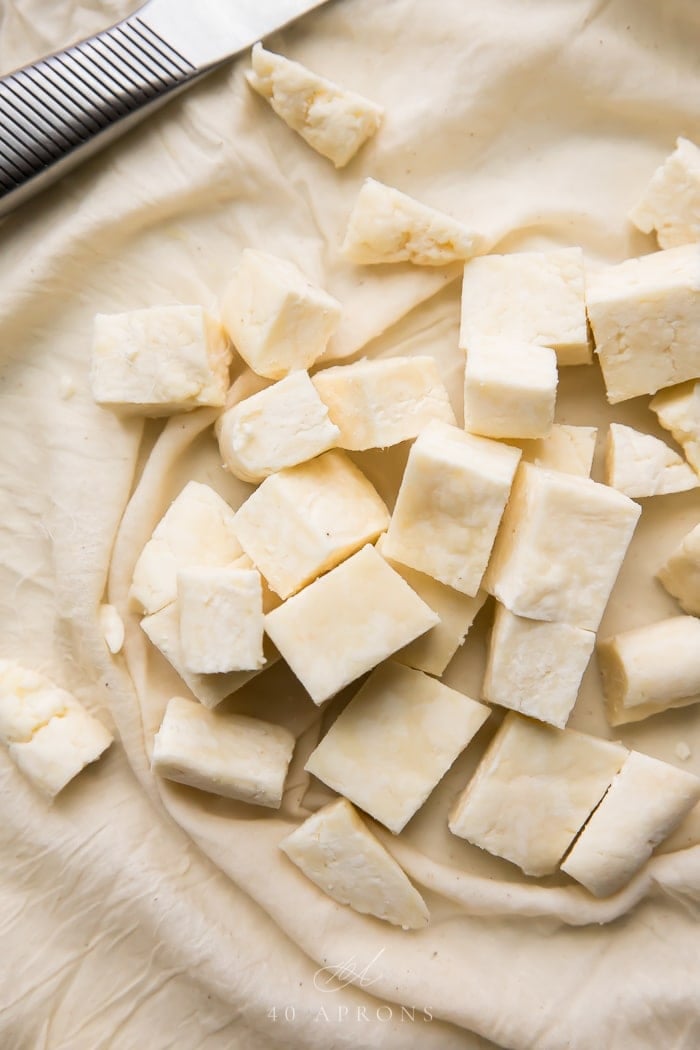 Other Indian Food Recipes You'll Love:
Hey – you've made it this far, and now we're best friends! If you make this recipe, I'd love for you to give it a star rating ★ below. Make sure you follow me on Instagram, Pinterest, and Facebook, too!
How to Make Paneer (Indian Cheese)
How to make homemade paneer easily and pretty quickly. This Indian cheese is crazy rich and creamy, unlike anything you've ever tasted. Worth every minute!
Ingredients
½

gallon

whole milk

not UHT pasteurized. See Note

6

tablespoons

fresh lemon juice

1

teaspoon

salt
Equipment Needed
Instructions
In a large heavy saucepan, heat the milk over medium heat. Bring the milk to JUST under a boil. The milk will produce a steamy, foamy layer on top and will smell rich and fragrant. Stir occasionally, scraping the bottom to make sure it doesn't burn.

Remove the pot from the heat and stir in the lemon juice. The mixture will likely curdle immediately into solid white curds and yellow liquid whey, but if it doesn't, that's OK. See Note for next steps if your milk does not curdle immediately.

Line a medium colander with cheesecloth and set over a large bowl. Scoop the white solid curds into the colander and let the liquid whey drain into the bowl beneath. Discard the yellow whey or save for other uses, like lactofermentation.

Sprinkle the curds with 1 teaspoon salt. Toss the curds with your hands to incorporate the salt.

Squeeze the curds in the cheesecloth to remove as much excess whey as possible. Still in the cheesecloth, flatten the curds into a disc and arrange the edges of the cheesecloth over the top as smooth as possible. Place a dinner plate on top and weight with 1-2 cans or other heavy item.

Place in the refrigerator and let press for at least 20 minutes, preferably 90 minutes – 2 hours. The longer the press, the firmer the cheese, without losing any richness. After pressing, unwrap the paneer, cut into cubes, and use in a recipe or keep chilled in an airtight container up to 3-4 days.
Notes
Most organic milk is ultra-high temperature pasteurized (UHT) which destroys the structure of the milk and will not produce proper curds or bind as necessary to make paneer or most homemade cheeses. Ultra-high temperature pasteurized milk is legally required to be labeled as such, so check your labels and opt for non-UHT milk (Not always labeled as such, but it will not say it is UHT pasteurized). I use a local, low temp pasteurized, high butterfat milk for my homemade cheeses, and it's divine. If your milk does not curdle immediately after stirring in lemon juice: Cover and let stand for 10 minutes. After 10 minutes, the mixture should be separated into curds and whey–the whey is the yellowy watery liquid. If the mixture has not yet separated, add another tablespoon of lemon juice or vinegar.
Nutrition Information
Calories:
81
kcal
,
Protein:
3
g
,
Fat:
7
g
,
Saturated Fat:
4
g
,
Cholesterol:
18
mg
,
Sodium:
7
mg
,
Calcium:
136
mg
Number of total servings shown is approximate. Actual number of servings will depend on your preferred portion sizes.
Nutritional values shown are general guidelines and reflect information for 1 serving using the ingredients listed, not including any optional ingredients. Actual macros may vary slightly depending on specific brands and types of ingredients used.
To determine the weight of one serving, prepare the recipe as instructed. Weigh the finished recipe, then divide the weight of the finished recipe (not including the weight of the container the food is in) by the desired number of servings. Result will be the weight of one serving.