This iced golden milk latte is insanely delicious, and it just happens to be nourishing, anti-inflammatory, and a modern take on an ancient healing drink. It only takes a couple of minutes to make, and it's such a great swap for caffeine or anytime you want to feel fab! Great before bed, too. Naturally vegan and paleo with low carb and keto options.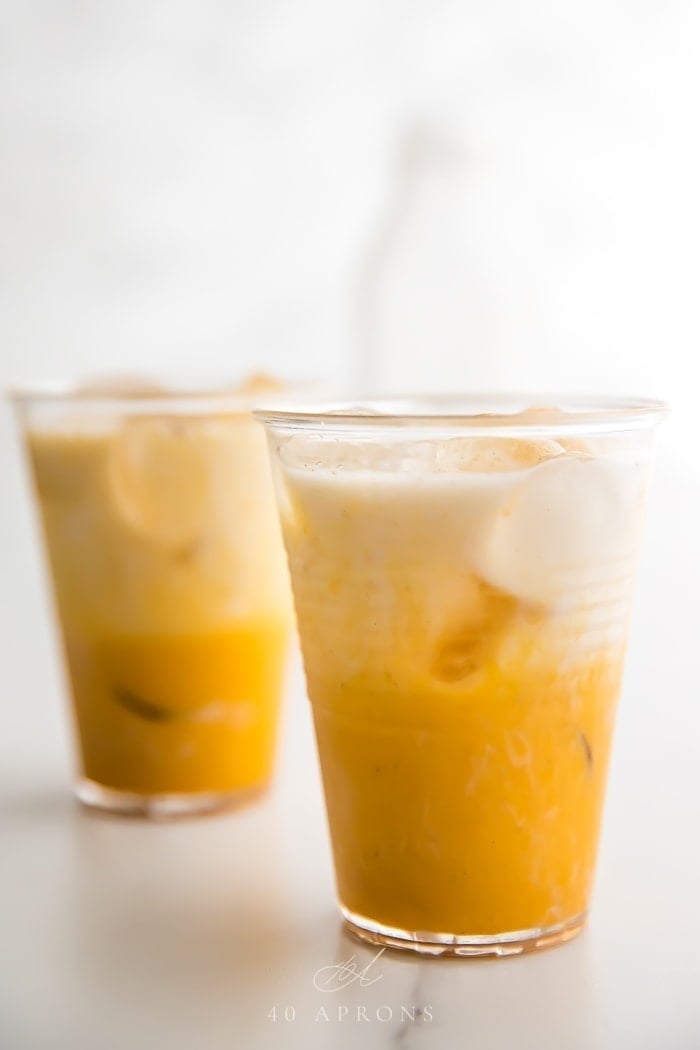 Check out my hot golden milk recipe, too!
I know… this iced golden milk latte looks delicious. It totally is! Like, shockingly good. But this Ayurvedic tonic is so much cooler than that. Ready?
Ayurveda is an ancient system of medicine, considered the oldest, or one of the oldest, in the world. Its tenets include universal interconnectedness, knowing and treating body composition, and balancing your body's composition, rather than treating the symptoms.
There are three body compositions, or doshas, as they're called in Ayurveda: pitta, vatta, kapha.
Me? I'm a pitta, through and through. If you knew me for five seconds you'd know I'm a pitta: a fiery Aries, ENTJ, type 4, type A+ go go go do do doer who lives in extremes. I run hot, have tons of energy, am naturally muscular, flush easily, and crave spicy food daily.
Ayurveda teaches that I need to balance the fieriness, energy, the spiciness. It's recommended for me to eat cold and soothing foods, to not over-consume spicy and very pungent foods, to soothe my inner wild woman.
Where did golden milk come from?
The interesting thing, though, is that in Ayurveda there's something that's recommended for all body types (or doshas): golden milk. It's soothing and healing for all – cool, right?
Turmeric, specifically, known for its powerful anti-inflammatory properties, is experiencing a serious moment in the spotlight as an awesome superfood, and iced golden milk latte, a turmeric-spiked milk-based drink, is such a soothing way to ingest it.
What are the benefits of golden milk?
Because of the powerful combination of spices, this iced golden milk is not only a fantastic afternoon pick-me-up or cool nightcap! Golden milk latte benefits include…
builds immunity
supports the liver
helps treat colds and coughs
supports digestion
purifies the blood
supports your treatment of autoimmune disease
and more.
Because of the relationship among all the spices, don't skip any! If you have to skip one, you can leave the cardamom out; it's in my recipe simply because I love the richness it gives the iced golden milk turmeric latte.
However, you need the black pepper to activate all the power in the turmeric, so don't skip it. I promise your drink won't taste peppery!
How to make iced golden milk:
Combine all ingredients in a cocktail shaker with plenty of ice. You'll need almond or other alt-milk, turmeric, maple syrup, cinnamon, ground ginger, a little freshly ground black pepper, a pinch of cardamom, and vanilla extract.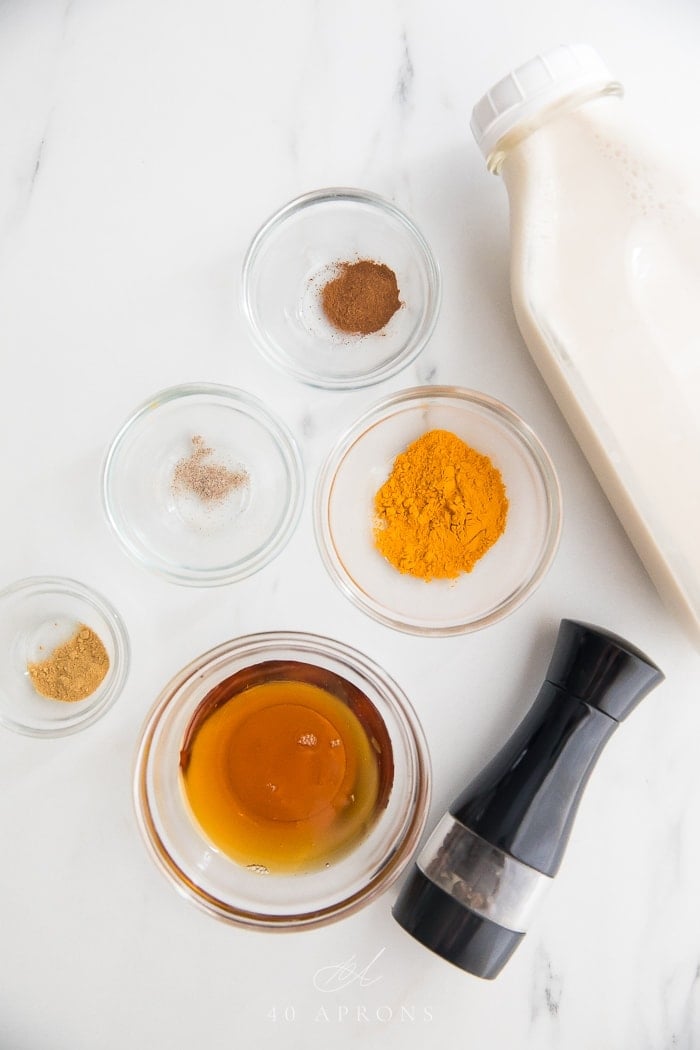 Shake very well. Alternately, whisk all ingredients together vigorously.
Strain over two cups full of ice and drink! If you want the "ombré" look, stir together the almond milk with 1/2 tablespoon maple syrup. Pour over two glasses filled with ice. In a cocktail shaker, mix together the remaining ingredients and shake very well. Strain over your iced almond milk.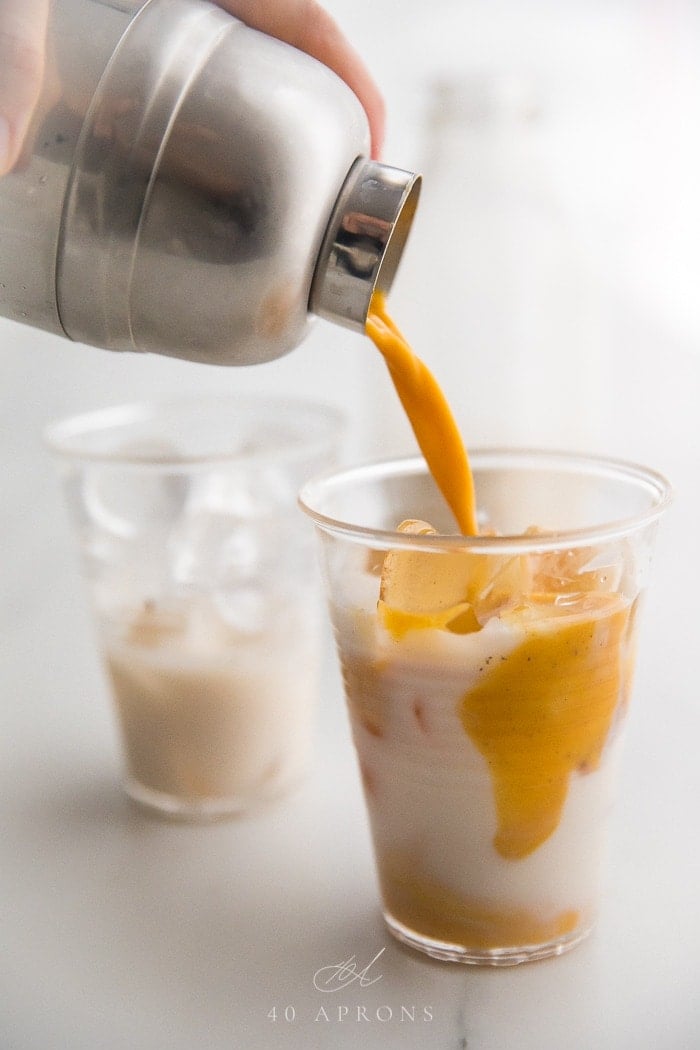 Make sure you stir it regularly if you don't drink it quickly – the spices will settle.
Is golden milk good for inflammation?
YES! There are two parts to this answer, though.
In India and Ayurveda, turmeric has been used for millennia to support the body's own natural response to inflammation. It's considered a powerful anti-inflammatory tool and is used regularly in recipes.
That said, there aren't any really strong studies out there supporting curcumin – the anti-inflammatory ingredient in turmeric – as effectively battling inflammation itself.
FAQs
Can I make this in bulk?
You can! You'll just want to make sure you shake or stir very, very well the entire container before serving, as the spices will settle.
Can I heat this before chilling?
Absolutely, and this will help activate the curcumin in the turmeric. Simply heat all the ingredients together in a saucepan over low heat, stir well, then transfer to a heatproof container and chill fully. Serve over ice. This is a great idea for making this iced golden milk turmeric latte in bulk, too!
Can I make this keto?
Yep! Use a keto milk of choice (Unsweetened almond milk works) and replace the maple syrup with powdered erythritol. Each serving is 1g net carbs.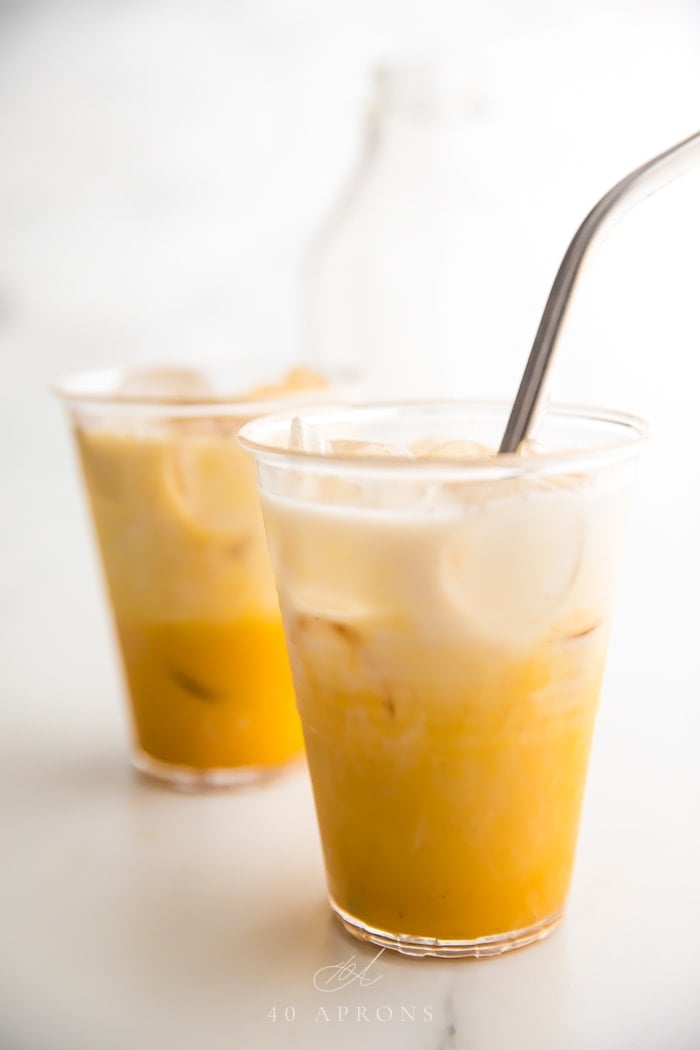 Other recipes you'll love (if you like this iced golden milk!):
Hey – you've made it this far, and now we're best friends! If you make this recipe, I'd love for you to give it a star rating ★ below. Make sure you follow me on Instagram, Pinterest, and Facebook, too!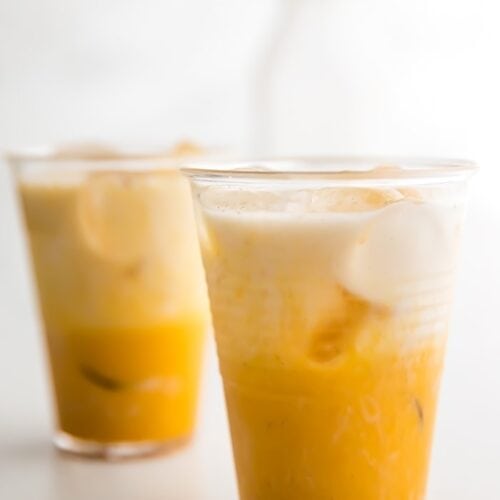 Iced Golden Milk Latte (Paleo, Vegan)
This iced golden milk latte is just delicious, plus it's loaded with anti-inflammatory health benefits and ancient healing spices. This iced version is refreshing, super easy to make, and comes together in just a few minutes. Great before bed, too.
GO PREMIUM - AD FREE + MEAL PLANS
Ingredients
2-3

cups

milk of choice

like almond, macadamia, or coconut. See Note 1

3

Tbsp.

maple syrup

1 1/2

tsp.

ground turmeric

1/4

tsp.

ground cinnamon

1/4

tsp.

ground ginger

Pinch

ground black pepper

Pinch

ground cardamom

1/4

tsp.

vanilla extract
Instructions
Combine all ingredients in a cocktail shaker. Use 2 cups for a sweeter, more spiced drink; use closer to 3 for a milder version.

Shake the mixture well and pour over ice into two serving glasses.

If you'd prefer an "ombré" look, like in my photos, first pour half of the milk over ice into two glasses. Then, proceed with the recipe: combine remaining ingredients in a cocktail shaker with ice, shake well, and pour into prepared glasses.
Notes
If you use coconut milk, make sure it's from the carton. Coconut milk from the can is too thick to use exclusively in this recipe.
To make this ahead, simply stir all ingredients together and keep in an airtight container. Shake or whisk vigorously before serving. Pour over ice and enjoy.
You can heat this mixture up before chilling to better activate the anti-inflammatory ingredients in the turmeric. I recommend heating it until very warm then letting cool naturally without adding ice. Adding ice will dilute the drink.
To make this keto or low carb, simply use a low carb milk of choice (Like unsweetened almond milk) and swap powdered erythritol for the maple syrup. It totals out at 1g net carb. See the nutrition label below.
Storage Notes
Keep in an airtight container up to 5 days.
Nutrition
Calories:
229
kcal
Carbohydrates:
24
g
Protein:
1
g
Fat:
12
g
Saturated Fat:
10
g
Sodium:
372
mg
Potassium:
143
mg
Fiber:
1
g
Sugar:
13
g
Vitamin C:
1
mg
Calcium:
262
mg
Iron:
1.7
mg
Net Carbs:
23
g
Keto Version Nutrition
Net carbs: 1g. Calories 46, total fat 3g, potassium 254mg, total carbs 3g, dietary fiber 2g, protein 1g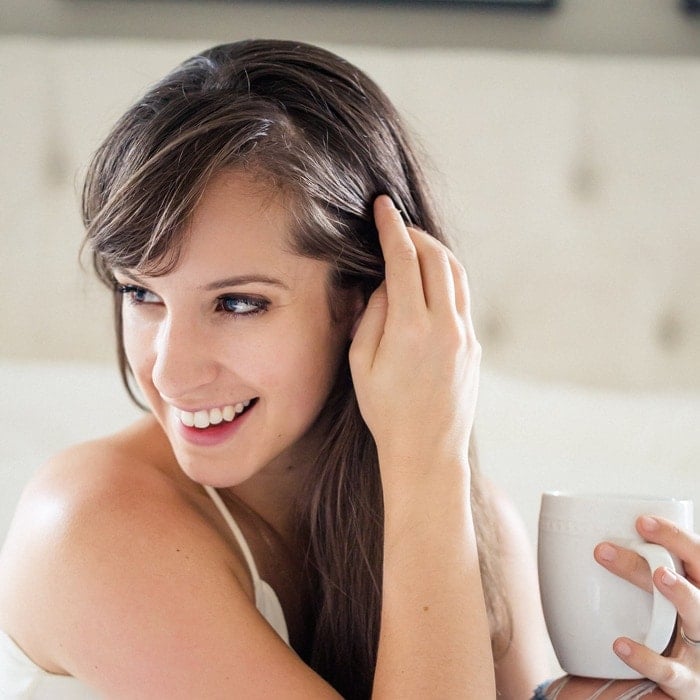 Cheryl Malik is the recipe developer, writer, and photographer behind the healthy, flavorful, family friendly recipes at 40 Aprons. She's been a blogger for 10+ years and is known for her delicious recipes and detailed recipe instructions. Cheryl is a mom of three who lives in Memphis, TN.