Perfect Naan

Posted: 01/13/16 Updated: 04/09/20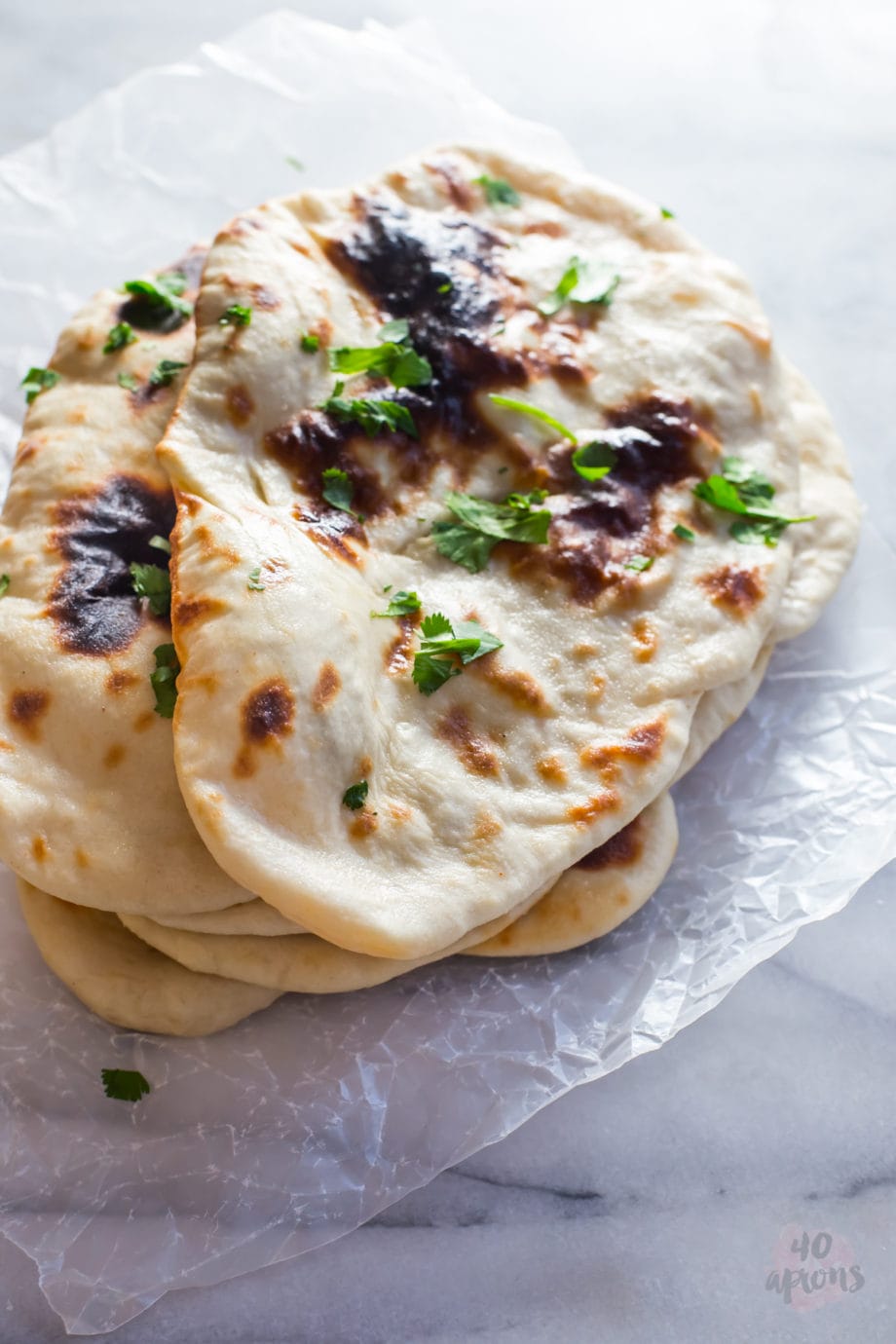 I know.
I know.
How could I leave a rich, saucy butter chicken recipe here last week without naan to scoop up a perfectly balanced bite of rice to chicken to sauce? To tear off into pieces and nosh on while the butter chicken simmers? To sop up what's destined to be very little left in your bowl of this warmly spiced, creamy dish?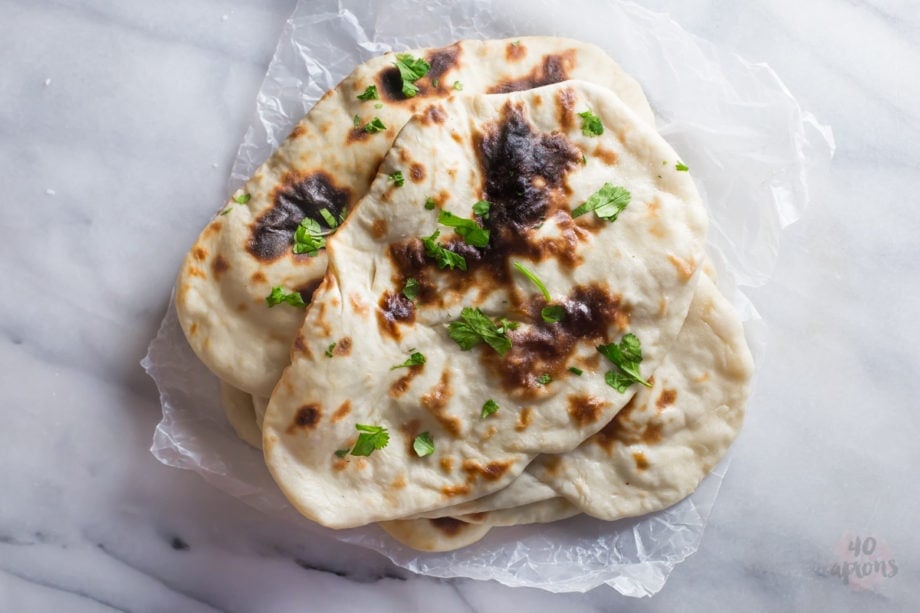 Ugh! Mean mommy. Mean, mean mommy. Mean, mean mommy who doesn't let Leo rock out on his kick 'n play piano at 3 a.m. Mean, mean mommy who doesn't know how to telepathically anticipate how many seconds Leo will be happy with any given activity lately. Mean, mean mommy!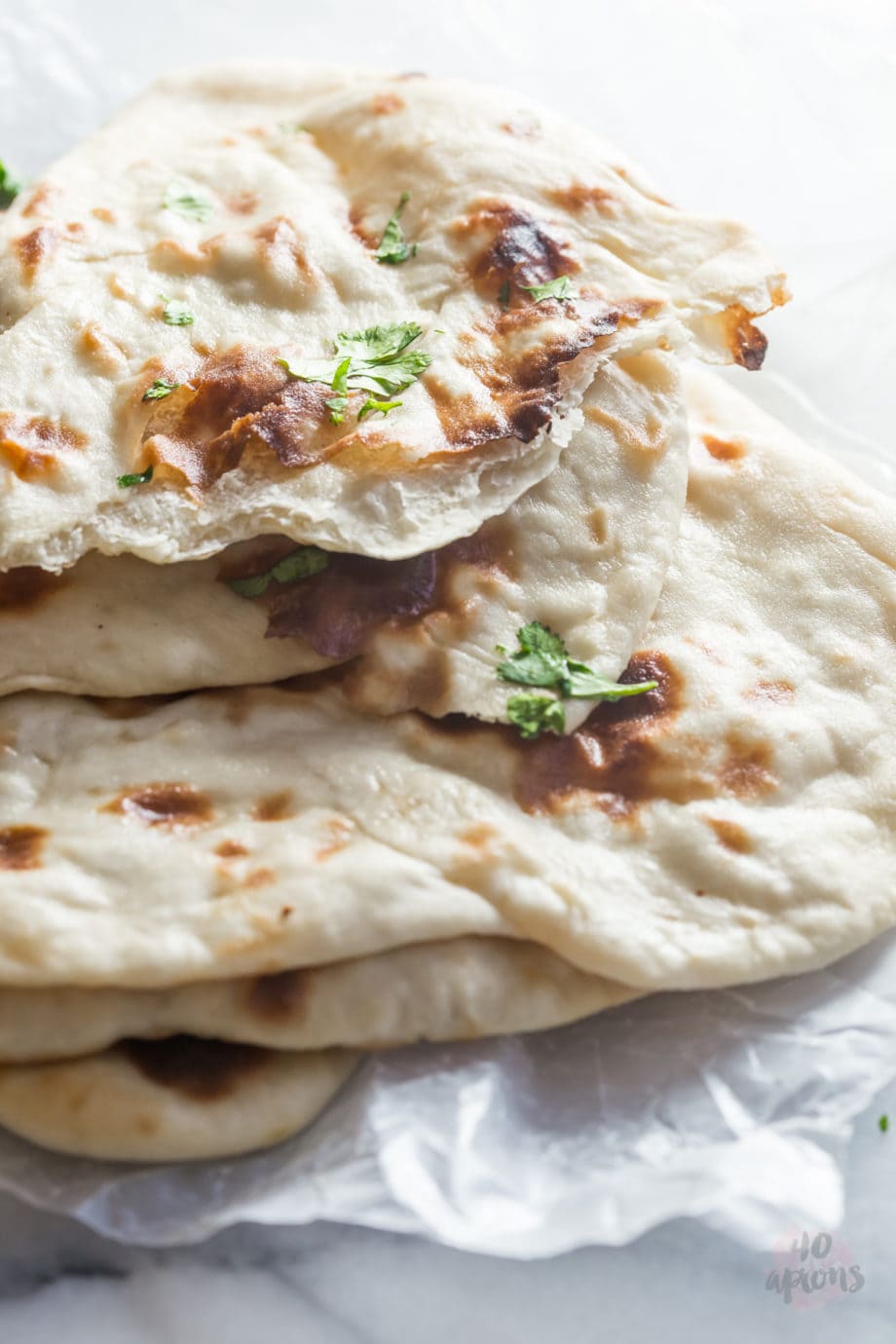 OK, but seriously, we're in what's called the 4-month sleep regression, which is basically when your sweet, sleeping-through-the-night baby starts waking up like 4 times a night and you want to kill someone–preferably whoever told you it gets "better" at 3 months. And we're also in what's called a Wonder Weeks leap, which is essentially a cognitive growth spurt. They're fascinating! You can see the little ones learning so many new things during these times, which are weirdly precise and accurate, but they also happen to practice these new skills like.. in the middle of the night. Not even joking. And they get pretty upset easily because, whoa, the world as they knew it just changed, and wouldn't that be scary to you, too? Oh, and so I've been carrying him a ton, because he tends to like that for at least, you know, four or five minutes, and that's caused some plugged ducts in my little erm, milk area, and those have caused fevers and chills and basically me freaking out that I have mastitis which, of course, is.. boob flu. Oh, and pretty sure Leo is teething. So.. give mean mommy a break you guys. Also, please send wine.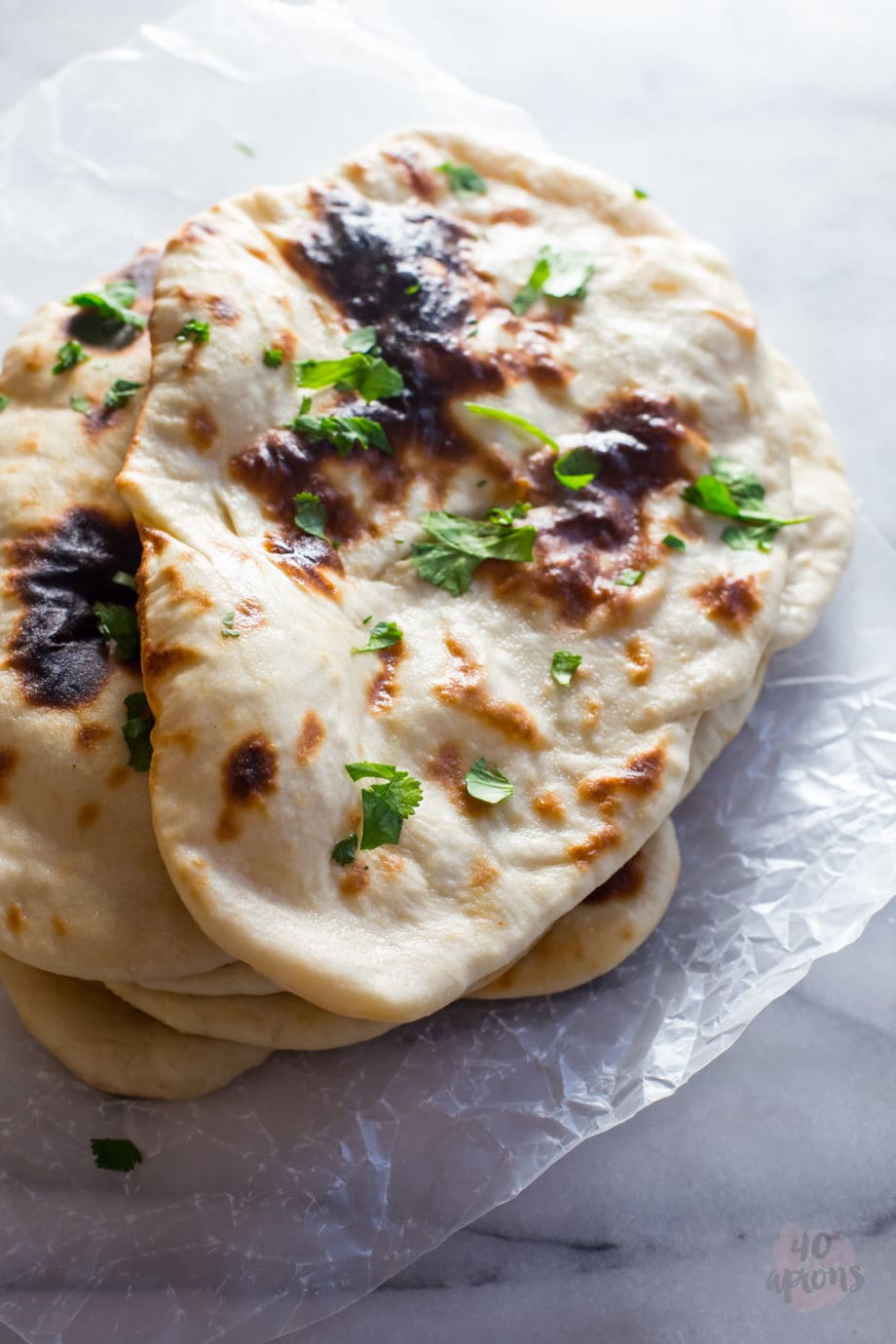 Uh.. where were w–right! I know; it was unfair to leave you naan-less with a dish that so demands the tender loaves. I've made and shared naan recipes before–specifically this whole wheat naan–but for my father-in-law's birthday I decided to go with a traditional all-purpose flour recipe that leavens the flatbread properly: no yeast, just yogurt. That makes it super simple and straightforward! I won't lie and say it's no work at all, because you do have to section out the dough and roll it and give it the stove-and-oven treatment, but it's not a complicated task. And it's really, really worth it.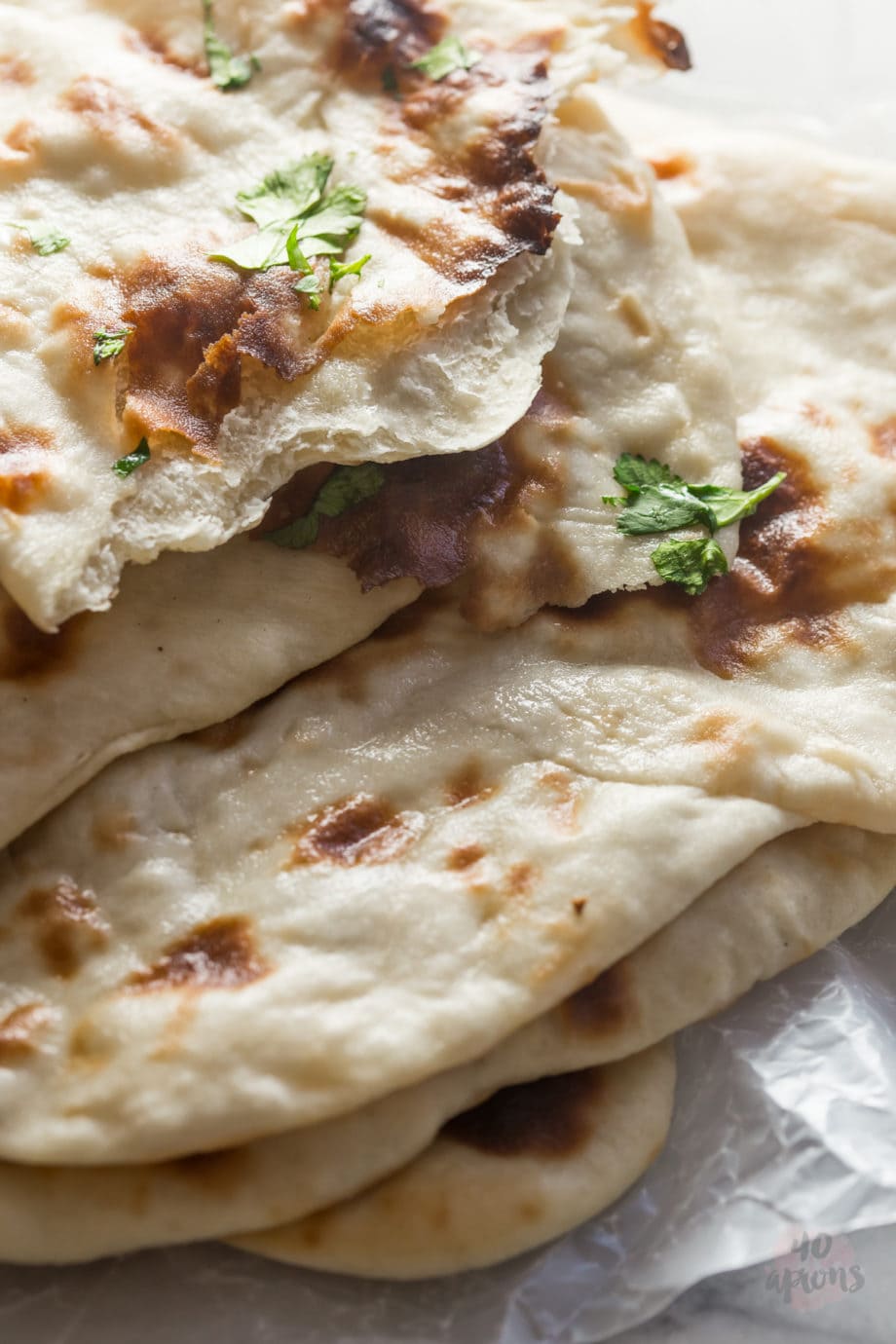 You'll love this recipe because it's almost as good as the Indian joint–almost–which is saying a lot considering you probably don't have a tandoor in your backyard. It's tender and chewy but with that lovely crisp edge you get from the high heat. It also doubles as utensils, for the truly committed among us. And at our dinner table, especially when the ol' father-in-law is around, if you're not eating your food with your naan, you're just not doing it right.
Make this!
Perfect Naan
Tender, chewy naan. Just like the Indian restaurants--perfect with any saucy Indian dish.
Ingredients
4

cups

flour

1

teaspoon

baking powder

1

teaspoon

salt

2

cups

plain yogurt

(the recipe calls for low-fat but I used regular full-fat)
Instructions
Mix together flour, baking powder and salt. Stir in the yogurt till the dough is too stiff for a spoon, then knead it in the bowl till it holds together well, adding more flour if necessary. Turn it out on a floured surface and continue kneading for about 5 minutes till the dough feels smooth and elastic. Form the dough into a ball and put it in an oiled bowl, covered with a towel, to rest for an hour or longer.

Take the dough out and cut it into 10 equal pieces. Form each into a ball and press the balls flat into round discs.

Heat a large frying pan or griddle, either seasoned cast iron or a good non-stick finish. Heat your oven to about 500 or have the broiler on.

Take 1 piece of dough at a time and roll it out on a floured surface till it is about 8-10 inches across and less than 1/4 inch thick. Lay it on the hot griddle and cook it over a medium heat for 4-5 minutes or until it puffs up in places or all over. There will be some blackish-brown spots on the bottom.

Slide a spatula under the naan and transfer it to the oven, directly onto the rack, for a minute or two, just till it finishes puffing up into a balloon and begins to color lightly on top. Remove naan from the oven and brush it lightly with melted butter if you like.

Continue this way with all the dough, stacking the breads into a napkin-lined basket. Serve the breads hot, fresh from the oven, or let them cool and wrap them up. To reheat, wrap them in aluminum foil, in packets of 4 or 5 breads and put them in a 400 degree oven for 10-15 minutes.
Notes
We also froze cooled naans and reheated them--worked very well.
Recipe from Food.com
Nutrition Information
Serving Size:
10
g
,
Calories:
212
kcal
,
Protein:
7
g
,
Fat:
2
g
,
Saturated Fat:
1
g
,
Cholesterol:
6
mg
,
Sodium:
256
mg
,
Potassium:
170
mg
,
Total Carbs:
41
g
,
Fiber:
1
g
,
Sugar:
2
g
,
Net Carbs:
40
g
,
Vitamin A:
49
IU
,
Vitamin C:
1
mg
,
Calcium:
84
mg
,
Iron:
2
mg
Number of total servings shown is approximate. Actual number of servings will depend on your preferred portion sizes.
Nutritional values shown are general guidelines and reflect information for 1 serving using the ingredients listed, not including any optional ingredients. Actual macros may vary slightly depending on specific brands and types of ingredients used.
To determine the weight of one serving, prepare the recipe as instructed. Weigh the finished recipe, then divide the weight of the finished recipe (not including the weight of the container the food is in) by the desired number of servings. Result will be the weight of one serving.