This palak paneer tastes just like the Indian restaurant! Rich and creamy, made from spinach and the creamy Indian cheese, paneer, this curry is a healthy vegetarian dinner that you'll fall in love with. Also known as saag paneer.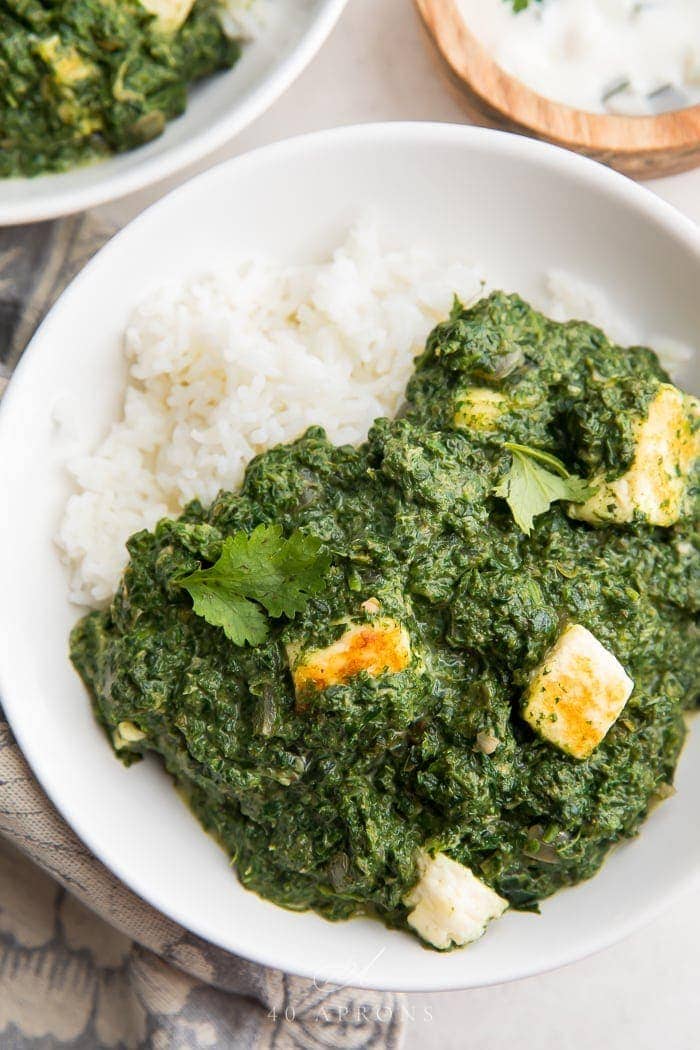 I'm that girl who gets a giant plate of palak paneer from the Indian lunch buffet.
I may or may not also be the one scooping out extra pieces of paneer like I'm panning for gold in the Wild West. But c'mon, fight me. You're not the sheriff of this town buffet.
(Actually, I'm well aware that all palak paneer needs lots of paneer, so I learned how to make paneer myself and then wrote a step by step guide on it. It's super easy and surprisingly quick, and I highly recommend you give it a whirl.)
You'll love, love, love this palak paneer, even if you're not vegetarian! I worked for years to get this to taste just like the Indian restaurant, and this might be even better. It has all the flavors you need with minimal extra ingredients.
Why This Palak Paneer Is So Good
It's super-rich and creamy, and this palak paneer recipe truly tastes so much like the restaurant version!
This recipe is naturally vegetarian, making it great for vegetarians or if you're just trying to go meatless here and there. But carnivores will devour this, too!
Flavor is the priority here, and you will not be disappointed.
Made with easy homemade paneer, it's somehow even better. Store-bought is fine, too, of course!
How to Make Palak Paneer
I'm not claiming that this recipe is quick or especially easy, although it's really just a matter of following a few different steps. It's kind of like my Restaurant-Style Chicken Tikka Masala: it takes a bit of time, but it's so worth it.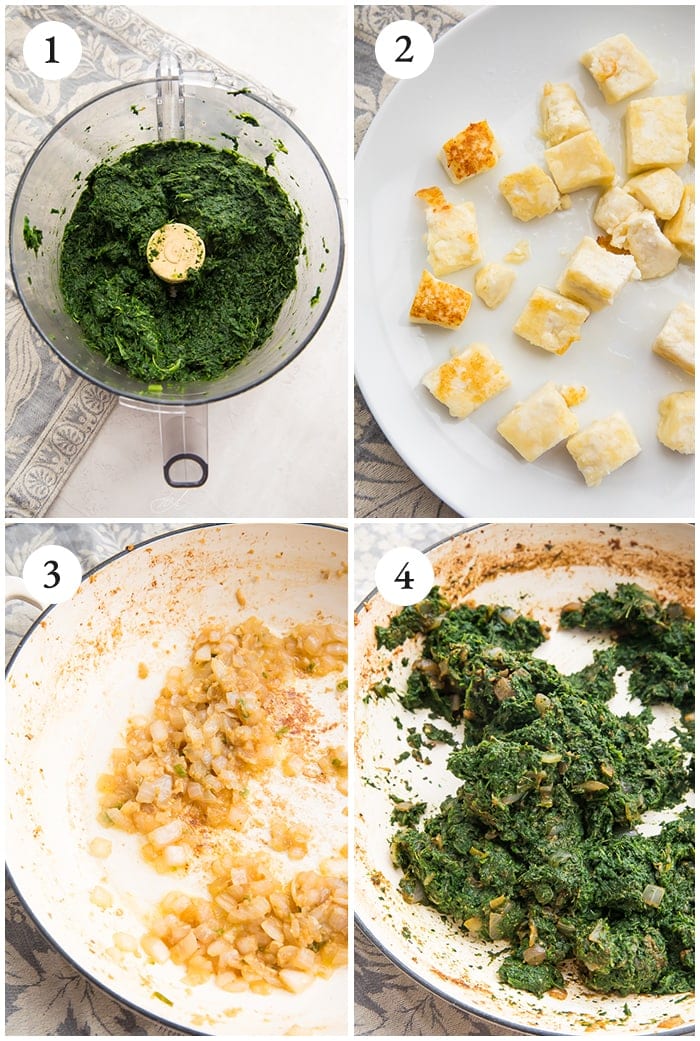 Start by preparing your spinach: steam 2 12-ounce bags of spinach then process in the food processor or blender until smooth in texture.
Now fry up your paneer. Keep it simple: add a bit of ghee to a pan over medium heat then add your paneer. Fry carefully, watching homemade paneer especially closely so it does not melt or lose its shape. Cook the paneer until a couple of sides are golden brown. You can fry store-bought paneer in about 5 minutes, but homemade paneer will need a little less time.
Next, begin caramelizing your aromatics: melt the ghee over medium-low heat then start to sauté your onions, garlic, ginger, and chiles. You'll continue to sauté this aromatic blend until a rich medium brown. This process is super important: don't rush it.
Add tablespoons of water to the mixture if it starts to dry out to prevent burning. It will take about 15 minutes for this process, but it's key to the whole recipe. Don't skip it; I'll find you.
The mixture should look like this when you're ready to move on.
Add the spices: coriander, cumin, and garam masala. Pour over a little water, about a tablespoon, to moisten the mixture and cook over medium-low heat until the spices are fragrant. This will take about 3-5 minutes.
Add the spinach to the pan, along with fenugreek leaves, plenty of salt, half and half, and yogurt. Stir until well combined then add in paneer; stir and cook for about 5 minutes.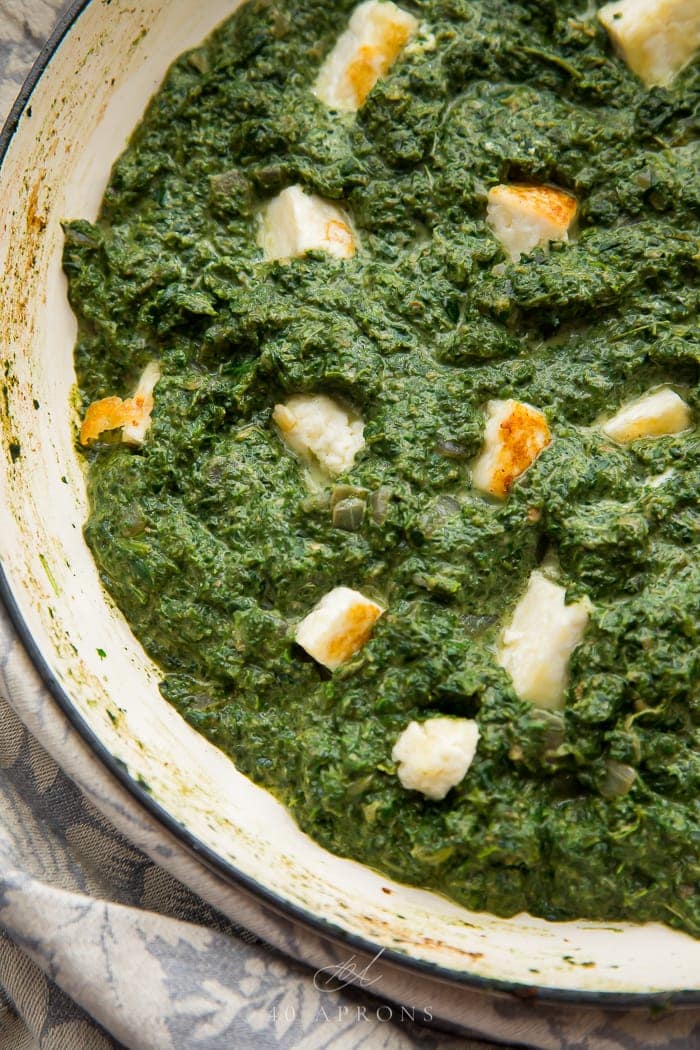 Serve over jasmine rice or cauliflower rice and with naan for perfect scooping. Top with fresh cilantro.
Homemade vs. Store-Bought Paneer
I'm going out on a limb here to say that homemade paneer is 4000000 times better than store-bought. It's softer and meltier and richer, and I just highly recommend it.
It's super easy to make, too, and comes together quite quickly. Meaning, like, you could have the idea right now and have dinner on the table in oh, about an hour, if you wanted!
My How to Make Paneer Step by Step Guide to mastering Indian cheese is just what you need. Of course, you can use store-bought paneer, too, but if you remotely have the time or inclination, I highly recommend the extra step to make homemade paneer.
Make It Vegan
Can you make this palak paneer vegan? Sure! Of course, it won't be palak paneer anymore, but palak something else. Try substituting the paneer for tofu or try a homemade vegan mozzarella. Break a ball up into chunks to mimic paneer in texture and flavor. Miyoko's makes a great vegan mozzarella that would work well, too.
Make It Whole30 or Paleo
I use the base for this palak paneer recipe in my dairy-free, paleo, and Whole30-compliant Saag Chicken recipe. Check it out!
What is the difference between saag paneer and palak paneer?
The difference is in the leafy greens used to make the base.
Saag paneer is made from various greens, usually spinach, mustard, etc. "Saag" means "leafy greens" in Hindi, so "saag paneer" can be a dish that contains just spinach, or it can contain other varieties. It's a more inclusive term.
Palak paneer is made from only spinach, in terms of greens. "Palak" means "spinach" in Hindi, so all palak paneer contains only spinach.
Make sense? It doesn't really matter whether you call this vegetarian curry palak paneer or saag paneer, though; it's all delicious as can be.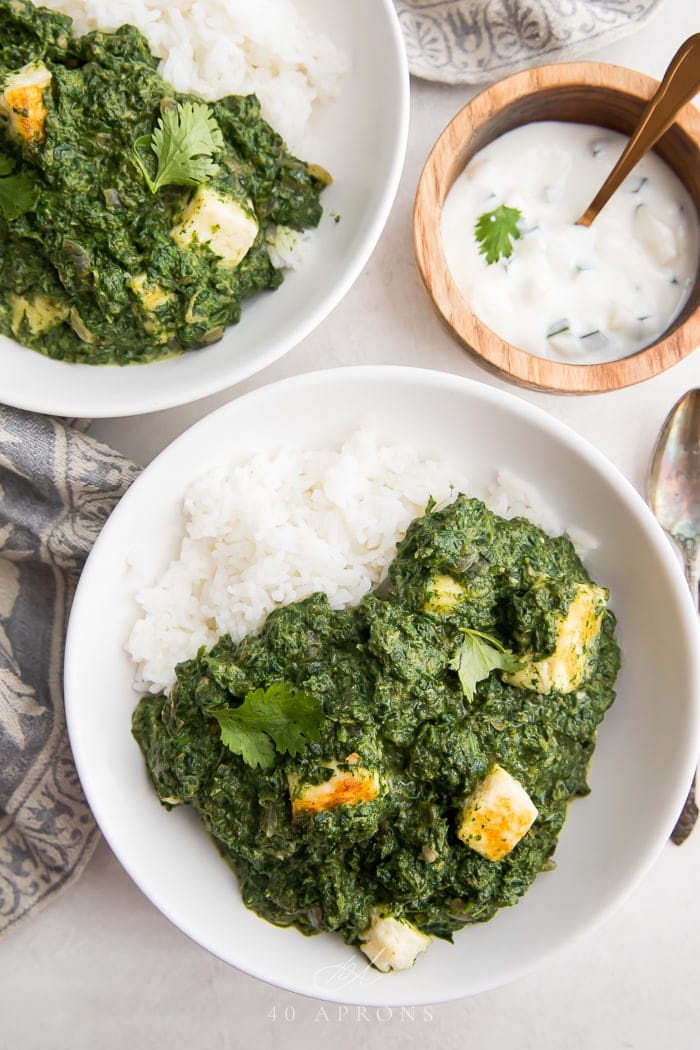 Other Indian Recipes You'll Love
Hey – you've made it this far, and now we're best friends! If you make this recipe, I'd love for you to give it a star rating ★ below. Make sure you follow me on Instagram, Pinterest, and Facebook, too!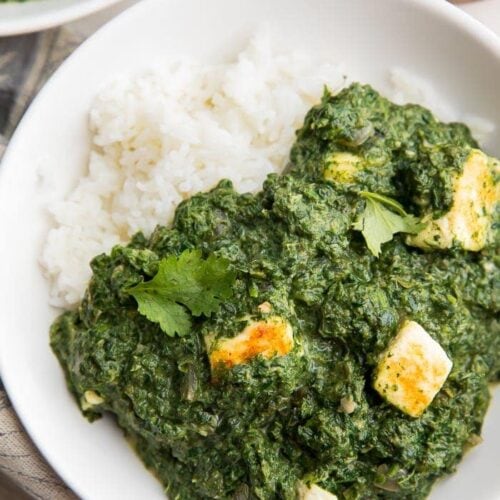 Palak Paneer
This palak paneer is rich and flavorful, and it tastes just like the Indian restaurant. A vegetarian curry that everyone will love.
GO PREMIUM - AD FREE + MEAL PLANS
Ingredients
4

tablespoons

of ghee or neutral oil

divided

12

ounces

of paneer

cubed. See Note

2

12-ounce

of packages frozen spinach

6

cloves

of garlic

1 1/2

tablespoons

grated ginger

1-2

pieces

serrano chiles

minced. See Note for spice levels

1

piece

medium white onion

chopped

1

teaspoon

garam masala

4

teaspoons

coriander powder

2

teaspoons

cumin powder

2-3

tablespoons

dried fenugreek leaves

See Note

1 1/2

cups

half-and-half

1/2

cup

plain full-fat yogurt

1-2

teaspoons

salt

1

piece

fresh cilantro

chopped, to serve

1

cup

steamed basmati rice

or cauliflower rice, to serve

1

piece

naan

to serve
Instructions
Steam spinach and wring out excess water. Transfer to a food processor or blender and process until puréed. Set aside.

Heat 1 tablespoon ghee or neutral oil in a large skillet over medium heat. Add cubed paneer and fry until golden brown on a couple of sides, about 3-5 minutes. Homemade paneer will need a little less time, whereas store-bought can handle 5 minutes. Transfer paneer to a plate.

Return skillet to medium-low heat. Heat remaining 3 tablespoons ghee. Add onions, ginger, garlic, and serrano chiles. Cook slowly, stirring regularly, until the mixture becomes a rich medium brown color. Don't skip this part! Add a little water, 1 tablespoon at a time, as needed, if the mixture is burning or drying out.

Add the garam masala, coriander powder, and cumin powder. Sprinkle with a little water to moisten. Cook, stirring frequently, until the spices are fragrant, about 3-5 minutes.

Add the spinach to the skillet and stir well. Add 1 teaspoon salt, half and half, yogurt, and fenugreek leaves. Stir to combine well, then add the paneer and stir gently. Cook about 5 minutes then taste and add more salt as needed.

Serve over steamed basmati rice and top with fresh chopped cilantro. Serve with warmed naan brushed with more ghee.
Notes
If you are not using homemade paneer, you can find paneer at Indian groceries and some well-stocked convention grocery stores.
Spice Levels
For mild, use 1 serrano chili and deseed it before mincing.
For medium, use 1 serrano chili and leave seeds intact.
For hot, use 2 serrano chilis and leave seeds intact.
Fenugreek leaves:
I highly recommend you stock your pantry with dried fenugreek leaves if you make Indian recipes. This ingredient will make all the difference between an "at-home" flavor vs. a restaurant-style flavor.
You can order them off Amazon
or find at Indian grocery stores.
Nutrition
Serving:
8
g
Calories:
540
kcal
Carbohydrates:
43
g
Protein:
15
g
Fat:
34
g
Saturated Fat:
20
g
Cholesterol:
90
mg
Sodium:
582
mg
Potassium:
221
mg
Fiber:
2
g
Sugar:
3
g
Vitamin A:
304
IU
Vitamin C:
3
mg
Calcium:
407
mg
Iron:
1
mg
Net Carbs:
41
g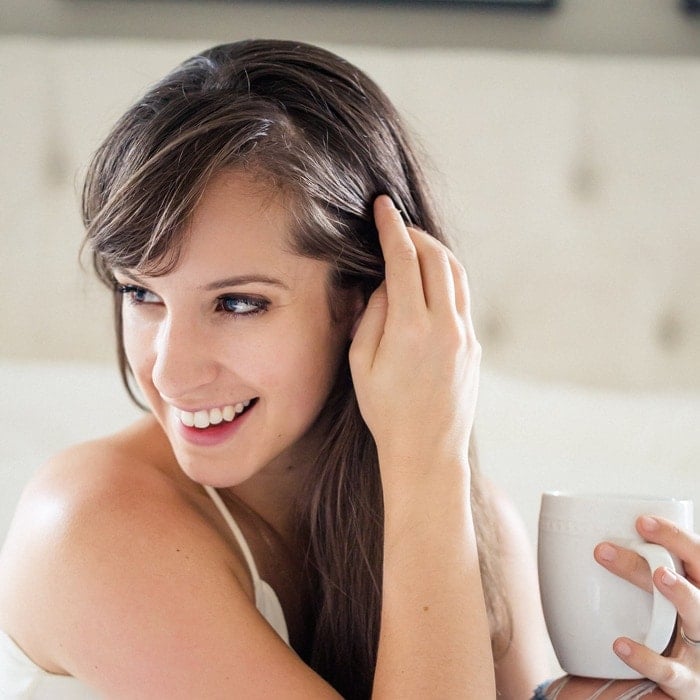 Cheryl Malik is the recipe developer, writer, and photographer behind the healthy, flavorful, family friendly recipes at 40 Aprons. She's been a blogger for 10+ years and is known for her delicious recipes and detailed recipe instructions. Cheryl is a mom of three who lives in Memphis, TN.