Cucumber water is refreshment in a glass! Learning how to make cucumber water is so, so easy and is fantastic if you're tired of drinking plain water. Cucumber water has health benefits beyond just tasting like a day at the spa, and we love having a pitcher in the fridge in the spring and summer!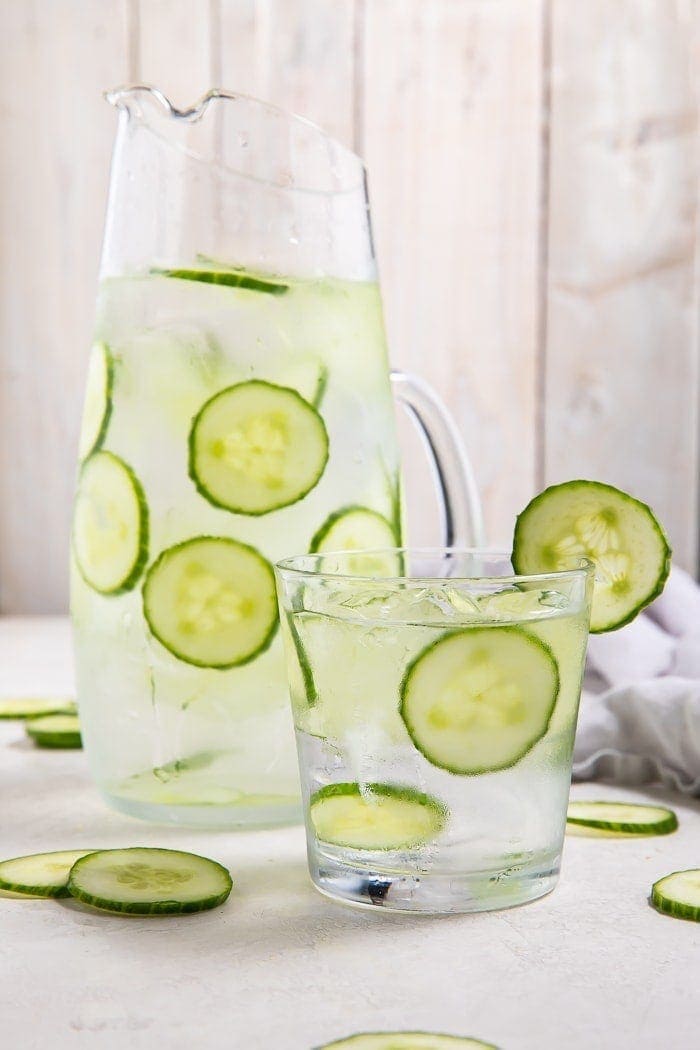 Sometimes plain tap or bottled water just won't cut it. Super refreshing and tasty, cucumber water in like a spa in a glass. It's the perfectly delicious way to quench your thirst.
Cucumber infused water is also loaded with health benefits. Full of antioxidants and nutrients, it's way healthier than a sugary soda, sports drink, or saccharin- or aspartame-packed diet drink. Cucumber water is exceptionally hydrating and our favorite way to feel refreshed!
What You'll Need To Make This Recipe
English cucumber – You can use a regular cucumber if you have to, but we really prefer English. It's a longer, sweeter variety of cucumber that's seedless and has a thinner skin.
Water – If you have great tap water where you live, perfect! Otherwise, you can use bottled or purified.
How To Make Cucumber Water
Combine the cucumber slices and water in a pitcher.
Let infuse for at least 15 minutes before serving, ideally for about an hour.
Pour over ice and serve.
Benefits of Cucumber Water
There are a ton of health benefits of sipping on cucumber water (especially instead of other drinks), but here are just a few:
Full of antioxidants – Antioxidants can help prevent or stop the damage that free radicals create within the body. When free radicals run rampant, they can cause issues like diabetes, cancer, heart disease, and other health problems.
Keeps you hydrated – Chugging 8 (or more!) glasses of water a day is so much easier when the water is super tasty! Staying hydrated keeps your body healthy by keeping your joints lubricated, preventing infections, delivering nutrients to cells, improving your mood and sleep quality, and in a ton of other ways.
Can help you lose weight – Drinking cucumber water instead of other drinks can help eliminate major calories from your diet. Also, sometimes you think you're hungry when you're really just dehydrated. Try drinking a glass of cucumber water before meals or between them to make sure you're getting enough hydration and that those afternoon munchies are actual munchies.
Good for skin – Cucumber water is full of vitamin B, which is great for skin, especially acne-prone skin. (You can wash your face with cucumber water, too!)
Might help prevent cancer – Cucumbers have several components that early research has shown may be beneficial in preventing the body from developing cancer. Fisetin, in particular, may actually help slow the progression of prostate cancer.
Different Variations
You can use a variety of other fruits and herbs with your cucumber slices to make differently flavored infused waters. We particularly love a couple of cups of fresh or frozen pineapple and about 10-20 sprigs of mint along with our cucumber when we're feeling fancy! Try these other ingredients in your cucumber water, too:
Watermelon
Limes and strawberries
Orange and rosemary or ginger
Lemon
Ginger
Strawberry and mint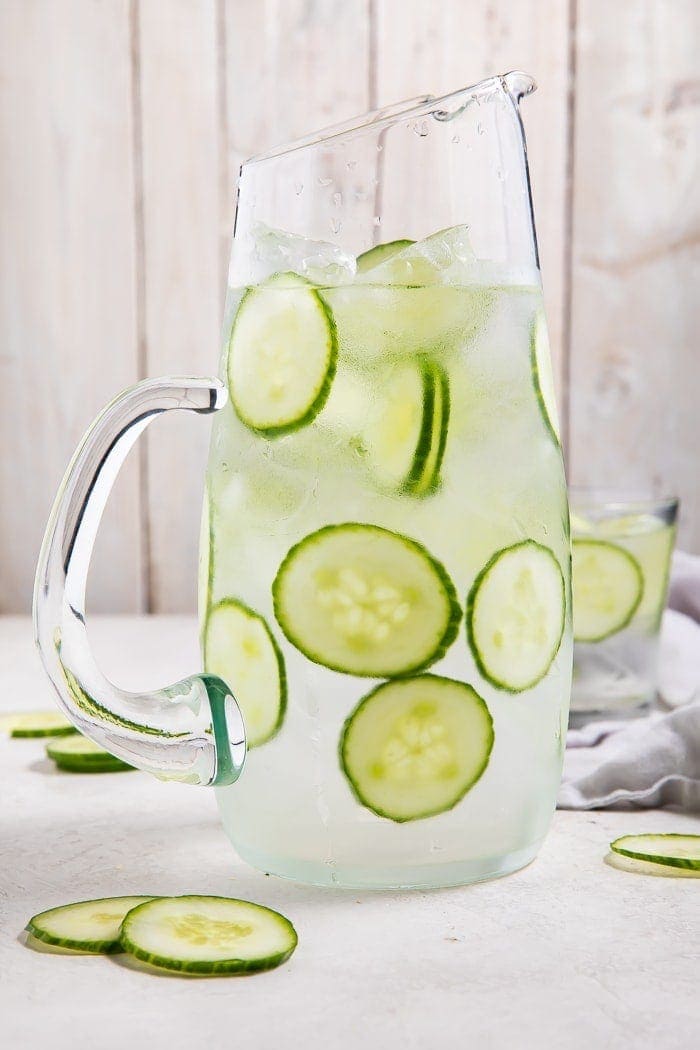 More Delicious Drinks
Hey – you've made it this far, and now we're best friends! If you make this recipe, I'd love for you to give it a star rating ★ below. Make sure you follow me on Instagram, Pinterest, and Facebook, too!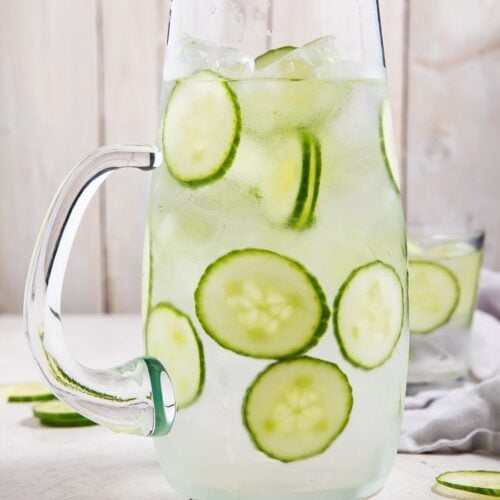 Cucumber Water
So easy and exceptionally hydrating, cucumber water is the perfect healthy summer drink.
Ingredients
1

medium English cucumber

sliced into 1/4" rounds

8

cups

water
Instructions
Combine cucumber and water in pitcher.

Let infuse for at least 15 minutes before serving, ideally about 1 hour. Pour over ice and serve.
Notes
Flavor variations:
Pineapple and mint
Watermelon
Limes and strawberries
Orange and rosemary or ginger
Lemon
Ginger
Strawberry and mint
Nutrition
Calories:
6
kcal
Carbohydrates:
1
g
Protein:
1
g
Fat:
1
g
Saturated Fat:
1
g
Sodium:
13
mg
Potassium:
55
mg
Fiber:
1
g
Sugar:
1
g
Vitamin A:
39
IU
Vitamin C:
1
mg
Calcium:
13
mg
Iron:
1
mg