This watermelon juice recipe is easy, sweet, and so refreshing, plus it's made with only one ingredient! Making homemade watermelon juice is a great way to save money but savor fresh, hydrating watermelon all summer long. Tastes just like Watermelon Water!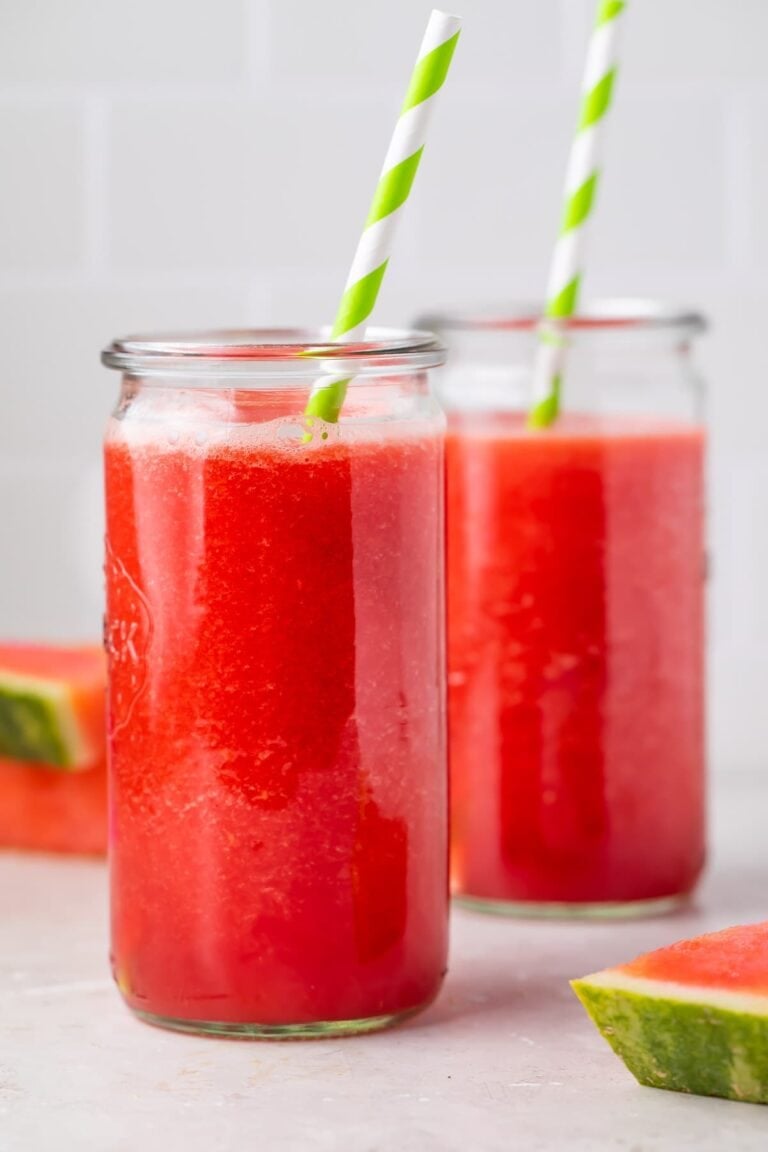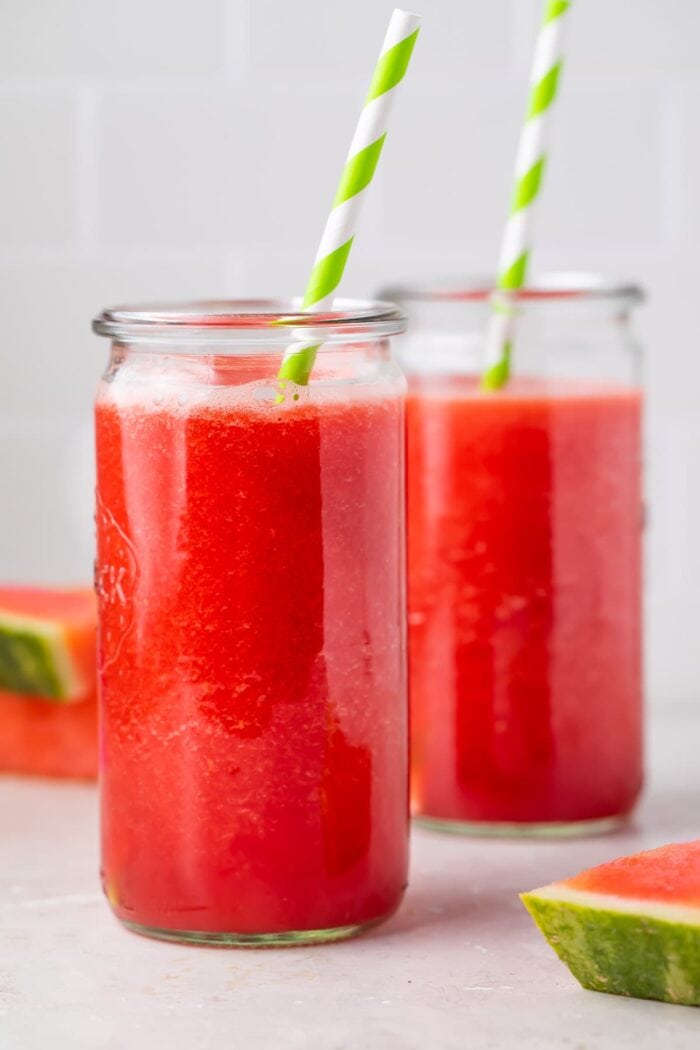 What Makes This Watermelon Juice So Good
It tastes – dare I say it? – even better than that amazing, delicious, refreshingly fruity bottled watermelon water you can find at the store, and it won't cost you $4+ per serving.
Watermelon juice is incredibly easy to make! The most difficult part is cutting the watermelon (if you need tips for that, check out this post) but honestly you could use the pre-cut fresh watermelon chunks from the grocery store if you wanted to save even more time and energy.
There's no added sugar or other flavors in this recipe. It's just 100% pure, incredible watermelon! If you wanted to blend in lemon juice (which would make it taste just like Wtrmln WTR) or even a little mint, you absolutely could, but I prefer my juice super simple.
On it's own, watermelon juice is a little thick compared to water or most store-bought juices. That's because it's pulverized fruit, fibers and all. I prefer it that way, but if you don't, it's easily fixable! If you want to thin your watermelon juice out a little, just blend in water until you've achieved your preferred consistency.
Key Ingredients for Watermelon Juice
Watermelon – That's it. That's the ingredient. A general "rule" to keep in mind if you're buying a fresh, whole watermelon is that every pound of watermelon gives you approximately 1.5 cups of watermelon. That means, for this juice recipe, you'll want a watermelon that's roughly 4 pounds, minimum.
How Do You Choose the Best Watermelon?
When you're eating watermelon, there's really nothing worse than biting into a piece and getting a mouthful of tough, dense, flavorless melon. Luckily, there are things you can look for to cut down on the odds of that happening! Choosing the right watermelon will have a big impact on your watermelon juice.
Like with most produce, you'll want to find one that's pretty heavy for its size. The extra weight generally means more water, which means a juicier watermelon.
Your ideal watermelon should have a deep-yellow spot on one side. Why? That spot is where the watermelon was resting on the ground before it was picked, a.k.a. the field spot. The darker color generally means it was on the vine longer, which usually means a sweeter watermelon. The sweeter the watermelon, the sweeter the watermelon juice.
Knock, knock! Rap on the watermelon a time or two. Your knuckle should bounce off the surface, and you should hear a deep sound. You can give the rind a squeeze, too – if it squishes at all, move on to the next one.
Choose one that's a deep, rich green, with pale yellow stripes and a dull (not shiny) complexion. Also, if it has brown spots or streaks that look kind of like webs, that's a good thing! That usually means it was pollinated more, and the more it was pollinated, the sweeter it'll be.
Is Watermelon Healthy?
Somewhere along the line, watermelon got a bad rap for being less nutrient dense than other fruits, but it's actually packed with goodness. On top of being ridiculously hydrating (seriously, watermelons are a whopping 92% water), watermelons also boast:
free-radical-fighting lycopenes
anti-inflammatory cucurbitacin E
vitamin C
carotenoids, AKA what your body generously turns into vitamin A
amino acid citrulline
potassium
magnesium
a handful of vitamins B
Drink your watermelon juice blissfully.
Chef's Tips
If you want a juice with less pulp, just pour the blended watermelon through a fine mesh sieve over a pitcher or large jar. Keep in mind that the pulp is where the fiber is, though. I prefer to keep mine a little pulpy since watermelon is pretty high in sugar.
Can you make this in a food processor or juicer? I don't see why not! Just make sure you process everything really well. You'll probably want to strain the juice, too. Honestly, I still think the blender is the easiest option!
Want the ultimate watermelon flavor? If you usually eat watermelon with a little salt, sprinkle a pinch of fleur de sel into your watermelon juice, either before you blend it or before you serve it. Incredible.
I really recommend serving this watermelon juice chilled, or at the very least over ice. You could also freeze some of the juice into cubes and use those in your glass of juice. That way, as they melt, they're not watering down your drink!
Watermelon Juice Variations
Thin your watermelon juice with sparkling water instead of flat to turn it into a sparkling watermelon water.
In the mood for an adult watermelon juice? Blend in vodka or rum (plain or flavored) for a refreshing, super easy cocktail.
Add peeled, diced cucumber and a little lime juice for a crisp, flavorful variation. You'll probably want to strain this one.
Fresh mint leaves or a dash of mint extract blended with your watermelon chunks will make your juice delectably light with the slightest mint flavor.
For a frozen watermelon juice, cut the watermelon into chunks, then line the chunks on a sheet pan. Set the pan in the freezer until the watermelon's frozen, then blend the frozen cubes until you've got a watermelon daiquiri consistency.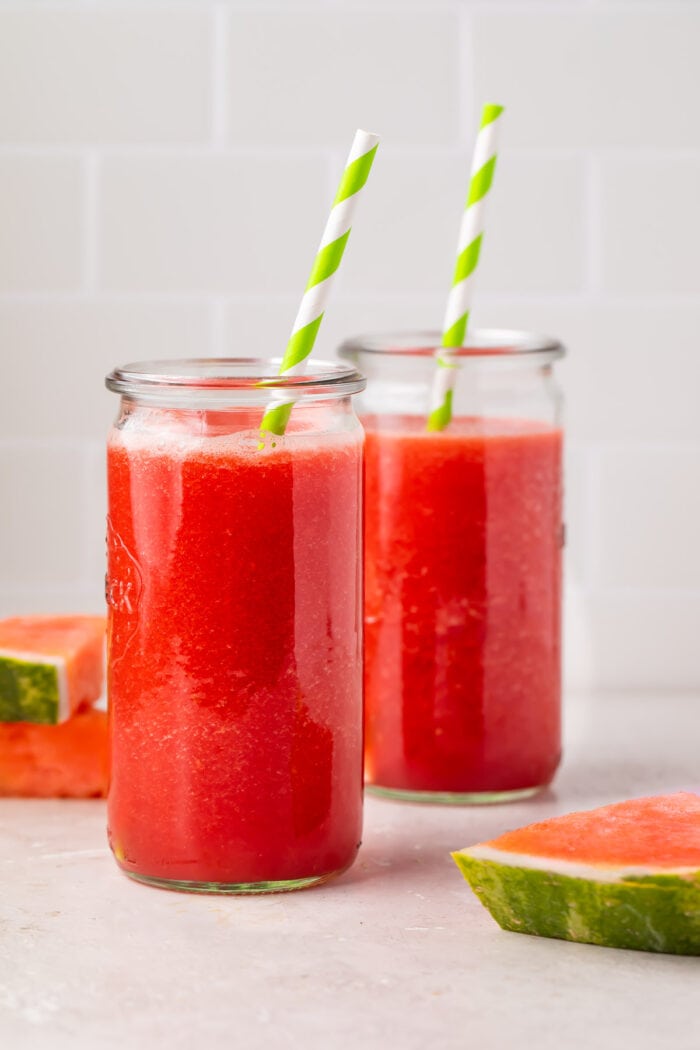 Try These Other Summertime Drinks
Hey – you've made it this far, and now we're best friends! If you make this recipe, I'd love for you to give it a star rating ★ below. Make sure you follow me on Instagram, Pinterest, and Facebook, too!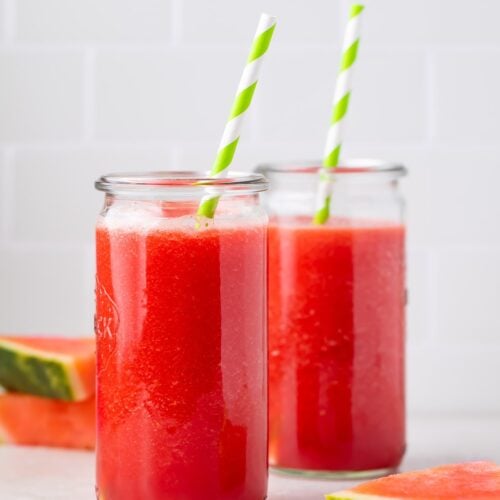 Easy Watermelon Juice Recipe (No Juicer!)
This watermelon juice recipe is easy, sweet, and so refreshing, plus it's made with only one ingredient! Making homemade watermelon juice is a great way to save money but savor fresh, hydrating watermelon all summer long. Tastes just like Watermelon Water!
GO PREMIUM – AD FREE + MEAL PLANS
Equipment
blender

Fine Mesh Sieve (optional)
Ingredients
6

cups

ripe, seedless watermelon

cubed

1

cup

water

optional
Instructions
Place cubed watermelon in blender.

Blend at medium speed, increasing speed slowly until watermelon is completely smooth. If desired, add water and blend again to achieve thinner consistency.

Serve immediately over ice or refrigerate until chilled. Note: if you'd prefer a no-pulp juice, you can strain the liquid through a sieve before serving.
Notes
I personally prefer the watermelon juice without extra water added, but you can add water–as much or as little–as you like!
If you have any leftover watermelon juice, refrigerate it in an airtight container up to 2 days max.
Recipe yields approximately 2 servings. Nutritional values shown are general guidelines, and reflect information for one serving. Macros may vary slightly depending on specific types and brands of ingredients used. To determine the weight of one serving, prepare the recipe as instructed. Weigh the finished recipe, then divide the weight of the finished recipe (not including the weight of the container the food is in) by 2. Result will be the weight of one serving.
Nutrition
Serving:
1
serving
Calories:
137
kcal
Carbohydrates:
34
g
Protein:
3
g
Fat:
1
g
Saturated Fat:
1
g
Sodium:
10
mg
Potassium:
511
mg
Fiber:
2
g
Sugar:
28
g
Vitamin A:
2595
IU
Vitamin C:
37
mg
Calcium:
35
mg
Iron:
1
mg
Net Carbs:
32
g
If you enjoyed this post, be sure to check out 40 Aprons Premium! 40 Aprons Premium offers exclusive recipes, monthly meal plans, grocery lists, and more – all completely ad free!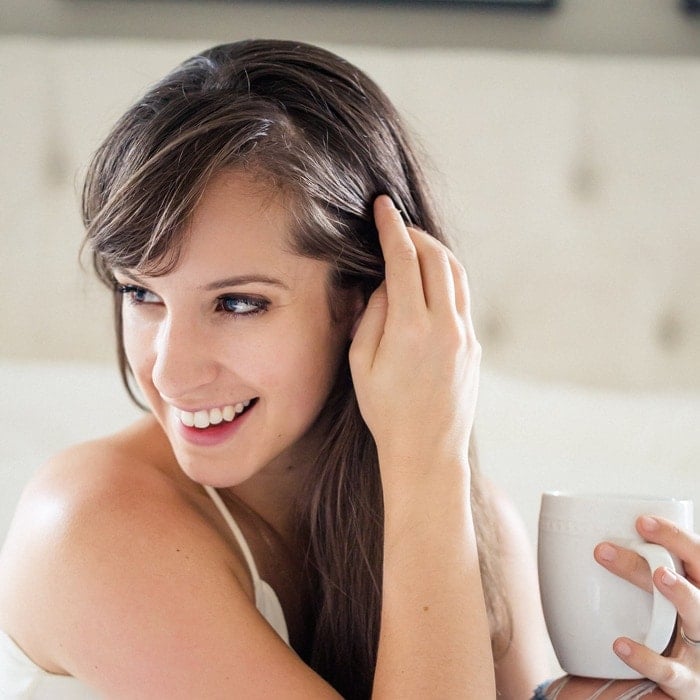 Cheryl Malik is the recipe developer, writer, and photographer behind the healthy, flavorful, family friendly recipes at 40 Aprons. She's been a blogger for 10+ years and is known for her delicious recipes and detailed recipe instructions. Cheryl is a mom of three who lives in Memphis, TN.