This watermelon juice recipe is easy, sweet, and so refreshing, plus it's made with only one ingredient! Making homemade watermelon water is a great way to save money but savor fresh, hydrating watermelon all summer long.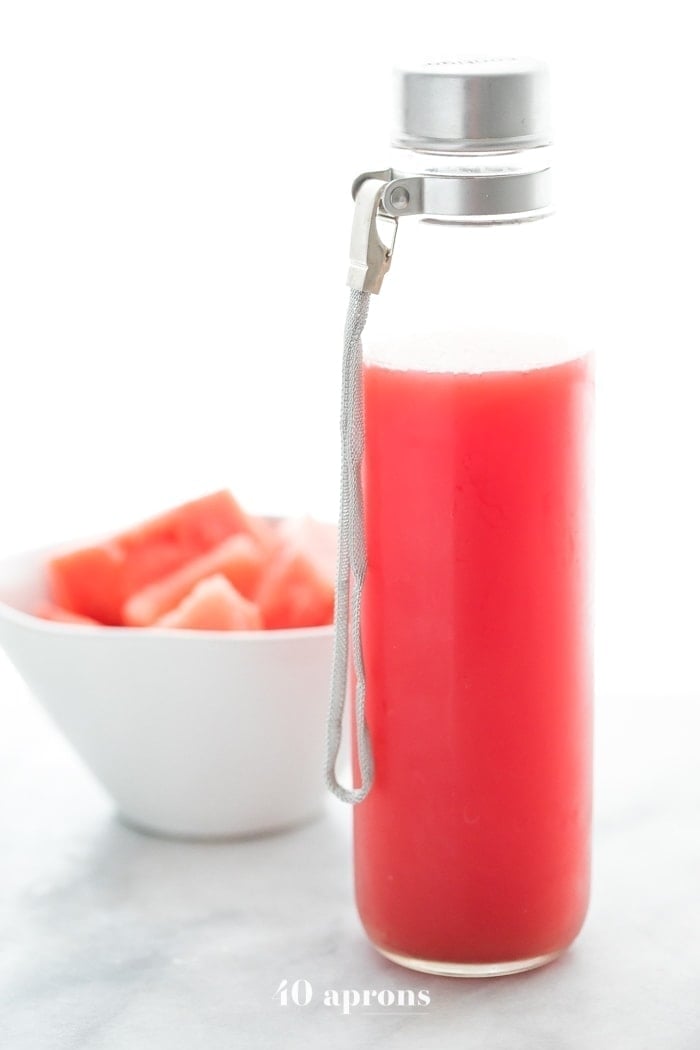 Don't mind me, just gently thumping the hearts of watermelons over here. Divining which one is perfectly ripe, sweet, and juicy. Analyzing and massaging her underbelly for signs of maturity and depth. Making up half of it but looking really professional to the other grocers.
Translation: Are you as obsessed with watermelon water as I am? Or should we say, erm, Watermelon WTR? You've seen the bottles at the store: they sell for something like $3 a pop and are wrapped in a classically watermelon striped label. They taste, at once, sweet and fresh and somehow green and juicy, and they're full of lycopenes, vitamins, minerals, carotenoids… oh. my.
I personally can't resist picking up a bottle of watermelon water whenever I'm out, but my wallet is certainly resisting. They go on sale for maybe $2.75 a pop, and considering I can get a whole ding dang watermelon for about that price right now, my poor bank account is softly crying out at me every time my eyes dart for the juice section in produce.
"Make your own watermelon water!" They say to me. "Just do it your damn self, you spendy Cindy."
I'm pretty sure my wallet made up the nickname "Spendy Cindy," but I'm not also saying Wallet isn't super on point there. I'm not not saying that. Not not not not saying that.
Turns out, though, it's really, really easy to make watermelon water at home. It's easier than putting on pants and going to the store for sure, and here's the real kicker: homemade watermelon water is way, way better than the bottled stuff. Shocker, yeah? I mean, maybe not, except I didn't quite believe I could capture all the sweet and juicy glory or watermelon water (or watermelon juice, which is kind of what we're doing here) myself. Self-esteem officially defeated.
This homemade watermelon water recipe is really versatile, too. Check it out:
Recipe Variations
Add water to your watermelon juice to make a less sweet and rich watermelon water. And it'll stretch that watermelon budget, too!
Add a bit of lemon juice to your watermelon juice for a recipe that's more like the watermelon water that uh, Watermelon WTR sell.
Sprinkle in a pinch of fleur de sel for that ultimate salted watermelon taste. Girl, get it.
Throw in a handful of mint for a super refreshing treat.
How to make watermelon water at home
It's pretty simple, y'all, and it goes like this:
Put cubed watermelon in a blender. Blend. Tada. In fact, this watermelon water recipe is hardly a recipe, don't you think? Except I personally thought I would need an actual juicer to make it happen, so I made it a recipe, dagnabbit. Hey, you're here, aren't you?
Can I use a food processor or juicer?
I don't see why not! If you use a food processor, make sure that you process the watermelon very well, and you'll probably want to strain the mixture, too. The juicer will remove the relatively low fibers from the watermelon, which I prefer to keep since it's naturally pretty high in sugar. But you can definitely do it!
What are the health benefits of watermelon juice?
How much time do you have? Seriously, watermelon somewhere along the line got a bad rap for being less nutrient dense than other fruits, but it's actually packed with goodness. On top of being insanely hydrating, watermelons boast:
cancer-fighting lycopenes
tumor-blocking cucurbitacin E
vitamin C
carotenoids, AKA what your body generously turns into vitamin A
amino acid citrulline
potassium
magnesium
a handful of vitamins B
Drink blissfully.
FAQs
What is watermelon juice?
Watermelon water is blended watermelon with optional water added. Pretty fancy, right?
How long does this homemade watermelon juice recipe last?
I found that it tasted best within a day or two of being made. If it even lasts that long!
Can I blend this with other fruits or vegetables?
Sure! Cucumber specifically would be amazing, but you'll want to make sure to peel the cucumber, unless you're using a juicer. I would also strain that mixture after blending. But how refreshing does that sound?
Is this Whole30?
Eh… you're not supposed to drink your fruits, much less eat quite so much of them anyway. Save this for your food freedom. A little bit in a glass of sparkling water with some mint would be a great Whole30-OK mocktail on occasion, though!
Did you make and love this recipe? Give it your review below! ? And make sure to share your creations by tagging me on Instagram!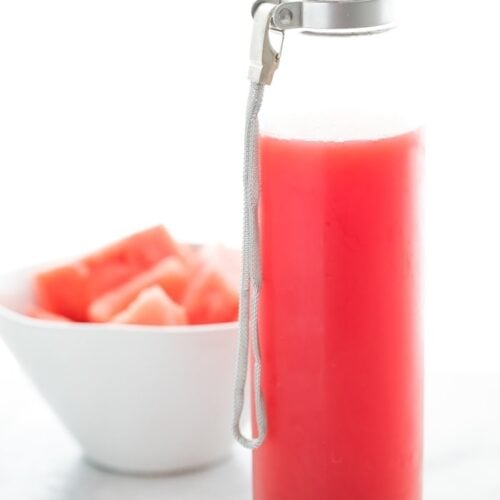 Watermelon Water Recipe (Easy, 1 Ingredient)
This watermelon water recipe is easy, sweet, and so refreshing, plus it's made with only one ingredient! Making homemade watermelon juice is a great way to save money but savor fresh, hydrating watermelon all summer long.
Ingredients
6

cups

ripe seedless watermelon

cubed

1

cup

water

optional
Instructions
Place watermelon in a high-speed blender. Turn blender on medium speed and work up to high speed, until watermelon is completely smooth. Use tamper if necessary.

Add water to watermelon juice, if desired. Keep in an airtight bottle for 1-2 days.
Recipe Notes
I personally prefer the watermelon juice without extra water added, but you can add water--as much or as little--as you like!
Nutrition Facts
Watermelon Water Recipe (Easy, 1 Ingredient)
Amount Per Serving (2 g)
Calories 137
Calories from Fat 9
% Daily Value*
Fat 1g2%
Sodium 10mg0%
Potassium 511mg15%
Carbohydrates 34g11%
Protein 3g6%
Vitamin A 2595IU52%
Vitamin C 37mg45%
Calcium 32mg3%
Iron 1mg6%
* Percent Daily Values are based on a 2000 calorie diet.