Vegan Meal Plan #1

Posted: 02/10/14 Updated: 02/02/23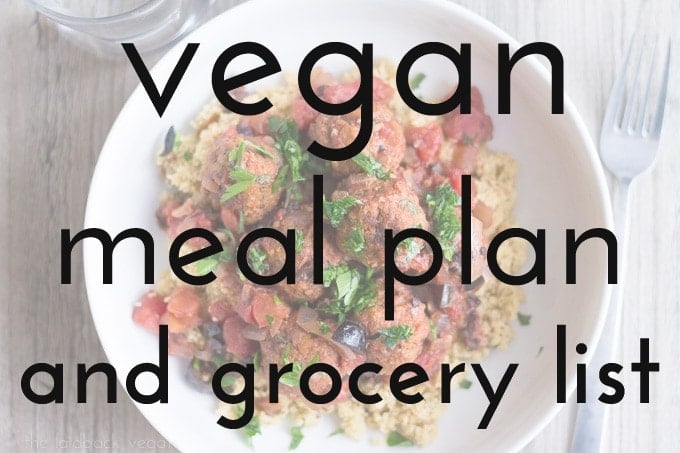 A friend of mine recently expressed interest in a more plant-based diet and requested information about my weekly shopping and meal plans. I've been on-and-off vegetarian for so long that a trip to the grocery store is just second nature, but I'm asked often, "What do vegans even eat?" Of course, we eat food! We eat the most natural diet for our bodies, but that's not what they're asking, I know. In our meat-and-dairy-loving society, what do vegans eat, besides steamed kale and erm, brown rice?
Maybe you know a few things about vegan food, especially things like seitan, whole grains, or even meat "substitutes" (I use that term loosely, since I almost view meat as a seitan substitute, having nailed the perfect recipe ermahgawd), but after a trip to Whole Paycheck Foods, you might be wondering how anyone could afford it.
So I decided to share my weekly receipts and dinner meal plans, in hopes of demystifying our plant-based diet even just a bit. If you have no interest in these types of posts, please let me know! If you do, let me know that, too. Why spend valuable time and real estate in your inbox if you simply don't care? I'm here for the people, people. I feel like if I had a commercial, I'd wanna green-screen it with a waving American flag behind me, as I look off into the distance, an eagle soaring overhead, winking at me, since it knows I don't eat its cousins.*
This week, we had to stock up on a few more major things, like olive oil and vegetarian chicken bouillon, so we spent a bit more than we normally would, but still came in under $65! And that's all organic that "matters" (dirty dozen style, mostly–we picked up a non-organic red bell pepper since they were on a killer sale, and we bought some organic bananas just for funzies. My favorite Kashi cereal (Just Maize, ughhh) was on sale, too, so we picked up two boxes of cereal instead of just the one for O.
The Meal Plan
My parents invited us over for dinner this week and were so desperate to see us that they picked up faux chicken nuggets, sweet potatoes, and kale from Whole Foods to lure us over, among their feast of Honey Baked ham, mac and cheese, and green bean casserole. Not the healthiest ever.. but they don't usually offer to make something special for us, so we went with it. Long story short, we only had to make 5 dinners this week, since the dinner we'd planned for this Sunday got moved into next week. We cook dinner at home 6 times a week and go out on Fridays, because.. cooking dinner on Friday is the worst. THE WORST! #problemsofprivilege
You can check out my list of dinners on the Pinterest board I used for this week's meal plan. The meals include a Greek-inspired night of seitan gyros on homemade whole wheat pita with cashew cream tzatziki sauce and a greek salad, vegan french toast (what up flaxseed) with black-eye-pea sausage and baked apples, avocado-clementine-beet salad with chickpea salad, mock Chick-fil-A seitan nuggets with sweet potato fries with vegan honey mustard sauce, a simple bruschetta pasta with a side of garlic kale, and vegan nachos (!!!) with chimichurri and possibly seitan "chorizo" from the leftover ground seitan I have in the freezer.

The Receipts
DINNERS MEAL PLAN
Whole Foods
Two organic potatoes, $3.00
Two organic cucumbers, $1.73
Kroger
Three organic romaine hearts, $3.39
8 oz. mushrooms, $2.69
Two red onions, $2.02
Bunch of organic kale, $0.99 (though I think this should have been $1.99)
Red bell pepper, $1.25
Three Roma tomatoes, $0.67
Bunch cilantro, $0.79
Bunch flat Italian parsley, $0.99
Bunch green onions, $0.59
Fresh organic basil, $1.79
Can of beets, $0.69
Two sweet potatoes, $1.01
Two avocados, $1.98
One white onion, $077
Jalapeño pepper, $0.15
PANTRY NECESSITIES
Whole Foods
No Chicken Base, 8 oz., $1.00 off, sale price at $4.99
Kroger
Olive oil, 32 oz., $8.99
Garlic powder, $1.00
Black peppercorns, $1.79
BREAKFAST, LUNCHES, SNACKS, NECESSITIES
Whole Foods
Fresh peanut butter by weight, $2.85
Organic bananas, 2.16 pounds, $1.90
Bulk organic Thompson raisins, .31 pounds, $0.99
Kroger
Almond milk, unsweetened, $2.79
Kashi Just Maize cereal, $1.00 off, plus $0.50 coupon, total price at $2.49
Kashi Indigo Morning cereal, $1.00 off, plus $0.50 coupon, total price at $2.49
Seltzer water, for O's vodka-seltzers, $0.99
Coffee creamer, evil stuff, for O, $2.00
100% whole wheat bread, Private Selection brand, $2.00
Two limes for O's vodka-seltzers, $0.66
That totals out to $48.30 at Kroger and $16.47 at Whole Foods. A grand total of
$64.77!
Not too bad considering how many meals that is, the amount of bulk items we had to stock up on, and that we bought all the "important" organic produce. Additionally, we'll only eat out three lunches apiece, and one dinner together. Dang!
*Basically, I'm the vegan food blogger version of Saul Goodman.