Whole30 Prep

Posted: 12/20/17 Updated: 05/11/22
Learn all about Whole30 prep with tips and tricks from a Whole30 lover. From self-care to stocking the fridge, memorizing foods to investing in sparkling water, these steps make it easier than ever to do Whole30 prep! It has absolutely everything you need to start a great round.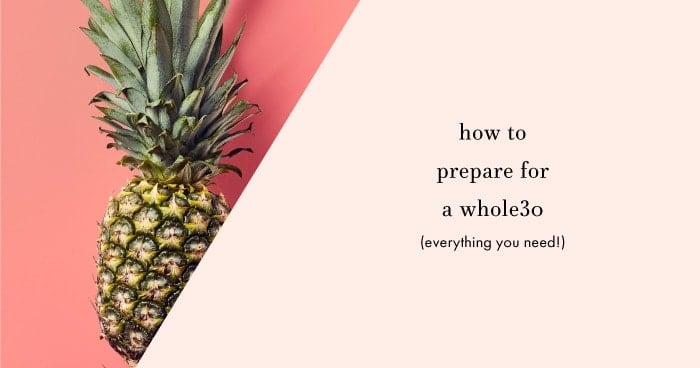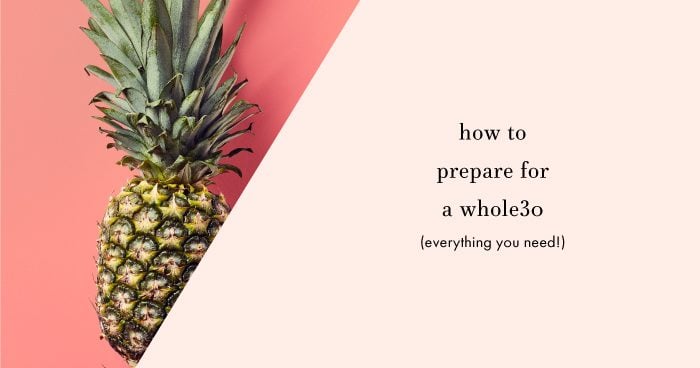 Who's doing a Whole30 in January? After an indulgent holiday season, there's never a Whole30 that calls more clearly to me. The reset, paired perfectly with the start of the new year, is such a refreshing way to get back on track, shake off the headaches or bloat you might have acquired after that second dozen of cookies, and to start the new year right. Doing a Whole30 in January is my very favorite way to set the tone for the year, by affirming every day that real food matters and that food affects how you feel emotionally, mentally, and physically.
But if you've never done one, it can be downright intimidating to start. When we did our first, I was brand new to the paleo diet and had a mini (Alright, it was a major) breakdown on day 1. I texted my husband, "I think we've made a huge mistake." I had no idea what to really eat, and, though I'd read the book, I was a bit lost in how to put all the information together.
Over time, and round after round, it became clearer and clearer to me: the steps I followed to prep for and take on a Whole30 became super optimized and streamlined for me. I've been sharing this information with my Facebook Whole30 Support Group, and it's helped hundreds, if not thousands, of other people take on the 30-day reset.
All About Whole30 Prep
So today I'm outlining the steps I take and recommend before starting to share just how to prep for a Whole30. These are the steps that make the round more enjoyable to me, with fewer obstacles or blockers, preparing me mentally and letting me truly enjoy the process.
Read the books.
Nothing will prep you for a Whole30 like reading the books. You'll understand why you're doing this, what to expect, what can happen (Buh-bye headaches, allergies, anxiety, PCOS, endometriosis, acid reflux, and just about a million other things. Check out their full list of real life testimonials here.), why each food is allowed or not, and what to do when you're done. I read The Whole30: The 30-Day Guide to Total Health and Food Freedom before my first round and highly recommend both that and It Starts With Food.
Oh, and bonus? I use the cookbook portion almost daily for the recipes. Beautiful and delish!
Memorize what you can and can't have.
Knowing what you can and can't have like the back of your hand will help you immensely when you need to make quick decisions out. I've made it easier than ever, too, by offering a free printable Whole30 food list: one copy for the fridge and one that's the size of a dollar bill, perfect for your wallet. It includes all the little additives that even I forget about, and it's great to have on hand. But when it comes to the big items, you've got to know them back and forth. I also recommend getting to know the other names for sugar, since those sneak in way too easily. We used minced ginger from a jar on our first round and I looked at the label after we'd finished eating… Yeah, it had fructose in it. Why?! I almost started over, but that's just not my style.
Moral of the story? Learn your compliant and non-compliant foods and always read your labels, even in foods you'd think would be innocuous!
Prep mentally.
In the books, they remind us that doing a Whole30 is not hard, that beating cancer and kicking heroin are hard, that doing a Whole30 is not hard. But you know what? It is hard. If it were easy to quit sugar and give up processed foods, we'd all do it without a hardcore reset diet. We eat a paleo diet anyway, and it's still hard. "Hard" is all relative, and, in my opinion, telling yourself your struggle to eat this very different way for, in the moment, nebulous reasons is not a struggle? It's not helpful. In my experience, preparing yourself mentally for the challenge is one of the most important parts of Whole30 prep. So here's the deal:
It will be hard. Prep yourself for that. Prepare yourself to make it less hard by following the rest of the steps in this article. But it will still be hard.
To help prep mentally, I highly recommend you figure out the following things before day 1:
Why are you doing this? What are you hoping to get from this? Knowing your why inside and out will help more than anything else.
How will you respond in certain situations? How will you respond to that coworker who would love nothing more than to see you fail? How will you explain this to your parents when they don't understand why you can't just "cheat this once"? Figure out your responses, and you'll be better mentally prepared for the people who just don't get it (and hey, for yourself, too!)
And follow this next critical step:
Plan your self-care.
Most people link self-care and food or wine, but that's actually not real, beneficial self-care. "Me time"? Sure! I love a glass of red in the tub as much as the next person. But when it comes to doing the things that really refill your cup, those practices of self-care are best when they're not dependent on food. And lucky for you, you're redefining your entire relationship to food during this month, so you'll know that soon enough.
That said, it's best to go into a Whole30 knowing how you'll practice self-care, how you'll relax, how you'll celebrate. A few suggestions:
Do yoga. I love YogaDownload.com and YogaGlo.
Take a luxurious bath (Hello, Lush).
Meditate. I love the Headpsace app.
Sip a cup of tea.
Read a book.
Start a daily bone broth habit. My Whole30 Instant Pot bone broth is so rich and easy!
Exercise.
Have phone-free dinners with your family.
Date night, especially if your partner is on a Whole30, too!
These practices will nourish you the same way that nutrient-dense, real foods nourish your body. And you need these practices during an intensive time like the Whole30. Define what "self-care" means for you this month and engage in it regularly. Don't forget that doing the Whole30 is self-care in and of itself, too!
Stock your fridge.
What do you think happens when 7 p.m. rolls around, you're starving, and your fridge is full of queso and a half-empty bottle of prosecco? Yeah, not a positive situation. Stock your fridge well, so that you're always ready to eat filling, nutritious, Whole30 meals, even if you don't have it in you to cook another dish. Make sure you have plenty of Whole30-compliant creamer on hand if you drink coffee, and that you're good to go on the lunch front, too.Here are my recommendations on stocking the fridge when learning how to prepare for a Whole30:
Aidell's chicken and apple sausage or other Whole30-compliant varieties of sausage (I've found several versions at Costco that I far prefer to Aidell's from a brand named Casual Gourmet; frying up a couple links makes an easy dinner or lunch).
Big bags of produce, like broccoli florets, cut kale, brussels sprouts, etc. So easy to sauté up or roast in the oven for a quick lunch or dinner.
Nutpods or Califia Almond Milk Creamer Unsweetened. We prefer the Califia to Nutpods personally, but most people I know are Nutpods fanatics.
Prosciutto. I'm just gonna leave it at that. Don't skimp on the prosciutto.
Loads of organic eggs
Compliant almond milk
Compliant bacon, like Pederson's Farms
Stock your pantry.
Stocking your pantry well means that it'll be easier to make the recipes you find online, like my Whole30 Lettuce Wraps, my Whole30 BBQ Sauce with Chipotle, or my friend Kelly's Chicken Zoodle Pho Bowl. By loading up on Whole30-compliant favorites like full-fat coconut milk, Whole30-approved ketchup, sugar-free fish sauce, coconut aminos (A favorite of mine, once I really learned how to use them!), and compliant Dijon mustard (Read your labels!), you'll be ready to whip up almost any Whole30 recipe that comes your way without a trip to the health foods store. And with plenty of dates, nut butters, Epic bars and Lara bars for hunger emergencies, you'll be prepared for whatever comes up. Here are my recommendations on stocking the pantry when learning how to prepare for a Whole30:
Rxbars
Lara Bars (Only certain varieties of each of those last three things are compliant.)
Compliant Dijon mustard
Arrowroot powder, for thickening sauces
Primal Kitchen Avocado Oil Mayo, for emergencies (This is a thing. Trust me.)
Make the basics ahead of time.
There are a few staples that inhabit our fridge the entire 30 days each round, and these are the things I'd recommend making ahead of time for a more delicious Whole30. Conveniently, my The Total Guide to the Whole30 kit includes a meal plan of these recipes + a printable shopping guide, making it easy to know what to make and when before day 1 rolls around. By stocking your fridge with delish, homemade basics, you'll be able to easily elevate simple proteins like scrambled eggs, seared steak, or tender chicken breast just by drizzling them with herbaceous chimichurri, dipping bites into garlic mayo, spooning a fresh herb ranch on top of it all. Here's what I recommend:
Make a meal plan.
Even if you're a fly-by-the-seat-of-your-pants kinda gal otherwise, the Whole30 is the time you need to prep. There are plenty of meal plans out there to work from, and my package The Total Guide to the Whole30 includes 4 weeks of delish meal plans and printable grocery lists to go with. By meal planning, you'll be prepared with groceries for the week, and you'll be far less tempted to say "Screw it" and pick up Lenny's on the way home.
Don't skip this step. Make a meal plan! And make it every week.
Here are several free options from the following amazing blogs that make learning how to prepare for a Whole30 even easier:
Pin a bunch of recipes.
Before you even start your Whole30, load up that arsenal. Start a board on Pinterest for Whole30 recipes and pin the ever-living daylights out of it. By focusing on recipes that sound deliciousWhole30 Recipes to you, you'll be excited about what you get to eat, rather than hyperfocused on what you can't. I always find that by having a thick board full of recipes I can't wait to try, meal planning is easy (as is sticking to it!). You can use my board to start. You can totally do this step in how to prepare for a Whole30 from the couch with a glass of wine ahead of time, too… Just saying!
Stock up on drinks.
For me, giving up wine is the hardest part. I don't even drink all that much; I've been deliberate about those glasses of wine I indulge in lately, rather than guided by habit like in the past. But still, I miss the possibility of wine when I'm on a Whole30, and I'd give up sugar for another entire month if it meant a a couple bottles of wine over those 30 days. For wine-lovers like me, as with those who are used to drinking beer in the evening, soda during the day, reloading that Starbucks card weekly, etc., stocking up on drinks is key. Here are my recommendations on drinks to stock up on when learning how to prepare for a Whole30:
Flavored Sparkling Water
Plain, flat water gets boring pretty fast; I'll admit it. For that reason, we absolutely load up on flavored sparkling waters like LaCroix and Dasani Sparkling. My husband actually prefers Dasani quite a bit, and I love it, too. I also really dig the Target brand: they're often cheaper and have Cartwheel deals going on. But personally? My favorite is the LaCroix Curate line. I just can't get enough of the Mure Pepino or Cerise Límon.
Juice-infused Sparkling Water
A bit different from sparkling water, Spindrift is my absolute fave. I drink it moderately, unlike my daily funneling of LaCroix, since it has juice in it, and, thus, a bit of natural sugar. But that raspberry lime is so delicious, I can't hardly bear it. I pour it into a big wine glass some nights when I need a little fancy boost, and it does the job for sure. I'm a huge fan of their lemon variety and the cucumber, too. They have giant cases at our Costco, and I think you'll love it.
Tea
Hot tea and iced tea are awesome options when on a Whole30, and I'm a tea fanatic. I have an entire, giant drawer at our butler's pantry devoted to my tea boxes; there's a shelf in the pantry that catches the overflow! There's just something about the tea aisle: I can't skip over it or leave the store without a new, funky variety. Sprouts Farmers Market has an especially impressive selection, and I'm loving Pukka (run by master herbalists), Organic India (known for their tulsis), and Choice Organic (medicinal mushroom infused!). I replace my glass of wine with a cup of tea and end up preferring it after only a few days. I highly recommend picking up a couple boxes that sound delish to you and making it a nightly ritual.
In addition to hot teas, iced tea is a great option during the day as well. I personally love keeping a few bottles of unsweetened Honest Teas on hand for when I need to head out the door and am tired of LaCroix. The Peach Ginger is my fave, and I'm a huge fan of the Cinnamon Sunrise, too.
Another rad product I've recently fallen in love with is Pique Tea. Pique is actually tea crystals, concentrating the benefits of tea and making it way, way easier to enjoy a cup. Instant iced tea = done. A cuppa that's at exactly the right temperature, no waiting for it to cool down then ending up with a cold mug of brew? Love it. Their blends are fantastic, too, and I've loved every type I've tried. They sent me several boxes, and I'm so, so sold on this new method. By concentrating the antioxidants, you get the benefits of tea faster and none of that awkward waiting around for the tea kettle to whistle. Try it out! Use the code CHERYL10 to get 10% off your order.
Coffee
Coffee is totally fair game, but none of that sugar-laden stuff you've been grabbing at the drive-thru window! Make sure you've got plenty of Whole30-compliant creamer on hand, and coconut milk or cream works well, too. No artificial flavors in your coffee, though! I love to keep cold brew on hand during the early days when you're still a bit tired; a bit of cold brew + equal parts compliant almond milk = midday perfection.
Find a support group.
Remember when I said it'd be hard? Yeah, that again. It's going to be hard. Not all the time, but sometimes. And the best thing you can do when it's hard is to take advantage of the support you have in your community. That's why I highly recommend you join a support group online, preferably my Facebook Whole30 Support Group. Simply request to join and I'll add you right away! We have a chill atmosphere in our group – not too intense and very understanding – and we share advice, wins, struggles, and frustrations. It's easy to feel isolated when you're doing a round and no one else around you locally is; the support group combats that. Got a question about an ingredient? Ask the group. Want to know how to prepare for a Whole30? We know what to say. Need a suggestion for a recipe? The group will know. Have a weird situation you'd like to navigate? We got you.
Join the Whole30 Support Group by clicking here.
Find a buddy.
Doing a Whole30 totally alone is extremely difficult, no matter how active you are in an online support group! If your partner won't join you for a round, try to find someone else you can meet up with who will. Luckily for me, my husband loves doing Whole30s, but if he didn't want to, I'd have to find someone else who could go through it all with me. It's still doable alone, but it would definitely be harder. Especially for January, though, it should be easy to find another individual who's ready to prioritize their health with you. Ask around!
Get the right tools.
Just like stocking your fridge and pantry, having the right tools will make a world of difference when it comes to your Whole30. Since you'll be cooking most everything at home, you'll need the right tools to make what you want. Here are my recommendations on the right tools to get when learning how to prepare for a Whole30:
So that's how to prepare for a Whole30! What are your tips on how to prepare for a Whole30? Are you doing one in January?