Seitan Ground "Beef"

Posted: 01/27/14 Updated: 04/11/23

Oh, soy crumbles. How I used to devour you in college, standing in for all those homey classics my mom learned from her mom. That big bag of you, in TVP form, I had been hoarding from that day at the bulk section. The day that I Googled what the hell "textured vegetable protein" is and found out it's defatted soy flour. Scary enough, but how does one "defat" soy flour? Oh, just some run-of-the-mill thermoplastic extrusion.
Oh, no thermoplastic extrusion in your daily routine? That's OK! I'll share some deets on this exciting process! Let's start by defining thermoplastic and extrusion, as explained by Evolving Wellness.
Definition of thermoplastic: a large molecule that turns to a liquid when heated and freezes to a very glassy state when cooled sufficiently.
Definition of extrusion: an industrial processing technique used to to create objects of a fixed cross-sectional profile.
Put those together and what do you get? An insanely processed product which takes something in nature (soy.. originally) and turns it into a molecule our bodies do not recognize, something completely artificial. Yum yum!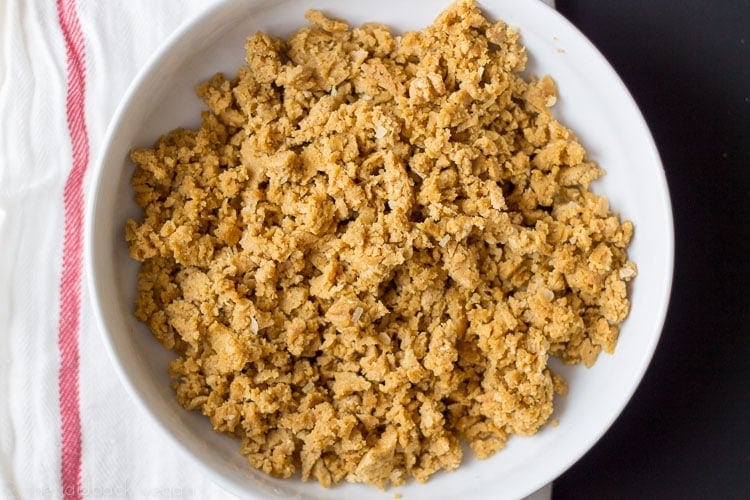 That might not be a big deal to everyone, but for those of us trying to avoid highly processed foods, it is. So when I made my North African meatballs last week, I decided to whip up some vegan ground "beef" by grinding up some tender, flavorful seitan. It's not the most whole food ever, but it's not themoplastically extruded, so I feel a little better.
God, my obsession with seitan cannot be tamed, and it pulses with passion even in ground form. In fact, I'm filled with such intensity regarding this faux-meat, I wrote a haiku (that means it's serious).
O tender seitan
the perfect meat-like substance
love you in meatballs
All passion-profession aside, the next time you're in the market for a vegan ground "beef" substitute, try this recipe. It's super simple and insanely delicious. Without a doubt, this seitan ground "beef" made the best vegan meatballs I had ever, ever had, and knocked typical beanballs sheer out of the water. I started with the steamed white seitan recipe from Viva Vegan, the greatest book ever, I think, and then uh, ground it up. Pretty straightforward stuff. But the results cannot be matched. Oh mama!
Make this.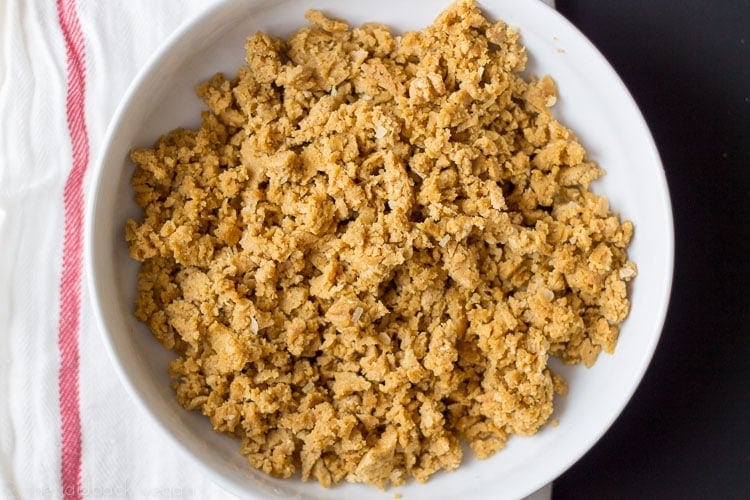 Seitan Ground "Beef"
The perfect, tender vegan substitute for ground beef. Works beautifully in recipes.
Ingredients
1 1/2

cups

vegetable broth

or chicken-flavored broth, minus 1 teaspoon

1

teaspoon

liquid smoke

one teaspoon

4

tablespoons

garlic cloves

grated

2

tablespoons

olive oil

for sauteing

1 1/2

cup

vital wheat gluten

wheat gluten

1/4

cup

chickpea flour

chickpea flour

1/4

cup

nutritional yeast

one cup

2

teaspoons

seasoning

1 teaspoon paprika for a slightly richer look, 1/2 teaspoon onion powder, and about 1/2 combined teaspoon of basil, oregano, thyme for a savory flavor, your choice.

1

teaspoon

salt

to taste

1

teaspoon

soy sauce

optional

1

teaspoon

smashed cloves of garlic

optional
Instructions
In a measuring cup, whisk together broth, liquid smoke, garlic, olive oil. In a large bowl combine wheat gluten, chickpea flour, nutritional yeast, dried seasonings, and salt. Form a well in center of dry ingredients and stir well with rubber spatula until dough leaves side of the bowl.

Knead for 2-3 minutes to develop the gluten. You can whip out your big ass KitchenAid bowl here and use the dough hook, but O gives me dirty looks when I do this. Más dishes, no gracias.

Leave dough to rest for 10 min, knead again for 30 seconds.

Place dough on cutting board and cut into 4 equal pieces.

Tear off 4 pieces of foil and place piece of dough in the center of the foil. Loosely wrap foil to cover the loaf, leaving a bit of room for expansion. Don't twist the ends and make a severe loaf shape for the seitan you plan on grinding, but you could definitely multitask here and steam some loaves. Pour about 1″ of water in a saucepan and add a bit of soy sauce and a couple smashed cloves of garlic if you like, then cover with a steamer basket.

Place in steamer basket and steam for 30 minutes. Allow the dough to cool to the touch, then rip into a few pieces. Place in a food processor and pulse until just ground. Don't over-grind. Use in recipes as you would cooked or raw ground beef.
Notes
Freeze for up to two weeks in an airtight container or bag. Thaw before using.
Adapted from (Viva Vegan by Terry Hope Romero).
Recipe yields approximately 2 servings. Nutritional values shown reflect information for 1 serving. Macros may vary slightly depending on the specific brands of ingredients used.
To determine the size of one serving, prepare the recipe as instructed, then weigh the entire finished recipe . Divide the total weight of the recipe (not including the weight of the bowl, pot, or plate the food is in) by 2. Result will be the weight of one serving.
Nutrition Information
Serving:
1
serving
,
Calories:
585
kcal
,
Carbohydrates:
35
g
,
Protein:
76
g
,
Fat:
17
g
,
Saturated Fat:
2
g
,
Sodium:
2081
mg
,
Potassium:
453
mg
,
Fiber:
6
g
,
Sugar:
4
g
,
Vitamin A:
459
IU
,
Vitamin C:
5
mg
,
Calcium:
242
mg
,
Iron:
8
mg
,
Net Carbs:
29
g
Number of total servings shown is approximate. Actual number of servings will depend on your preferred portion sizes.
Nutritional values shown are general guidelines and reflect information for 1 serving using the ingredients listed, not including any optional ingredients. Actual macros may vary slightly depending on specific brands and types of ingredients used.
To determine the weight of one serving, prepare the recipe as instructed. Weigh the finished recipe, then divide the weight of the finished recipe (not including the weight of the container the food is in) by the desired number of servings. Result will be the weight of one serving.