Whole30 Meal Plans + Shopping Lists: Week 4 (Downloadable)

Posted: 01/21/17 Updated: 10/19/20
Click below to download your printable Whole30 meal plans and shopping list for week 4!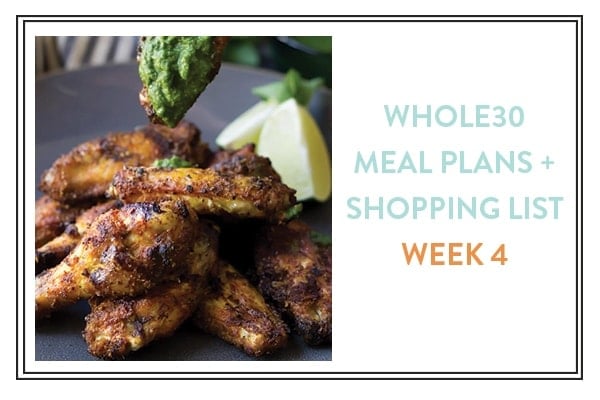 Home stretch, y'all. It's so close – can you smell it? No, you can only smell soft-boiled eggs and Epic bars still. But you've made it so far! You should already be mega proud. Are you mega proud?
Or just mega sick of soft-boiled eggs and Epic bars?
There always seems to be a theme in these Whole30 meal plans each week, and apparently this week the theme is… onions? Yeah, I mean, you're buying 8 onions, yet we're not making onion rings. I didn't do this on purpose, but you might as well head to Costco anyway.
After this week, you have two more critical days in your Whole30, and I'm going to leave you to your own devices there, friends. What will you make?! Well, I'd personally make the two dinners I loved the absolute most, in the name of not quitting on day 29. Scientific planning over here.
On to the meal plans… download them below!
By the way, some of these recipes are in my Total Guide to the Whole30 free eBook! Have you downloaded it yet?
Download the Whole30 Meal Plans
If you want to download the Whole30 meal plans, check out my Whole30 Starter Kit, complete with Total Guide to the Whole30 and 4+ weeks of meal plans and shopping lists by clicking here.
Whole30 Meal Plans: Week 4 Recipes
Breakfasts:
Dinners: