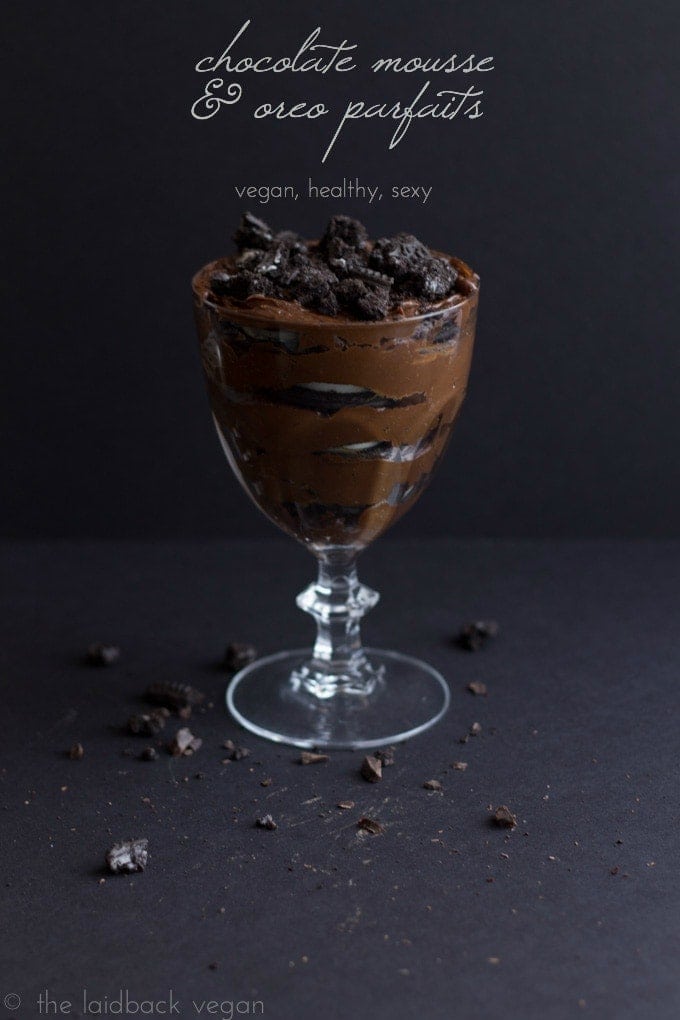 I think these just might be the best things I've ever made. That really irritates me.
What was I doing my whole life, rolling out samosa dough by hand, perfecting the mother sauces, and simmering ramen broth for days on end? Why was I wasting my time baking cakes, smoothing ganache, and whipping a classic buttercream all for just one dish?! Why was I doing that.. when I could have been doing this?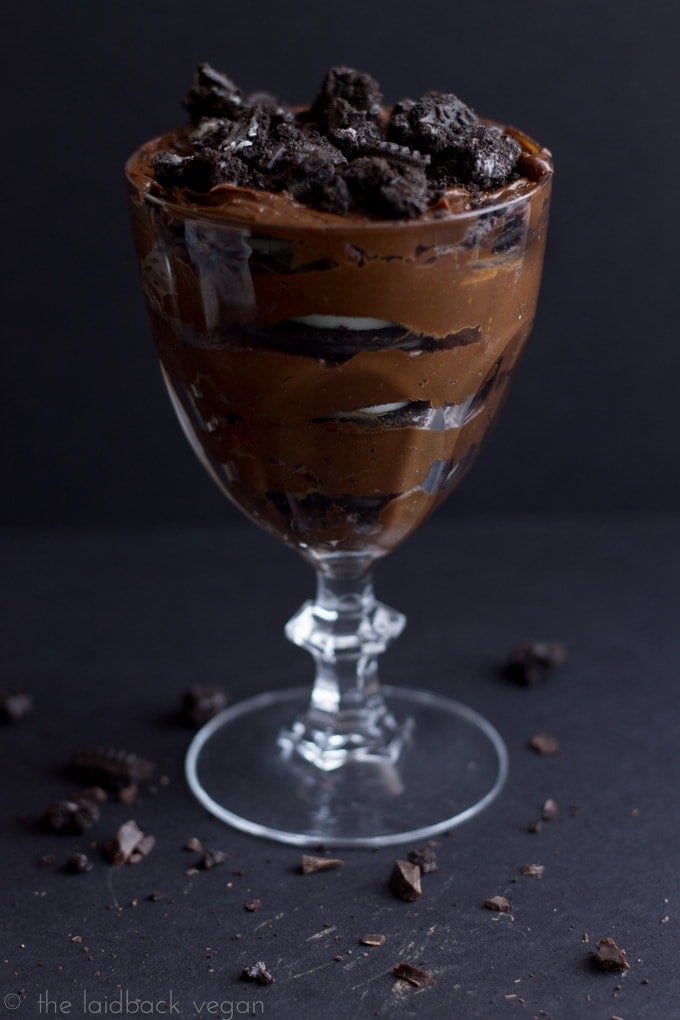 I had pretty low expectations for this chocolate mousse, after a string of ho-hum veganized recipes, like a cheesecake with tofu that tasted like.. tofu, and a chia seed ranch that tasted like almond milky water, with chia seeds. But this? This blew us all out of the water. The chocolate mousse itself, made from avocados, soy sauce, and balsamic vinegar, in addition to uh, chocolate obviously, is seriously delicious on its own, but when I layered it with some conveniently vegan Oreos (well, we used the slightly less unhealthy organic version from the store), I almost cried.
Tears of joy. Tears of glory. Tears of holy-crap-we-need-more-avocados-soy-sauce-and-balsamic vinegar.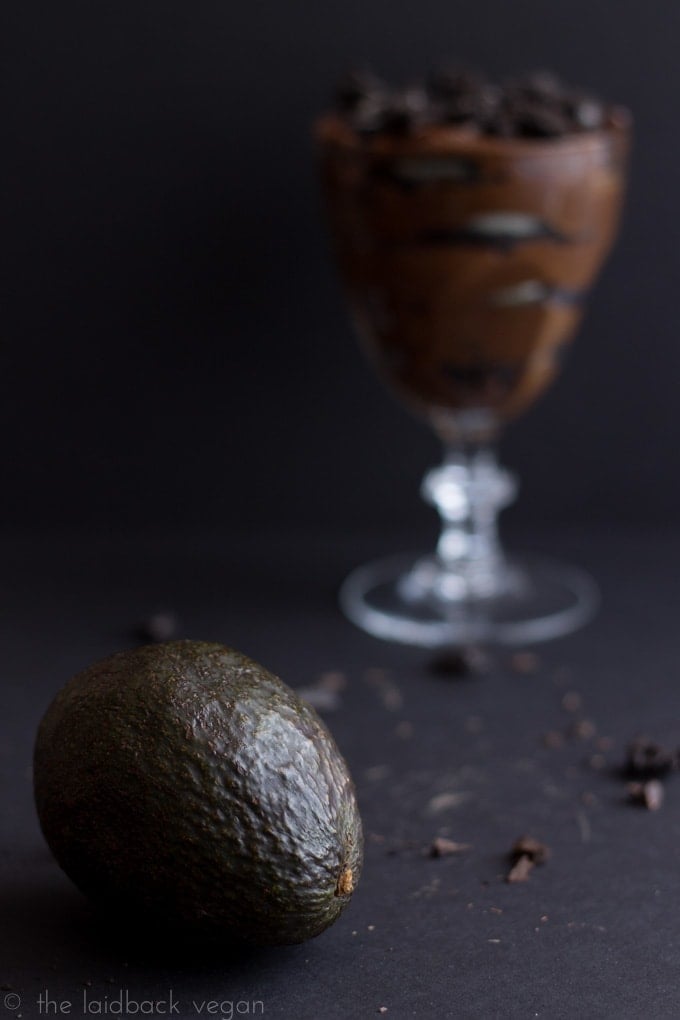 When you give this parfait some time in the fridge, the rich chocolate mousse seeps into the cookies, softening them for a perfect texture without being mushy, little clouds of white creme in there, a bit of added sweetness and kitschy throwback to your childhood dirt-cup days. No gummy worms here, y'all, just pure, unadulterated bliss.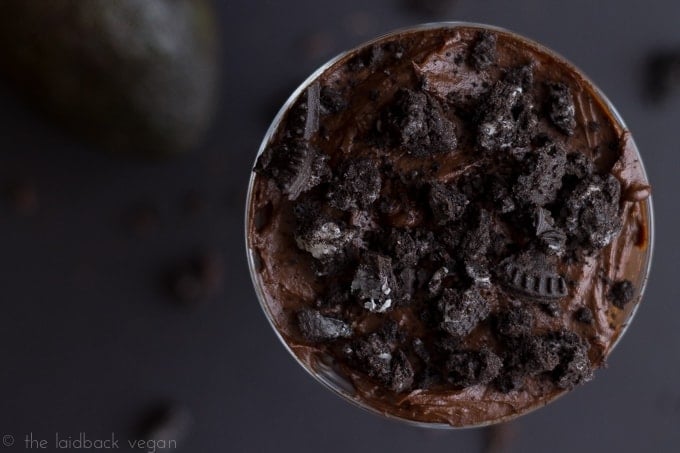 These are 100% perfect for Valentine's Day, and what's even better? They take maybe, oh, 5 minutes to throw together, and taste like you slaved in the kitchen all day, but only after you spent a year studying to be a pastry chef at Le Cordon Bleu in Paris. Yes, I'm saying this dessert tastes like it took 366 days to prepare, and let's not even go into how healthy it is, minus the Oreos, of course. You can use any variety of sandwich cookie, and Newman's Own Organics has some interesting and delicious flavors, like "Hint o' Mint" or peanut butter. I don't care what cookie you use; I really don't. All I care is that you make these immediately.
But be warned, your main squeeze will soon be asking you to "make a cake out of this". I'm not joking.
And then I realized.. that might just be the best idea he's ever had. Thanks, hon. I mean.. you're welcome. Thank you and you're welcome. I'm going to go eat the last one. Glad you're still at work so you can't stop me and my greedy, grubby little hands.
MAKE THESE! ALL CAPS! IT'S THAT IMPORTANT!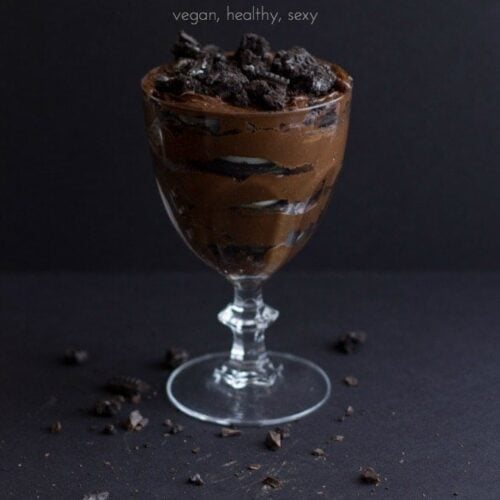 Chocolate Mousse and Oreo Parfaits
An incredibly rich, luxurious (yet healthy!) chocolate mousse layered with Oreos for quite possibly the perfect dessert.
Ingredients
2

tbsp

large avocados

, pitted, flesh scooped out

½

cup

maple syrup

4

ounces

vegan dark chocolate

, or 1/2 cup raw cocoa/cacao powder for raw

3

tbsp

coconut oil

, liquid form

1/2

tbsp

balsamic

(don't sub any other vinegar here! And I highly encourage you to use a good balsamic here)

1/2

tbsp

. nama shoyu

(raw), tamari (gluten-free), soy sauce (regumalar)

1

tbsp

small pinch salt

10

pieces

Oreos or other chocolate sandwich cookie

, about--8 for layering, 2 for crushing*
Instructions
Make the mousse:

Melt chocolate in a double-boiler, being careful not to overheat or burn.

Scrape into a blender with all other ingredients. Blend until very smooth--a few pulses at the end will help get it all in there. Scrape down mousse as needed to ensure a perfectly smooth texture.

Crush two Oreos by placing in a Ziploc bag and beating gently with a rolling pin--you want crushed Oreos, not Oreo dust! Layer mousse and Oreos in individual serving bowls, the amount of Oreos is up to you! We used about 2 per serving. Top with crushed Oreos.

Refrigerate for two hours.
Recipe Notes
Adapted from Laura Miller, Principal Raw Goddess in my life.
*For a gluten-free version, use gluten-free chocolate sandwich cookies like Gluten-Free Joe Joe's at Trader Joe's, Mi-Del's, or Kinnikinnick Gluten-Free Chocolate Sandwich Cookies. Yum!
Nutrition Facts
Chocolate Mousse and Oreo Parfaits
Amount Per Serving (2 g)
Calories 757
Calories from Fat 369
% Daily Value*
Fat 41g63%
Cholesterol 1mg0%
Sodium 3832mg167%
Potassium 615mg18%
Carbohydrates 93g31%
Protein 6g12%
Vitamin C 2mg2%
Calcium 260mg26%
Iron 1mg6%
* Percent Daily Values are based on a 2000 calorie diet.