This Instant Pot bone broth is deliciously rich in nutrients and collagen, and is so nourishing – plus it gels like a straight up Jell-O jiggler! Made with both chicken and beef bones, it is super versatile, and boasts amazing health benefits, too.
What Makes This Instant Pot Bone Broth Recipe So Good
It helps heal your gut and funnels more nutrients into your body, which is especially ideal if you're on a Whole30 plan. It's also high in protein and collagen, which keeps your hair and skin looking amazing.
It's self-care in a mug. I've completely replaced after-dinner drinks with a warm cup of Instant Pot bone broth, which relaxes me before bed and makes me feel amazing in the morning. The health benefits do wonders for your body and spirit, too.
It's a great make-ahead recipe that's perfect for meal prep and freezer meals! This recipe yields 24 8-ounce servings. I like to seal a week's worth in a large jar to keep in the refrigerator, then freeze the rest in sealed plastic bags, laying flat on the bottom shelf of the freezer.
It's SO EASY. No more standing over the stove, scooping away foam. Just toss everything in the Instant Pot and let it work its magic.
Key Ingredients for Instant Pot Bone Broth
Bones – You can play around with the type of bones you use for your bone broth, but I highly recommend using marrow bones and gelatinous bones (like feet!), so you get plenty of gelatin and collagen. I prefer these over regular chicken bones, actually.
Sea Salt – Himalayan pink salt or Celtic sea salt work wonderfully in this recipe because they contain the trace minerals your body needs, and they're reflective of the minerals in our bodies. Legit healthy food!
Gelatin – This isn't so much an ingredient as it is a by-product, but I couldn't not mention it! Bone broth is high in gelatin, and gelatin is truly magical. It improves gut health and digestion, protects joints and lowers joint pain, helps improves sleep quality, lifts the mood, improves cognitive abilities, improves skin health, helps maintain heart health, maintains strong bones, and helps you feel full. OH. OKAY.
Chef's Tips
I use a 6-quart Instant Pot for this recipe. If you have a smaller one, you can halve the quantities or make two batches!
It IS possible to overcook the bone broth, so keep an eye on your time. Overcooked bone broth can develop a bitter taste.
Boil the chicken feet for 5 minutes or so before using them in this recipe, to remove any impurities from the skin.
You can technically reuse the bones for multiple batches of broth, but the amount of nutrients diminish with each batch. It's best to use fresh bones every time, for the most benefits.
This broth gels and forms a layer of healthy fat on top, which essentially seals it from air. If you keep this layer of fat intact, the bone broth will last weeks (if not months) in the fridge. Once you break the seal, though, you'll want to consume your Instant Pot Bone Broth within 4-5 days.
More Healthy Recipes You'll Love
Hey – you've made it this far, and now we're best friends! If you make this recipe, I'd love for you to give it a star rating ★ below. Make sure you follow me on Instagram, Pinterest, and Facebook, too!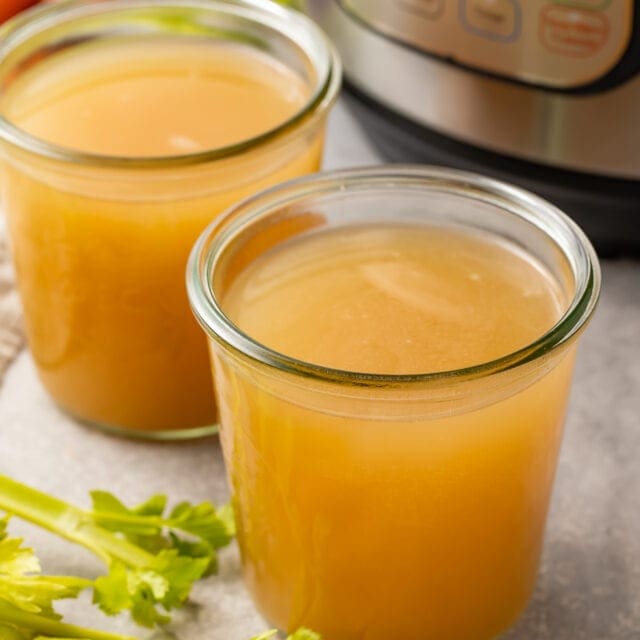 Instant Pot Bone Broth That Gels (Whole30, Anti-Inflammatory)
This Instant Pot bone broth is deliciously rich in nutrients and collagen, and is so nourishing – plus it gels like a straight up Jell-O jiggler! Made with both chicken and beef bones, it is super versatile, and boasts amazing health benefits, too. 
GO PREMIUM – AD FREE + MEAL PLANS
Ingredients
2 ½

pounds

beef marrow bones

usually "beef bones" at the store

2 ½

pounds

necks and/or feet

beef or chicken

1-2

tablespoons

apple cider vinegar

optional

1

carrot

sliced

1

celery stalk

sliced

2-4

cloves

garlic

smashed

black peppercorns

a few, to taste

sea salt

Himalayan pink salt or Celtic sea salt recommended

sprigs of fresh rosemary and/or thyme

several, to taste

filtered water
Instructions
Preheat oven to 350° Fahrenheit. Spread marrow bones out on a cooking sheet. Roast 20 minutes. Carefully turn bones over, then roast another 15 minutes. Remove from oven and let cool slightly.

Transfer roasted bones to Instant Pot. Pour a little water on the cooking sheet. Use a spatula or whisk to loosen browned bits leftover from bones, then pour water, fat, and browned bits into the Instant Pot.

If using apple cider vinegar, add necks and feet to Instant Pot and pour vinegar over. Let sit 30 minutes then proceed with recipe.

Place necks & feet in Instant Pot (if not already in it) and add carrot slices, celery, garlic, a few peppercorns, fresh herbs, and plenty of sea salt. Pour in filtered water until pot is ⅔ full, then secure lid with valve in Sealing position.

Cook on Manual Low Pressure for 180 minutes, then natural release. Let cool to touch.

Place a mesh strainer over a large bowl and gently pour broth over strainer. Discard bones and veggies. Pour broth into glass jars with tight fitting lids, or into plastic freezer bags.
Notes
Soaking the bones in apple cider vinegar helps extract all the nutrients from the bones, but you might prefer the flavor of the broth without the ACV. I do!
If you prefer to cook your broth on High Pressure, set your timer for 120 minutes instead of 180
Refrigerate: Store in airtight containers or sealed plastic bags for up to one week.
Freeze: Store in airtight containers or sealed plastic bags (placed flat) up to one year.
Reheating: To reheat refrigerated bone broth, scoop out a cup of the gelatin and warm it on the stove.
Recipe yields approximately 24 8-ounce servings. Nutritional values shown are general guidelines and reflect the information for 1 serving. Macros may vary slightly depending on specific brands and types of ingredients used.
Nutrition
Serving:
8
ounces
Calories:
126
kcal
Carbohydrates:
1
g
Protein:
8
g
Fat:
10
g
Saturated Fat:
1
g
Cholesterol:
54
mg
Sodium:
110
mg
Potassium:
64
mg
Fiber:
1
g
Sugar:
1
g
Vitamin A:
41
IU
Vitamin C:
1
mg
Calcium:
12
mg
Iron:
1
mg
If you enjoyed this recipe, be sure to check out 40 Aprons Premium! 40 Aprons Premium offers exclusive recipes, monthly meal plans, grocery lists, and more – all completely ad free!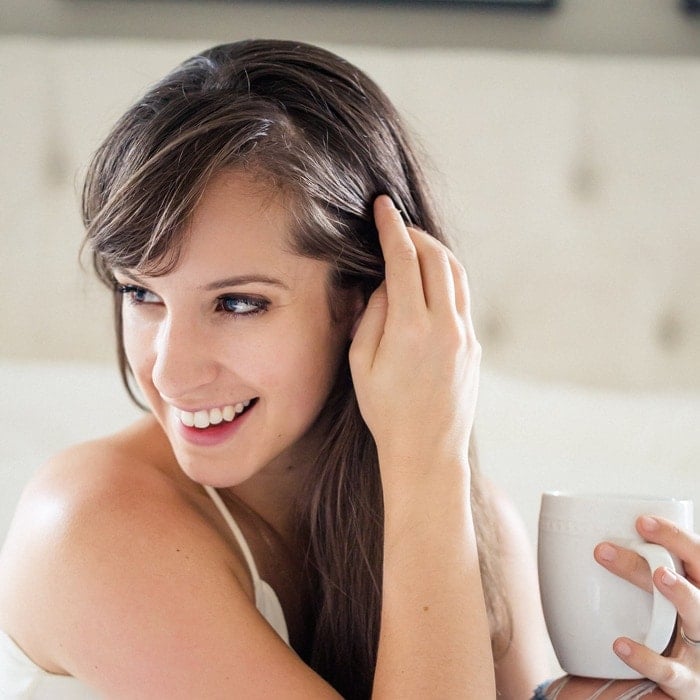 Cheryl Malik is the recipe developer, writer, and photographer behind the healthy, flavorful, family friendly recipes at 40 Aprons. She's been a blogger for 10+ years and is known for her delicious recipes and detailed recipe instructions. Cheryl is a mom of three who lives in Memphis, TN.