This Instant Pot bone broth is the best Whole30 bone broth. It's so easy to make and turns out deliciously rich and nourishing, plus it gels like a straight up Jell-O jiggler! Once you've tried this Instant Pot bone broth, you'll have a batch of this Whole30 bone broth in the fridge at all times. We certainly do! I recommend this Instant Pot (<< affiliate link!).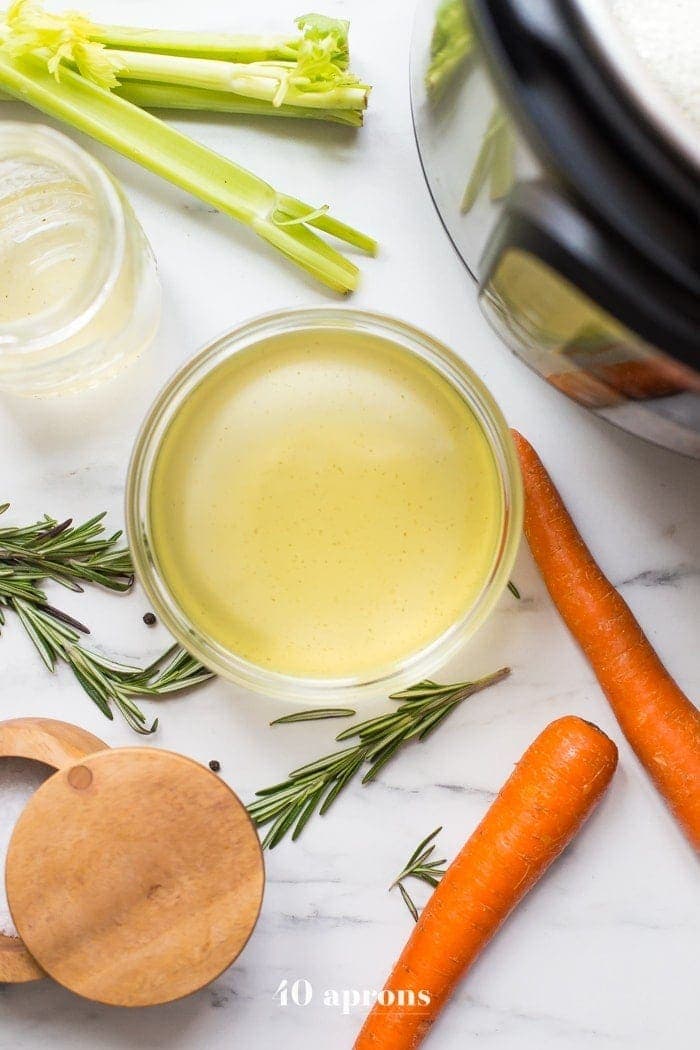 I'm so glad bone broth is a thing now.
I remember reading The Bell Jar back in high school, it resonating deeply with my manic pixie dream girl teenage angst and ennui, wondering if I'd ever climb into a crawlspace and wake up in a ward for wayward ladies. It's this scene I remember best: the floral wallpaper and the strangely mellow cadence of the ward, the way they served warm chicken broth in mugs with a pat of butter floating on top, melting slowly into the liquid.
A strange scene to stick with me, I suppose, but it was one that made me realize a tiny nuance of mine wasn't a nuance at all. At 14 years old, this was a revelation. I'd been known to opt for chicken broth over tea every time, drinking the rest of the can from the pop top like soda when we made rice pilaf or chicken and gravy.
I'm so weird. Like, who does this? I'm sooooo weeeiiiiiiiirrrrrrdddd.
The line in Plath's book made me realize it was not strange at all, but, rather, a previously ubiquitous remedy for what ails you, a food communally understood to be the most nourishing there is. Looking back, it's obvious! Chicken soup is still our go-to when feeling under the weather, right? Did I ever think the noodles were the healers there?
So when bone broth became a "thing," and we were suddenly encouraged to regularly drink warm mugs of the rich stock daily, I was overjoyed. Savory and salted, loaded with gut-healing properties, and just so comforting, sipping bone broth is my favorite self-care practice.
So what makes bone broth so good for you?
Bone broth contains healing compounds. The method by which you make bone broth allows you to break down and release important parts of the animal we simply don't get from eating muscle meat – especially boneless, skinless cutlets (A personal pet peeve!). By simmering (or pressing a button on the Instant Pot and forgetting about it for 3 hours….. for example) these bones for hours, you release collagen, glutamine, proline, and glycine. These compounds are healing and powerful for so many of our body's functions.
Bone broth contains easily absorbed minerals. Bone broth contains calcium, magnesium, phosphorus, silicon, sulphur, chondroitin sulfate, glucosamine, and trace minerals. Not only that, but in bone broth these minerals are present in forms that are easily absorbed by your body.
Bone broth is high in protein. We all know how important protein is for us, and bone broth is a fantastic way to get more of it. There are 10 grams of protein in 1 cup of commercially prepared bone broth, and I would venture to guess my recipe has even more, thanks to the number of bones I use (so many that the bone broth gels – a true sign of an amazing gelatin content!).
Bone broth is high in collagen. Collagen is so necessary for our bodies to function optimally, and it's especially important for skin, hair, and nail growth. However, I'll be honest with you: my skin, hair, and nails have always been pretty good to go. I've been surprised at my improved digestion, rather, since I started regularly drinking collagen, either in bone broth or as a supplement (I use Further Food and love it. If you want to try some, use coupon code 40APRONS to get 10% off your order!). Beyond that, though, collagen literally keeps your body together, and it breaks down as we age. Unfortunately, thanks to our culinary culture that focuses almost entirely on muscle meats, we don't get much of it in our daily diets. Collagen is my #1 most recommended supplement of all, and bone broth is a fantastic way to get it.
Bone broth is high in gelatin. According to Dr. Axe, "gelatin improves gut health and digestion, protects joints and lowers joint pain, helps improve sleep quality, lifts mood and improves cognitive abilities, improves skin health, helps maintain heart health, maintains strong bones, and helps you feel full." Oh OK.
Now that you're convinced, let's talk about this Instant Pot bone broth recipe. It's Whole30-compliant, so freaking easy, ridiculously rich, and it gels like a packet of Jell-O, y'all.
We have giant jars of this in our fridge at all times. It's so easy to make so we keep it on hand, and I drink it daily. I scoop out a cup of the jiggly gelatin, warm it up on the stove, and sip it on the couch, while we watch / try to figure out what in the hell is going on in Dark (Have you watched this show? As if a time-travel/wormhole could get any more confusing, it's in German.). I know just how good it is for me, and so it makes a lovely, nourishing self-care ritual that I engage in I'd say 6 times a week. I hope you try it!
This Instant Pot bone broth recipe is also perfect for a Whole30; it helps heal your gut and doubles down on the nutrients you're funneling to your body. It's an easy way to replace that after-dinner drink, and it'll make you feel so, so much better in the morning, I promise.
Here's how it works:
Roast some marrow bones. Throw them in the Instant Pot with some gelatinous bones (like feet… oh yeah, we're going there), a few aromatics, pour water to the max line, seal it up, and let it cook for 3 hours. That's it! No more hovering over the stove, scooping away foam, forgetting you left the burner on as soon as you're 10 minutes away (Like, for example). Nope, this Instant Pot bone broth recipe is crazy easy.
You can mess around with bones you use here, but I highly recommend using marrow bones and gelatinous bones, so you get plenty of gelatin and collagen in there. I prefer these over regular chicken bones, actually; I made a batch with a chicken carcass and some marrow bones last night, and it simply didn't gel like my other batches do. I stock up on these bones when I go to the international market; they always have a fantastic selection.
I highly recommend you use Himalayan pink salt or Celtic sea salt to season your broth. Both of these salts contain the trace minerals your body needs, and they're perfectly reflective of the minerals in our bodies. They're truly healthy food! It's a great way to add in these superfoods to your diet and make it taste even better.
You can find this recipe in my digital cookbook, The Paleo Instant Pot, which has over 30 super flavorful and Whole30-compliant recipes made in the Instant Pot. Perfect for a January Whole30!
To make this Instant Pot bone broth, I recommend this Instant Pot (affiliate link!):
Instant Pot Bone Broth That Gels (Whole30 Bone Broth)
This Instant Pot bone broth is the best Whole30 bone broth. It's so easy to make and turns out deliciously rich and nourishing, plus it gels like a straight up Jell-O jiggler! Once you've tried this Instant Pot bone broth, you'll have a batch of this Whole30 bone broth in the fridge at all times. We certainly do!
Cook Time
3
hours
20
minutes
Total Time
3
hours
25
minutes
Ingredients
2.5

pounds

beef marrow bones

usually "beef bones" at the store

2.5

pound

necks or feet

I love beef and chicken feet

1-2

tablespoons

apple cider vinegar

optional

1

carrot

sliced

1

stalk celery

sliced

2-4

cloves garlic

smashed

a few black peppercorns

lots of sea salt

several sprigs of fresh rosemary and/or thyme

filtered water
Instructions
Preheat oven to 350º F. Spread marrow bones out on a cooking sheet and roast 20 minutes. Carefully turn the bones over and roast another 15 minutes. Remove from oven and let cool slightly.

Transfer roasted bones to Instant Pot, then pour a little water on the cooking sheet. Use a spatula or whisk to loosen the browned bits left over from the bones, then pour the water, melted tallow (fat from bones), and browned bits into the Instant Pot.

If using apple cider vinegar, add other bones to pot and pour vinegar over. Let sit 30 minutes then proceed with recipe.

Place other bones (necks, feet, or backs), carrot, celery, a few peppercorns, fresh herbs, and plenty of sea salt in the bowl of the Instant Pot. Pour filtered water up 2/3 full, then secure lid with valve in Sealing position.

Cook on Manual Low Pressure or 180 minutes, then natural release. Let cool to touch.

Place a mesh strainer over a large bowl and gently pour broth over strainer. When all broth is strained, discard bones and veggies, and pour broth into glass jars with tight-fitting lids or into plastic freezer bags.

Keeps in the fridge for about a week. Alternately, freeze, lying flat. Keeps in freezer for several months. I usually refrigerate what I'll drink or use that week and freeze the rest.
Recipe Notes
Letting the bones with with apple cider vinegar helps extract all the nutrients from the bones. I prefer the taste without, however, and since I drink it daily and make a batch every other week, I simply go without. But try it with the ACV and see if you like it!
369