Chlorophyll water is an easy way to get more vitamins, antioxidants, and other health benefits in! This green elixir is packed full of plant chlorophyll, tastes nice and minty, and is super quick and easy to make.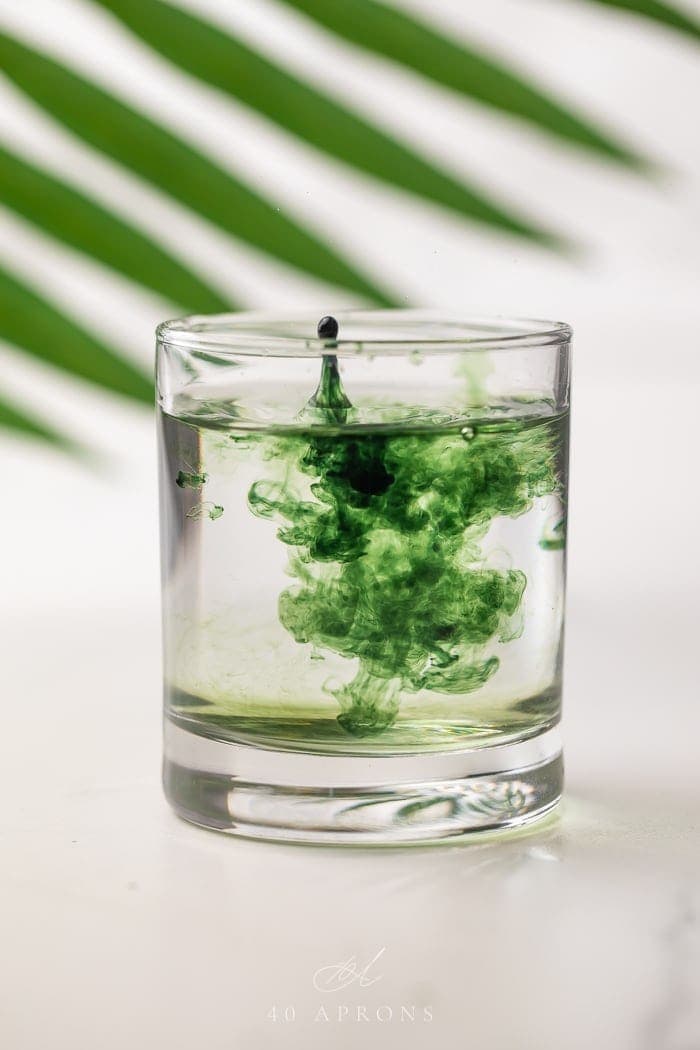 Why Chlorophyll Water is So Good & Good For You!
This healthy drink is not only refreshing and tasty, but is also loaded with vitamins and antioxidants.
Chlorophyll water has shown to help maintain gut help, is a natural deodorizer, may help with weight loss, increases energy, helps with detoxing, along with many other health benefits.
This recipe is super easy (just two steps!) and so simple to add into your daily supplement and wellness routine.
How To Make This Green Elixir
We love Nature's Way Chlorofresh (available at Thrive Market) for its minty taste, but you can use any liquid chlorophyll.
Check the recommended daily dose on the bottle to make sure you are taking the correct amount and add a few drops to a glass of water using a dropper or spoon. That's it!
What are the health benefits to drinking chlorophyll water?
One of the biggest potential benefits to chlorophyll is weight loss and increased energy. Chlorophyll has also been shown to be an anti-inflammatory and antibacterial, may help reduce body odor, helps clean intestines, improves the quality of red blood cells, as well as many other benefits.
How often should I drink chlorophyll?
You can drink chlorophyll water daily. As with any supplement or diet, we recommend talking to your doctor before starting!
What are the side-effects?
Ingesting chlorophyll can cause gastrointestinal problems, such as diarrhea and green-tinted stools. Usually these side-effects are temporary.
More Healthy Drinks & Superfoods
Hey – you've made it this far, and now we're best friends! If you make this recipe, I'd love for you to give it a star rating ★ below. Make sure you follow me on Instagram, Pinterest, and Facebook, too!