Healthy Swedish Meatballs (Paleo, Whole30, Gluten Free)

Posted: 12/12/18 Updated: 05/15/22
These paleo Swedish meatballs are so comforting and satisfying with a creamy dairy-free Swedish meatballs sauce. They're perfect over mashed potatoes and a side of lingonberry or raspberry jam! And they're Whole30 compliant, gluten free, and low carb, too!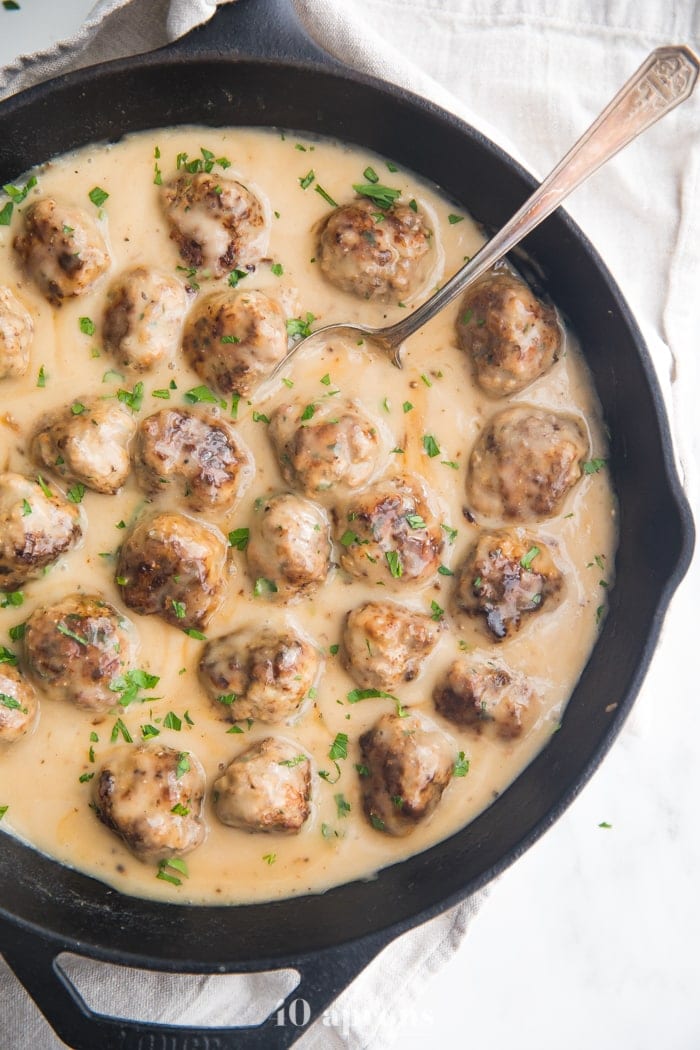 Let's play a super quick round of Never Have I Ever. I'll start.
Never have I ever…
Gone to IKEA and not wanted Swedish meatballs.
Oops. You lose.
Swedish meatballs and that creamy Swedish meatballs sauce are basically catnip to our type, right? They're savory and tender and that sauce! Oh, oh that Swedish meatballs sauce. I'm generally a fan of gravy, but when it's a creamy gravy that's somehow healthy, dairy-free, grain-free, gluten-free, paleo, low carb, keto, and Whole30?! That's a mouthful, right?
It's a mouthful of paleo Swedish meatballs, my friend.
Why we love these meatballs
They're based off an authentic recipe, with the addition of a creamy Swedish meatballs sauce (more on that below!).
Comforting and oh so satisfying, this recipe is so savory and filling. It's healthy, too.
These paleo Swedish meatballs have a Whole30-compliant trick for that delicious lingonberry jam!
Did you know the sauce in this recipe is not authentically Swedish?
It's true! Swedish meatballs are not traditionally served with that creamy Swedish meatballs sauce we all adore. But even the Swedes are into it, and when can I ever pass up a creamy gravy? So live your best life and make the sauce. No one will judge you, and if they do, I'll come for them.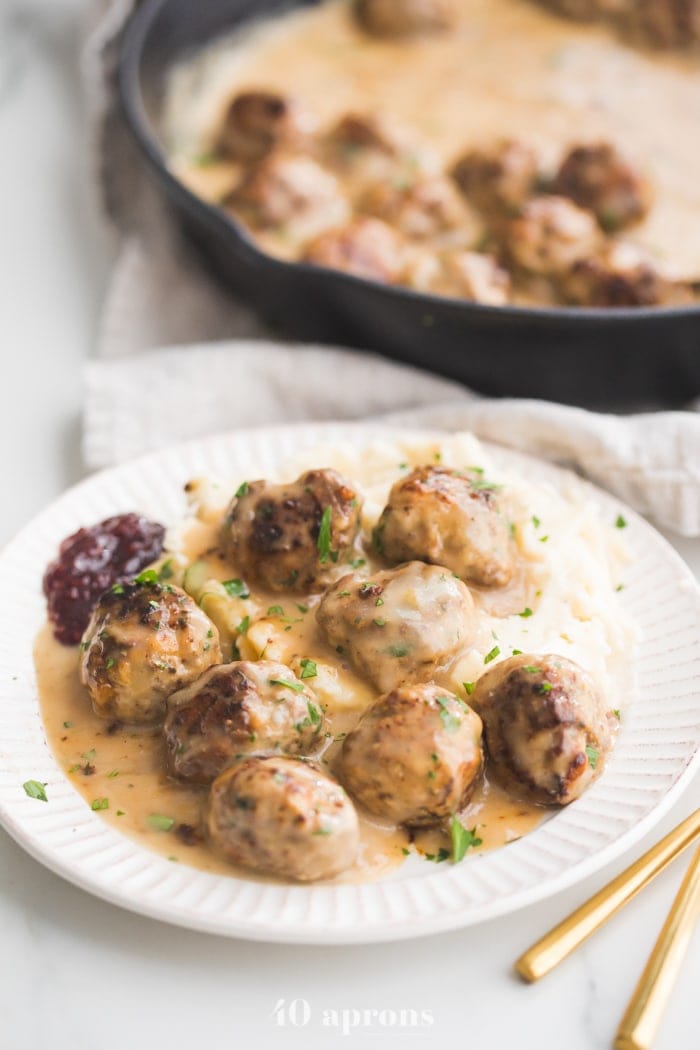 And what about that lingonberry jam?
Lingonberry jam is the authentic condiment to serve alongside these paleo Swedish meatballs and the sauce. However, if you're on a Whole30, that's not an option! When you're on a Whole30, you can't eat any added sugars, which rules out just about every lingonberry jam ever. I've found that St. Dalfour Red Raspberry Conserves mimic the flavor and balance you get from lingonberry jam on traditional Swedish meatballs but without any added sugars.
Of course, raspberry jam is not authentic at all, but it works! And remember, foods like fruit spread are not Whole30 compliant in a sweet setting (like stirring it into unsweetened coconut yogurt) but are OK in savory dishes.
Better than IKEA!
It's hard for me to say this, but I actually like these paleo Swedish meatballs better than the ones at IKEA. And while I am counting down the days until my preschooler is tall enough to hang out in Småland while my husband and I nosh on meatballs, I actually prefer these paleo Swedish meatballs because they're gluten and dairy free.
The ingredients of IKEA's Köttbullar "Swedish meatballs" are not bad at all, really, but if you're avoiding gluten or dairy, these paleo Swedish meatballs are the way to go! And this Swedish meatballs sauce is blissfully blameless: gluten free, grain free, dairy free, paleo, Whole30 compliant, low carb, and keto friendly, it's everything but vegan! And hey… you could sub vegan "not-beef" broth and use coconut oil in the sauce and make the whole sauce plant-based!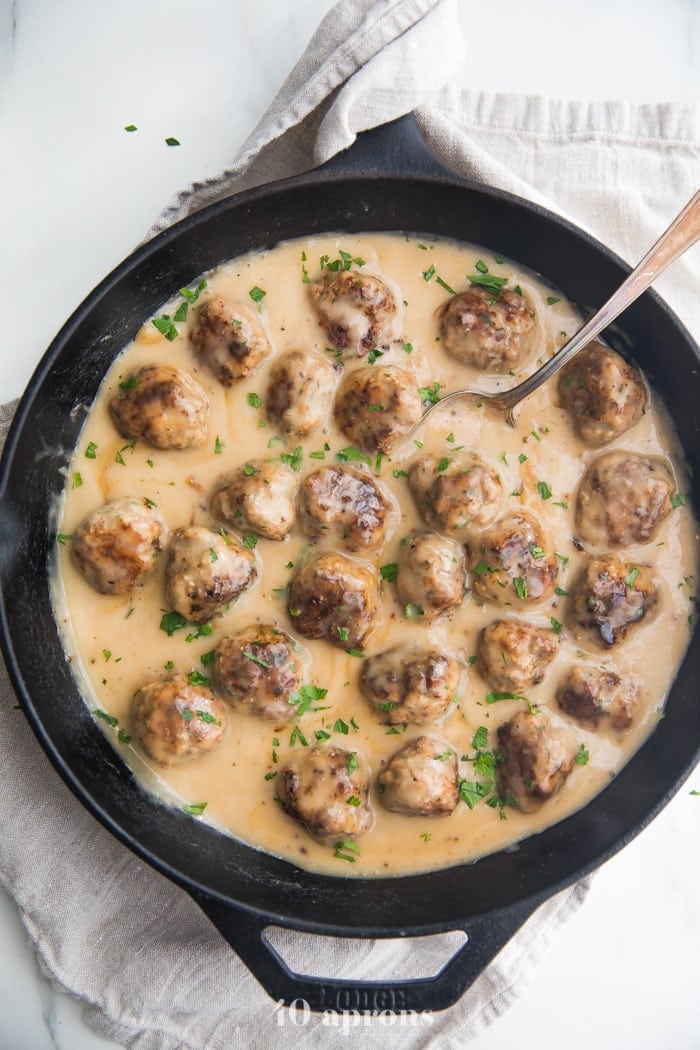 Is Dijon mustard Whole30 compliant?
Most Dijon mustard contains white wine and/or sugar, neither of which are Whole30-compliant ingredients. However, Annie's Dijon mustard does not include either of these and is totally Whole30 compliant. I can find it at my local grocery store, so it's definitely a must-have on any Whole30! If you can't find it or don't have it on hand, you can simply skip this ingredient.
Variations to try
You can use all ground pork or all ground beef, if you like. I prefer these paleo Swedish meatballs with a mix of the two, but it will work with all of one or the other, too. You can even try ground chicken in place of both!
Try cassava flour in place of the arrowroot. Cassava flour is my favorite paleo flour but can be harder to find, which is why I prefer arrowroot starch in my recipes. However, cassava flour will yield the most traditional-tasting results!
During the winter months, serve these paleo Swedish meatballs with a side of cranberry sauce to easily use up that gorgeous side dish. Sweet and tart, just like lingonberries!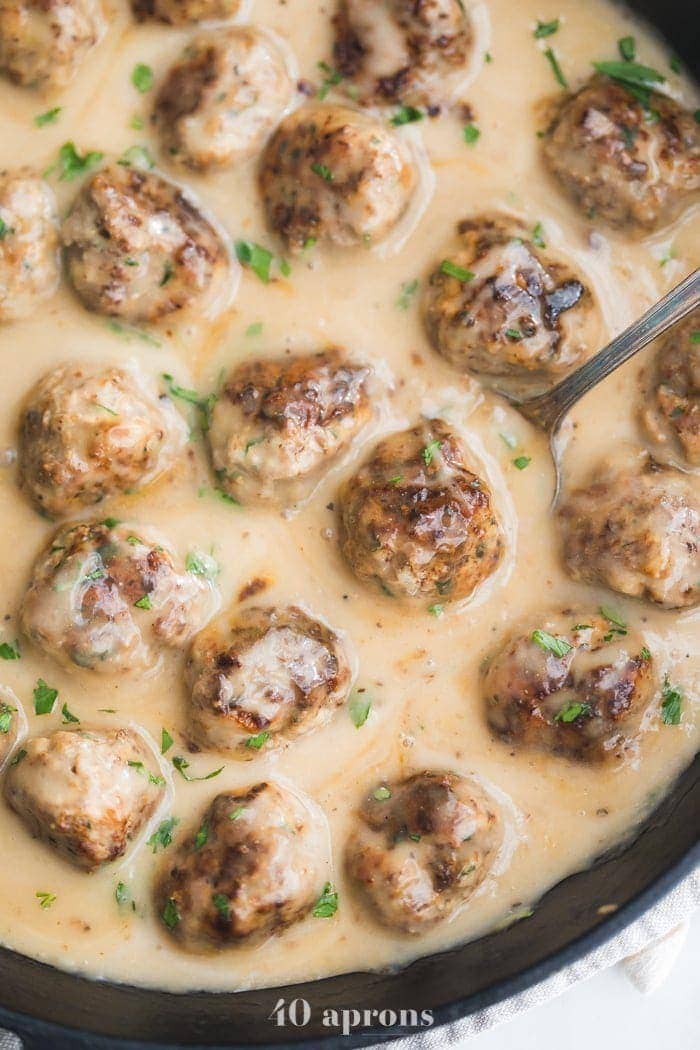 Tips
I like to use pure coconut cream in this recipe. That means just the solid white part of a can of full-fat coconut milk or cream. I buy cans of unsweetened coconut cream at the grocery and keep them cool; this lets the super rich "cream" solidify, making it easy to use in place of ingredients like heavy cream or half-and-half. If your coconut milk sounds liquid when you shake, chill it in the fridge for a few hours.
If you're using full-fat coconut milk instead of a can of "coconut cream," you may need to use two cans to produce 1 cup of pure coconut cream.
Make sure you mix the meatballs ingredients well but don't overmix. Use your hand to mix until incorporated and then move on to the next step!
Use just a dash of coconut aminos to darken the sauce just a bit. This is totally optional, and I wouldn't go buy a jar of coconut aminos for it! However, it adds a nice depth of color and flavor.
How to make this recipe
Prep all your meatball ingredients first. You'll want to make sure your onion is chopped pretty fine and that your garlic is minced very fine as well. Combine all the ingredients in a large bowl and use your hand to mix well.
Next, form equally sized meatballs from the mixture. I use a small scooper to do the job, scooping all the mixture in rough spheres onto a baking sheet first, then going back and rolling each ball between my palms to smooth. This workflow is the most efficient I've found! But you can do this step without a scooper – just form equally sized balls and roll them between your hands to smooth. Repeat this process until all mixture is rolled.
Heat a layer of oil in a large skillet over medium to medium-high heat. I prefer unrefined coconut oil here, as it has a very high smoke point. I also use a cast iron skillet since the sides will not burn, like a stainless steel skillet might, and I love the crust that a cast iron skillet creates on the surfaces of these paleo Swedish meatballs.
Cook the meatballs until browned on all sides and cooked through, working in batches. Don't overcrowd!
How to make the creamy sauce
Remove all the cooked meatballs from the skillet and pour out the oil. Return the skillet to the stove over medium-low heat and add the ghee or coconut oil for the sauce. Sprinkle the arrowroot over and whisk well, then slowly pour in the beef broth, whisking vigorously. The mixture will sort of seize up and seem extremely thick, but it will thin out as you incorporate the rest of the broth.
Add in all the broth then increase heat to medium and stir, cooking until thickened, a couple minutes. Add in Dijon mustard, coconut cream, a dash of coconut aminos, salt, and lots of freshly cracked black pepper. Whisk well and continue to simmer until thickened to desired consistency.
Serve meatballs over mashed potatoes or mashed cauliflower with plenty of Swedish meatballs sauce and a dollop of lingonberry jam or St. Dalfour Red Raspberry Conserves on the side!
Other recipes you'll love:
Paleo Swedish Meatballs with Creamy Swedish Meatballs Sauce (Whole30)
Tender paleo Swedish meatballs with a creamy, dairy-free Swedish meatballs sauce. Perfect over mashed potatoes with lingonberry or raspberry jam. Whole30
Ingredients
Swedish Meatballs
⅓

cup

almond flour

1

large egg

2

large cloves garlic

minced fine

1

teaspoon

salt

¼

teaspoon

black pepper

¼

teaspoon

ground white pepper

Pinch

allspice

½

medium white onion

finely chopped

1

pound

ground beef

1

pound

ground pork

2

tablespoons

fresh parsley

finely chopped

Refined coconut oil

for frying
Instructions
Make paleo Swedish meatballs:
In a large bowl, combine all ingredients for Swedish meatballs, except coconut oil. With your hand, mix well to combine, then roll into evenly sized meatballs. Use a small disher to make this process very easy. Place on a baking sheet and repeat until all meatball mixture is rolled.

Heat a thin layer of coconut oil in a large skillet over medium heat. Fry meatballs in batches, being careful not to overcrowd, letting brown on one side before turning. Fry until cooked through but not overcooked, about when all sides are browned. Repeat until all meatballs are cooked. then pour off coconut oil.
Make Swedish meatballs sauce:
Return skillet to stove over medium-low heat. Add ghee or coconut oil to skillet and heat through, then stir in arrowroot. Whisk vigorously until well combined, then slowly pour in beef broth. Whisk vigorously; mixture will gel at first but will thin as the remaining broth is whisked in.

When all broth is incorporated and smooth, increase heat to medium and whisk until thickened. Add in coconut cream, Dijon mustard, salt, lots of freshly cracked black pepper, and a dash coconut aminos for color, if desired. Simmer until thickened to desired texture, a couple minutes. Return meatballs to skillet and coat with sauce. Serve over mashed potatoes with plenty of gravy and lingonberry or raspberry jam, see note.
Notes
If you're on a Whole30:
Make sure you use a compliant Dijon mustard, one that does not include sugar or white wine. Annie's makes a great compliant Dijon that is easy to find.
Serve your paleo Swedish meatballs with St. Dalfour Red Raspberry Conserves when you're on a Whole30. It's not lingonberry jam but it balances the creaminess of the Swedish meatballs sauce and umami of the meatballs themselves beautifully, just like the classic lingonberry does! This fruit spread has no sugar added and is compliant in savory settings.
Nutrition Information
Calories:
660
kcal
,
Protein:
30
g
,
Fat:
56
g
,
Saturated Fat:
29
g
,
Cholesterol:
154
mg
,
Sodium:
1188
mg
,
Potassium:
625
mg
,
Total Carbs:
9
g
,
Fiber:
1
g
,
Net Carbs:
8
g
,
Vitamin A:
150
IU
,
Vitamin C:
4.5
mg
,
Calcium:
56
mg
,
Iron:
3.6
mg
Number of total servings shown is approximate. Actual number of servings will depend on your preferred portion sizes.
Nutritional values shown are general guidelines and reflect information for 1 serving using the ingredients listed, not including any optional ingredients. Actual macros may vary slightly depending on specific brands and types of ingredients used.
To determine the weight of one serving, prepare the recipe as instructed. Weigh the finished recipe, then divide the weight of the finished recipe (not including the weight of the container the food is in) by the desired number of servings. Result will be the weight of one serving.