We've collected 40 of the best paleo recipes around and compiled them here in one convenient list to help you on your paleo journey. These recipes incorporate whole, nutrient-dense, paleo-friendly foods in interesting and delicious ways to keep mealtime exciting and prevent burnout.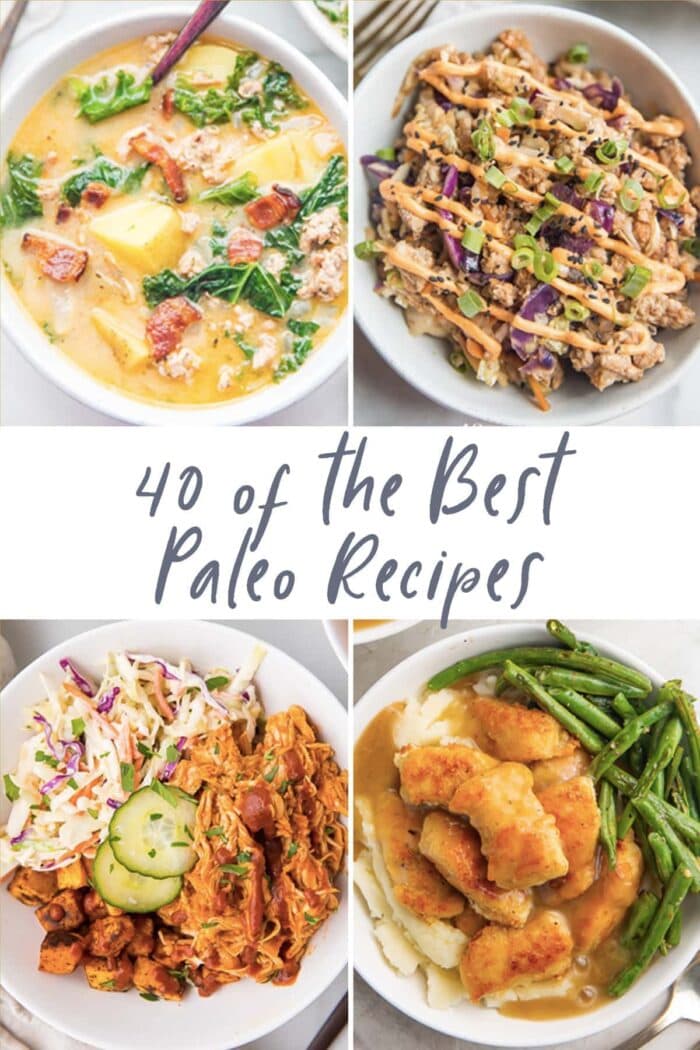 Eliminating dairy, legumes, and grains from your diet can seem really restricting at first. Thanks to incredible paleo recipes like these, though, you can keep meals fresh and interesting with very little effort.

With this list you can eat a new paleo meal every single day if you want – but I guarantee you'll want to make at least a few of these more than once.

Without further ado…
40 of the Best Paleo Recipes
2. Best Ever Tom Kha Gai Soup (Paleo Option)
4. Healthy Creamy Buffalo Chicken Stuffed Sweet Potatoes with Ranch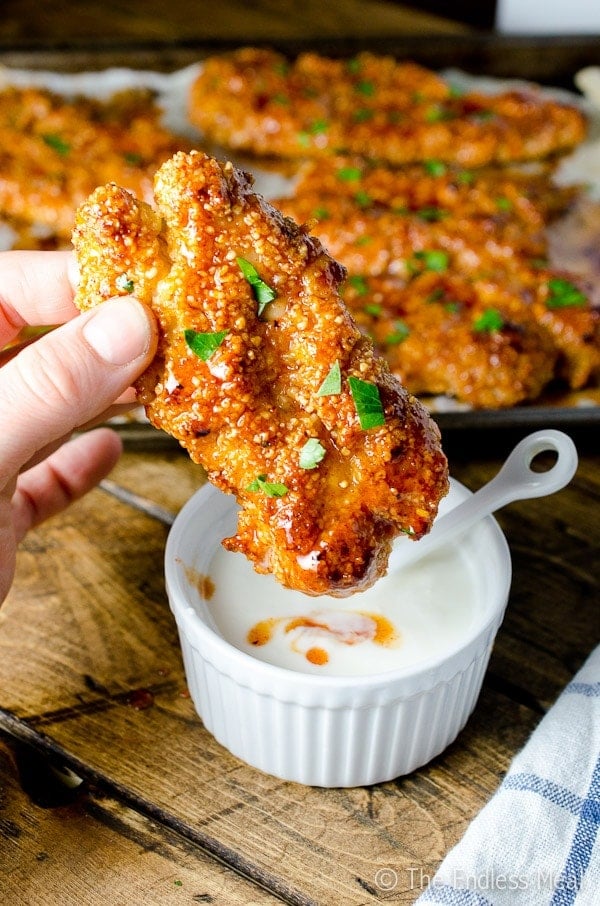 5. Sweet and Spicy Paleo Chicken Fingers from The Endless Meal
7. Sweet Potato Rice from our sister site, Easy Healthy Recipes
8. Stuffed Acorn Squash with Sausage, Apples and Cranberries from Paleo Running Momma
9. Fried Chicken and Mashed Potato Bowl with Gravy
10. Instant Pot Beef and Broccoli from Whole Kitchen Sink
11. Hibachi Chicken and Veggies with Cauliflower Fried Rice and Mustard Sauce
12. Spaghetti Squash Carbonara from Real Simple Good
13. Creamy Breakfast Grits with Butternut Squash Puree from I Heart Umami
14. Italian Breakfast Casserole
15. Rosemary Roasted Potatoes from our sister site, Easy Healthy Recipes
16. Healthy Authentic Seafood Gumbo
17. Korean Beef Bowl from Real Simple Good
19. Chicken and Broccoli Stir Fry from I Heart Umami
21. Spinach Quiche with Bacon from Paleo Running Momma
22. Instant Pot Whole30 Chili with Butternut Squash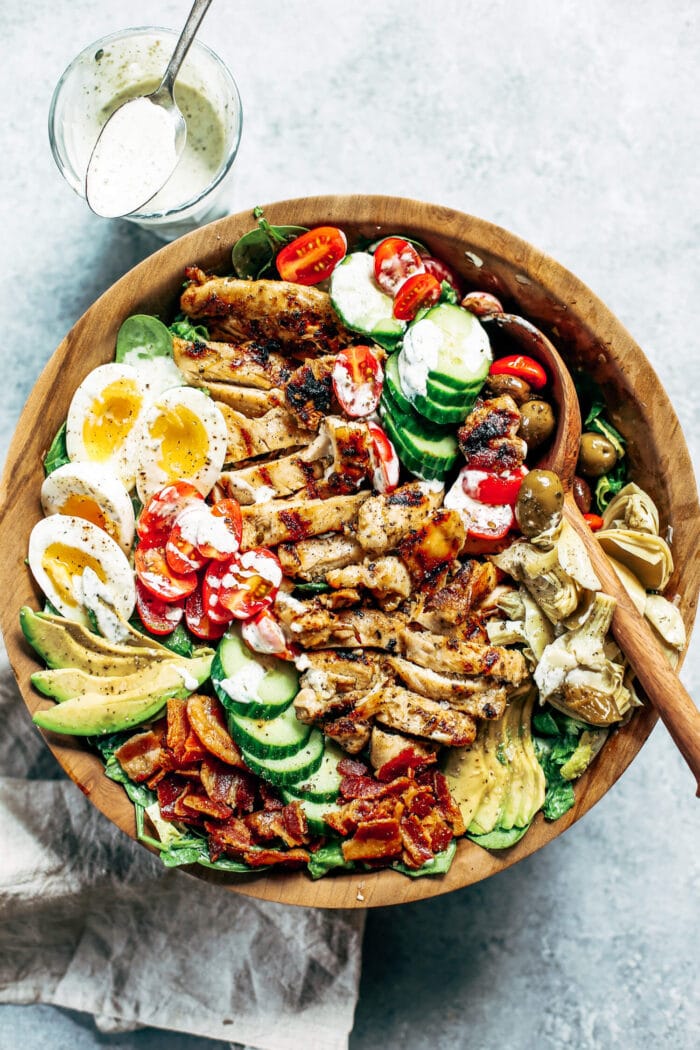 23. Paleo Grilled Chicken Caesar Cobb Salad from Paleo Gluten Free Eats
25. Roasted Cauliflower Steaks from our sister site, Easy Healthy Recipes
26. Best Chocolate Paleo Cupcakes Ever with Dark Chocolate Frosting
27. Sweet Potato Bites with Avocado and Bacon from Well Plated
29. Healthy Vegan Chocolate Truffles Recipe (Paleo)
30. Bang Bang Shrimp from I Heart Umami
31. Baked Potatoes on the Grill
32. Paleo Chocolate Chip Cookies
34. Brussels Sprouts Salad from our sister site, Easy Healthy Recipes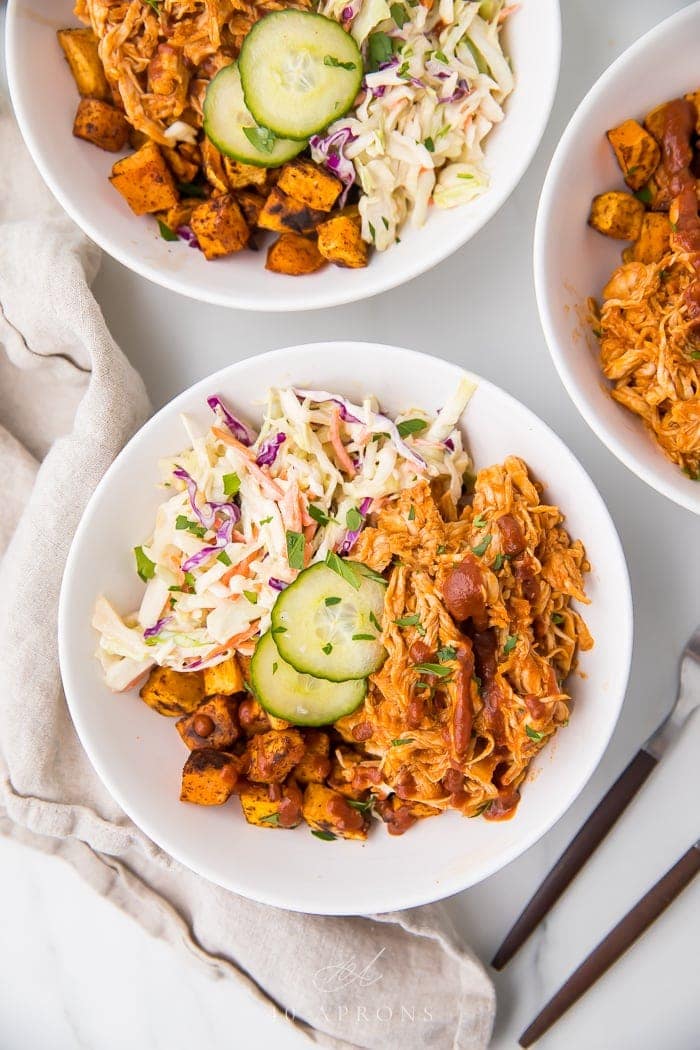 35. BBQ Chicken Bowls with Sweet Potatoes and Coleslaw
36. Grilled Pork Chops with Peaches from Paleo Running Momma
37. Chicken Piccata
38. Chunky Monkey Paleo Banana Cookies from The Endless Meal
39. Paleo Bread
40. Orange Chicken Meatballs from The Wooden Skillet
Hey – you've made it this far, and now we're best friends! If you make this recipe, I'd love for you to give it a star rating ★ below. Make sure you follow me on Instagram, Pinterest, and Facebook, too!