Air Fryer Frozen French Fries

Posted: 03/24/20 Updated: 11/22/22
Bye bye, fast food! You won't need the drive-thru anymore if you have a bag of frozen french fries and an Air Fryer! The Air Fryer crisps up ready-made french fries better than anything, and they truly taste deep-fried. If you're looking for homemade air fryer french fries, you'll love our crispy fast-food style recipe!
❓What Makes This Recipe So Good
Air frying french fries is perfect because there's no messy oil to deal with like when you deep fry them, but they're also amazingly crispy, which is not always the case if you bake fries in the oven. Light and simple, with really incredible results. What could be better?
Not only is this method unbelievably easy, and the results are unbelievably perfect, but it's also a super fast way to get a batch of your dream french fries. You don't even need to defrost the fries first – just take them right out of the freezer and plop them right into the air fryer basket. The cook times will vary a little based on a few factors (more on that below) but most types of french fries will be ready to eat after 10-12 minutes.
Don't be afraid to get a little creative! Frozen french fries make a great base for a variety of things. If you want to enjoy the fries on their own, you can still dress them up with any of your favorite seasonings. Try garlic or onion powder, seasoned salt, or even chipotle powder for fries with a kick. If you want to take them to the next level, though, then load the cooked fries up with your favorite condiments and toppings. Like nachos, but with fries! We did a fun twist on that with our Baked Brie and Steak Cheese Fries and oh, man, are they good.
🍟 Key Ingredients
Frozen French Fries – You can cook any type, any flavor, any cut, and any number of frozen french fries in the air fryer. Seasoned fries? Check. Curly fries? YES, PLEASE. Steak fries? You bet! Shoestring fries? As long as they're not so small they fall through the basket. You'll just need to adjust a little as far as cook time and number of batches depending on the size, thickness, and number of fries you're making. I included time suggestions on the recipe card below so be sure to check that before you get started!
💭 Chef's Tips
You most likely will NOT need to cook your fries a full 25 minutes! That's why we have you check on the fries every 5 minutes. We also included a list of estimated cook times for a variety of different types and styles of frozen french fries. Most types of fries will be ready after 10-12 minutes in the air fryer.
Adjust the cook time depending on how crispy you like your fries or how thick they are. For softer or thinner fries, decrease the time. For crispier or thicker fries, increase it.
If you're using an air fryer that doesn't rotate, toss your fries very, very well every 5 minutes. Make sure the fries that are sitting on the bottom of the bowl are scooped up to the top. If your air fryer rotates, be sure to check on the fries every 5-6 minutes to judge how thoroughly cooked they are.
Be careful not to overdo it with the spray oil. Too much oil and you'll end up with mushy, soggy fries. A light spray is all it takes to get deliciously crispy air fryer frozen french fries.
More Easy Recipes You'll Love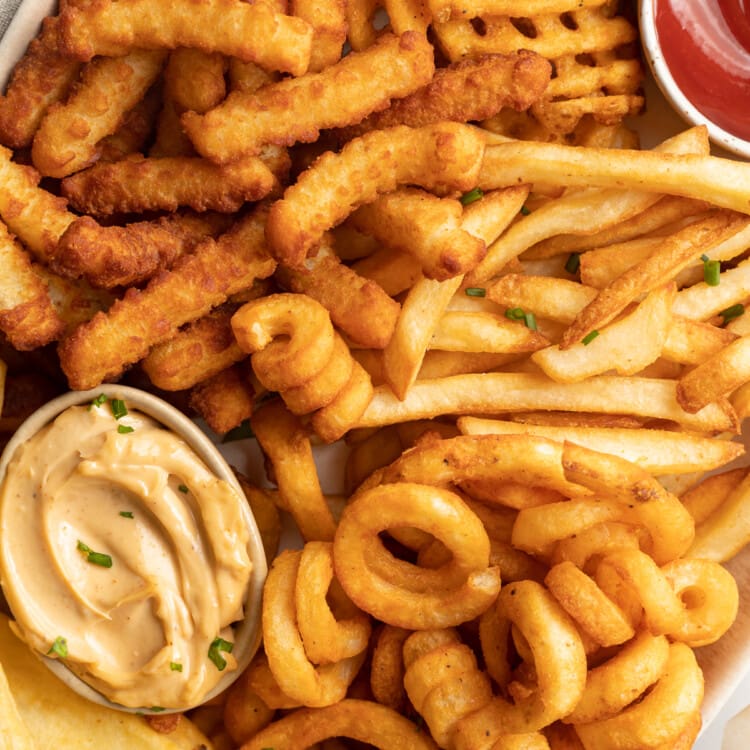 Perfectly Crispy Air Fryer Frozen French Fries
Forget the drive-thru. All you need for perfectly crispy fries in no time at all is a bag of frozen french fries and your handy air fryer.
Ingredients
1

bag

frozen french fries

salt

or other seasonings, optional
Equipment
Air fryer basket-style or oven-style

neutral spray oil must be safe for air fryers
Instructions
Preheat air fryer to 400° Fahrenheit.

Once air fryer is preheated, lightly spray basket with neutral oil. Add frozen french fries to basket and lightly spray tops of fries with additional oil. Sprinkle salt or other seasoning over fries if desired, then place basket in air fryer.

Cook fries 5 minutes. After 5 minutes, remove basket from air fryer. Shake basket well to toss fries, and check doneness of fries. If desired doneness is not yet achieved, return basket to air fryer.

Cook fries another 5 minutes, then remove basket from air fryer. Check doneness of fries. If desired doneness is not yet achieved, shake basket again to toss fries. Return basket to air fryer and cook another 2 to 5 minutes.

Repeat steps 3 and 4 of cooking instructions as needed until desired doneness is achieved. Be sure to check doneness of fries and shake basket to toss fries every 3 to 5 minutes, or fries will overcook. See Notes below for suggested cook times.

Once desired doneness is achieved, remove basket from air fryer. Transfer prepared french fries to plate or bowl. Repeat entire process with any remaining fries until desired number of fries has been cooked. Serve fries hot with desired condiments and/or toppings.
Notes
❗️Important: You MUST shake the basket every 5 minutes! This helps the fries cook evenly, which will also reduce the chances of them overcooking. Taking the basket out of the air fryer also gives you a great opportunity to check the doneness of the fries, so you can be sure they're not getting crispier than you like.
Regarding Cook Times & Temperatures
This method was tested and perfected using both a Chefman basket-style air fryer and a Cosori basket-style air fryer. In both, we cooked our fries at 400°F for 20 minutes total.
Every air fryer behaves differently, though – even two of the exact same model. Be sure to keep an eye on the fries the first time or two you cook them this way, and make any adjustments to the cook time or the temperature that you need to make based on your specific air fryer!
Toaster-oven-style air fryers tend to take a little longer than basket-style. The age of your air fryer can affect the results, too. Newer air fryers can cook hotter and faster than older ones.
Suggested Cook Times
Different types of fries will cook differently. For example, shoestring fries would not need the same cook time as steak fries since they're much smaller and thinner.
In general, start with the cook times below and adjust as needed. If you're cooking multiple batches of fries, keep in mind that the later batches will need less time to cook than the earlier batches.
Shoestring Fries: 6-10 minutes
Waffle Fries (a.k.a. Lattice Fries): 10-12 minutes
Crinkle-cut Fries: 10-12 minutes
Curly Fries: 10-12 minutes
Steak Fries: 12-15 minutes
Note: total cook time for one batch of fries should not exceed 25 minutes.
Nutrition Information
Serving Size:
1
serving
,
Calories:
393
kcal
,
Protein:
4
g
,
Fat:
23
g
,
Saturated Fat:
7
g
,
Sodium:
741
mg
,
Potassium:
650
mg
,
Total Carbs:
46
g
,
Fiber:
7
g
,
Net Carbs:
39
g
,
Vitamin C:
10
mg
,
Calcium:
14
mg
,
Iron:
2
mg
Number of total servings shown is approximate. Actual number of servings will depend on your preferred portion sizes.
Nutritional values shown are general guidelines and reflect information for 1 serving using the ingredients listed, not including any optional ingredients. Actual macros may vary slightly depending on specific brands and types of ingredients used.
To determine the weight of one serving, prepare the recipe as instructed. Weigh the finished recipe, then divide the weight of the finished recipe (not including the weight of the container the food is in) by the desired number of servings. Result will be the weight of one serving.