Bye bye, fast food! You won't need the drive-thru anymore if you have a bag of frozen french fries and an Air Fryer! The Air Fryer crisps up ready-made french fries better than anything, and they truly taste deep-fried. If you're looking for homemade air fryer french fries, you'll love our crispy fast-food style recipe!
Why This Recipe Is So Good
We love simplicity and ease of cooking frozen french fries in an air fryer! Plus, they're way healthier than those fried in oil.
These are the perfect, easy snack for picky kids (or anyone craving junk food) without having to feel guilty!
How To Cook French Fries In An Air Fryer
The full recipe & ingredients list are below, but here you'll find a quick overview for making this recipe perfectly, along with useful tips and info!
Preheat your air fryer and spray the basket with oil.
In a bowl, spray the fries lightly with oil and sprinkle with salt if desired. Add fries to the air fryer.
Cook, tossing the fries midway through the cycle. (See notes for more info and tips!)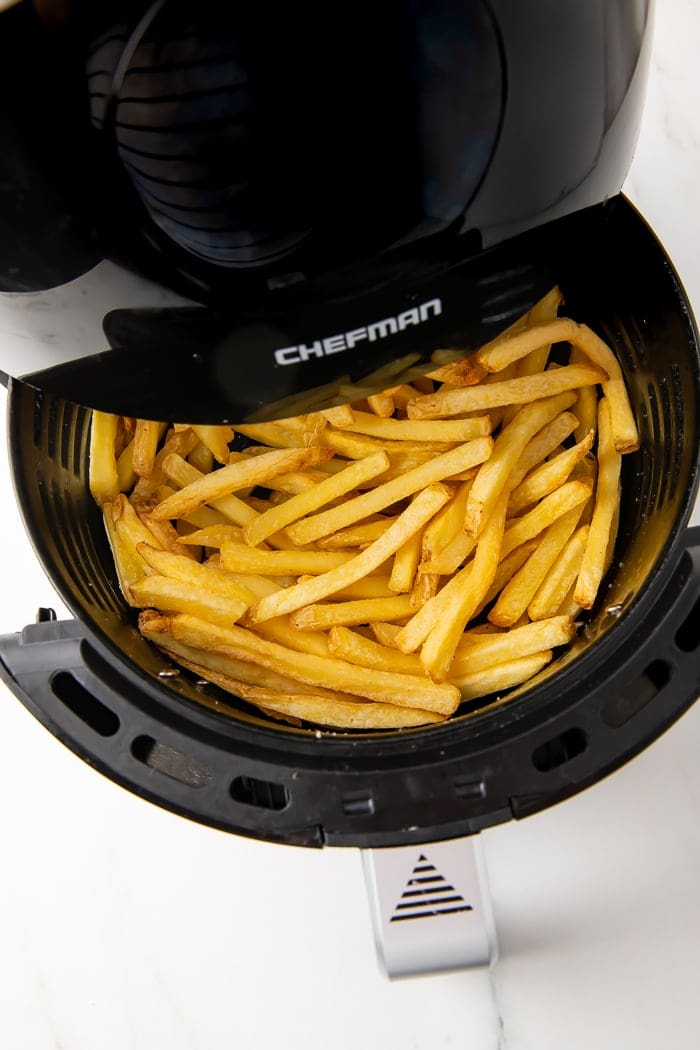 Top Tips For Air Fryer Frozen French Fries
You can adjust the cooking time depending on how crispy you like your fries or how thick they are. For softer or thinner fries, decrease time. For crispier or thicker fries, increase it.
If you're using an air fryer that doesn't rotate, toss your fries very, very well midway through. Make sure the fries that are sitting on the bottom of the bowl are scooped up to the top.
If your air fryer does rotate, be sure to check on them halfway to judge how thoroughly cooked they are.
Do not spray too much oil, or your fries will get mushy!
You don't have to preheat your air fryer, but be aware that your cooking time may be longer!
Try your fries with different seasonings for a more gourmet snack. Try garlic or onion powder, seasoned salt (mmm, Milo's salt), or chipotle powder for fries with a kick.
More Easy Recipes
Hey – you've made it this far, and now we're best friends! If you make this recipe, I'd love for you to give it a star rating ★ below. Make sure you follow me on Instagram, Pinterest, and Facebook, too!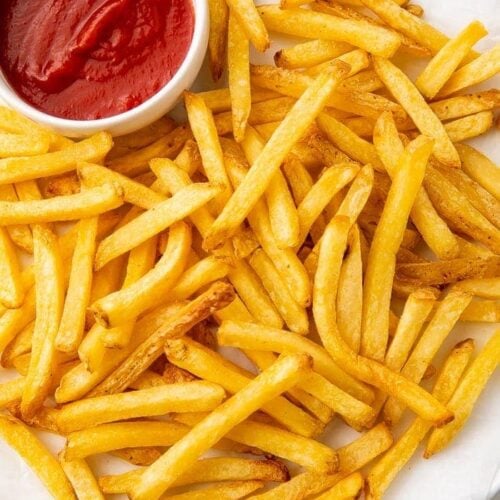 Air Fryer Frozen French Fries
Air fryer frozen french fries are the perfect, easy snack and so much better than fast food!
GO PREMIUM – AD FREE + MEAL PLANS
Ingredients
1

bag

frozen french fries

spray oil

avocado, olive, or canola, like Pam

salt
Instructions
Preheat air fryer for 400º. Spray basket with oil.

Spray fries with oil and sprinkle with salt, if desired.

Cook for 20-25 minutes, tossing halfway.
Notes
Wine Pairings
I recommend buying wine from Scout and Cellar, especially for lower carb or sugar and the health conscious. There's no added sugar to these wines, and they're all much lower in carbs, calories, and sugar. For me, there's no headache or fogginess the next day!
This recipe is a simple French fry side dish, so you can get away with a variety of wine pairings for starchy sides. I recommend:
Nutrition
Calories:
393
kcal
Carbohydrates:
46
g
Protein:
4
g
Fat:
23
g
Saturated Fat:
7
g
Sodium:
741
mg
Potassium:
650
mg
Fiber:
7
g
Vitamin C:
10
mg
Calcium:
14
mg
Iron:
2
mg
Net Carbs:
39
g
How long do you cook frozen fries in air fryer?
Cook for about 20-25 minutes at 400º.
Are frozen fries in air fryer healthy?
Compared to french fries deep fried or from a fast food restaurant, yes, they are healthier!
Do you put oil on frozen french fries in air fryer?
Oil isn't necessary, but we like to add some in this recipe to keep the fries tender on the inside and add some flavor.
What can I season my air fryer french fries with?
Try garlic or onion powder, seasoned salt, or chipotle powder.