This Whole30 zuppa toscana is rich and creamy, spicy, and absolutely bursting with flavor. You'll love this filling, paleo zuppa toscana anytime, but especially during cold, wintry months. Dairy free, gluten free, grain free, and sugar free, this is one of the best Whole30 soups out there!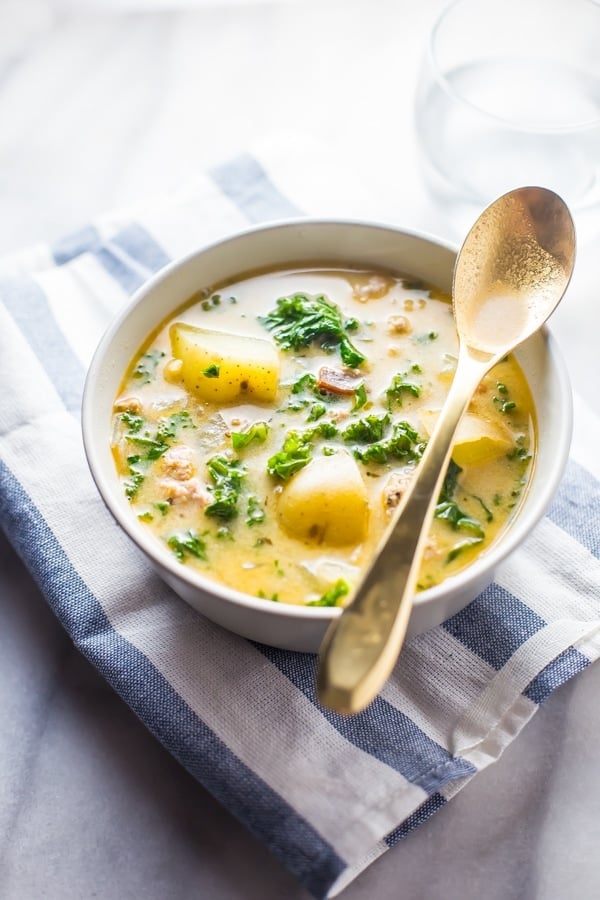 We started our January Whole30 with this soup, and I have to say: we did it right. I even posted a snap (?) on Instagram, lamenting how oh. so. hard. it is to do a Whole30, with lots of crying emojis… I'm subtle.
In previous rounds, I tired quickly of large slabs of animal protein, so I knew I had to shake things up a bit this round. And leading a group Whole30 and Facebook support group (join us!) means coming up with new and delish recipes to keep things interesting.
Et voilà, my friends, the Whole30 zuppa toscana. Who isn't a fan of the creamy, spicy soup at your favorite Italian-food chain, laden with potatoes and kale and bacon and Italian sausage and ohhhh boy. Especially during the winter, my cravings for creamy, filling soups multiply like four-hundredfold, so we find ourselves in a tricky spot.
A spot where you're 100% committed to doing a strict Whole30, but you really, really want zuppa toscana.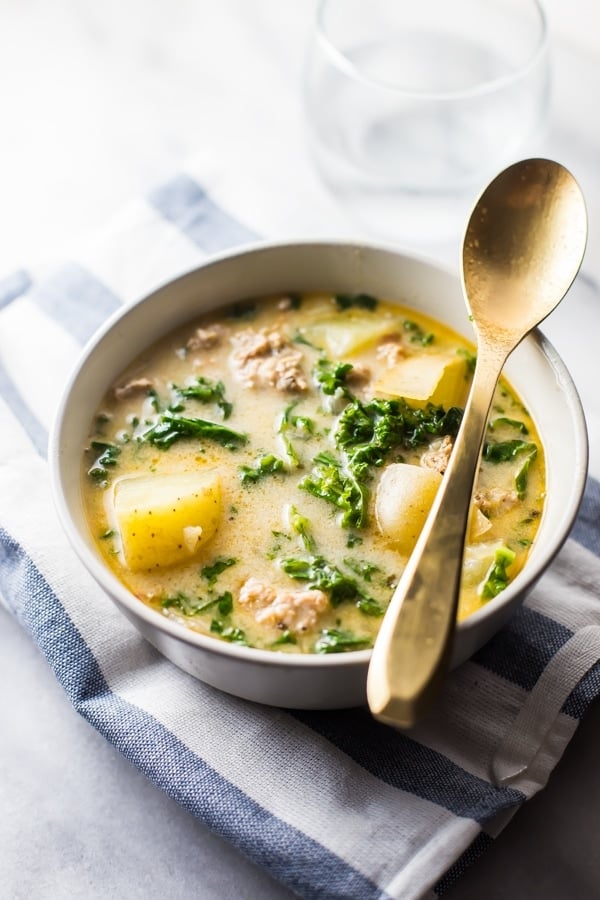 This Whole30 zuppa toscana is based off a regular zuppa toscana copycat recipe, subbing simple ingredients for the dairy, grains, and sugar. I made my own Italian sausage, which is insanely easy, but you could use compliant storebought Italian sausage, too, of course. Whole Foods has one, so pick up a pack! Make sure you use compliant bacon if you're on a Whole30, as well. It can be tricky to find bacon that doesn't have sugar in it, but Whole Foods has a few brands of that, as well.
I have a tendency to be super hungry on the Whole30, like eat. all. the. things., but this soup kept me super full all night. I might have had to bite my knuckles to get past my craving for Glutino pretzels on tap, shoveled into my face during our nightly screenings of Boardwalk Empire, but it wasn't from hunger, that's for us.
That, my friends, is a habit that, I have to say, I kind of still miss. Baby steps, fam. Baby steps.
Make sure you add this Whole30 zuppa toscana to your meal plan! It's going on the printables I'm sharing each week, and I think you're going to love it.
Whole30 Zuppa Toscana
Ingredients
4

slices

Whole30-compliant bacon

, cut into about 1/2" pieces

1

pound

Italian sausage

, made from below recipe or storebought

1/2

teaspoons

crushed red pepper flakes

4

medium yellow potatoes

, about 1 pound 3 ounces, diced into bite-sized pieces

1

medium white or yellow onion

, diced

2

tablespoons

garlic

, minced, about 4 cloves

4

cups

chicken stock

1/2

bunch kale

, stems removed and leaves chopped, 4 cups

Salt and pepper

, to taste
Instructions
In a Dutch oven or heavy-bottomed medium pot over medium heat, add Italian sausage and sprinkle crushed red pepper flakes over. Use a spoon to break up the pieces. When browned and cooked through, drain and set aside.

Cook the bacon pieces in the same Dutch oven over medium heat until crisp, about 5-10 minutes. Remove the crisp bacon and set aside - don't get rid of the bacon fat! Stir in the onions and garlic; cook until onions are soft and translucent, about 5 minutes.

Pour the chicken broth into the Dutch oven with the onions and garlic, and bring to a boil over high heat. Add the potatoes, and boil until fork tender, about 10-20 minutes. Reduce the heat to medium and stir in the coconut milk and the cooked sausage; heat through. Add the bacon and the kale into the soup just before serving and cook 'til the kale is bright green and softened. Add salt and pepper to taste.
Whole30-Approved Homemade Italian Sausage
Not only is this homemade Italian sausage recipe so, so easy, but it's customizable to your tastes AND Whole30 approved!
Instructions
Combine all ingredients in a medium bowl and mix until very well combined with your hands. Use in a recipe or refrigerate for later use.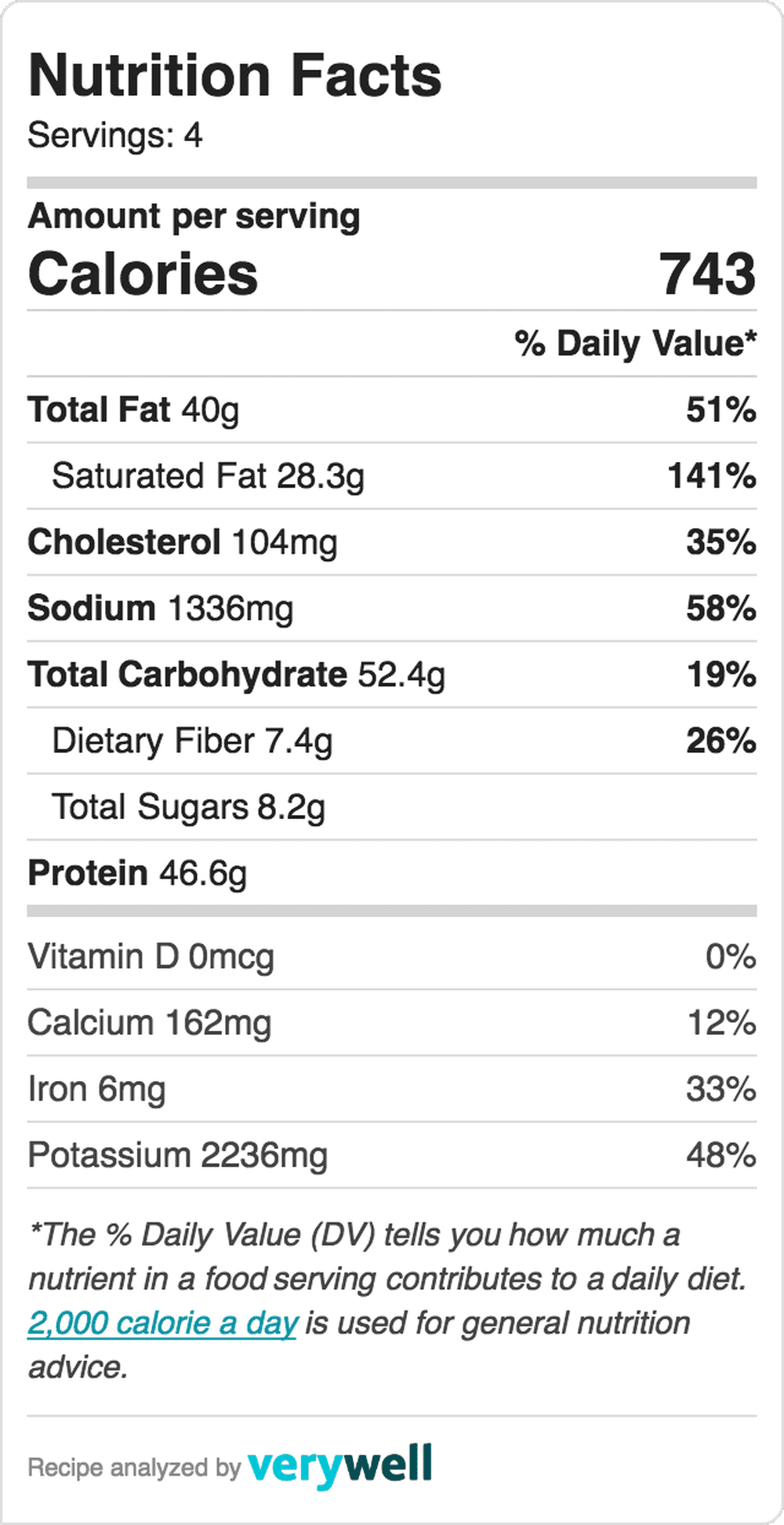 810