This cilantro lime cauliflower rice is a simple 5 minute side dish recipe that's healthy and jam packed full of flavor, thanks to fresh cilantro, lime juice. A touch of rich coconut cream takes it to the next level! Whole30, vegan, paleo, and low carb.

Can we talk about cauliflower rice?
More specifically… how freaking magical cauliflower rice is? Hear me out.
Here's how it looks at my house: we need a simple and healthy side to soak up a bunch of delicious juice or sauce or gravy or whatever it is (And there's always juice/sauce/gravy in my recipes. Like, what is life without juice/sauce/gravy?), and I forgot to buy something, and I have 10 minutes before the kiddos start freaking out.
Enter: the frozen cauliflower rice.
I keep a giant bag in my freezer and then always have an insanely easy and healthy side to throw together last minute. And I seriously just microwave it and go many times! It takes like 15 seconds of effort and 3 minutes of effort on the part of the microwave. Good Microwave. Good girl!
This cilantro lime cauliflower rice takes it up a few notches. Here's how.
Why This Cilantro Lime Cauliflower Rice is So Good
It's crazy quick and easy. It comes together in about 5 minutes and only has 4 ingredients. One of which is sheer magic.
The coconut cream makes this cilantro lime cauliflower rice the best I've had. It becomes richer and creamier and just generally ahhhhhh-ier, and I really dig it.
This side dish goes beautifully with Mexican, TexMex, and Latin dishes.
It's also Whole30, paleo, and low carb!
How to Make This Cilantro Lime Cauliflower Rice with Coconut Cream
Super easy!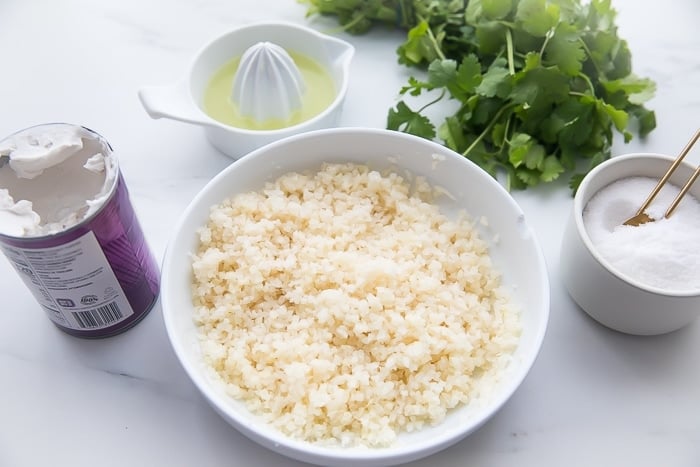 After steaming your cauliflower rice, stir together all ingredients. Start with the smaller amount of each ingredient and add more to taste.
If desired, drain the prepared dish before serving to reduce excess liquid and keep the rice fluffy and light.
How do you make cauliflower rice?
Super easy: go to Costco and buy a giant bag of the frozen stuff. Kidding! Sort of…
I highly recommend keeping a large bag of frozen pre-riced cauliflower on hand. But if you don't, and/or you want to use fresh cauliflower, here's what to do.
Start by cutting your head of cauliflower into florets. Then you can either:
Evenly chop evenly into very small pieces.
Run the florets through the grating blade of your food processor.
Pulse in your food processor until evenly chopped.
How do you steam cauliflower rice?
A couple options here.
Microwave. Place your cauliflower rice in a microwave-safe dish; don't add water. Cover fresh cauliflower rice; don't cover frozen cauliflower rice. Microwave fresh cauliflower rice 5 minutes, and frozen about 3-5, or until nice and hot. Stir halfway through.
Place in a skillet over medium heat and cover. Cook, shaking pan or stirring occasionally, about 5-6 minutes, or until hot and cooked through.
Tips
Increase or decrease the fresh cilantro based on your own personal tastes. Start with 1 tablespoon if you're more sensitive to the taste.
Do the same with the lime juice: start wit the juice of 1/2 a lime and increase as desired.
Drain the prepared dish before serving to keep it fluffy and light.
Keep in an airtight container in the fridge 3-5 days.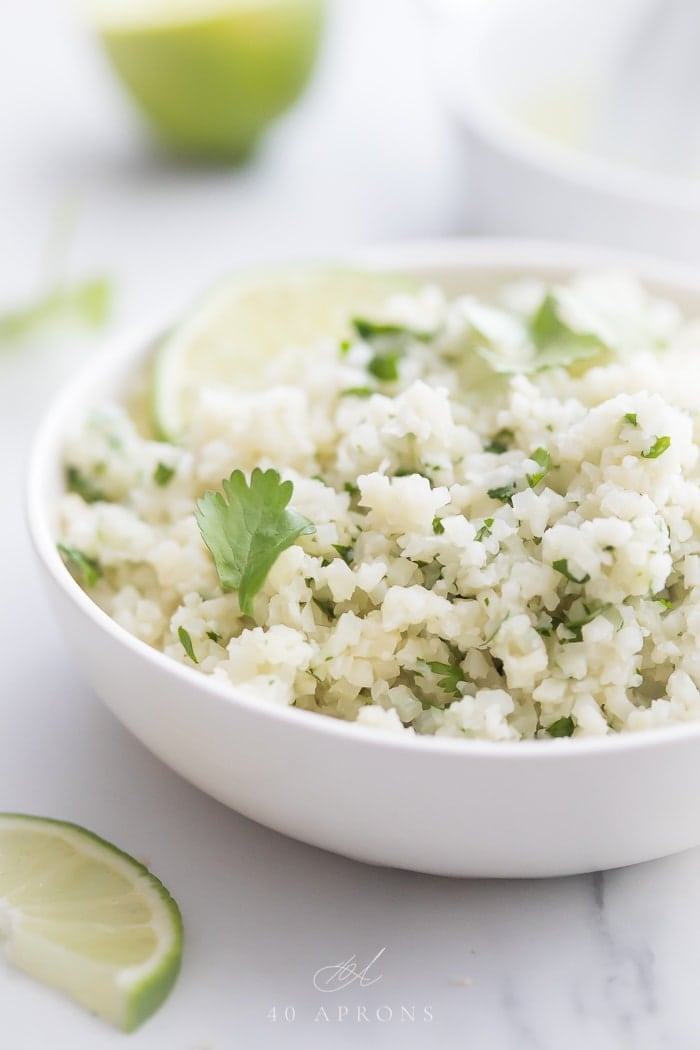 Other Recipes You'll Love:
Hey – you've made it this far, and now we're best friends! If you make this recipe, I'd love for you to give it a star rating ★ below. Make sure you follow me on Instagram, Pinterest, and Facebook, too!
Cilantro Lime Cauliflower Rice
This quick cauliflower rice is packed full of flavor, thanks to fresh cilantro, lime juice, and rich coconut cream. Made in about 5 minutes, it's a perfect Mexican side dish that's Whole30, paleo, and low carb.
Ingredients
3

cups

riced cauliflower from fresh or frozen

steamed. See Note 1

2

tablespoons

fresh cilantro

chopped

juice of 1/2-1 lime

4

tablespoons

full-fat coconut cream

1/2

teaspoon

salt
Instructions
Stir together all ingredients. Taste and correct seasonings, adding more cilantro, lime, coconut cream, or salt.

If desired, drain the prepared dish of excess liquid before serving.
Recipe Notes
Note 1
I love to use frozen cauliflower rice, because it's so easy to have on hand and the texture is super consistent. I often steam mine by simply microwaving it in a ceramic bowl for about 3-5 minutes. You can also cook the cauliflower rice by cooking it in a large skillet, covered, over medium heat for about 5-6 minutes.
See post for more details on steaming cauliflower rice.
Storing Notes
Store in an airtight container in the fridge for 3-5 days. 
Nutrition Facts
Cilantro Lime Cauliflower Rice
Amount Per Serving
Calories 79
Calories from Fat 45
% Daily Value*
Fat 5g8%
Sodium 327mg14%
Potassium 407mg12%
Carbohydrates 7g2%
Protein 2g4%
Vitamin A 15IU0%
Vitamin C 58.7mg71%
Calcium 26mg3%
Iron 0.8mg4%
* Percent Daily Values are based on a 2000 calorie diet.