These healthier In N Out burgers: double double animal style are just as good as they sound and look: two thin patties brushed with mustard, loaded with pickle slices, deeply caramelized onions, a creamy sauce spiked with my Whole30 ketchup recipe, coconut aminos, and relish, all sandwiched between two perfect iceberg lettuce buns. Inspired by the West Coast favorite, these burgers are made with totally real food and are paleo, Whole30, and low carb friendly.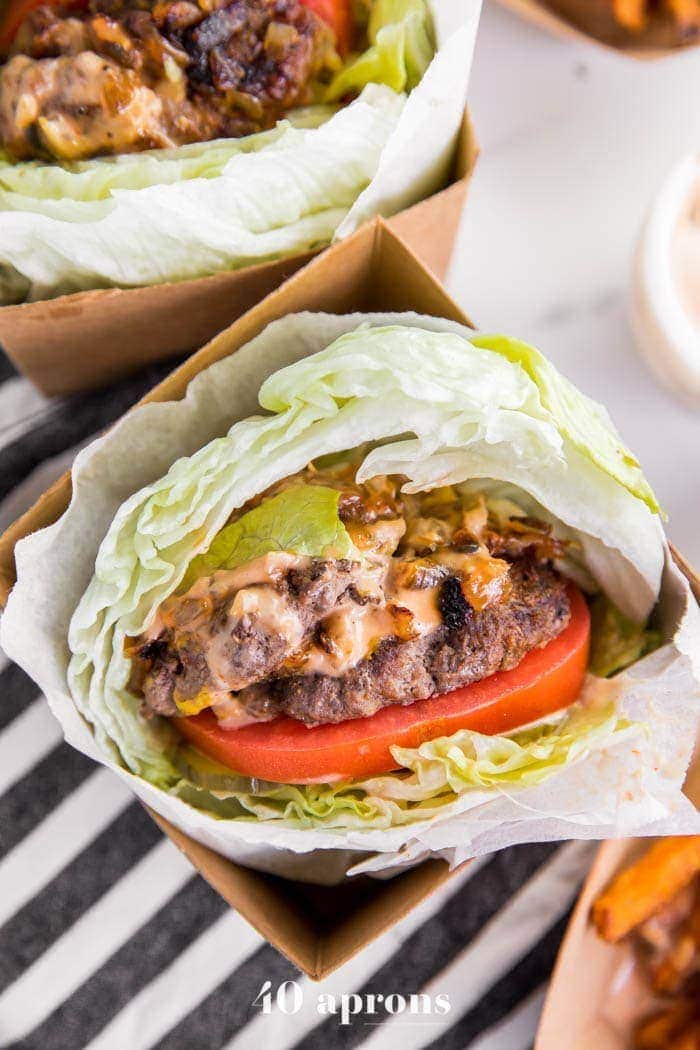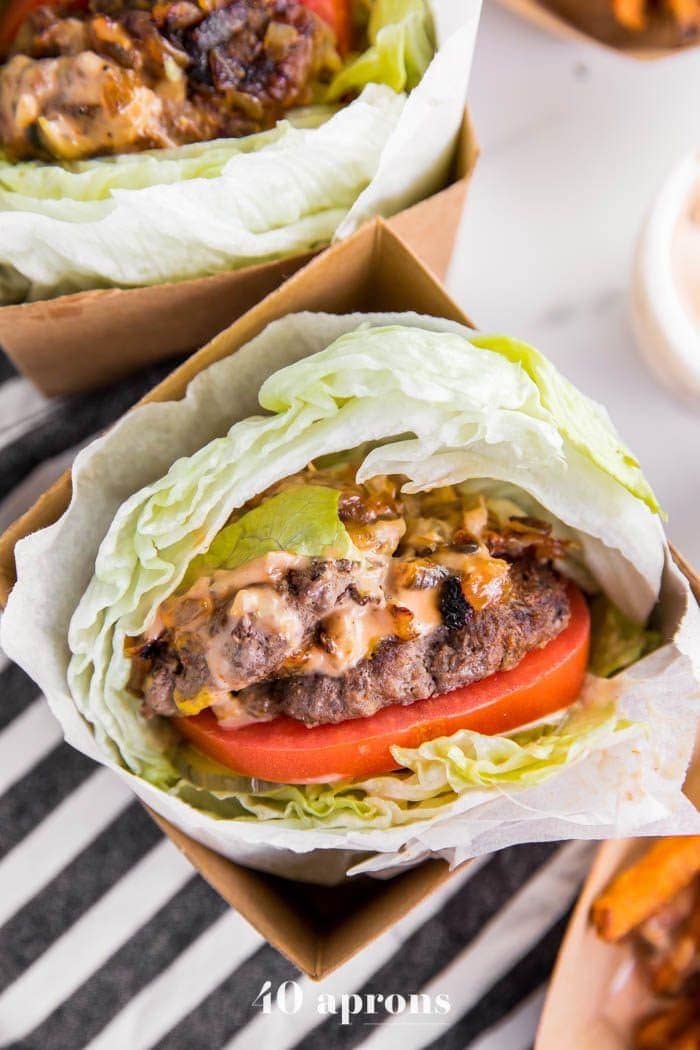 These are a Whole30 In N Out burgers: double double, animal style. OK, Bye!
Like, that should be enough right? I don't need to tell you about those tangy burgers, the creamy sauce, the over-the-top caramelized onions, do I? I didn't think so. Pretty sure that description alone speaks for itself if the photos didn't convince you at first glance.
In-N-Out is one of those things I crave when I'm away from the West Coast, the first thing I make my Lyft driver do when I get a ride from the airport on a business trip. But eh, I don't need you anymore. Because we can make better double doubles (animal style!) at home. And the reality is it's pretty dang simple!
Burgers with mustard + a ketchup-spiked mayo sauce with dill relish and coconut aminos + lettuce buns + deep, dark, look-into-my-eyes caramelized onions = Left Coast magic.
And the entire time I was eating them, sauce dripping down the burger, gripping their parchment paper wrap like my life depended on it, my eyes were rolled into the back of my head while, between bites, my mouth lost control, groaning "Ohmygahhhhhh honeyyyyy these are literally the besttttt thing I've everrrrr eatennnnn."
You know, like a casual I'd like this for my last meal thanks moment.
These Whole30 In N Out burgers: double double animal style work because we're simply subbing thick iceberg wedges for the buns, not recreating them with any funky ingredients. They're crisp and light and I actually prefer them to wheat buns, pretty sure. Not only do they make me feel like approximately 400000 times better after I eat them, but the crunch! Oh, the crunch. I can't even with the crunch. They're refreshing and crisp and I just adore them. Lettuce buns forever.
They'd be called In-N- Out double double animal style burgers if that made any sense, but you know. It doesn't. It's all about healthy, real food substitution and avoiding recreation. AKA it ain't Whole30 if you whip up an almond flour bun to use instead. And why would you want to do that anyway? Lettuce buns are basically the answer to every problem.
The sauce uses coconut aminos to lightly and naturally sweeten things; I prefer coconut aminos over dates for a very minimal sweetness. Without dates, the sauce won't be quite the same as In-N-Out's, but I'm a-OK with that. If you're not on a Whole30, make sure you use maple syrup instead of extra coconut aminos. It'll round things out beautifully. If you're on a Whole30, you'll just use extra coconut aminos. This will thin the sauce a bit, but it'll be stellar any way you slice or dice it.
Oh, and guess what! This recipe makes plenty of animal sauce and grilled onions so you can make Whole30 In N Out fries. Because Whole30 In N Out fries: a creamy, relish-spiked animal sauce with those super-rich onions over homemade sweet potato fries? There's just nothing better. Be careful if this is a food with no brakes for you, though. It's not for me at all (Hello nachos) but if you're a fry addict otherwise, you might want to just wait until after a round to make some Whole30 In N Out fries.
So let's get down to it.
How do you make those perfect lettuce buns?
Ooh, I am so excited to share these lettuce buns, Y'all! We struggled with giant, delicate iceberg leaves for years when trying to swathe our buns in veggie options, and that time was completely wasted. Here's what you should do instead: cut off the end of the stem of a head of the iceberg, then cut it into 1/4s. You'll find yourself with lettuce wedge salad-style wedges. You'll then take out the inner layers of the iceberg, leaving about 1″ of an iceberg cup into which a couple of mustard-brushed burgers fit beautifully.
How thin do these Whole30 In N Out burgers: double double animal style need to be?
Hella thin, Y'all. Like, make them as thin and wide as possible, then make them a little thinner. As they cook, they'll get taller and not as wide, and you want them to be beautifully thin and giant when you're done. Make them even thinner than this, if you can. Try pressing them out on a piece of parchment paper to make it easy to transfer to cook.
Do I need to wrap these Whole30 In N Out burgers: double double animal style in parchment to eat?
Uh, yeah. You do. Or blend West Coast stereotypes and wrap your Whole30 In N Out burgers: double double animal style in aluminum foil, burrito bar style. You'll find them much, much easier to eat this way; they'll stay together better and you'll capture all the sauce that threatens to jump ship.
How dark do my caramelized onions need to be?
Hella dark, Y'all. Seriously, they need to be the color of like deep, dark toffee. The color of George Clooney's pupils. Dark. You'll thank me later. This is the most arduous part of theWhole30 In N Out burgers: double double animal style process but quite possibly the most important one. Don't skip and don't cheat! You'll thank me later. Did I already say that? I freaking meant it.
I don't have homemade ketchup or mayonnaise!
Chill, girl! We got this. If you don't have or don't want to make homemade ketchup (even though my Whole30 ketchup recipe is crazy easy, as is my Whole30 immersion blender mayo recipe), try these:
Primal Kitchen makes my hands-down favorite paleo / Whole30 compliant mayonnaise. It tastes the best and is really pretty easy to find. You can AmazonPrime some to your doorstep with the click of a finger or you can kick it old school and head to ughhhh basically Kroger. Yep, it's the future, and you no longer have to go to Whole Foods for fancy avocado oil mayo! Pick up a bottle of their Whole30 ranch dressing while you're at it.
Tessemae's ketchup has near cult status among most Whole30ers and for good reason. Sweetened with dates, it's just like the stuff you used to get at all of those no-no places and great to have on hand. It's a little harder for me to find Tessemae's ketchup in stores, so AmazonPrime-ing it is the way to go. I can usually find it at Whole Foods but not always at Sprouts and definitely not at my Kroger.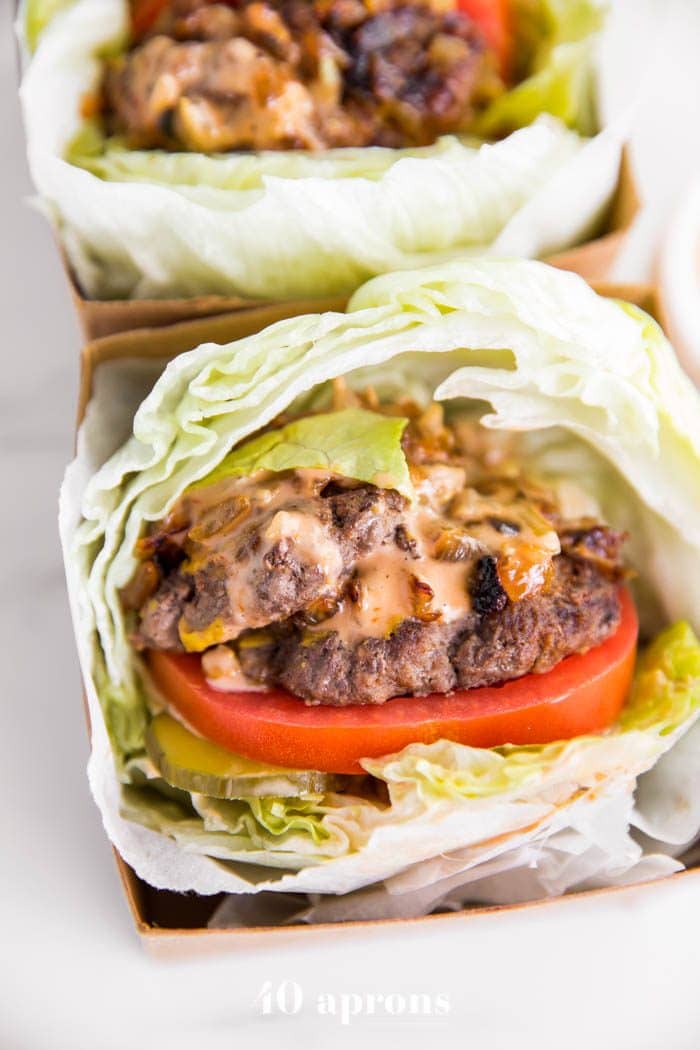 I want to make Whole30 In N Out fries!
Go for it, friend! This recipe makes enough sauce and grilled onions to top some homemade sweet potato fries or turnip fries or whatever kinda fries you're making yourself. Keep in mind, though, that this could be a food with no brakes for you, so tread lightly. Fries aren't my thing at all but if they were, I'd probably skip it altogether for those 30 days. Whole30 In N Out fries will wait for you, I promise!
Any other questions? Proceed, my friends! Change your lives with these Whole30 In N Out burgers: double double animal style!
Healthier In N Out Burgers: Double Double Animal Style
Two thin beef patties brushed with mustard, loaded with pickle slices, deeply caramelized onions, a creamy special sauce, all sandwiched between two perfect iceberg lettuce buns. Paleo, Whole30, and low carb friendly.
GO PREMIUM – AD FREE + MEAL PLANS
Instructions
Make the sauce: combine mayonnaise, ketchup, dill relish, coconut aminos, maple syrup (if not on Whole30), and vinegar in a small bowl. Stir to combine and chill while you continue cooking.

Heat 2 teaspoons avocado oil in a medium skillet (preferably non-stick) over medium-high heat until oil is shimmering. Add onions and 3/4 teaspoon salt. Reduce heat to medium-low, and cook, stirring occasionally until onions are browned, about 15 minutes. Once onions are browned, they will start to sizzle and look dry. Add 1 tablespoon water to skillet and stir, cooking until water evaporates and onions begin sizzling again. Repeat the process with 1 tablespoon water until onions are dark brown and extremely caramelized, about 3 times, a total of about 30 minutes. Transfer to a bowl and let cool.

Make the lettuce "buns": slice off the stem of the head of iceberg lettuce, about 1/2-3/4". Cut into fourths: down the center, then slice each half in half to make wedges. Take out the middle 2/3 of each iceberg wedge, so it leaves just a 3/4" thick lettuce "bun". Set aside.

Shape ground beef into four 2-ounce patties that are very thin and very wide, about 1/4″ thick and at least 4″ wide. Season patties with plenty of salt and pepper. Heat remaining 1 teaspoon avocado oil to a large cast-iron skillet over medium-high heat; swirl the oil around the pan to coat with a thin layer. When the oil is very, very hot, add burger patties. Spread 1 tablespoon mustard on the top, raw side. Cook patties, without moving, until they're very well browned and a bit crusty on the bottom, about 2-3 minutes. Flip patties so the mustard side is down and cook 30 seconds to 1 minute.

Prepare your burgers: for each burger, spread about scant 1 tablespoon of animal sauce onto the inside of one lettuce "buns". Top with 2 pickles, then one slice tomato. Top with a burger patty and about 1 tablespoon caramelized onions, plus more if you like. Top with another burger patty and another 1 tablespoon caramelized onions. Top with another scant 1 tablespoon of sauce then the final lettuce bun. Wrap in parchment paper or aluminum foil and devour!
Nutrition
Calories:
899
kcal
Carbohydrates:
36
g
Protein:
26
g
Fat:
73
g
Saturated Fat:
16
g
Cholesterol:
104
mg
Sodium:
2317
mg
Potassium:
1050
mg
Fiber:
7
g
Sugar:
20
g
Vitamin A:
1781
IU
Vitamin C:
21
mg
Calcium:
129
mg
Iron:
5
mg
Net Carbs:
29
g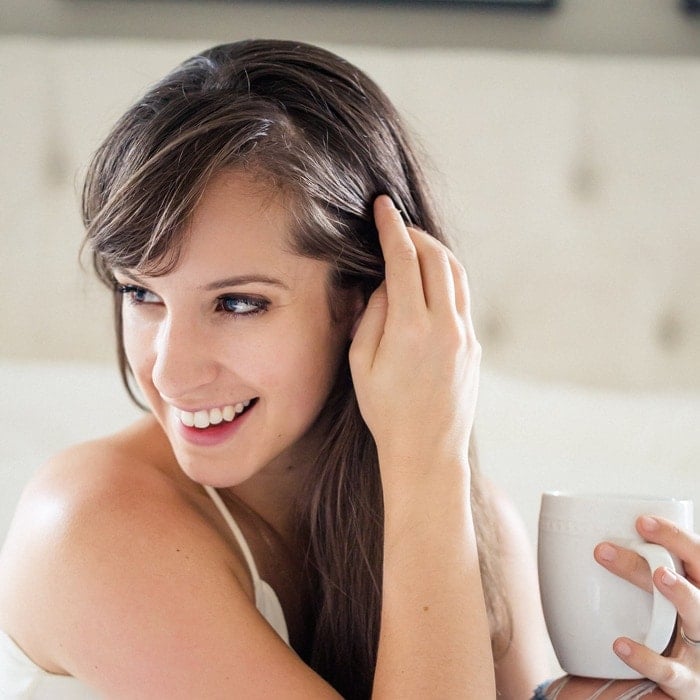 Cheryl Malik is the recipe developer, writer, and photographer behind the healthy, flavorful, family friendly recipes at 40 Aprons. She's been a blogger for 10+ years and is known for her delicious recipes and detailed recipe instructions. Cheryl is a mom of three who lives in Memphis, TN.