This paleo shrimp and grits recipe might just blow you away. With only 5 ingredients in the whole dish, it's packed full of flavor. The spicy, savory shrimp are cooked just right, until they're perfectly tender, and melt into creamy, cauliflower "grits." This Whole30 shrimp and grits recipe takes only about 15 minutes to make, so um, dinner's ready?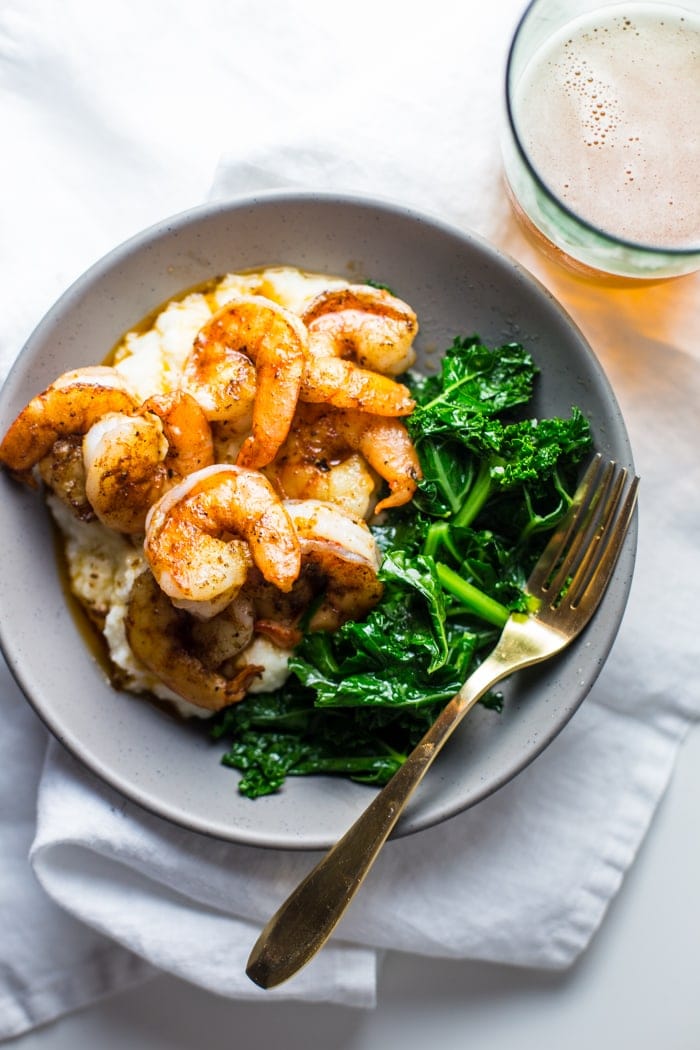 I threw together this recipe during our first Whole30, when I had bags of frozen shrimp on hand and no clue what to do with them. I was tired of zoodles, so shrimp scampi = nope. Tired of cashew-cream-fortified chowders, so potato and shrimp chowder = no sir. Really, really tired of coconut milk curries, so basically every Whole30 shrimp recipe on Pinterest ever = naw naw naw.
Instead, I just absolutely smothered my shrimp in Cajun seasoning and threw them in some hot ghee in a cast-iron skillet for a few minutes. Steamed a bag of frozen cauliflower with a minced clove of garlic, then blitzed it with a little more ghee in the food processor until smooth. Um… OK, you're done? Told you… the perfect paleo shrimp and grits recipe. Five ingredients, fifteen minutes.
I cannot overemphasize how easy and quick and freaking delicious this recipe is. I don't even know how to use the English language emphatically enough in this case, so even italics are necessary. Maybe even some excess punctuation!?!?
It's really that easy, quick, and freaking delicious, y'all.
You can use butter if you're not on a Whole30, and also, maybe skip the beer in the photo? Don't tell Melissa and Dallas that I implied you could have beer with this meal… they will find me (or at least Moderator Tom will troll me for the rest of my life).
I promise this paleo shrimp and grits recipe is elegant enough for company but quick and easy enough for any weeknight. I have a feeling it'll become a regular in your meal plan rotation!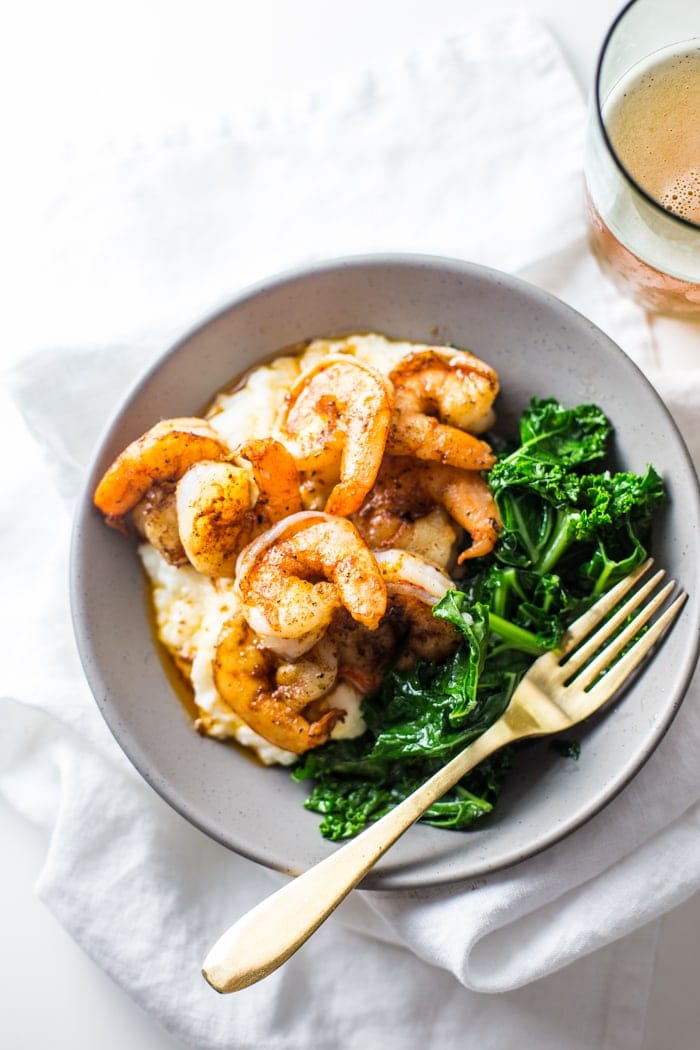 We serve this paleo shrimp and grits recipe with garlicky kale – another easy, quick, and freaking delicious recipe. Formal recipe with photos coming very soon, but for now, you can head on over to the Recipes section of my Whole30 Meal Plans: Week 1.
Paleo Shrimp and "Grits" (Whole30)
Spicy, tender shrimp in a rich, simple sauce over garlicky, creamy cauliflower "grits." What could be better? Whole30 compliant.
Ingredients
Shrimp
1

pound

large shrimp

, peeled and deveined

2-3

tablespoons

Cajun seasoning

, Whole30 compliant*

Salt

, if there is no salt in the Cajun seasoning

2

tablespoons

ghee or butter
Cauliflower "Grits"
1

12-ounce bag

frozen cauliflower

1

large clove

garlic

, chopped

2

tablespoons

ghee or butter

Salt

, to taste
Instructions
Fill a medium saucepan with a couple inches of water and bring to a boil. Place frozen cauliflower in a steamer basket and top with 1 large clove garlic, chopped. Cover and steam until tender.

When tender, place steamed cauliflower and garlic in the bowl of a food processor and add ghee or butter. Do not get rid of steaming water! Blitz until almost the desired texture. Add salt and a bit of steaming water, if desired, and process again until the desired consistency.

Meanwhile, make your shrimp. Pat dry and sprinkle very liberally with Cajun seasoning. You want the shrimp to be almost entirely coated, so don't skimp out here! We probably use about 2-3 tablespoons of seasoning. If your Cajun seasoning does not include salt, salt the shrimp now as well.

Heat 2 tablespoons ghee or butter in a large skillet, preferably cast-iron, over medium-high heat. Once the skillet is very hot, add the shrimp and cook about a minute or two, or until the bottom side begins turning pink. Flip the shrimp and cook until the bottom side is turning pink. When the shrimp are no longer translucent down the middle, where they've been deveined, remove from the skillet immediately.

Spoon the cauliflower "grits" into serving bowls and top with half the shrimp. Pour the ghee and Cajun seasoning "sauce" from the cast-iron skillet over serving bowls. Serve immediately.
242