Thanksgiving For 6: A Guide & Menu

Posted: 11/18/20 Updated: 02/02/23
Whether you're beginning new traditions or reimagining the classics, our handy guide to Thanksgiving for six is designed to take some of the holiday stress off your plate so you can put some holiday goodies on it instead.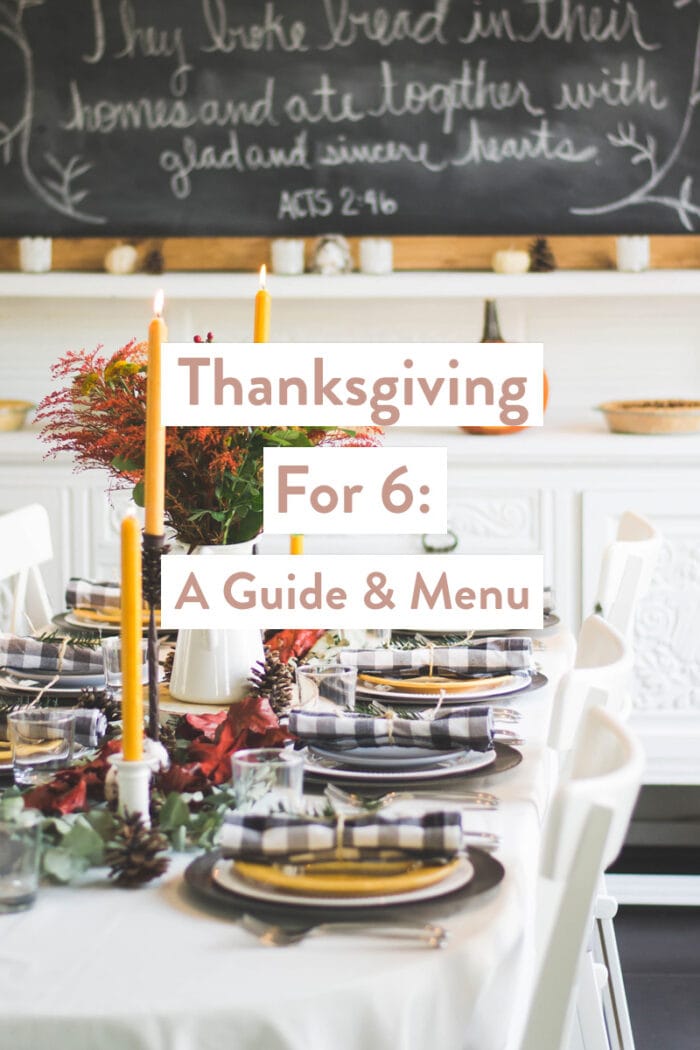 Hosting a smaller group? Check out our Thanksgiving Guide for Two or Guide for Four, and our Free Downloadable Thanksgiving Guide.
Tips for a Thanksgiving for Six
Be Adventurous (or not)
It's simple, but one of the nice things about cooking for a smaller group is that you don't have to make as much food. Sure, everyone loves Thanksgiving leftovers, but after a few days of turkey, stuffing, and gravy, it starts to get a little boring.
Use this Thanksgiving as an opportunity to get creative with your menu! Maybe you've always wanted pumpkin cheesecake for dessert but you're usually outnumbered by the pecan pie lovers. Make that cheesecake! Been dying to try oyster dressing but grandma always brought her traditional sausage stuffing? Thanksgiving is your oyster now!
Who knows – maybe those wild and crazy dishes are next year's traditions just waiting to happen.
Of course, this might be the year that you need those traditional, comforting Thanksgiving staples from your youth more than ever. There is nothing wrong with that!
Treat It Like a Special Occasion
…because it is! Sure, your Thanksgiving group of six may be you and the same five people you see every single day. That doesn't mean it has to feel like every other day!
Instead of waiting for dinner, get everyone together earlier in the day. Start the Thanksgiving festivities with a group watch of the Thanksgiving Day Parade, the National Dog Show, or a good old football game. Come up with a playlist. Serve drinks. Pass around appetizers. Make a day of it!
Encourage everyone to dress up, and make your kids brush their hair. It doesn't have to be fancy, but it doesn't have to be yoga pants, either!
Get the Group Involved
We mentioned tips for a potluck-style dinner in our Thanksgiving for Four guide, and that idea definitely applies here, too! Another way to get everyone involved (and take a little pressure off the host) is to let the guests help with the set up. I know, I know! Just the idea is a holiday sin in the South, but hear me out.
Delegate the smaller things. Let someone set the table. Let someone else mix the cocktails. Designate a potato masher or a dough-roller-outer. Sure, you're making dinner, but you're making memories, too!
Of course, you know your family/guests, so if this will add more stress than it takes away, feel free to skip this suggestion. Maybe instead you could try letting each person choose one dish to be served at the meal.
A Change of Scenery
If your usual Thanksgiving in the dining room (or on the couch, no judgment) is starting to feel a little stale, mix it up! Moving dinner outside can be a fun change of pace, and if you live in an area with great foliage, it comes with the added benefit of not needing to decorate. That's instantly one less thing on your need-to-do list! Eating outside also offers an additional buffer if your group of six consists of guests outside your household.
Plan a Virtual Thanksgiving
We've all become Zoom and Facetime pros by now, right? If there are friends and family you won't be able to see in person this Thanksgiving, see them virtually!
Texting or talking on the phone can be great, but there's something special about seeing each other, even if it's through a screen. Plan a time to Zoom with your best friend while you both make stuffing. Facetime with dad during cocktail hour. Just because you can't see them doesn't mean you can't see them.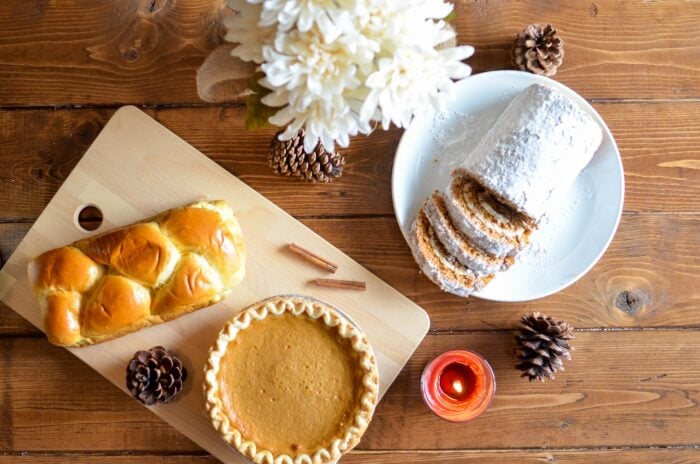 A Sample Menu for a Thanksgiving for Six
Appetizers – Choose 2 to 3, based on tastes and dietary needs
Main Course – Choose 1 to 2, based on tastes and dietary needs
Sides – Choose 2 to 4, based on tastes and dietary needs
Desserts – Choose 1 to 3, based on tastes and dietary needs
Drinks – Before-dinner cocktails, with-dinner drinks, or after-dinner digestifs