Maybe it's much too early in the game but I thought I'd ask you just the same.. what are you doing New Year's (New Year's) Eve?
Tell me you didn't just sing along, try and tell me! I remember listening to that song the one and only year it even made sense for me–I'd just started dating O and things were pretty dern serious, you guys, but not like.. Facebook-official serious? So it was a little up in the air and I would drive around singing that song and then O was like "let's throw a party!" and I was like oh, OK, we're basically married already apparently. And we threw a Mad Men-themed party–this was years ago when D. Draper was still the hot thang if you knowwhatimean–and I made fondue and a boozy jello mold with floating blueberries that people sliced with a cake server! It was such fun and I guess the answer to the question was "drunkenly professing my love to you outside the disco downtown with all its leather couches and fog machines and limited drink menu (Bud or Bud Light: 40 ounces only. We classy.)" which led to the next New Year's Eve spent newly engaged at home in our homeownery champagne-soaked domestic bliss, which led to the next New Year's spent as newlyweds in Playa del Carmen (unwittingly the day Leo popped into existence–or so says the chart), which has led to this New Year's spent celebrating Leo's 100th day on the outside with a little–albeit extravagant–brunch with our family and some close friends. (Want to know more about this 100th-day celebration? Go to his website: leomalik.com!)
All of that to say this: what are you doing New Year's Eve? Whatever it may be, I think you should involve these rosemary raspberry vodka fizz! Not only are they totally gorgeous (in my humble opinion), but they're full of flavor, fruity but floral, complex with the infused rosemary, and bubbly enough to ring in 2016 with the best of them. It was vaguely inspired by a cocktail served at an incredible local Italian place (chefs Andy Ticer and Michael Hudman–maybe you've heard of them!) that my parents fell in love with and sort of recreated at home. I took the flavor combination of raspberry and rosemary and elderflower liqueur St. Germaine and concocted a simple cocktail that packs serious punch in both the flavor and looks departments.. not to mention it's a pretty stout drink that goes down easy! If you'd like it to be a little weaker, you can always add more soda than champagne, or just go heavy on the soda in proportion to everything else. But it's New Year's, so why would you do that?
I'm keeping a jar of the syrup in the fridge so I can whip these babies up at a moment's notice! I used frozen raspberries and rosemary clipped from a little rosemary tree we kept on the front porch (until I killed it.. which I always do ever so swiftly). Frozen raspberries worked beautifully for me and I don't think there's any need to go fresh–they're obviously not exactly seasonal right now!
Rosemary Raspberry Vodka Fizz
A flavorful, vibrant cocktail blending fruity raspberry, woodsy rosemary, floral St. Germaine, and bubbly champagne. Vodka because #life
GO PREMIUM - AD FREE + MEAL PLANS
Ingredients
1

tbsp

Raspberry-Rosemary Syrup

1

tablespoon

rosemary needles

1 1/2

cups

frozen raspberries

, thawed

1

whole

Juice of one lemon

1/4

cup

+ 1 tablespoon sugar

3/4

cup

water

1

tablespoon

cornstarch

1 1.5-

ounce

shot vodka

1/2

ounce

St. Germaine elderflower liqueur

1 1.5-

ounce

shot rosemary-raspberry syrup

1

tbsp

champagne

, to top

1

tbsp

soda water

, to top
Instructions
To make syrup:

In a small bowl, muddle rosemary needles with a muddler or back of wooden spoon to release oils. Combine with remaining syrup ingredients in a small saucepan and place over high heat. Bring to a boil and then reduce heat to simmer. Mash mixture with potato masher and continue to simmer for ten minutes. Remove from heat and let cool. Strain through fine-mesh strainer or nut-milk bag. Save in an airtight container until ready to use.

To make a cocktail:

Combine vodka, St. Germaine, and syrup in a cocktail shaker with ice. Shake vigorously and strain into cocktail glass, either with or without ice. Top with equal parts champagne and soda water and serve immediately.
Notes
Syrup recipe makes enough for at least 6-8 cocktails
Nutrition
Serving:
1
g
Calories:
808
kcal
Carbohydrates:
113
g
Protein:
2
g
Fat:
2
g
Saturated Fat:
1
g
Sodium:
25
mg
Potassium:
272
mg
Fiber:
12
g
Sugar:
91
g
Vitamin A:
118
IU
Vitamin C:
47
mg
Calcium:
45
mg
Iron:
1
mg
Net Carbs:
101
g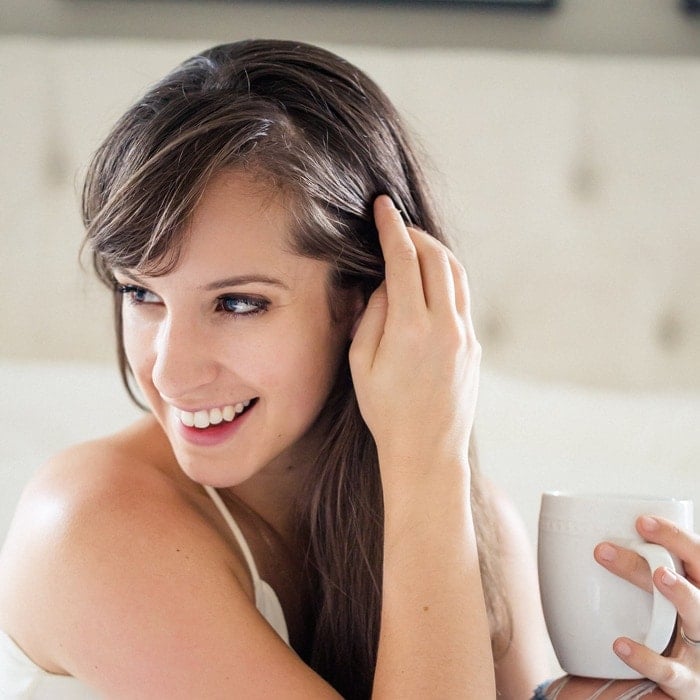 Cheryl Malik is the recipe developer, writer, and photographer behind the healthy, flavorful, family friendly recipes at 40 Aprons. She's been a blogger for 10+ years and is known for her delicious recipes and detailed recipe instructions. Cheryl is a mom of three who lives in Memphis, TN.