Knowing how to roast beets turns those deep red beauties into sweet, versatile veggies you'll fall in love with. We'll teach you how to roast them two ways, either whole or in wedges, perfect for salads or sides.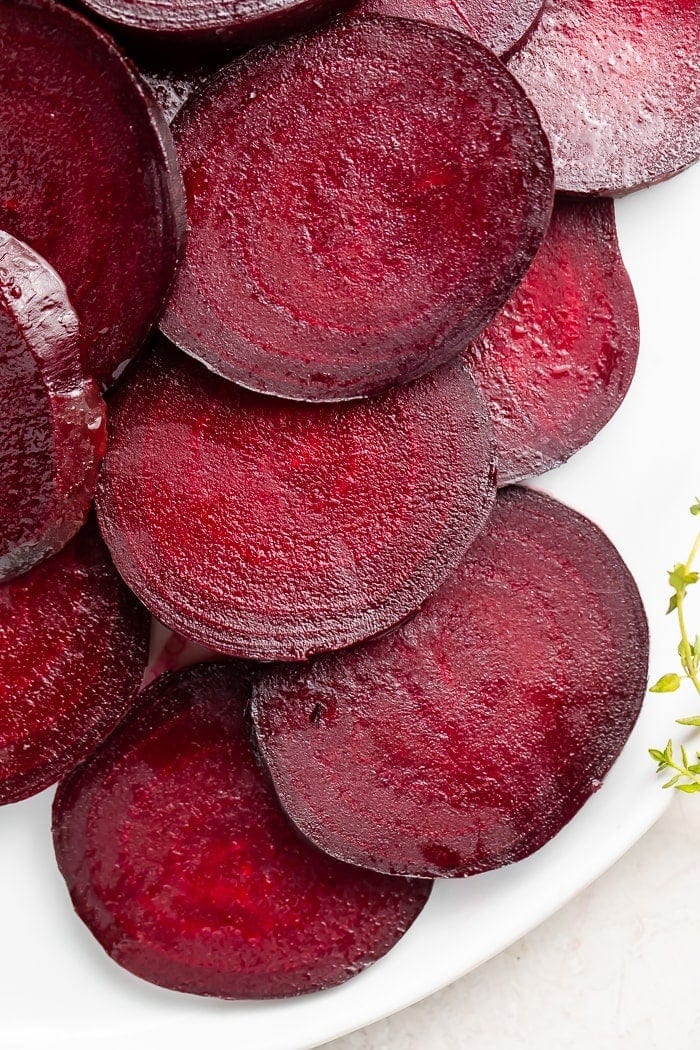 Why You'll Want to Know How to Roast Beets
You can store roasted beets in an airtight container in the refrigerator for up to one week – perfect for meal prep and holiday leftovers! They freeze well, too.
Raw beets are crisp and crunchy, but roasted beets have a soft, buttery texture, similar to cooked yams.
Serve them warm with butter and a little salt & pepper, or chilled on top of a salad.
Roasted Beets Ingredients
Beets – These gorgeous cranberry-colored root veggies are full of vitamins and nutrients, and they're low in calories and fat. Cooked, pureed beets can also be used to give red velvet cake its signature color!
Extra Virgin Olive Oil – EVOO is one of the most versatile items in your kitchen. Since it's loaded with healthy fatty acids and antioxidants, it's good for you both inside and out – no, really! We all know it's used for baking, marinating, and vinaigretting, but some DIY skin and hair treatments call for EVOO, too.
How to Roast Beets
The full recipe & ingredients list are below, but here you'll find a quick overview for making this recipe perfectly, along with useful tips and info!
For both whole roasted beets and roasted beet wedges, preheat the oven to 400 degrees Fahrenheit (adjust for altitude if appropriate) and clean the beets before you roast them. You can use a fruit & veggie wash if you want, but really a thorough scrub with a vegetable brush and cold water will do the trick. You just want to remove the dirt from your root vegetables.
For whole roasted beets, trim away most of the stem, leave the peel on, and coat your clean beets with extra virgin olive oil. Wrap them up in an aluminum foil pouch, then place them in the oven and let them roast!
Depending on the size of your beets, roasting will take anywhere from 35 to 50 minutes. I recommend you start checking them after 35 minutes, though, so they don't overcook. You'll know they're ready when you can easily pierce them with a fork. Set them aside until they're cool, then peel and slice into medallions.
Roasted beet wedges are just as easy as whole roasted beets. You do need to remove the whole stem and peel your dirt-free beets using a peeler or a paring knife before you roast them. Once they're peeled, cut them into wedges, then coat them in EVOO. No foil pouch needed here – spread the wedges evenly on a sheet pan and toss them in the oven!
Chef's Tips
If you're roasting large beets whole, wrap them individually in foil to make sure they roast evenly.
Perfectly tender roasted beets are easy to peel – just rub them with a paper towel and the skins will come right off! If they don't, you'll want to cook the beets a little longer.
Beets are gorgeous, but the juice can stain everything. Don't let that scare you away from them, though! Just be careful, wear an apron, and if you do happen to get beet juice on some fabric, immediately dab (don't rub!) the spot with a paper towel to absorb the liquid, flush the area with cold water, then treat the area with stain remover or lemon juice & vinegar.
The most common beets at your local grocery store are standard red beets, but if you'd like beets with a little sweetness, try to find Chioggia beets. They're sometimes called Candy Cane Beets because they're red-and-white striped inside, which also makes them fun for the holiday table.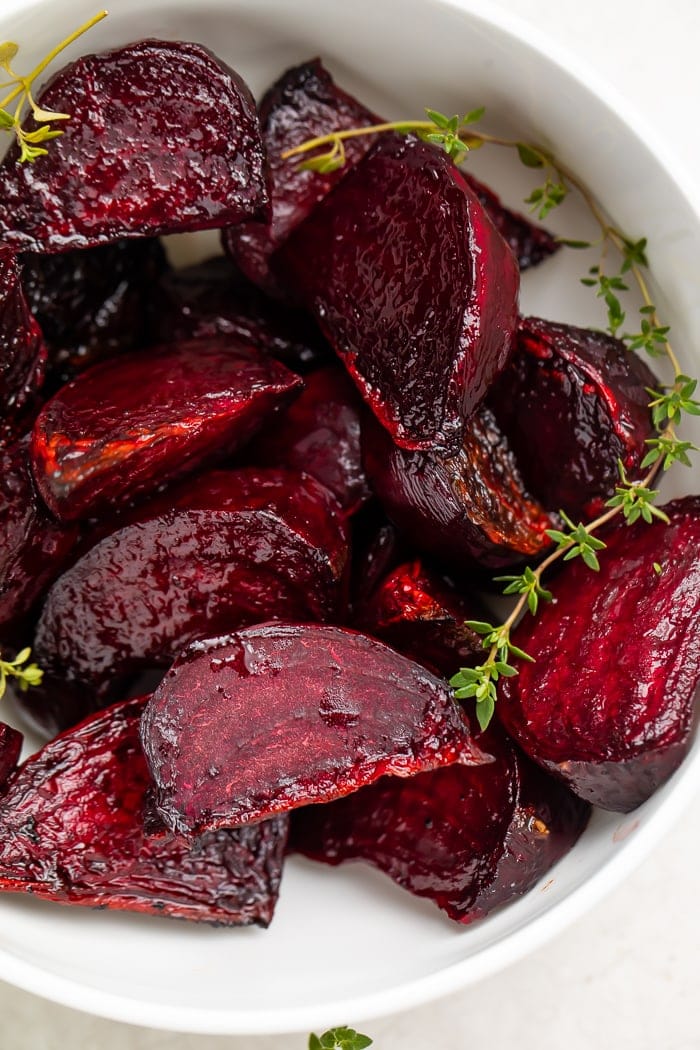 More Roasted Recipes
Hey – you've made it this far, and now we're best friends! If you make this recipe, I'd love for you to give it a star rating ★ below. Make sure you follow me on Instagram, Pinterest, and Facebook, too!
How to Roast Beets
Knowing how to roast beets turns those deep red beauties into sweet, versatile veggies you'll fall in love with. We'll teach you how to roast them two ways, either whole or in wedges, perfect for salads or sides.
GO PREMIUM – AD FREE + MEAL PLANS
Instructions
Whole Roasted Beets
Preheat oven to 400 degrees Fahrenheit. Wash beets and trim most of greens, leaving tuft of stem.

Toss in extra virgin olive oil then wrap in foil.

Place foil pouch in oven and roast 35 minutes for small beets or 50 minutes for large beets. Test tenderness after 35 minutes by piercing beets with fork. Beets are cooked through when fork pierces smoothly.

Let cool, then remove skin. Slice into medallions and serve.
Roasted Beet Wedges
Preheat oven to 400 degrees Fahrenheit. Wash beets and remove all of greens. Peel beets. For smaller beets, cut in half. For larger beets, cut into 8 wedges.

Drizzle with extra virgin olive oil and toss to coat.

Roast on sheet pan in oven for 35-40 minutes.
Notes
Storage – roasted beets can be stored in the refrigerator for 5-7 days in an airtight container. They can also be frozen in a baggie or airtight container for 6-10 months.
For a little flair, consider Chioggia beets. They're slightly sweeter than standard red beets, and the candy cane effect of their inner red-and-white striping looks great on a holiday dinner table!
Nutrition
Serving:
1
serving
Calories:
97
kcal
Carbohydrates:
8
g
Protein:
1
g
Fat:
7
g
Saturated Fat:
1
g
Sodium:
64
mg
Potassium:
267
mg
Fiber:
2
g
Sugar:
6
g
Vitamin A:
27
IU
Vitamin C:
4
mg
Calcium:
13
mg
Iron:
1
mg
Net Carbs:
6
g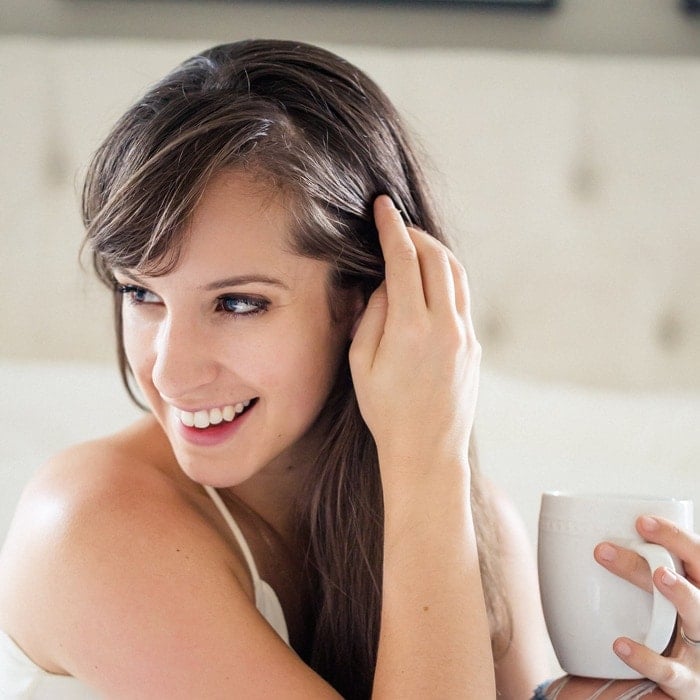 Cheryl Malik is the recipe developer, writer, and photographer behind the healthy, flavorful, family friendly recipes at 40 Aprons. She's been a blogger for 10+ years and is known for her delicious recipes and detailed recipe instructions. Cheryl is a mom of three who lives in Memphis, TN.