Thanksgiving for 2: A Guide & Menu

Posted: 10/22/20 Updated: 02/02/23
Whether you're having a small Thanksgiving due to social distancing or just tradition, this guide and menu makes planning a Thanksgiving for 2 a breeze! With tips, decorations, and some of our favorite recipes, we'll take some of the stress out of your holiday.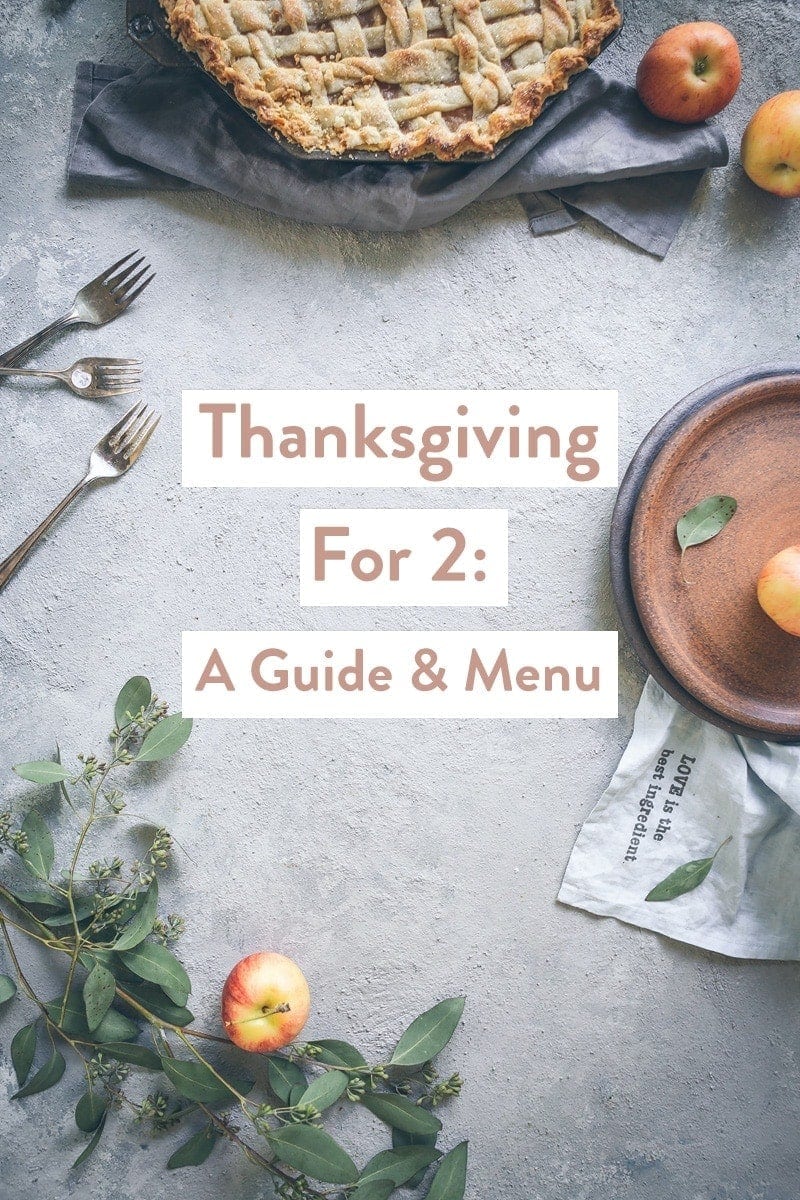 Tips For A Thanksgiving For Two
Make Smaller Portions & Fewer Sides
Not a fan of munching on leftovers for a week after the holiday? Instead of making the traditional 10 sides that will last until New Year's, make just a couple or cut the recipes in half. Most of us have a few sides that make Thanksgiving complete and a few that end up going to the back of the fridge graveyard. Plus, cutting back on foods you cook gives you more time to enjoy the holiday! Try making one side you absolutely love and one you've never made before. You may end up with a new fave!
Forget The (Whole) Turkey!
Even a small turkey is going to yield a ton of leftovers, not to mention being time-consuming to cook. Instead of a full turkey, try cooking turkey breasts or legs. If turkey isn't really your thing, switch it up with chicken, tofurkey, or maybe even fish. You can even skip the main course and just have a dinner of sides!
Use Time Savers
If you haven't invested in an air fryer, Instant Pot, or sous vide precision cooker, now is the perfect time to try one out! Using one of these appliances can majorly shave some time (and effort) off your holiday cooking, plus they're perfect for making smaller portions. Also, consider buying premade sides or desserts. Many restaurants sell Thanksgiving-ready dishes for the holiday, which are perfect if you want to limit your cooking or serving sizes. For dessert, try buying single slices of pie instead of a whole one!
Spice Up Your Table
Even if you're just eating Thanksgiving at your kitchen table, make it extra special with some tablescaping. You could go as simple as a tablecloth and a pumpkin at the center of the table or go all out with fancy place cards, folded napkins, and multiple centerpieces. Pinterest is full of cute ideas, and you can be as simple or as over the top as you want!
Try a New Location
If the weather's nice, why not have Thanksgiving outside? Not enough outdoor space at home? Try finding a park for an Instagram-worthy Thanksgiving picnic. If the weather is chilly, try a fire pit or outdoor fireplace. You could add s'mores to your Thanksgiving desserts for a memorable and delicious holiday.
Totally Switch Things Up
There's no law that says you have to have dinner when you have a Thanksgiving for 2! Mix things up with a Thanksgiving brunch or breakfast. Make a breakfast casserole or fancy brunch the night before and eat in your pjs while watching the parade. You can then spend the rest of your day doing other stuff, like going on a walk or, if you're anything like me, decorating for Christmas. If you're not a big fan of traditional Thanksgiving food, try a different cuisine like Indian or Mexican.
A Sample Menu For a Thanksgiving For 2
Appetizer (pick 1, optional):
Main course (pick 1):
Sides (pick 1 or 2):
Dessert:
Drink suggestions: