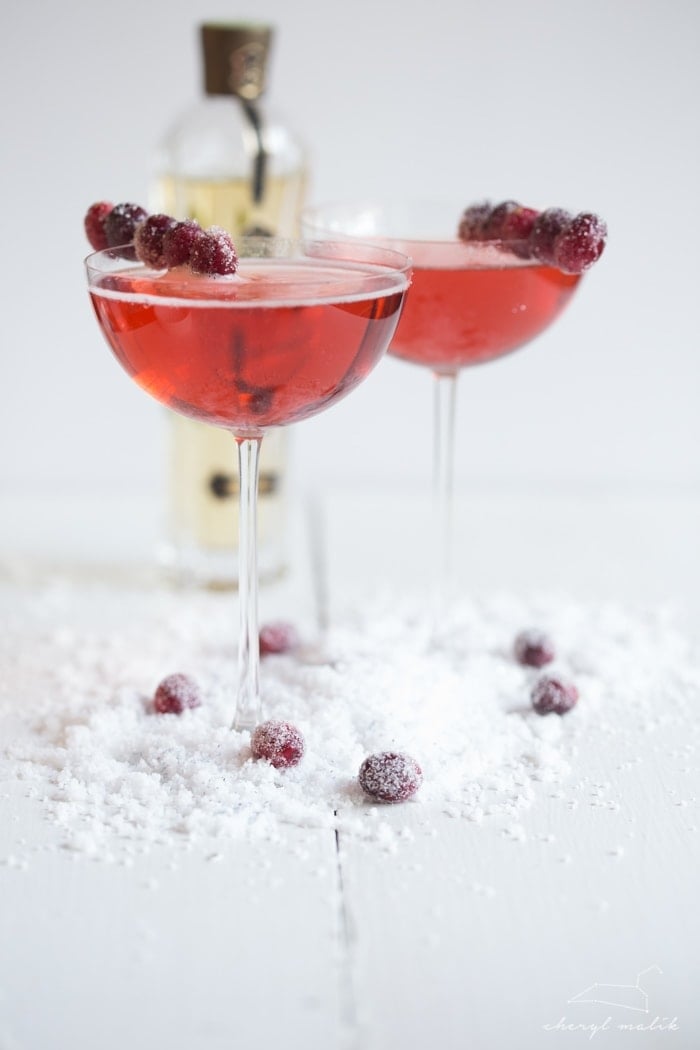 Wham! Ha-cha! Kerpow!
Two posts in a row. You didn't think I was capable, did you? Did you!? Admit it, mom!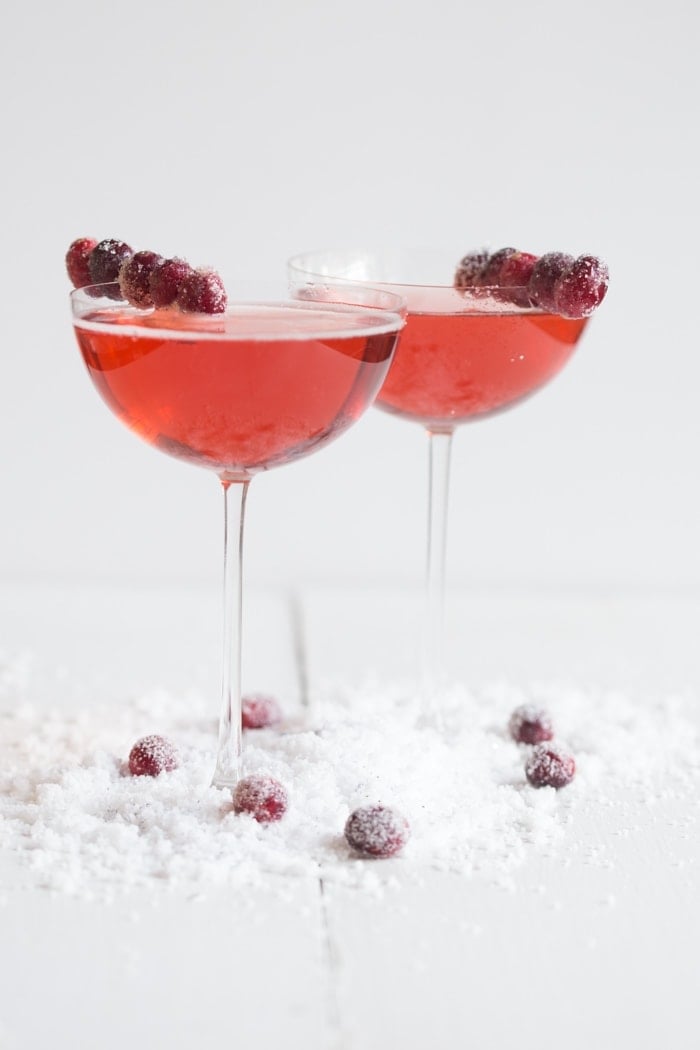 Not only that, but.. I haven't been the most consistent of posters as of late. Clearly, as evidenced by my weeklong silence then back-to-back deliciousness marathon. Half-marathon. OK, more like a 10k 5k power-walk through the mall.
A while back, I mentioned how I was oh-so-busy, because obviously all of the other food bloggers out there posting regularly are not busy (ha ha ha), with some major projects, but that they were finishing up soon. Well, I was surprised with a few big and super exciting new ones, which I'll share shortly, so I've been waist deep in developing cocktails and online shops–both which are somehow my.. job.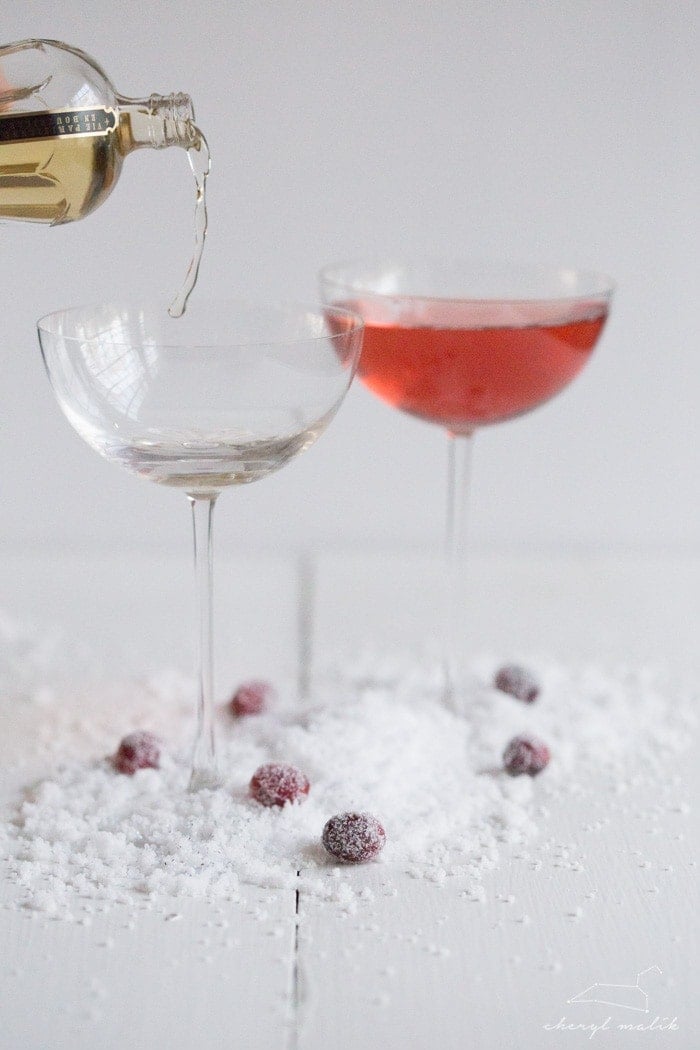 In addition to that, in a super somber turn, the school for girls in Pakistan on which I work was bombed this week. We are so thankful that no one was hurt, but the water-filtration plant which provided clean drinking water to over 700 families in the village was totally destroyed, as were several walls and windows of the school building itself. We're currently running an Indiegogo campaign–including one-for-one matching–to raise the money to pay the teachers for the entire school year. We're simply adding a stretch goal to help rebuild the water-filtration plant, unwilling to bow down from our critical cause or do anything but stand up together and fight. If you're interested in learning more or contributing (please! ), you can check out the campaign here. Now is the time–every dollar you give is matched 100%–and we need your support in rebuilding more than ever before.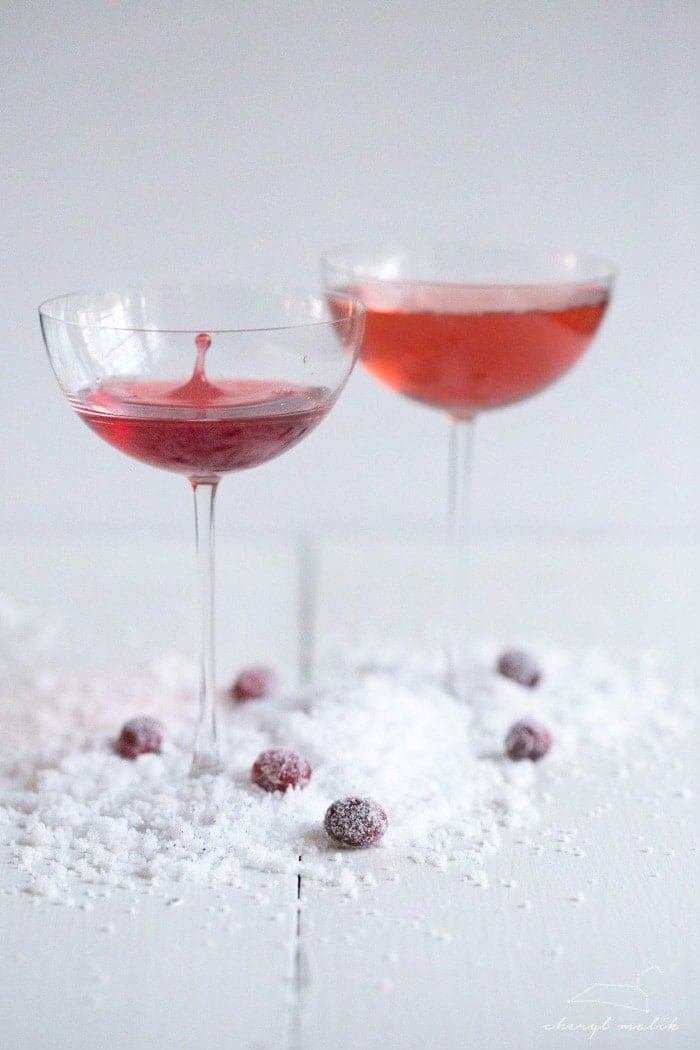 So now let's talk about cocktails? I know–that's a graceful segue if you've ever heard one. But Christmas is a-coming, as well as that reliable holiday cap, New Year's Eve, and you need an equally elegant and uh-oh delicious drink for that paw of yours. All night. Alllll the night.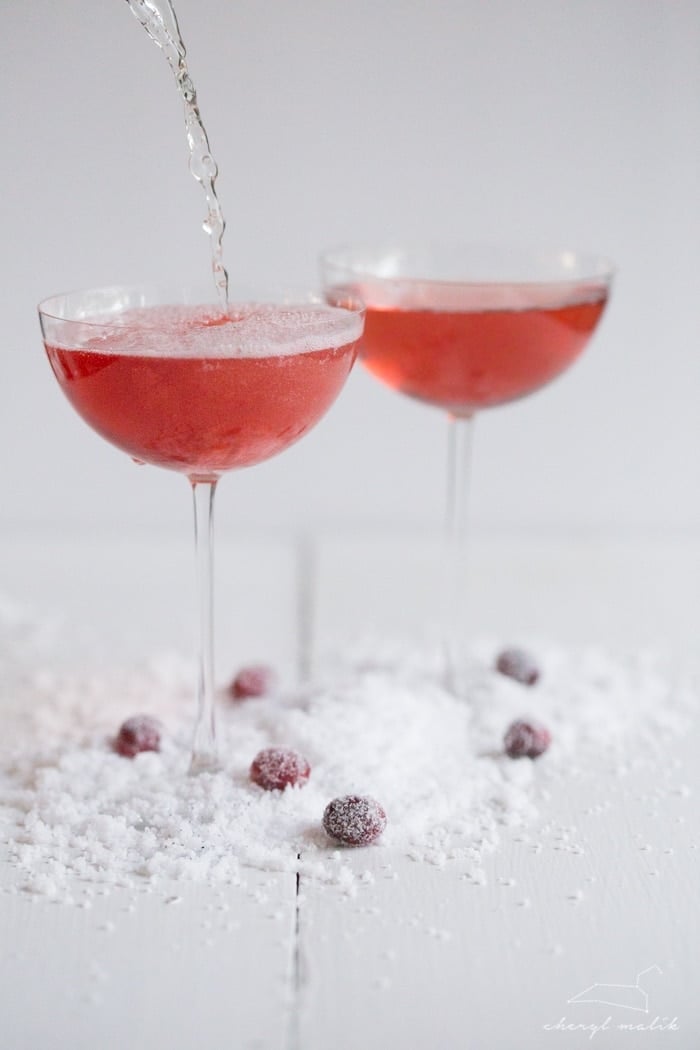 Surprisingly, I'd never before tried St. Germain liqueur, thinking its "floral" aroma–the only adjective always used to describe the elderflower liqueur–would end up tasting vaguely medicinal, like so many of the various liqueurs I tried whilst in France (I'm looking at you, Pastis). But when I bought a bottle on a whim and mixed it up with some champagne, I basically drew the back of my hand to my forehead and fainted–spilling zero drops, of course. Because this stuff is a-maz-ing. It is floral, but delicately so–it almost has a fruity palette without being overly sweet. It's subtle without being a pushover. It's basically my new favorite thing, period. And I need you to try it.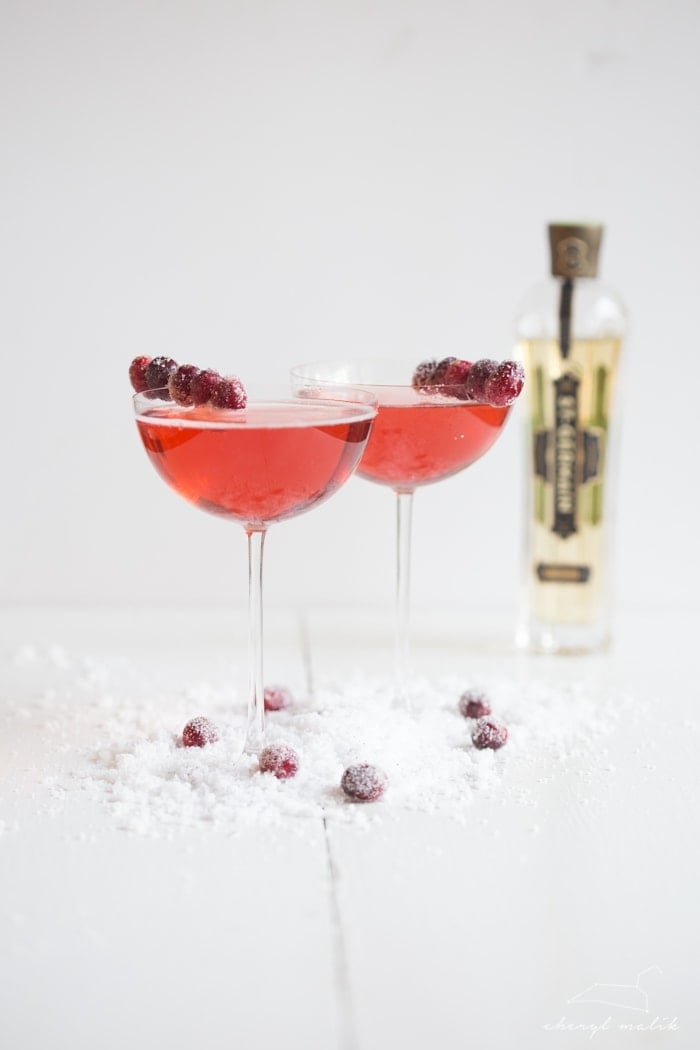 To add a festive, seasonal touch and depth of flavor, I added tart cranberry to a dry prosecco with a dash of St. Germain liqueur. What resulted was something bubbly and bright, yet a bit subdued and gentle, fruity yet dry, tart yet smooth and sweet. In other words.. the perfect celebratory cocktail for the holiday season. I'll be serving these at Christmas Eve and I hope I can find what I need in Mexico, where we're heading a couple days after Christmas! Tough life, right?
Make these!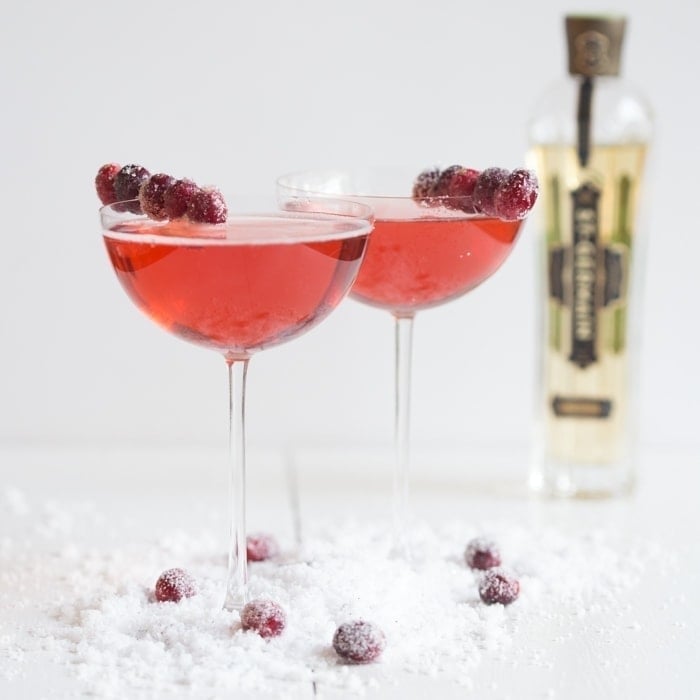 Cranberry-Elderflower Champagne Sparkler
Cranberry syrup, St. Germain elderflower liqueur, and champagne. A bit sweet, a bit tart, and totally bubbly and indulgent. Perfect for Christmas Eve or New Years Eve!
GO PREMIUM - AD FREE + MEAL PLANS
Ingredients
1/2

cup

organic 100% cranberry juice

1/2

cup

organic sugar

1

ounce

St. Germain elderflower liqueur

1

ounce

cranberry syrup

4

ounces

dry champagne

, prosecco, or sparkling wine
Instructions
Make the cranberry syrup: in a small saucepan over low heat, whisk together cranberry juice and sugar until dissolved. Raise heat and bring to a boil, then remove from heat, pour into a glass jar or bowl and let cool completely.

To make each cocktail, pour St. Germain and cranberry syrup into a stemmed champagne glass, then top off with about 4 ounces champagne. Serve immediately with sparkling cranberry skewers.

To make sparkling cranberry skewers: skewer about 5 cranberries onto a standard toothpick, the spritz very lightly with water--too much and your sugar will get clumpy! Place about 1/2 cup white granulated sugar in a shallow dish--an individual tart dish is awesome--then add cranberry skewers, tossing with a fork until completely coated in sugar. Remove with a fork and use as garnish.
Notes
Cranberry syrup makes enough for about 8-10 cocktails.
Nutrition
Serving:
2
g
Calories:
308
kcal
Carbohydrates:
66
g
Protein:
1
g
Fat:
1
g
Saturated Fat:
1
g
Sodium:
6
mg
Potassium:
99
mg
Sugar:
65
g
Vitamin A:
28
IU
Vitamin C:
7
mg
Calcium:
10
mg
Iron:
1
mg
Net Carbs:
66
g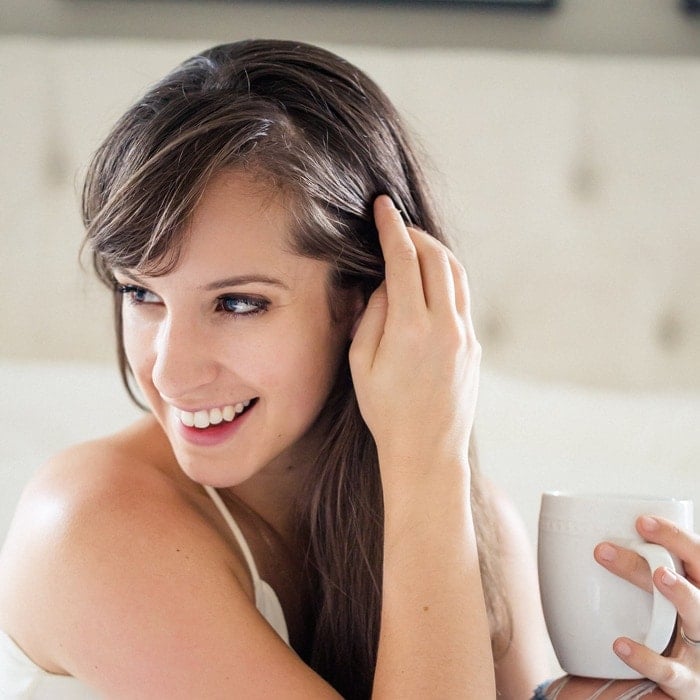 Cheryl Malik is the recipe developer, writer, and photographer behind the healthy, flavorful, family friendly recipes at 40 Aprons. She's been a blogger for 10+ years and is known for her delicious recipes and detailed recipe instructions. Cheryl is a mom of three who lives in Memphis, TN.