Third Trimester Must Haves

Posted: 04/08/21 Updated: 05/11/22
You're in the home stretch now! Baby will be here before you know it, and everything will change all over again. It's a kind of scary, super exciting time, so soak up every second! I put together a list of my personal third trimester must haves to help the next few weeks go by as smoothly and as comfortably as possible. You got this!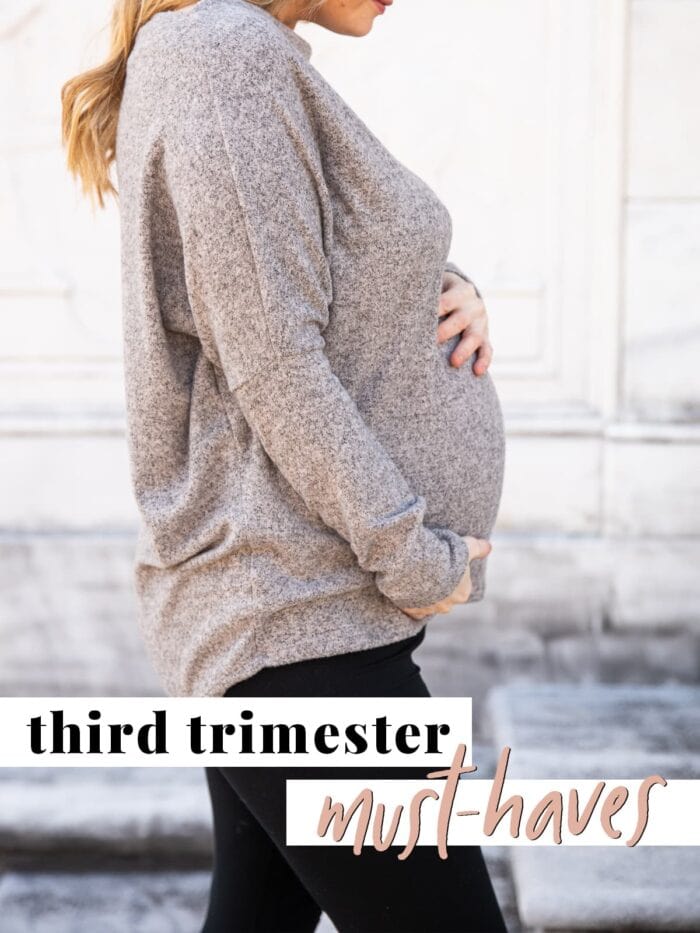 Third Trimester Must Haves: Disclaimers
Please Note: The information presented in this post is just an account of my own, personal experience. Everyone is different, and what worked for me and my pregnancies may not work for someone else. I am not a medical professional, and nothing in this post is meant to replace the opinions and advice of your specific medical professional. Be sure to consult with your doctor, especially before consuming anything new.
Some links in this post may be affiliate links. Should you click through to that product and make a purchase, 40 Aprons will receive a small compensation, at no additional cost to you. Anything mentioned here is referred solely based on my experience and satisfaction with the company and/or product, and not because of any potential commission. I'll identify any affiliate links throughout the post.
Third Trimester Must Haves
If you're not quite to trimester #3 just yet, be sure to read our posts on First Trimester and Second Trimester Must Haves!
Supplements
Be sure to consult with your medical professional before starting a supplement regimen, especially during pregnancy. They'll be able to give you an idea of how much of a supplement you should take.
Choline
#1 on my list of must-take supplements during pregnancy is choline. It's an essential nutrient, but a lot of prenatal vitamins either don't contain any choline at all or don't contain enough to make an impact. I use this one as I read it was the easiest to absorb, and it's been working great for me.

Why should you take choline? It helps you by reducing harmful inflammation, and it helps baby by supporting their brain development
DHA
Like choline, DHA is an important nutrient that's hard to get enough of, especially during pregnancy. Research indicates DHA can help with depressive moods, but it's also super important for so many bodily functions. When it comes to pregnancy, DHA aids brain, eye, and nervous system development, and it can also help prevent preterm labor.
MiraLAX
You're probably pretty used to wild hormonal fluctuations by trimester 3 and you've gotten familiar with your new, current normal. Still, that doesn't mean all the changes are pleasant. Constipation is super common during pregnancy, especially in the home stretch. One of the easiest and best remedies is simple – increase your water intake. That doesn't always cut it, though, and that's where constipation aids come in. My personal preference is MiraLAX, but you may prefer another brand, like Dulcolax. MiraLAX is a great constipation treatment, and it's one of those over-the-counter meds that most feel is completely safe for short-term use during pregnancy.
Nutrition
Be sure to consult with your medical professional before making any substantial dietary changes, especially during pregnancy. I okayed all of these with my doctor based on my personal medical history and pregnancy, but what works for me might not work for you.
Bone Broth
If you've been around 40 Aprons before, you probably know how much I love a good bone broth. I wrote all about it in my Instant Pot Bone Broth That Gels (Whole30 Bone Broth) recipe! It's a ridiculously easy, ridiculously good way to funnel lots of delicious nutrients straight into your body. What I didn't mention in that post is how good bone broth is in pregnancy, especially in the third trimester.

Since it's super high in collagen, it's great for your skin. Collagen promotes skin elasticity and strength, which is, y'know, not a bad thing to work into your diet when your belly just. keeps. growing. PLUS collagen and other nutrients in bone broth help your skin and connective tissues rebuild and repair, which you'll absolutely want after birthing a baby. Trust me. Instead of waiting until postpartum to start, though, I like to preemptively make bone broth a part of my regular 3rd trimester diet so I'm reaping those benefits ASAP.
Protein Powder
Protein needs are super high in the third trimester. Makes sense! Protein plays a big role in promoting the growth of fetal tissue, and it helps your breast and uterine tissue grow, too.

The downside to eating a lot of protein every day when you're 7-9 months pregnant is that… well. You're 7 to 9 months pregnant and sometimes you just don't feel like putting a lot of meat and tofu and nuts into your squished belly.

A great protein powder can totally help here. I always recommend getting as much nutrition as possible from whole, organic sources rather than relying on supplements, but I'm also realistic. A fruit smoothie with a scoop of protein powder is freaking delicious and sometimes it's way easier on your stomach… and your schedule… and your sanity.
Dates
Some research indicates that dates, eaten consistently in the last 4 weeks of pregnancy, can help instigate labor and make the whole process a little smoother, too. One study showed that women who ate 6 a day for 4 weeks had a cervix primed for giving birth, with a higher rate of spontaneous labor compared to those who didn't eat dates. Hey, I like dates, and I'm all for anything that might make labor a little easier!

Here's a great, short podcast on the subject, if you're interested in more!
Red Raspberry Leaf
Whether you drink it in a tea or consume it in a tablet, red raspberry leaves have been thought to help tone the uterus in prep for labor, to stimulate labor, and to make the overall length of labor a little shorter. There's actually a pretty long history surrounding the use of red raspberry leaves in menstruation and childbirth, but there isn't a ton of medical research to really back it up. Kind of like the dates, though, my doctor certainly didn't see any harm to me trying it.

Another podcast episode to listen to if you want to know more!
Clothing
Keeping things real here, y'all. In my third trimester, especially with baby #3, I just want to be comfortable. I have absolutely no shame saying that, either. The utmost respect to anyone in month 8 who finds the energy to put on makeup and do their hair daily and puts together these super cute maternity outfits on the regular, but that is just not where I'm at.

When it comes to clothes, my third trimester must haves are all about comfy, comfy, comfy. Sure, they can be cute, too, but that is a much lower priority on my list.
Maternity Leggings
Like, a really good pair of maternity leggings. Super stretchy, supportive in the belly, maybe a little compression in the legs. Do I even really need to explain why stretchy, comfy, supportive pants are at the top of my list? I didn't think so. If you know, you know.
Maternity Underwear and Bras
Your body will thank you. I KNOWWW, if you've made it this far then you're probably not wild about the idea of shelling out money for clothing you might not need in a few months, but believe me when I tell you maternity underwear and maternity bras are worth it. Obviously depending on your size and shape, you personally might not need maternity-specific pieces, so do what works best for you! I really like that maternity bras are generally more supportive than traditional bras and are designed specifically for comfort in pregnancy.
Belly Support Band
Hoooo, mama. Does that third trimester belly ever need some support. I will never not recommend belly bands. They lift your belly up ever so slightly and help redistribute baby's weight to take some pressure of your lower back and ab muscles. There's a little compression action, too, which can help reduce just general discomfort.

I use this super sexy one that helps with SPD (symphysis pubis dysfunction) as well just giving me some lower back and hip relief.
Other Things You'll Be Glad You Have
Childbirth Books
I am all about learning as much as possible so I can be as prepared as possible for whatever it is I'm about to do, and that applied to going into childbirth, too. If you're the same, I highly recommend picking up a childbirth book so you have an idea of what to expect, especially if this is your first baby. Ina May's Guide to Childbirth is one of several great reads on the subject.
Heartburn Remedies
Heartburn can happen anytime in a pregnancy, of course, but there's just something about that third trimester heartburn that can be brutal. The larger your uterus grows, the more pressure it puts on your stomach and intestines, and thus, the more severe your heartburn can be. 10/10 recommend alkaline water to help with it, though. It has the added bonus of hydrating you, which will help with constipation and just all-around general functioning, but the alkaline can help neutralize the acid in your esophagus. For me, personally, I notice a difference when I drink it, but you may not.

Renew Life heartburn tablets are another heartburn relief aid I swear by. They're similar to other antacids but I find them way more palatable and they work super fast.
Birthing Ball
A giant birthing ball is kind of like a giant exercise ball. You can use them anytime in your pregnancy to help alleviate back pain or abdominal pain. Work them into a light exercise routine or just use them to help you stretch. I like to sit with one between my back and the back of the chair or couch to stretch out my spine a little and take some pressure off my lower back.

Using them during labor is also a great option to help baby get into the right position and just in general help you work out a little stress during the process.
Epsom Salts
Cannot tell you enough how much I enjoy the simple act of taking a warm bath with epsom salts. If you've ever done like any physical activity, you've probably heard of epsom soaks to release muscle tension and ease tightness. They're super popular with runners after long, intense runs.

Light a few aromatherapy candles, put on some music, grab a book, and settle in for a soak. Your body will love you for it.
---
Posts Related to Third Trimester Must Haves
Your Body After Birth
Preparing for Postpartum
Our Favorite Postpartum Pieces
What to Pack in Your Hospital Bag