First Trimester Must-Haves

Posted: 02/18/21 Updated: 05/11/22
You took the tests, checked with the doctor, and confirmed the news. Now what?! These simple first trimester must-haves and handy tips will help your pregnancy journey get started a little smoother.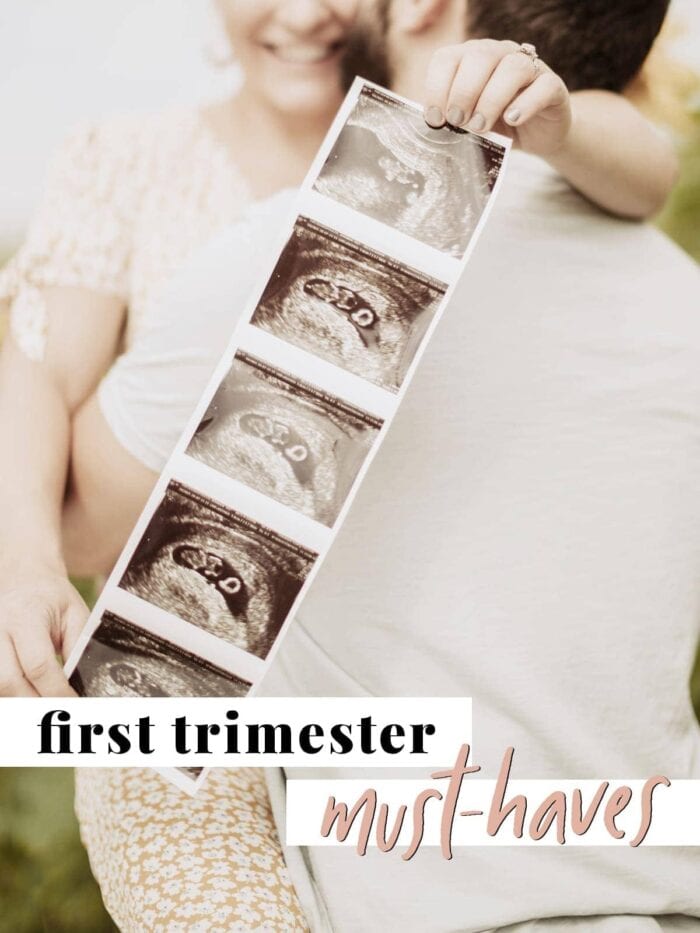 Disclosures
Please Note: The information presented in this post is just an account of my own, personal experience. Everyone is different, and what worked for me and my pregnancies may not work for someone else. I am not a medical professional, and nothing in this post is meant to replace the opinions and advice of your specific medical professional. Be sure to consult with your doctor, especially before consuming anything new.
Some links in this post may be affiliate links, which means that, should you click through to that product and make a purchase, 40 Aprons will receive a small compensation, at no additional cost to you. Anything mentioned here is referred solely based on my experience and satisfaction with the company and/or product, and not because of any potential commission. I'll identify any affiliate links throughout the post.
First Trimester Must-Haves
Nausea Aides
Morning sickness is one of those pregnancy clichés, but for good reason. It happens in the majority of pregnancies, and a lot of times, it's the first clue you're pregnant. It's true that morning sickness usually subsides after the first trimester. It's a total myth that morning sickness only happens in the mornings.

There are some easy ways to try to combat it, though! Of course, if your nausea and vomiting are concerningly bad, to the point where you can't keep anything down at all, it's best to consult with a medical professional.

Ginger Chews – It's no secret that ginger is a natural remedy for nausea and motion sickness. Ginger chews are chunks of pure ginger, boiled soft then coated in a little sugar. I keep a handful of these everywhere – purse, desk drawer, nightstand… anywhere that makes sense! My favorite brand is Prince of Peace Ginger.

Earth Mama Morning Wellness Spray – This is a great option when you don't want to ingest (or can't keep down) any anti-nausea remedies. It's an herbal aromatherapy mist scented with ginger and citrus essential oils. It's safe to spray on your wrists, or use it on bed linens, in the car, or just as a general air freshener when you're feeling queasy.

Peppermint Tea – Peppermint tea is another tried-and-true nausea remedy that I swear by. Peppermint is as effective as ginger, but you might find the taste more pleasing. Plus, a warm cup of tea is just soothing and relaxing on its own!

Sea Bands – Another good option for those times you can't keep anything down! Sea Bands are a wearable alternative! Basically, they're wristbands with a plastic piece that puts pressure on the Nei-Kuan acupressure points in your wrists. You can find out more about them on their website!
Supplements
Prenatal vitamins are a total first trimester must-have! I actually started taking them when I was trying to get pregnant (you can read more about all of that in my post, How I (Finally) Got Pregnant Quickly) but if you don't start before, you should at least start taking them when you realize you're pregnant.

A healthy, nutrient-rich, whole-foods diet is the best way to get key vitamins and nutrients. Odds are, though, you'll still need a little filler, especially now that you're fueling both your body and baby. That's where prenatal vitamins come in.

My favorite prenatal vitamins are SmartyPants Organic Prenatal Gummies. They're certified organic and certified vegetarian, non-GMO with no artificial flavors or coloring, and they seriously taste SO GOOD. Way more like a fruit snack than a vitamin.
Apps
There are a TON of pregnancy apps available nowadays, from baby journals to appointment logs to contraction trackers, and everything in between. Odds are you don't have the time (or phone space) to download them all… and if you did you'd probably only ever open like 3 of them.

I really like The Bump (available from Apple and Google), especially for first-time pregnancies. It's super handy, and it's really user-friendly, with a super clean interface. We love useful, aesthetically-pleasing apps!

The Bump app lets you log all your appointments (with suggestions of things to ask at each one!), shop baby products (with unique discounts at some retailers), and read a ton of content (all specific to your pregnancy). You can also use it for baby-bump progress photos and those super cute "baby is the size of a" whatever updates, too!
Comfy Clothing
Last (but definitely not least) on my list of first trimester must-haves is comfortable clothing. You may or may not start noticeably showing in your first trimester, but you'll probably feel really bloated at the very least. Comfortable non-maternity clothes that aren't tight or clingy will be your new best friends.

I know we all joke about not wearing real pants anymore (pandemic life, amiright?) but, seriously, I lived in leggings in my first trimester. I just felt constricted in jeans at first, so leggings were my go-to. Also loose tees, tunics, and flowy dresses (like the ones we carry over in my maternity & postpartum boutique, Quattro Mama). And don't feel like you have to run out and overhaul your wardrobe right away, either. You probably won't need much (if anything) different from your usual clothes for the first few months!
Related Posts
Preparing for Postpartum
What to Pack in Your Hospital Bag