Having a "Natural" Birth with an Epidural

Posted: 07/06/21 Updated: 05/11/22
Giving birth is a really exciting, kind of scary event, but being prepared and having the right-for-you birth plan in place ahead of time can make a difference. In this post I give a quick overview of my own experiences having magical, otherwise low-intervention births that ended up with epidurals, plus a few of my personal tips for preparing for birth, even if you expect to get pain medication.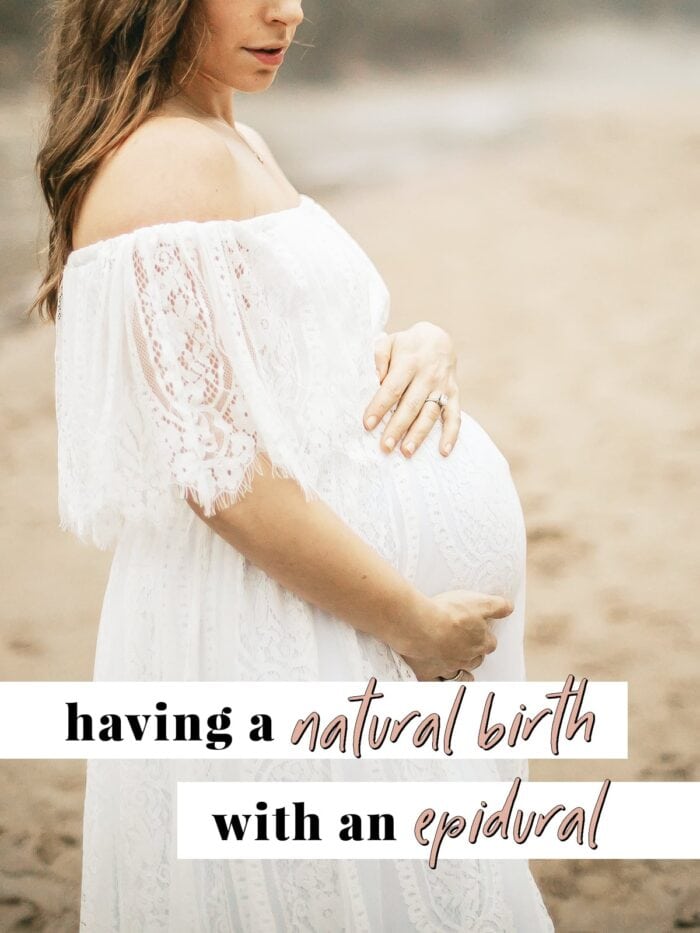 Please Note: The information presented in this post is just an account of my own, personal experience. Everyone is different, and what worked for me and my pregnancies may not work for someone else. I am not a medical professional, and nothing in this post is meant to replace the opinions and advice of your specific medical professional. Be sure to consult with your doctor, especially before consuming anything new.
How Do You Have a "Natural" Birth with an Epidural?
What constitutes a "natural birth" varies from person to person. Some people count any vaginal birth as a natural birth. Others only consider a birth "natural" if there's no medication, no aid, no medical intervention at all.

There seems to be this paradigm currently. Either you care a whole lot about having a "natural" birth, or you don't care at all. I actually don't think that's remotely true!

First of all, we prefer the terms "medicated" vs. "unmedicated" anyway, rather than "natural". Calling a specific birthing method "natural" implies other methods are unnatural, which leads to feelings of inadequacy for pregnant people who end up needing pain medication, who deliver via C-Section, or who experience any complications along the way.

Of course, giving birth with an epidural is not an unmedicated birth. I'm not arguing that. The purpose of this post is to provide guidance on preparing for a birth that includes mankind's greatest invention, the epidural, but is otherwise "intervention"-free.

Let me be very clear. There's absolutely nothing wrong with any method you want or need to use for the birth of your baby. Each person, each pregnancy, each labor and delivery is different. What matters is that you and baby are safe, healthy, and happy.
What is a "Natural Epidural Birth," Exactly?
So the idea behind a "'natural' epidural birth" is that you prepare just like you would for a completely "natural", 100% unmedicated vaginal birth. The difference is that you want and plan to have an epidural. If you're physiologically set to have a 100% unmedicated birth, I have the utmost respect for you. I'm not – no matter how much prepping I do. I've now had three low-intervention epidural births myself, and for me, the preparation is extensive. I will say it was completely worth it, though! All 3 of my birth experiences ended up going really well, with 3 healthy, happy babies.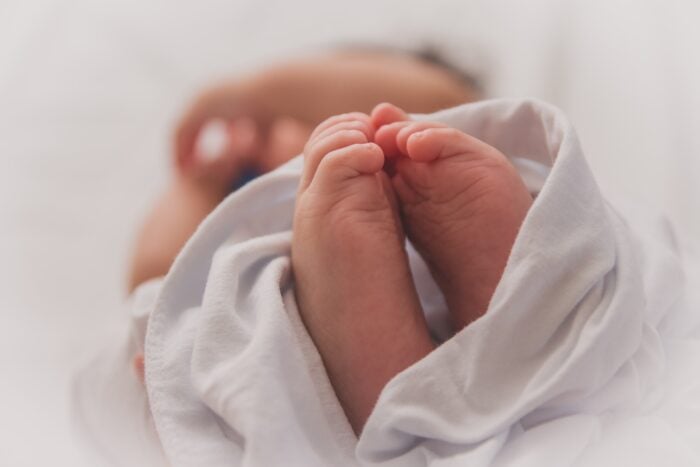 My Epidural Birth Story with my First Baby
For me personally, I really wanted to have a birth experience that was completely unmedicated and as intervention-free as possible. I was dead-set on an unmedicated birth, actually. So I hired a doula, took Bradley birth classes, and became obsessed with Spinning Babies and Hypnobabies. I was an A++ student, practicing every day, learning as much as I possibly could and prepping myself and my body for this birth.
Before Labor
Then a couple of days before my due date, I started prodromal labor. I was having very real, very intense contractions, but I wasn't actually in active, productive labor. No, that's not a joke. It was all of the pain and none of the gain. Of course, I was still adamantly against having an epidural, so I wanted to be absolutely, 100% sure I was in full, complete, legitimate active labor before we even thought about going anywhere near the hospital. So, despite the very painful contractions, I stayed home for days, until I finally gave in, called my doula, and went to the hospital. And wouldn't you know, I was a grand total of…. 1 centimeter dilated. One. The same amount of dilation I'd been at my last check-up days before.

The hospital told us we were welcome to stay, but I decided I'd go back home and try to rest…. HA. I lasted all of 2 hours back at home; 2 hours full of the most intense contractions I'd had yet. I'll never forget the advice I'd gotten from a client at the time. "Epidurals are the only place where man has outsmarted God. There's no award for not getting it." I realized, laying there in my bed trying to breathe through this major, super intense pain, that she was completely right. So back to the hospital we went.
Active Labor
You know when people go into labor on TV and it's a nice, even, "30 seconds of sharp contractions, spaced 5 minutes apart"? Yeah, I wasn't having those nice TV contractions. Imagine the worst period cramps you've ever had. Combine those with the worst gas pains you've ever had. Now multiply those by like… 40. And then space those pains out within maybe a minute or two of each other. That's what I was having.

I'd been scared by birthing classes that preached that getting an epidural was part of a cascade of interventions that would ultimately slow down labor and lead to a C-section. I was terrified, and convinced the only option was to completely avoid epidurals altogether. But by this point I was in so much pain that I was willing to try it.

Well, let me tell you. I got that epidural, and I went from being 1,000% miserable to being so excited about having a baby and the entire birth process in general. It was a total mindset shift. I felt great! And even better, my baby was born on his due date, after maybe 4 pushes, and he was perfect. He was healthy, he had a perfect Apgar score, and he latched right away. The dream.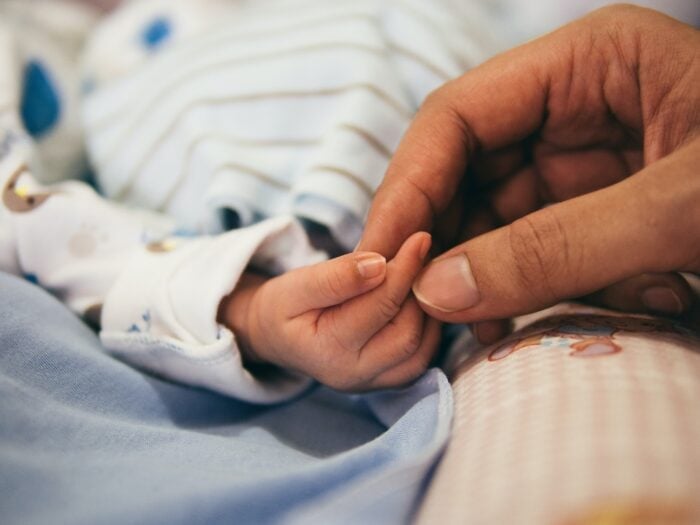 "Natural" Epidural Birth with My Second Baby
With my daughter, I felt much more comfortable now that I'd already been through this whole birth thing once. I thought a lot of what I experienced with my son's birth was due largely to being a first time mom. The second time around would be a lot smoother and faster. Makes sense, right? I went in with the same "natural" birth plan, but this time I was absolutely open to having an epidural if I needed to.

So I prepared exactly like I had with my son, exactly like I would for an all-"natural", non-medicated birth. I hired a doula, took birthing classes, focused on my nutrition and activity levels, and did everything you're supposed to do every day to have the easiest "natural" birth possible.

And my daughter's due date came… and my daughter's due date went. With zero signs of labor. Zero.
Before Labor
Like with my first pregnancy, prodromal labor started again a couple of days before her actual birth. I didn't want to medically induce if it was at all avoidable, so I self-induced by pumping. Pumping to induce is one of the few safe induction methods with medical backing, and my doula and I both felt confident in trying it given my medical history up to this point.

Because I'd already had one baby, my second baby had plenty of room to move around. She was actually spinning a lot and not engaging, which I think is a big reason why labor wasn't starting on its own. She wasn't getting in the right position to initiate labor! Thankfully I was actually able to use the lift and tuck technique from Spinning Babies to position her where she needed to be.
Active Labor
I was finally in labor with my little girl, but I was still determined to wait as long as possible before I went to the hospital. I knew that the overwhelm of going to the hospital too early could stall labor. If that happened, the medical team would want to "fix" that with pitocin and other medical interventions, which I did not want. So instead I stayed home. I took a long, warm bath, read my Kindle, and listened to music (okay, really it was one song on non-stop, over-and-over, drive-you-crazy repeat but, you know).

Remember how I mentioned my first labor was super painful, with really intense, sharp contractions? But that my second labor would probably be way easier? Yeah, it wasn't.

Not to scare anyone reading this who's about to give birth, but… I honestly felt like I was being ripped in half. I finally reached a point where I knew I had to go to the hospital, and I 100% wanted an epidural. And after hours of excruciating pain, then hours of sitting in the waiting room through active labor (and I mean active – intense contractions, vomiting, feeling like general death), I finally made it to a room with my support team. I had a completely low-intervention birth with an epidural that was 100% according to my birth plan, and again I was lucky enough to have a smooth delivery and a perfect little baby.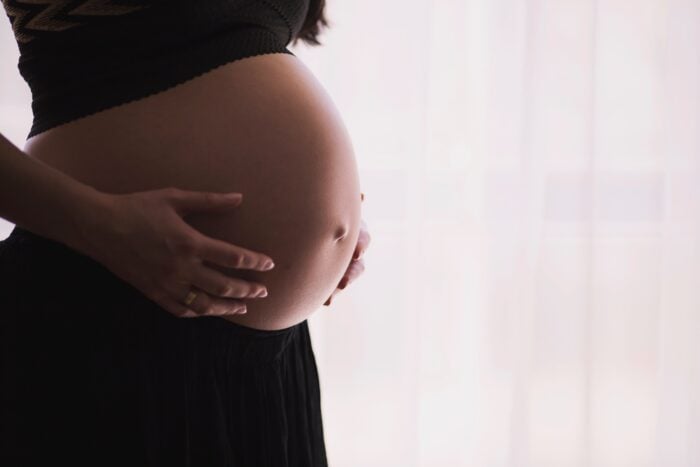 Preparing for a "Natural" Birth with an Epidural
Education
Childbirth classes were a big part of my "natural" epidural birth preparation. With my first pregnancy, I took Bradley birth classes. With all 3 pregnancies, I studied Hypnobabies and Spinning Babies techniques. We also took a Spinning Babies parent class with baby number 3. Optimal fetal positioning was huge and really stressful for me – none of my babies wanted to be in the optimal position, so I had to work hard on techniques to get them where they needed to be for a vaginal birth with an epidural. The techniques really helped, though, and I had no trouble with their positioning during labor.

I also did a ton of research on "natural" hospital births and the various stages of labor so I could mentally prepare like I was going to have a 100% unmedicated birth. Being in that mindset and knowing what should and could happen next really helped me during labor.
Activity
Exercise is big for me, especially during pregnancy. I make a real point of being active daily. Typically that means a lot of prenatal yoga – I actually got my yoga teacher training during my third pregnancy! Yoga is great for low-intervention epidural births since its all about keeping your muscles long and flexible. It helps a lot with fetal positioning and helping your body open and expand when it needs to. Some studies even show prenatal yoga can lead to less pain during labor and a shorter labor overall.

Note: I cleared my intended activities with my doctor first, based on my specific needs, athletic history, and medical history. Be sure to consult with your medical professional before making any changes to your activity levels.
Nutrition
I tend to focus on healthy eating on a regular basis anyway, but I really kick that into overdrive when I'm pregnant. With each pregnancy, I gained a healthy amount of weight (for me, that was about 30-35 pounds). I also ate a lot of fermented foods to prevent being GBS (group B strep) positive. I actually followed a gestational diabetes diet with baby number 3 that focused on lots of protein and low carbs. Since I was managing my morning sickness pretty well this time around, I wasn't really losing any weight. I realized pretty quickly that I needed to change my habits or I'd end up gaining a lot of weight with this pregnancy.

Note: I cleared my special diet with my doctor first, based on my specific needs and medical history. Be sure to consult with your medical professional before making any changes to your diet.
Support Team
The support team you have with you can make a huge difference in your "natural" epidural birth. With my third birth, I only had my husband and doula with me, but for my first two it was my husband, my doula, and my mom. They were all focused on making sure I felt really safe. They also all knew how important it was to me that I had an intervention-free birth, and they were all on board with my "otherwise intervention-free birth" plan.

Don't (and I can't stress this enough) have anyone in that room who is doubtful or makes fun of you or belittles you or dismisses you for wanting an unmedicated birth. No negative vibes allowed in the birthing room whatsoever.
Doula
A doula is definitely a luxury, but if you're able to find one that can work within your budget, I highly recommend using one! To me, having a doula is like having a birth consultant. She may know what needs to be done or what techniques to try, and she can also advocate for you to the medical team. I can't tell you what a relief it is to have someone else there to fight for you and what you want while you're in active labor. I was especially grateful to have someone around who could be a voice of reason and sound mind.

Initially I thought I wouldn't even bother with a doula for baby number 3, since hospital restrictions weren't really allowing extra people, but I finally decided my "natural" epidural birth plan had to include a doula, even if she was only over Facetime. Thankfully, our hospital eased their restrictions right before I gave birth, so she was able to physically be there with us.

If you can, prioritize a doula with exclusivity around your due date. That way you know she'll be available for you when it's your time.
Birth Plan
Having a birth plan is super important, but so is the way you share your birth plan with your support teams. A cute, easy-to-follow birth plan is way more likely to be read and followed than some multi-chapter manifesto. I actually put together a graphic birth plan full of icons and fun colors and nice, friendly language. That way the medical team would want to read it and would know that we were going to try really hard not to be total terrors. I also attached Starbucks gift cards to the birth plan, so they would know that I appreciated them and so they'd feel like we were all part of the same team.

I made sure that my doctor signed a copy of my low-intervention epidural birth plan, not only to make sure you're both on the same page, but that way if there was another doctor on call during my labor & delivery, they would know that my doctor signed off on this plan.

Obviously, you can plan and prepare all you want, but at the end of the day anything can happen and you have to be prepared to default to them as the medical experts. That doesn't mean you shouldn't communicate that you want to prioritize a "natural" birth with epidural, though.
More Resources for Parents
Preparing for Postpartum
Self-Care for Busy Moms
Your Body After Birth