Second Trimester Must Haves

Posted: 03/04/21 Updated: 05/11/22
Welcome to Trimester #2! You made it through the first 3 months, which hopefully means your morning sickness is behind you and you're sleeping better. There are so many fun and exciting moments in the second trimester, and these second trimester must-haves will help you enjoy this next phase of pregnancy that much more!
Second Trimester Must-Haves: Disclosures
Please Note: The information presented in this post is just an account of my own, personal experience. Everyone is different, and what worked for me and my pregnancies may not work for someone else. I am not a medical professional, and nothing in this post is meant to replace the opinions and advice of your specific medical professional. Be sure to consult with your doctor, especially before consuming anything new.
Some links in this post may be affiliate links. Should you click through to that product and make a purchase, 40 Aprons will receive a small compensation, at no additional cost to you. Anything mentioned here is referred solely based on my experience and satisfaction with the company and/or product, and not because of any potential commission. I'll identify any affiliate links throughout the post.
Second Trimester Must-Haves
If you're not in trimester #2 just yet, be sure to check out my list for the first trimester!
Maternity Clothes
Trimester two is generally when you'll start showing that baby bump, so get excited! Early in the second trimester, you may still be able to get away with a few clothing hacks, but odds are by the end of it, you'll want a few new pieces to throw in your rotation.

When I say "maternity clothes", I'm talking about everything – pants, tops, dresses, underwear, bras… You'll probably want new, more comfortable versions of almost everything you typically wear, because literally all of you is changing right now. Not saying you have to drop a ton of $$$ on a brand new maternity wardrobe. Some comfortable, basic pieces would definitely be on my list of second trimester must-haves, though.

I personally love things like maxi dresses and oversized tees that I can wear throughout my entire pregnancy and in my postpartum period, too. (If you're new to all-things-postpartum, be sure to read my Quattro Mama blog post, Your Body After Birth, to get an idea of some things you might want to prepare for after baby is born.) You'll almost definitely want some comfortable leggings and jeans that aren't tight around your belly, too.
Belly Bands
I love my belly bands. They're total life savers! Basically, they're these stretchy support bands. You wear them around your belly to give your abdomen, pelvis, and lower back extra support – because let's face it, your stomach's only getting bigger.

They have a little compression, too, so they can help with circulation and reducing aches when you're super active. They're also great if your pants are a little small and you need to pop that top button for some breathing room. The belly band will hide that button so nobody needs to know.

Long story short, I'm not joking when I say I love my belly bands. They're so supportive, I'm able to go running in them with no problem. Of course, I wear two when I run at this point, because, y'know… 30 weeks pregnant. But whatever. Belly bands are great and I can't recommend them enough. Definitely a must-have for me in my second trimester!
Reusable Water Bottles
Water is crucial on a daily basis, sure, but to say it's a second trimester must-have is really understating things. It's going to make you pee more (look, I'm just being honest here) but hydration is worth the trouble.

Drinking water helps keep your digestion regular (super helpful since pregnancy can cause constipation) and helps carry super important nutrients to baby. It also just makes you feel good, helps reduce swelling and aches, and just generally helps your body function like it should.

Personally, I love reusable water bottles like Hydro Flasks. They're double insulated so they keep cold drinks cold and hot drinks hot, and the metal bottle is virtually indestructible. Can't tell you how many times I've dropped that thing on hardwood, tile, concrete… and it's still going strong! They don't leak, either, so if I'm going out of the house, I'll fill a giant one up and toss it in my bag for the day. So easy!
Skin Care Products
Those tiger stripes are a thing of beauty, so wear them with pride! Even still, your skin is going to start itching like crazy pretty soon, thanks to all the moisture lost as it expands. That's where your moisturizers (and proper hydration) come in! I actually wrote a blog post alllllll about my favorite skin care products for pregnancy (and which ingredients to avoid) and the exact skin care routine I follow. You can read it here!

If your itching isn't related to dry skin, or if you develop a rash, be sure to talk to your medical professional!
Pregnancy Pillow
So pregnancy pillows won't necessarily be a second trimester must-have for everyone, but I think they're pretty great. Essentially they're a giant body pillow. They help you sleep more comfortably – use it under your belly if you sleep on your side, or throw a leg over it to help with hip pain. I'll use it on the couch sometimes, too, when I just really need a little extra support. It's really great for a little assistance when you're nursing or holding baby, but obviously you don't have to wait until baby's here to get one. They come in a few different sizes and shapes, so which one is "best" depends entirely on you!
Supplements
I've talked about the supplements I personally take here and here, so I won't bore you with the details again. If you're not taking at least your prenatals by this point, you probably should get on that! Vitamins are an every-trimester-must-have in my book. Be sure to consult with your medical professional before starting or changing any supplements, though. Your body and dietary needs are not necessarily the same as mine!
---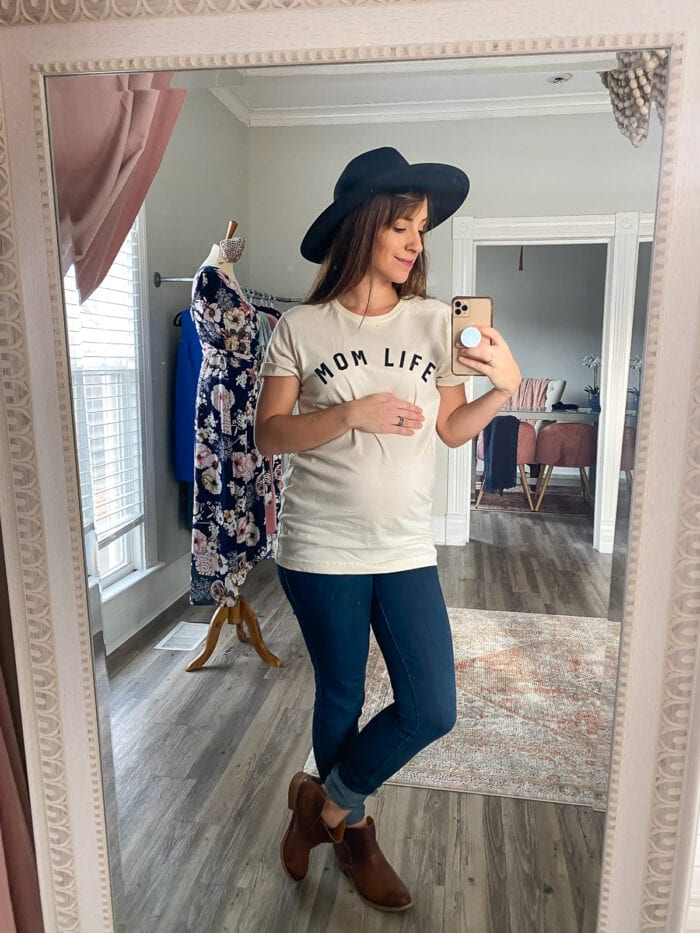 Happy Second Trimester from me and baby number three! This tee is available in my maternity and postpartum clothing boutique, Quattro Mama. I was around 20 weeks pregnant in this photo!
Posts Related to Second Trimester Must-Haves
Preparing for Postpartum
What to Pack in Your Hospital Bag