Postpartum Must Haves

Posted: 05/13/21 Updated: 05/11/22
Congratulations! After months of preparation and anticipation, baby is finally here! You're feeling so many new and different things right now, which makes sense – the postpartum period is full of changes, emotions, and adjustments. These are a few of my personal postpartum must haves to help the transition after pregnancy be as easy and comfortable as possible.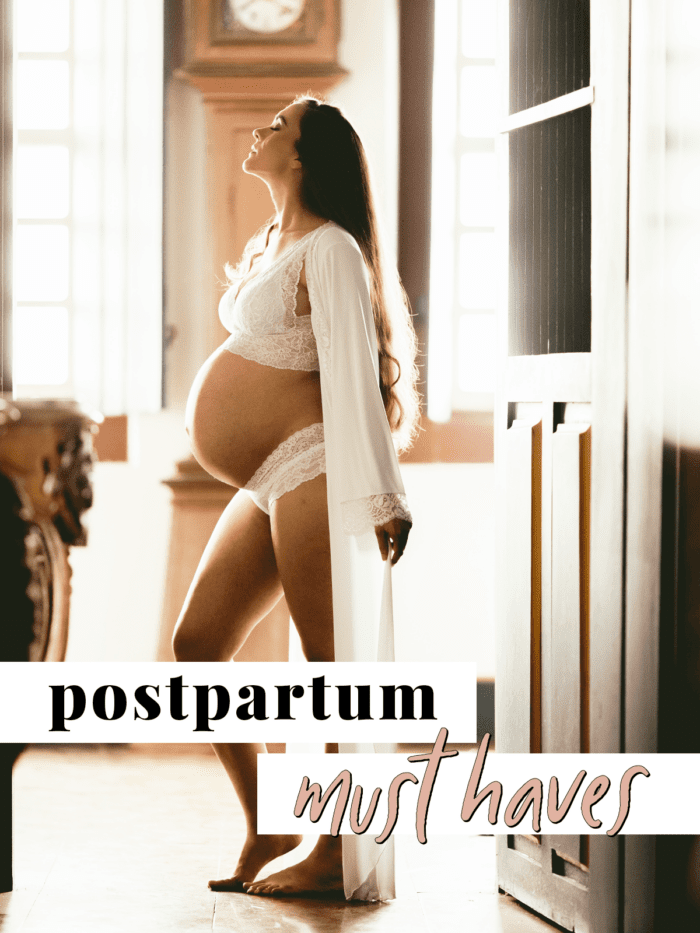 Disclaimer
Please Note: The information presented in this post is just an account of my own, personal experience. Everyone is different, and what worked for me and my pregnancies/postpartum recoveries may not work for someone else. I am not a medical professional, and nothing in this post is meant to replace the opinions and advice of your specific medical professional. Be sure to consult with your doctor, especially before consuming anything new.

Some links in this post may be affiliate links. Should you click through to that product and make a purchase, 40 Aprons will receive a small compensation, at no additional cost to you. Anything mentioned here is referred solely based on my experience and satisfaction with the company and/or product, and not because of any potential commission. I'll identify any affiliate links throughout the post.
Postpartum Must Haves
Postpartum Comfort
Clothes
A Robe. On top of being just incredibly comfortable, robes are super handy if you're breastfeeding or pumping, since you need that quick, convenient access. Robes don't put any pressure on your stomach, either, so there's no discomfort and you can easily relax. One of my favorite postpartum robes is this Kickee robe from my maternity & postpartum shop, Quattro Mama.
Postpartum Wraps. Wraps are a no-brainer postpartum must have, IMO. I've mentioned before that compression wraps are really great for support and easing discomfort. Belly compression can also help the uterus return to its normal size, and potentially help with diastasis recti. One of my favorite postpartum wraps is the Shrinkx Belly Bamboo Charcoal Belly Wrap from Upspring. I love that it's breathable and adjustable, and the bamboo charcoal is thought to "help to increase circulation, speed healing, and reduce swelling."
Postpartum Leggings. Did I mention I'm big on compression? Leggings with high compression (especially around the tummy) work similarly to the postpartum wraps, but sometimes they're way more comfortable.
Supplies
Depends. Get over it. They're the best. I'm also a big fan of the disposable postpartum underwear that's trendy right now. Frida Mom makes great ones. I have both those and Depends and just wear whatever when I feel like it.
Peri Bottles. These are less "postpartum must haves" and more "postpartum life savers" honestly. They make cleaning up so much easier – no awkward or painful bending or stretching. Odds are the hospital will send you home with one, but you can buy them, too, if you want to have a couple on hand. Frida Mom's Upside Down Peri Bottle is specifically designed to be easier to use, too.
Sitz Bath. Sitz baths are basically shallow baths that let you clean your perineum more easily, which will help everything heal up faster. Trust me, you want that. There are sitz bath herb blends and effervescent tablets you can use in your sitz bath to help with swelling and pain, too.
Tucks. These medicated cooling wipes are so soothing for your birthing area and hey, great for hemorrhoids, too! They give you fast relief from any burning or itching you might experience, and I'm sure I don't need to convince you that fast relief is optimal.
Dermoplast. This is another one you can usually take home from hospital. Gotta love a goodie bag! Dermoplast is a medicated spray that's great for numbing the area before you have to go to the bathroom.
Ice Packs or Frozen Pads (aka Padsicles). Along the lines of the Dermoplast and Tucks, these help soothe everything after birth. I really like Frida Mom's Instant Ice Maxi Pads since they're made specifically for this, but you can toss a few of your regular maxi pads in the freezer if you prefer.
Postpartum Nourishment
Food
Frozen Meals. Postpartum is a time to rest and heal your body, not to mention a time to bond with your new baby. If you can avoid it, cooking is probably one of the last things you should be doing right now. Thankfully, having freezer meals prepped and ready-to-go can really help you out here. Is spending a day or two making meals in bulk when you're 36 weeks pregnant anyone's idea of a "good time"? Yeah, probably not. But postpartum-you will be so, so glad you did it.
Healthy Snacks. An absolute postpartum must have. Listen to me when I tell you to keep healthy snacks on hand and ready-to-eat as much as possible – especially if you're breastfeeding. Again, you will be keeping a baby alive on the outside… which is super taxing. I've found that keeping plenty of healthy snacks nearby is maybe the best way to keep yourself nourished without reaching for the junk food. Check out my post on my Postpartum Meal Plan for ideas of things to incorporate into your postpartum diet as much as possible. You can also opt for store-bought if that's easier. There are actually lots of postpartum snack brands now, like Nourisher and Agni, which is pretty amazing. If you're breastfeeding, I'm a big fan of Agni's Lactation Cookies and these Lactation Overnight Oats from Majka.
Drinks
Water Bottles. More specifically, easy-to-drink-from water bottles. I like to use bottles that have straws and that keep the water cold, like Hydroflasks or other double-insulated water bottles. Traditional Chinese Medicine and traditional cultures will tell you that the postpartum period is a time when mom needs to be really warm, since you're in a cold state after pregnancy, but damn, cold water just sounds so good. Whether you prefer cold or room-temperature water, I found that having a straw (especially one I could extend with one hand while I was nursing) was a total game changer and definitely made a difference in my staying hydrated. And after everything you've just gone through, you need to hydrate big time.
Postpartum Tea. You're in the process of restoring your body after pregnancy, and keeping a baby alive outside of the womb is actually more taxing on your body than even the third trimester was. Postpartum tea can help nourish your body in ways it needs, plus it can help with quality milk production and mood balance. I've kind of got this thing for (okay, okay…. slight obsession with) tea, so I included a ton in my postpartum kit this time. My favorites are Agni's Tulsi Cinnamon Tea, Bamboobies Serenity Postpartum Tea, and this Postpartum Recovery Tea from Pinkstork.
Supplements
Postpartum Vitamins. You'll have different needs after pregnancy than you did during (and even before) pregnancy, but the last thing you need is to stop taking your vitamins. Your prenatal vitamins will usually cut it, but I highly recommend using a specifically postpartum vitamin for this time. If you need another boost, Moo Brew Brands' Postpartum Collagen and Majka's Postpartum Protein Powder are fantastic supplements.
Tinctures. I've got a few ready to go this time around based on things I experienced with my first two babies. There's Milk Moon's Cloud Nine tincture for postpartum anxiety, which I had with both my first son and my daughter. There's Milk Moon's Postpartum Restorative Tonic to help keep my body healthy and strong and ensure I get the nutrients I need. And then, since I always struggle with m sleep, there's Milk Moon's Bring Me a Dream tincture for calming down and falling asleep faster without waking up groggy or cloudy. These are must haves for me and my personal postpartum, but you may find you have different needs!
Postpartum Nursing Must Haves
Nursing Bras & Tanks. Personally, I live in nursing tanks for the first 6 months postpartum. If you're nursing, comfortable nursing clothes are an absolute must have.
Nursing Pads. When your milk comes in, you'll be so glad you have these. I have to use nursing pads seriously at all times in the early postpartum days. Personally, I like to use disposable pads at the beginning, since they stick to whatever you're wearing and absorb better than reusable.
All the Nursing Supplies. The best thing you can do to set yourself up for nursing success is to be prepared. Ideally, you've already read a book or taken a class, but setting yourself up with nursing supplies will help you be ready for whatever might come up. I always have Lansinoh Soothies Gel Pads on hand for the early days. I even have nipple shields this time because my daughter's latch was rough. We managed to just get through a couple painful days using a nipple shield before stopping with it, so it's not like we were doomed to use it forever or anything. Other vital nursing supplies, in my opinion, are breast pads, Lanolin cream for sore nipples, and a nursing pillow (especially helpful in the early days when you nurse all the time and they're so teeny tiny). I also like having a Haaka so I can build up a frozen milk supply early on without actually pumping.
Other Postpartum Must Haves
Lip Balm. Maybe not an obvious postpartum must have, but believe me when I say you want to keep a really stellar lip balm within arm's reach at any given moment. Face it, you've lost a lot of blood during the birth, and if you're nursing, you're going to be SO THIRSTY and needing to hydrate literally all the time. I love having lip balm in all my nursing and diaper stations so I never have to hunt one down when I need it.
Books and Shows. If you can, try to keep a running list during your pregnancy of shows and movies you want to watch, and save some of them specifically for your postpartum period. I try hard not to be on my phone just all the time, but let's be real – there's going to be a lot of downtime where it's just you and baby, especially if you're nursing. I like to have books and shows I'm really excited about just ready to go so I can spend time lying around with baby, bonding and nursing.
A Solid Support System. Non-negotiable. The postpartum must have to end all postpartum must haves. Unfortunately, many parents of newborns find themselves in isolated situations these days, due to living away from family, jobs, etc. In that case, get into some local groups on social media and see if that can connect you with others who can sympathize with everything you're dealing with now. If budget allows, book a postpartum doula. She can help you transition to your new role as this baby's mama, no matter if it's your 1st baby or your 5th. You can even find some overnight doulas that help take care of baby, bringing them to you to nurse, etc., so you can get some actual sleep.
More Pregnancy & Postpartum Resources
Preparing for Postpartum
What to Pack in Your Hospital Bag