Looking to find skin care products safe during pregnancy and to know which skin care ingredients to avoid during pregnancy? I'm sharing my pregnancy skin care routine, along with all the chemicals you should definitely skip for a healthy, gorgeous pregnancy and healthy, gorgeous baby!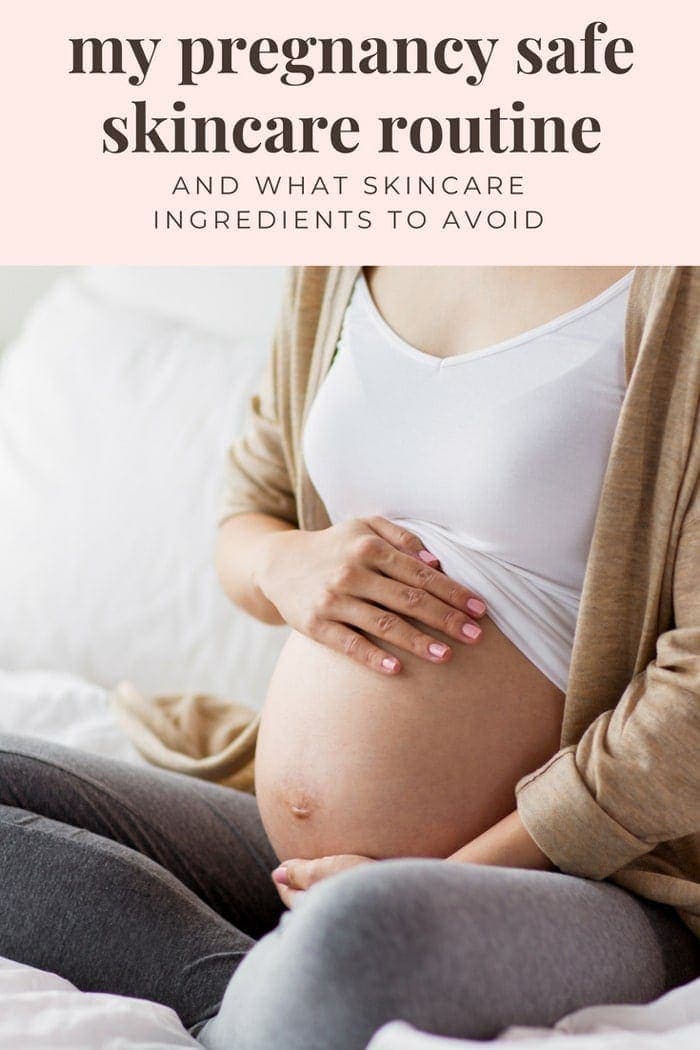 I don't think there's ever a time I think more about skin care – and safe skin care at that – than pregnancy. First of all, your skin is going absolutely bonkers most likely. Whether you're dealing with breakouts (Even when you thought you left those behind at high school graduation!), crazy changes in your skin's composition, or just super tight skin stretched to the max (And potentially leaving the tiger stripes as proof), pregnancy seems to affect every single part of your body, right?
Especially your skin.
But taking care of it isn't as easy as you'd think! There are so many skin care ingredients that are unsafe during pregnancy, including likely the acne medications you used when you were 16, that it can feel overwhelming to try and identify the products that will help your skin vibe more "Mama goddess" and less "Summer job at Baskin Robbins."
Luckily, I'm somewhat, er, completely obsessed with safe skin care, especially during pregnancy. I got you, mama!
So what does my pregnancy skin care routine look like?
Skin Care Products Safe During Pregnancy
My pregnancy skin care routine is pretty simple: I use mostly Beautycounter because it's so insanely effective and so, so well tested and squeaky clean. I don't even have to read the ingredients on the bottle, because I know from their Never List that pregnancy unsafe skin care chemicals are just not in there. But would I be able to fully settle for a super safe skin care line during pregnancy if it left strangers telling me, "It must be a girl, because she stole all your beauty!"? Nah.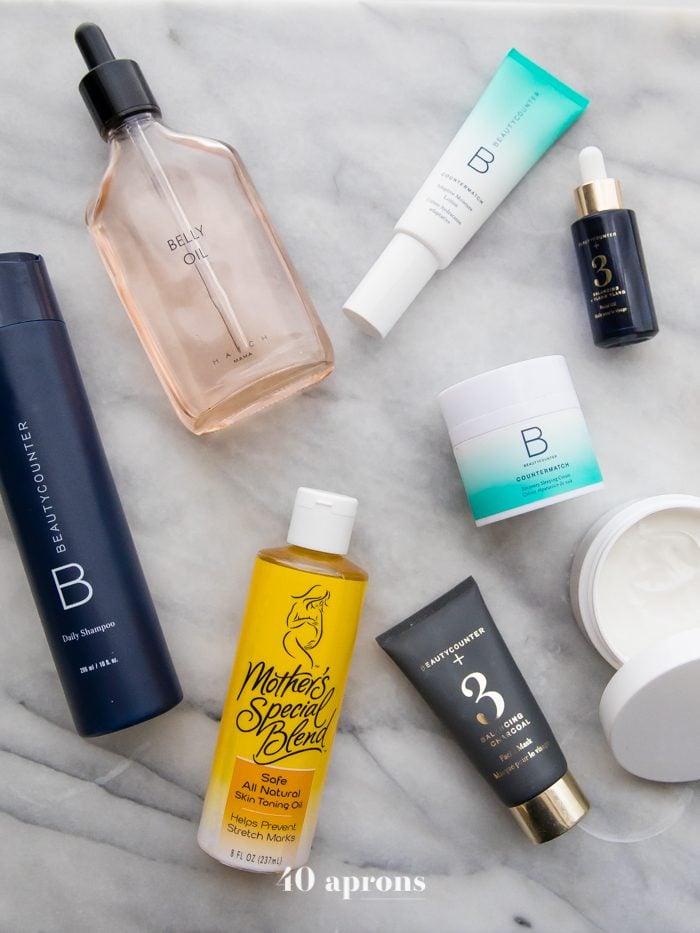 Also, can we talk about the bizarre things people are totally OK with saying to pregnant women?! Wait, no, we can't, because then I'd rant for three weeks straight. Y'all. Just, y'all. Solidarity against the rude.
Here are the skin care products safe during pregnancy that I use as part of my pregnancy skin care routine (And hey, usually my all the time skin care routine, too! This stuff all rules).
My Pregnancy Skin Care Routine
Pregnancy Safe Moisturizers
I use a few different skin care products safe during pregnancy here, depending on the day and how my skin is feeling.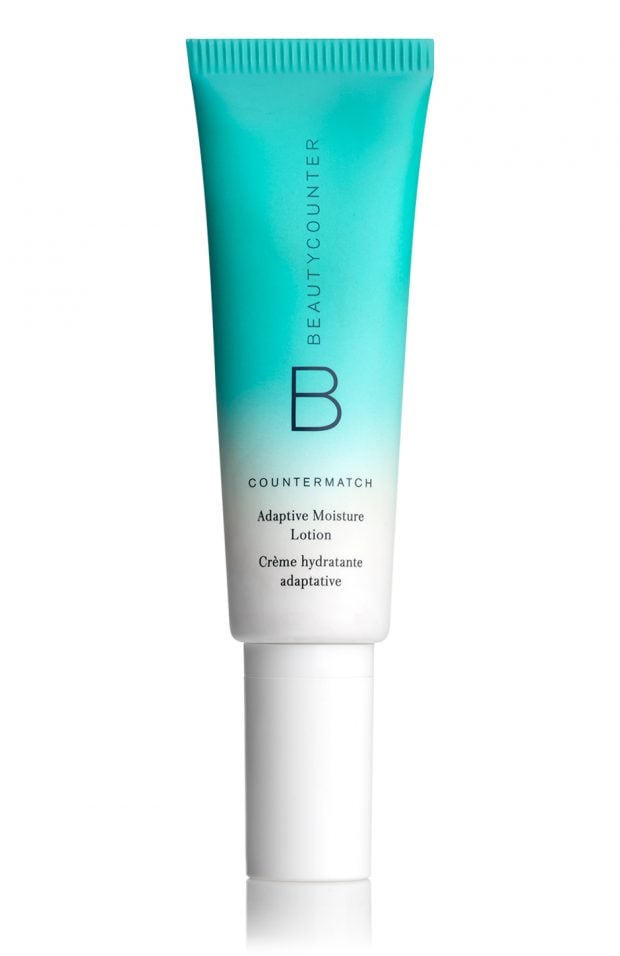 Almost every single morning, I use Beautycounter Countermatch Adaptive Moisture Lotion. I sleep pretty hot these days, and this cools my skin down so beautifully. More importantly, though, it's designed to give your skin the moisture it needs during the day as things change! It's truly adaptive. That's what makes it so amazing during pregnancy to me: things are changing minute-by-minute it seems sometimes. This moisturizer meets me at that bizarre prego place and confidently high fives me. Got you, girl.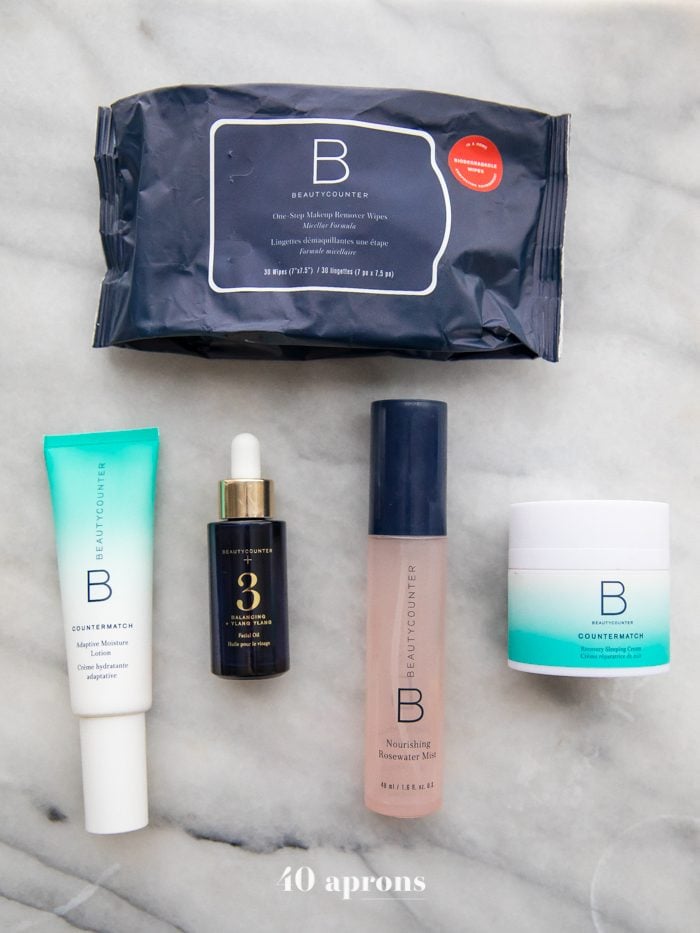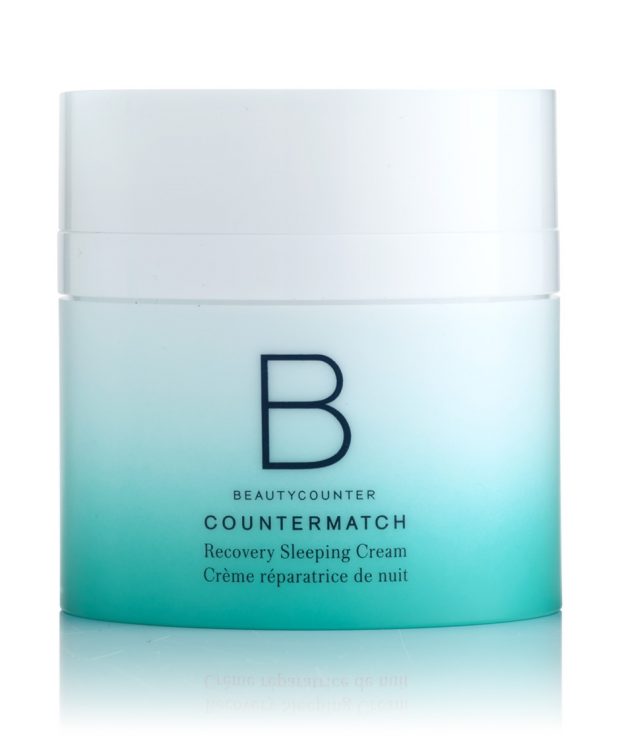 On that note, I use Beautycounter Countermatch Night Recovery Cream every. single. night as part of my pregnancy skin care routine. This is my favorite skin care product safe for pregnancy basically ever, and uh, my favorite product ever period, because it makes my skin feel like I Clarisonic'ed it all night when I wake up in the morning. Seriously! I used to have to exfoliate my skin every other day to keep it smooth, but now I exfoliate every 4 days and could go probably a week or more. Because it's in the Countermatch line, it offers that adaptive moisture like the daytime lotion, too. I'm obsessed, which you'll know if you follow me on Instagram at all. I talk about it nonstop! Just can't get enough.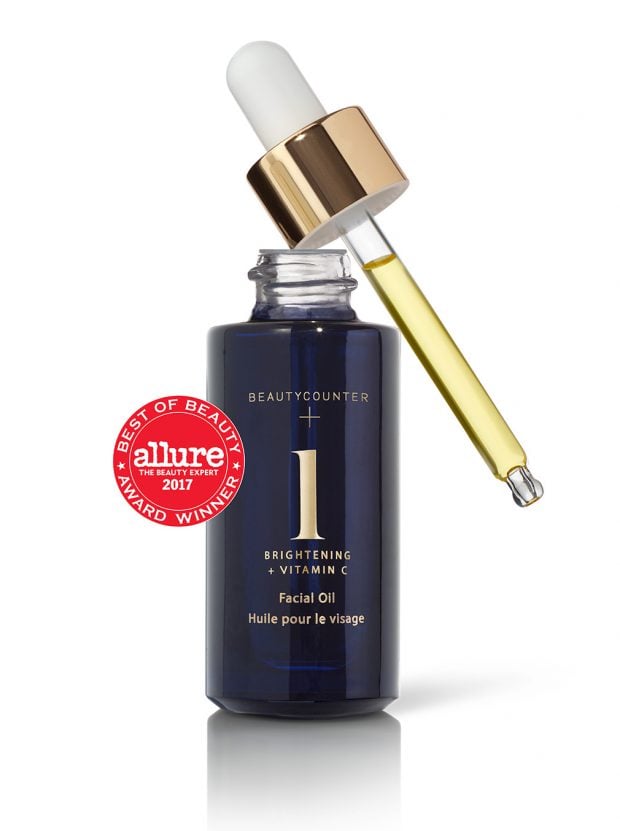 Every few days after I wash my hair, I'll use facial oils. These are insanely nourishing to your skin and each one has a different purpose. I started this pregnancy using the Beautycounter No. 3 Balancing Facial Oil because I needed that–just as it says–balance. But as things progressed, I started noticing a couple darkening spots on my face so I switched to the No. 1 Brightening Facial Oil. The crazy thing is I noticed an almost immediate difference in my skin after using the No 1. My skin might feel different after one use from a certain product, but to really look different?! Whoa. The gorgeous blend of natural oils, like rosehip, marula, black currant, orange, avocado, and straight up vitamin E works miracles. Perfect for melasma, or pregnancy mask.
Toners + Mists
Toners and mists serve two important purposes during pregnancy in my experience: refreshing skin that needs a pick-me-up and cooling things down. Phew! I mean, seriously, am I the only one who just feels flushed like… all the time?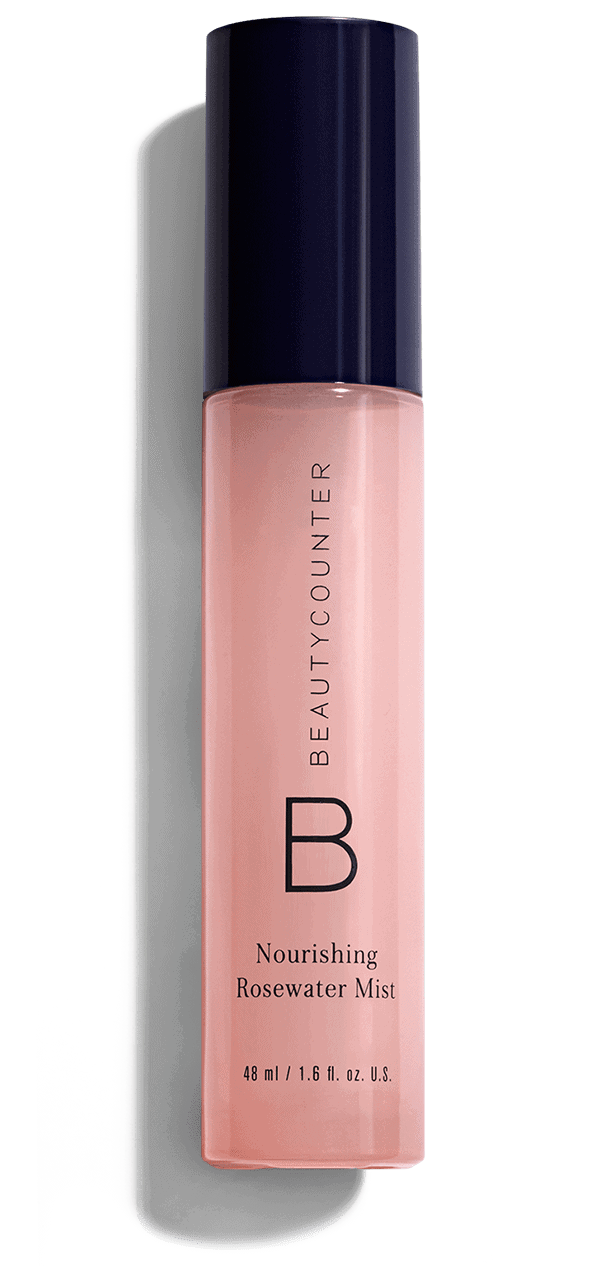 So here are the misting skin care products safe during pregnancy I used:
I absolutely love the Beautycounter Nourishing Rosewater Mist and the fact that it comes with two bottles: one for using with cotton pads or balls and one spray bottle for spritzing. I used the mist on a cotton ball regularly when I needed a little extra help or refresh, especially during the warmer months, and I start most days with a spritz of this straight on my face.
I also use the No. 1 Brightening and No. 3 Balancing facial mists. Just like the facial oils, the No. 1 is amazing at effectively brightening the skin and the No. 3 is great at balancing it. So I changed up what I used based on what I needed and always found these to support exactly what that was.
Masks + Extras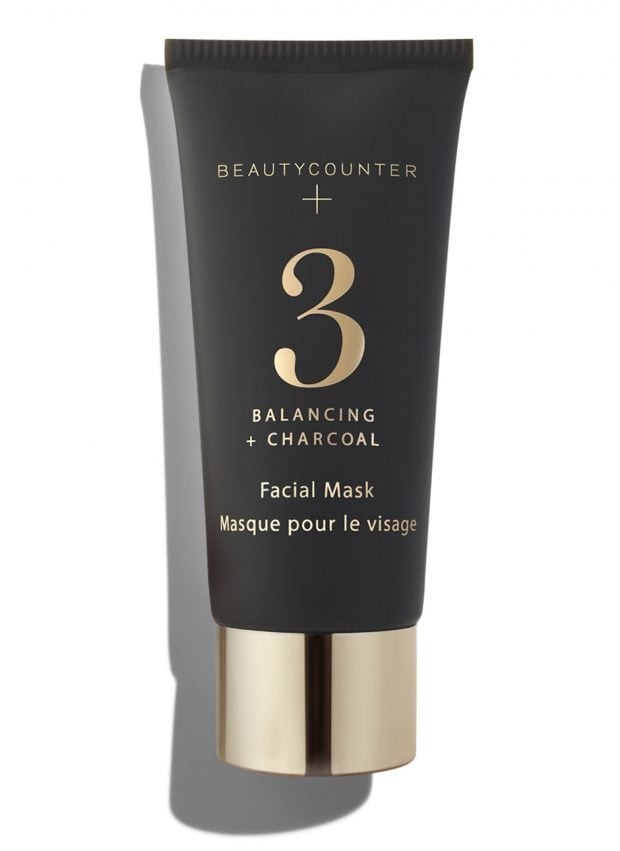 Self-care in pregnancy can be hard to come by, can't it? No glass of wine with a book for you, you have to monitor the temperature of your bath, and you're too dang uncomfortable to do yoga for too long. So I made skin care my self-care, and masks were a big part of that!
I regularly used the famous Beautycounter No. 3 Balancing Facial Mask with charcoal to a) scare my husband and b) smooth my skin and refine my pores. Interestingly, in an independent study, 97% of people said this mask refined and smoothed their skin. So… I'm not alone, basically is what I'm saying. I love love love this mask, and the ingredients are phenomenal. It's such a great way to balance your skin and is perfect for acne, too.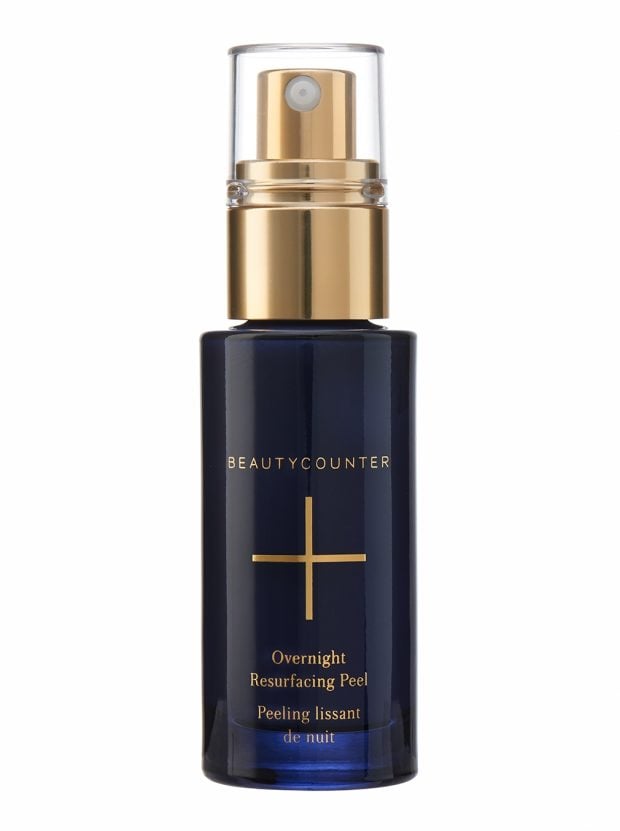 Halfway through my pregnancy, Beautycounter came out with the Overnight Resurfacing Peel, which I scooped up the first second I could. This "peel" does not actually peel but uses a blend of over a dozen fruit acids to resurface skin overnight. I started incorporating it into my pregnancy skin care routine about twice a week. I absolutely loved having a more intensive skin care product that I knew was totally safe during pregnancy, unlike so, so many other products. And I notice a big difference in the morning after using it! This is a must-have when stocking up on skin care products safe during pregnancy.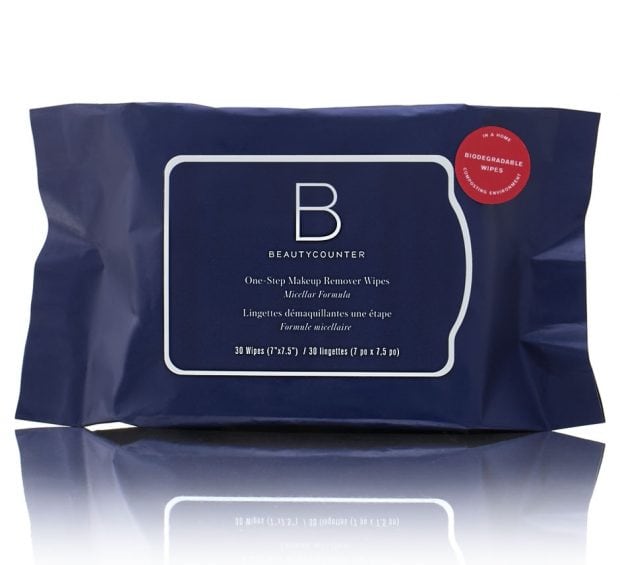 Lastly, I use Beautycounter Makeup Remover Wipes to take off my makeup each day or quickly clean my face. I've used makeup remover wipes for decades but, for the first time, actually feel like my skin is significantly softer after I use these. I even thought there had to be a facial oil in them to make my skin feel so good, but nope! Oil free. I love them a ton, and they're great to have on hand after baby comes, too. Those showers will come in short supply for a while, mama.
Pregnancy Safe Body Care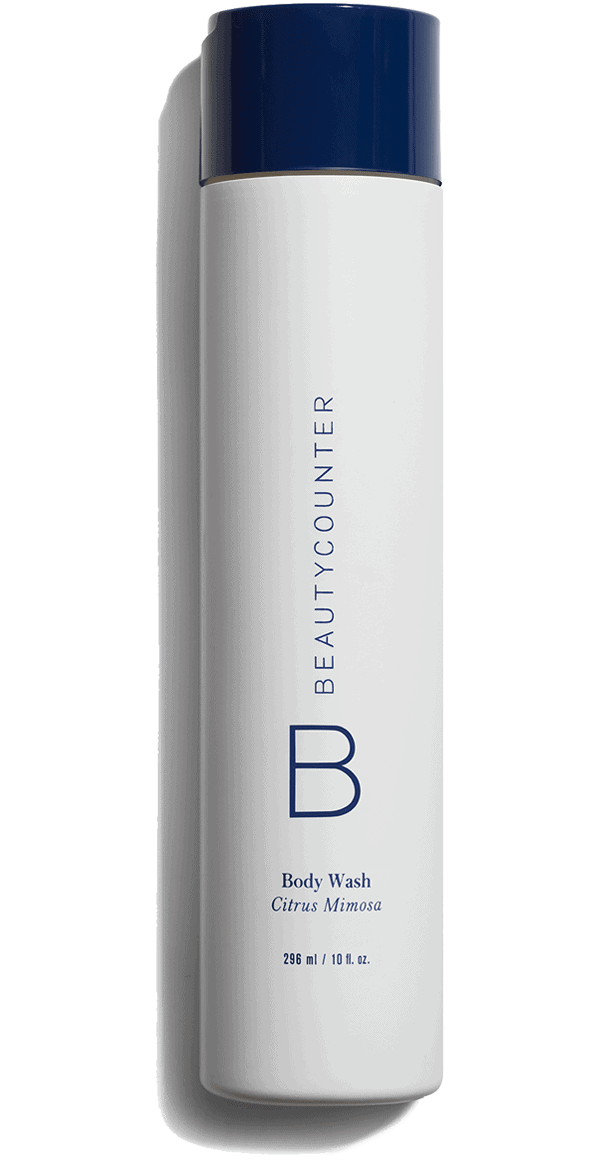 We focus so much on our facial skin, but it's the rest of our body that really needs the heightened attention when it comes to pregnancy safe skin care products! The sheer mass of skin on our bodies means prioritizing healthy products here is super important.
I use Beautycounter Body Wash in Citrus Mimosa in the shower, and I love that it foams and suds and cleans really, really well without any harsh detergents or fragrances or other gross stuff. I've used pregnancy safe skin care products for years, including body wash, but almost all left me feeling not totally clean. Beautycounter is a wizard here, and with haircare, as I'll explain shortly!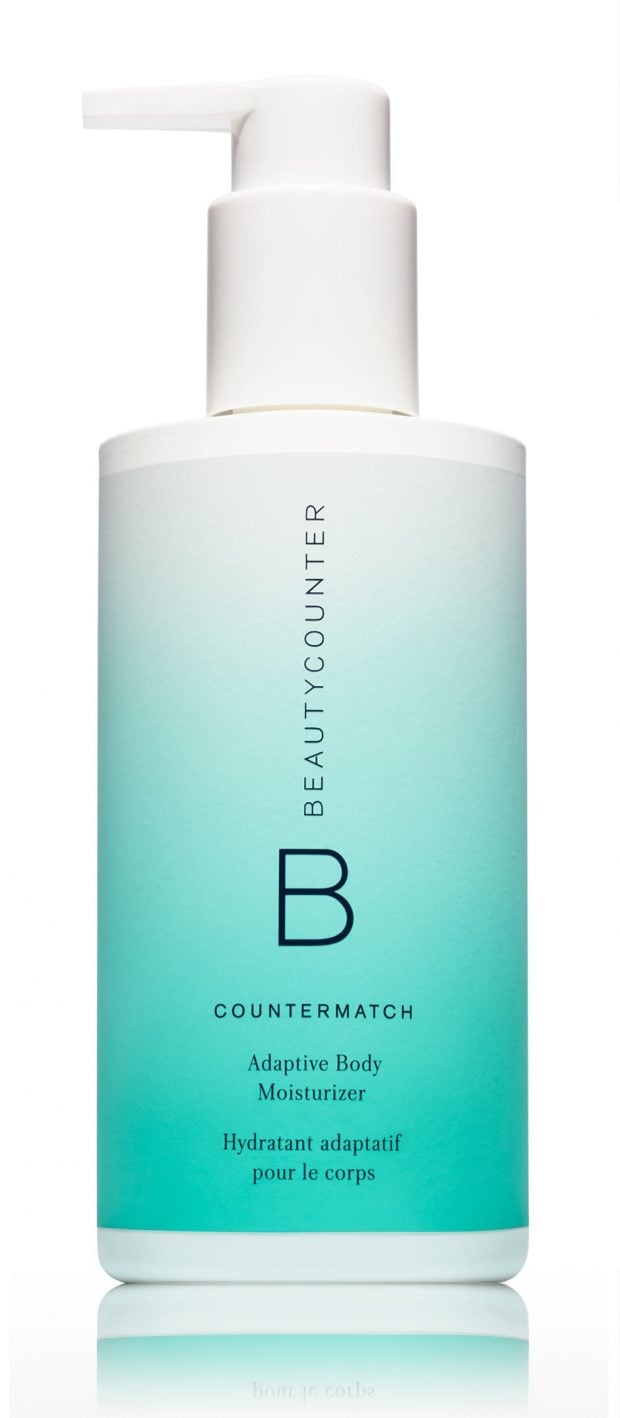 Another Beautycounter Countermatch gush here: for regular body moisturizing, I fell in love with Countermatch Adaptive Body Moisturizer. And another one where I felt a seriously crazy difference in the morning after using it on my arms and legs at night. One of my fave skin care products safe during pregnancy, it's great for the tatas, too, when you don't want to feel really heavy and oily but still want to help your skin fight off any stretch marks that come with those bigger boobs.
Pregnancy Safe Sun Protection
I could talk about pregnancy safe sun protection forever! And I do, in this post: The Best Safe Sunscreen for Pregnancy (And What Chemicals to Avoid). Check it out! It covers the sun protection and skin care products safe during pregnancy, as well as all the chemicals you need to make sure to stay away from. Make sure to integrate sun protection into your pregnancy skin care routine.
Pregnancy Safe Hair Care
Oh, oh, oh, OH, this is my passion right here. For years, I've tried to figure out the correct alternative to super harsh shampoos that were stripping my hair, increasing sebum production, and otherwise threatening me with endocrine disruption and uh, cancer and stuff. Pass on all of that. Here's how it would happen: I'd get really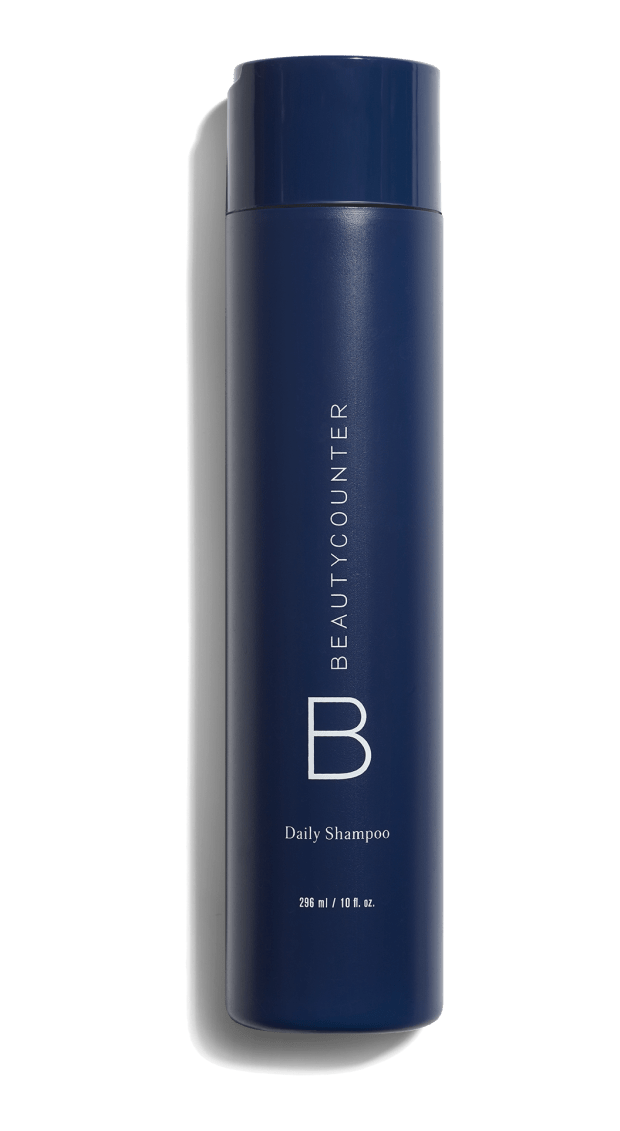 motivated to just make it work and would try whatever new "best" safe shampoo was out there. It'd work OK, but eventually I'd start caring more about shampooing my hair without feeling like I was navigating a briar patch or like Iwanted my hair to actually like, look good. Silly stuff like that. I even tried no 'poo! I don't want to talk about it.
And then, oh lady, I found Beautycounter Daily Shampoo. The first time I used it, I posted on Instagram FROM THE SHOWER because I was freaking out about all the suds it was giving me. I used way too much, expecting it to fall flat like a two-day-old La Croix, like all my other natural shampoos. Nope – this is salon-quality stuff right here sister. See? I'm an evangelist for it, but you will be, too, when you try it!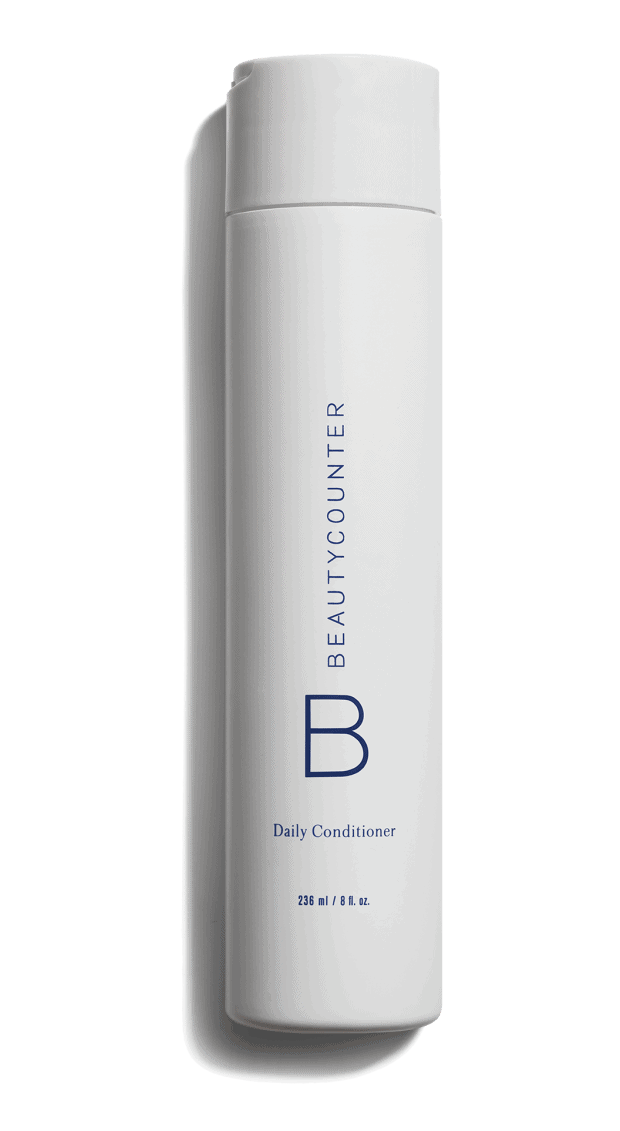 And the crazy part is that I can actually go longer in between shampoos, and my hair's natural wave separates more and is shinier after a wash. What?! This shampoo has got to go in your arsenal of hair and skin care products safe during pregnancy.
I love the Beautycounter Daily Conditioner, too, as part of my pregnancy skin care routine, but nothing gets me excited like the shampoo. Nothing. Like not even a midday trip to Target, and you know that's really saying something.
Belly Care
Oh, the belly care. So much belly care! With my first, I did everything in the world to prevent stretch marks and still ended up with a tummy full of them (Damn genes!). This time, I've been able to mitigate most of them, and I feel there are a couple products to thank, really!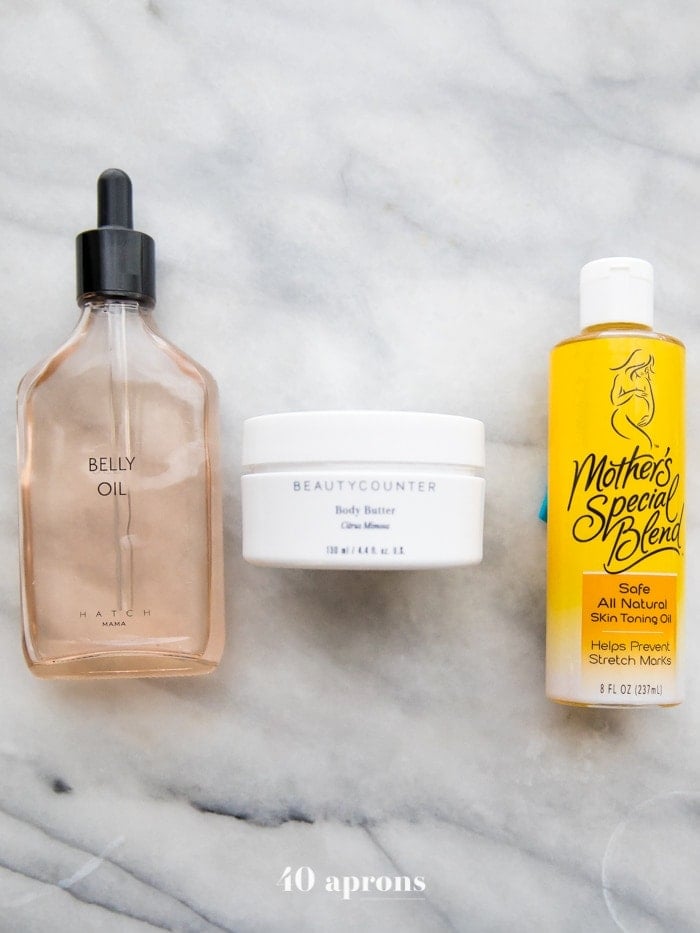 Hatch Belly Oil
This stuff is amazing! Most belly oils are heavy and greasy, but this absorbs surprisingly quickly. I used it every single night starting at month 4, and I think it has a lot to do with the fact that I don't have any real new stretch marks. I can't recommend it highly enough. And yes, I know it's a bit more expensive than most other belly oils, but one bottle will last you your whole pregnancy and seriously – this stuff is absolutely magical. And the ingredients are all innocuous, making it one of the best skin care products safe during pregnancy.
I used Beautycounter Body Butter daily almost every morning to soothe my skin and start the day out fresh. I didn't want to use something heavy or greasy at all in the morning, so this stuff fit the bill beautifully. Of course, it's super safe and super effective, so it was the perfect choice for me anytime I didn't want to use a full belly oil.
For more intensive care, every time I shampooed my hair, I then used Mother's Special Blend. This stuff is thick and super nourishing but way too oily for me to use
on a daily basis. It smells so lovely, though, and is loaded with so many powerhouse oils for preventing stretch marks.
That sums up my favorite skin care products safe during pregnancy! So what should you not be using, now that you know what you should?
Skin Care Ingredients to Avoid During Pregnancy
Retinoids
Used in many anti-aging and acne products, retinoids are linked to birth defects in pregnancy. Do not use these! In fact, I would highly recommend not using these at all – kinda scary, right? But make sure you're definitely avoiding these chemicals in the retinoid family. These are not skin care products safe during pregnancy.
retinoic acid
retinyl palmitate
retinaldehyde
adapalene
tretinoin
tazarotene
isotretinoin
Looking for anti-aging skin care products safe during pregnancy? I absolutely love the entire Beautycounter Rejuvenating line, especially the Cleansing Balm, Rejuvenating Night Cream, and Rejuvenating Radiance Serum.
Need a replacement for your acne skin care in your pregnancy skin care routine? The Beautycounter Charcoal Cleansing Bar is fantastic for acne-prone skin (Whether or not this was a problem before pregnancy!), as is the rest of the No. 3 Balancing line, especially the No. 3 Balancing Facial Mask. I highly recommend the Countermatch Adaptive Moisture Lotion, too.
Salicylic Acid, Beta Hydroxy Acids, Alpha Hydroxy Acids
You probably recognize salicylic acid from your teenage acne and Proactiv-ordering days, right? This beta hydroxy acid dries out your skin, in theory reducing acne, but… two things: when your skin is artificially dried of oil, it then overproduces sebum to remoisturize your skin. See how that might form a pretty gnarly cycle?
On top of that, beta hydroxy acids, like salicylic acid (greater than 2%), have been linked to birth defects and pregnancy complications. These studies link high doses of BHA taken orally, but I'm not sure I'd risk it in my pregnancy skin care routine… And why?
These ingredients can be listed as the following:
Alpha hydroxy acid (AHA)
Azelaic acid
Benzoyl peroxide
Beta hydroxy acids (BHA)
Beta hydroxybutanoic acid
Betaine salicylate
Citric acid
Dicarbonous acid
Glycolic acid
Hydroacetic acid
Hydroxyacetic acid
Hydroxycaproic acid
Lactic acid
Salicylic acid – no more than 2%
Trethocanic acid
Tropic acid
2-hydroxyethanoic acid
Try theBeautycounter Charcoal Cleansing Bar, the entire No. 3 Balancing line, especially the No. 3 Balancing Facial Mask. I also highly recommend the Countermatch Adaptive Moisture Lotion, too, for moisturizing acne-prone skin (Which is really important!).
Hydroquinone
Often used for skin lightening and treating melasma, studies show up to 45% of hydroquinone is absorbed by the skin after application. It's actually classified as a Class C drug!
Skip it and opt for the Beautycounter No. 1 Brightening Facial Oil instead. Try the Beautycounter Overnight Resurfacing Peel, too.
Phthalates
So… this study links phthalates to increased risk of pregnancy loss and gestational diabetes. Holy… Not only that, phthalates are linked to – are you ready for this?
asthma
ADHD
breast cancer
obesity and type II diabetes
low IQ
neurodevelopmental issues
behavioral issues
autism spectrum disorders
altered reproductive development and male fertility issues
HARD PASS. Hard pass!! Unfortunately, phthalates are in seemingly everything, too, especially nail polish, hair sprays, soaps, shampoos, and perfumes. Skip all those cosmetics with phthalates, mama, and opt for pregnancy safe skin care and hair care for your pregnancy skin care routine. Scroll up for my recommendations!
Formaldehyde
Formaldehyde is a known carcinogen, linked to cancer, yet is still found in a surprising number of skin care products, even for baby. Formaldehyde can be listed as any of the following ingredients:
formaldehyde
quaternium-15
dimethyl-dimethyl (DMDM)
hydantoin
imidazolidinyl urea
diazolidinyl urea
sodium hydroxymethylglycinate
2-bromo-2-nitropropane-1,3-diol (bromopol)
It's most commonly included in nail polish, hair straightening products, and eyelash glue, so watch for this ingredient in those products in your pregnancy skin care routine.
Acne Skin Care Ingredients to Avoid
If you're looking specifically at acne-related skin care, make sure to avoid these ingredients:
Avage, Fabior, Tazorac (tazarotene)
Avita (tretinoin)
Benzoyl peroxide
Differin (adapelene)
Panretin (alitretinoin)
Retin-A, Renova (tretinoin)
Retinoic acid
Retinol
Retinyl linoleate
Retinyl palmitate
Salicylic acid – no more than 2%
Targretin gel (bexarotene)
Tretinoin
Deodorant and Antiperspirants
Have you tried natural deodorant? It can be a pain, but it's so worth making the switch. And thankfully, there are so many awesome options out there now! It's definitely a part of my pregnancy skin care routine.
The aluminum chloride hexahydrate in antiperspirants is what actually blocks your sweat, but it's linked to cancer! During pregnancy, this ingredient is category C, so avoid this! My favorite natural deodorant is Schmidt's, hands down.
—
Want more information on what skin skicare ingredients to avoid during pregnancy? This article is super helpful.