The Best Safe Sunscreen for Pregnancy (And What Chemicals to Avoid)

Posted: 05/23/18 Updated: 06/19/19
Looking for the best safe sunscreen for pregnancy and what chemicals to avoid? This guide details the must-avoid chemicals for pregnancy to keep you and baby safe, as well as sharing the best safe sunscreen for pregnancy. And if you're pregnant, you'll probably also like my ultimate baby registry for second baby (or a really prepared first!).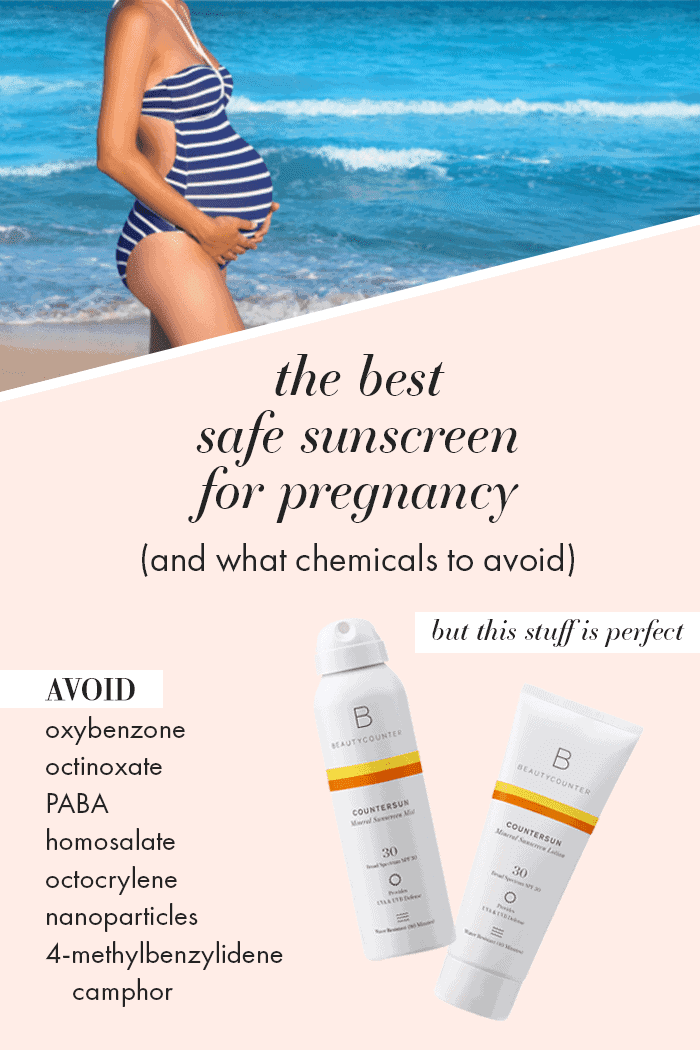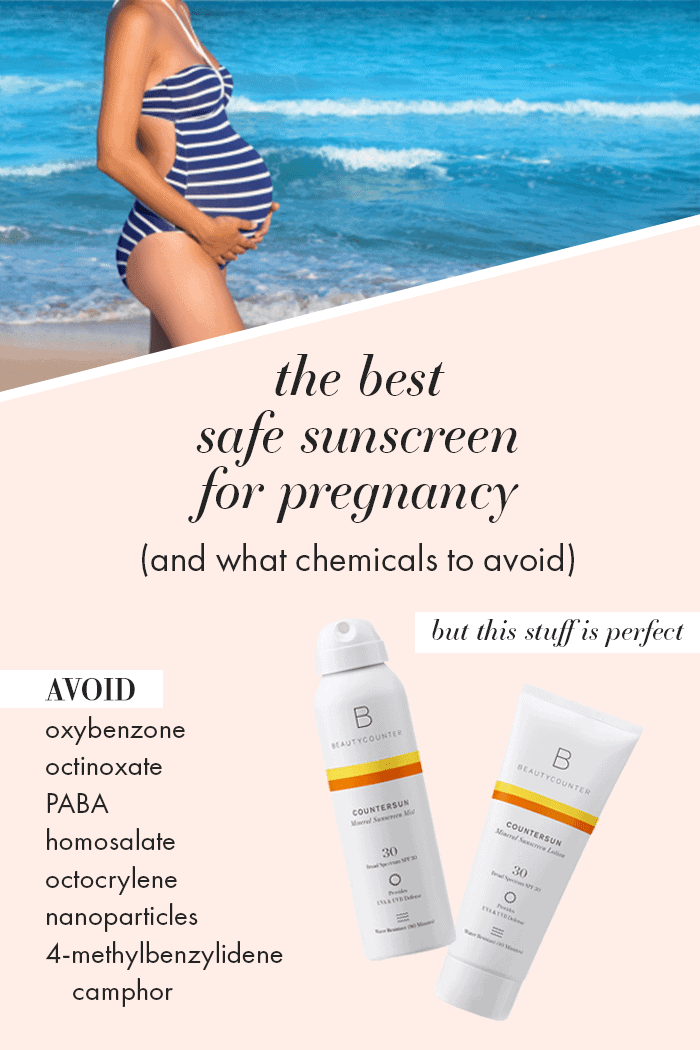 Lucky you! You're massively pregnant, and it's June. or July. Or August. Lucky you (I mean me), you get all three! Really – both times I've been pregnant, I've given birth at the tail end of summer, meaning I'm the pregnant-est I'll be when it's the hottest and most humid.
It's really great.
My favorite thing to do, of course, when I'm massive and sweltering and somehow experiencing swamp belly, is to tiptoe around neck-deep in the nearest body of water. I'll take a pool or an ocean; I'll even bully my husband into getting me an inflatable glorified tub in the backyard that will certainly ruin the grass for months to come.
But I'm super pale, and skin cancer runs in my family. My grandfather actually died from melanoma, so we take zero for granted when it comes to sun protection.
At the same time, though, I'm equally cognizant of the dangerous or potentially harmful chemicals in most commercial sunscreens. Our skin is, of course, our largest organ and is fantastic at absorbing what you put on it. Not always great when what you're putting on it (like oxybenzone) can alter your estrogen levels and is an 8 on the EWG's Toxicity Scale. An 8!
I mean, I would kill to be an 8 on the hotness scale, so that's a pretty impressive grade. Except when I say "impressive," I mean "terrifying," because oxybenzone is in seriously almost every commercial sunscreen out there.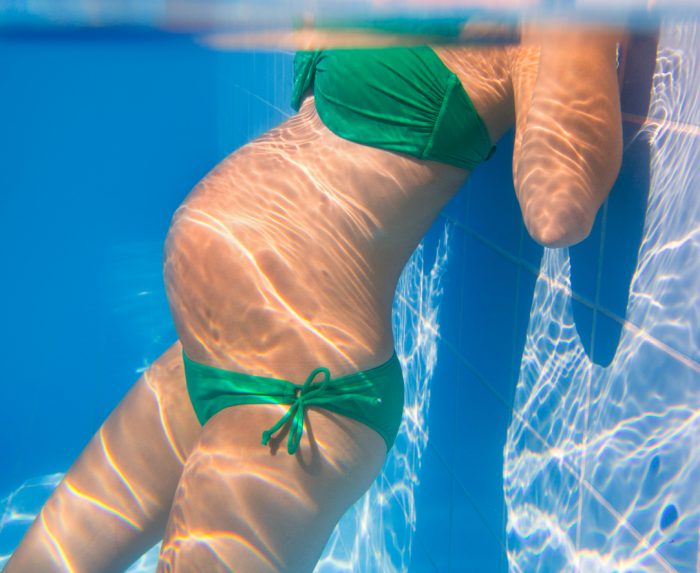 Pregnancy is an especially important time to be aware of what you're putting on your skin, since what your skin absorbs can be easily passed to your baby. Did you know that a study found an average of more than 200 chemicals in newborn cord blood? These babies had never taken a breath of air, yet had hundreds of chemicals floating around in what should be their pure, fresh, adorable baby blood.
With a developing baby in the womb, their organ systems aren't mature enough to handle detoxification of dangerous or potentially dangerous chemicals, and they're at the greatest risk in utero of environmental contamination.
Terrified yet?
Luckily, there's a seriously easy solution to this problem: finding the best safe sunscreen for pregnancy. And bonus – the best safe sunscreen for pregnancy is not pregnancy-specific, of course. Our favorite squeaky clean and environmentally friendly sun protection works just as well and is just as safe for the entire family, so slather it on the toddler and your husband while you're at it.
Here's what you need to know.
Which sunscreen chemicals to avoid during pregnancy?
Studies have linked dangerous sunscreen chemicals to altered outcomes in pregnancy, and other studies have detected sunscreen chemicals in breastmilk, denoting exposure of the developing baby in utero and nursing infant to these endocrine disruptors and dangerous additives. In fact, one study detected at least one sunscreen chemical in 85 percent of milk samples! 85%!
It's important to know what's in your sunscreen so you can avoid any contamination or toxicity to your baby (Though my pick for the best safe sunscreen for pregnancy means you don't have to worry about any of that). Here are the sunscreen chemicals to avoid during pregnancy:
Oxybenzone
Rating on EWG's Toxicity Scale: 8
In over 65% of non-mineral sunscreens, oxybenzone is the biggest culprit in sun protection. Studies have shown that exposure to oxybenzone is actually linked to altered birth weights! Oxybenzone is a must to avoid when pregnant.
On top of altered birth weights, studies have linked higher oxybenzone measurements with significantly lower testosterone levels in in adolescent boys. Oxybenzone is also a weak estrogen and moderate anti-androgen. In other words? Absolutely not something I want to mess with ever, much less during pregnancy when hormonal balance for both you and baby is so important.
Oh, and oxybenzone is known to contribute to the collapse of our coral reefs, making it positively atrocious in an environmental context.
Octinoxate
Rating on EWG's Toxicity Scale: 8
A known endocrine disruptor, octinoxate is found in many commercial sunscreens and should be avoided during pregnancy. This chemical is has also been shown to affect reproductive health. Uh, yikes.
Octinoxate is another chemical, along with oxybenzone, to which we can attribute the collapse of the coral reefs. Avoid it!
4-Methylbenzylidene Camphor
Rating on EWG's Toxicity Scale: 7
Another endocrine disruptor, 4-methylbenzylidene camphor has shown developmental effects at low doses. A 7 on EWG's Toxicity Scale, this chemical clocks in right behind oxybenzone when it comes to demonstrated danger as processed by the EWG. This is a chemical I would absolutely avoid all the time, but it's especially important to avoid it when pregnant.
PABA (Para-Amino-Benzoic Acid)
Rating on EWG's Toxicity Scale: 6
Here's a scary one: PABA (para-amino-benzoic acid) is actually banned in the Canada, as there was enough evidence of human toxicity from its exposure that the government felt it should be outlawed entirely. Of course, it's legal in the U.S. So, you know… That's good.
According to "Clinical Dermatology," PABA can lead to a many different skin abnormalities when applied topically, as sunscreen is, from discoloration to cancer. Cancer!
And while PABA protects against carcinoma, it does not protect the skin from melanoma, which, of course, is what my grandfather died from. On top of that, PABA encourages the release of oxygenated free radicals which can independently lead to the (sun-exposure-unrelated) development of cancer.
So I can actually get cancer from PABA's inclusion in my sunscreen? Pass.
Homosalate
Rating on EWG's Toxicity Scale: 4
Yet another endocrine disruptor, homosalate is restricted in Japan, due to uncertainty of safety. During pregnancy, when you and baby are especially vulnerable, I say skip it altogether.
Octocrylene
Rating on EWG's Toxicity Scale: 3
Though the overall, relative toxicity of octocrylene (especially when compared with something like oxybenzone) is low, during pregnancy, the concerns for this chemical are heightened. Studies have shown octocrylene to interfere with cellular signaling, lead to cell death, and can cause cellular mutations. Not exactly something I'm interested in during pregnancy, when my body is literally creating another fresh, little human being.
Nanoparticles
While not a chemical, nanoparticles are not absorbed by the skin and can be dangerous when inhaled. No, thank you.
So what's the solution?
The best safe sunscreen for pregnancy
There's honestly no comparison here: the best safe sunscreen for pregnancy is hands-down Beautycounter's sun protection line.
Being as pale as I am, I need a lot of sunscreen and plenty of reapplications during the day at the beach. So on top of their existing (and fabulous) sun protection, the new spray sunscreens are a life-saver for me. These sprays make it super easy to stay protected, but they're also air-powered (Not aerosol!) and reef-safe. So I can float around, pregnant as hell, with my soulmates the whales, and not worry one bit about what's falling off my skin into their environment.
The EWG recommends sunscreens made with zinc oxide and titanium dioxide as the safest sun protection. Every Beautycounter Sun Protection product is powered by safe minerals and free of unsafe or potentially unsafe chemicals. I know Beautycounter's mission and commitment so well, including the list of ingredients they will never use in their products, that I don't even need to read the ingredients list before I order. How awesome is that?
On top of that, what really makes me love Beautycounter is that the products are just as good if not better than other conventional cosmetics and skincare products I've used in the past. Let's be honest: if the products weren't good, I'd eventually opt for convenience and effectiveness, even over the safety. Or I'd groan about how awful this face cream is or how freaking white I look after using this "all-natural" sunscreen.
Luckily, there's none of that going on with my Beautycounter stash; just a pure love fest 24/7. I can't help it! I've been waiting for seriously effective and safe skincare for a decade now.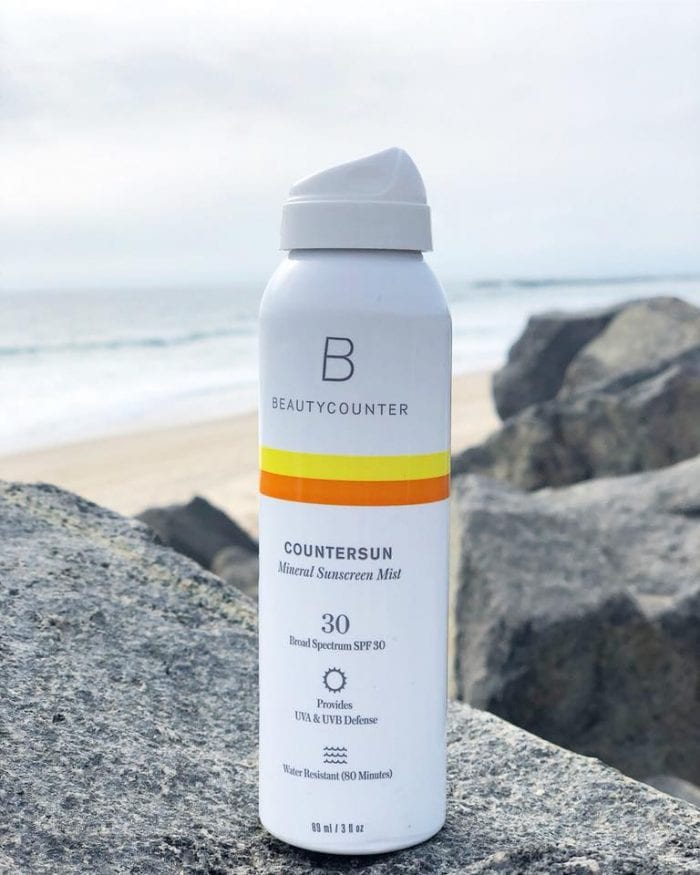 Beautycounter's Countersun Mineral Sunscreen Mist is where it's at for me and my family at the beach. Available in two sizes, the spray is air-powered, not aerosol, and reef-safe, and there are no nanoparticles included. This means I feel great about the environmental impact (or lack thereof) of this product, but most importantly, it's effective and seriously safer sunscreen…
in a spray! Not only is spray sunscreen with kids basically life, I honestly don't know how I'd coat my giant bump and body without constantly hands-on help without a mist. I'm obsessed.
It's broad spectrum and prevents against UVA, UVB, and blue light.
This safe sunscreen spray uses non-nano zinc oxide, and Beautycounter evaluates the size of the particles to make sure there's no potential risk of respiration when sprayed and does not enter the blood stream to cause harmful effects to the body.
And, of course, as with all of Beautycounter's Sun Protection, they'll never use oxybenzone or octinoxate, ingredients that we know are unsafe for people, especially pregnant women. These ingredients are also known to have contributed to the collapse of coral reefs around the world, and still are! If they're destroying our reefs, imagine what these conventional sunscreens are doing to your body.
Click here to learn more about Countersun Mineral Sunscreen Mist. 
Looking for a smaller bottle? This 3-ounce bottle is perfect for travel and to throw in the purse or diaper bag.
Countersun Mineral Sunscreen Stick (SPF 30)
Just as effective, safe for you & baby, and gentle on the environment as the Countersun Mineral Sunscreen Mist, this sunscreen stick is definitely my pick for some of the best safe sunscreen for pregnancy. It's SO convenient and perfect for faces, plus it's small and compact enough to travel with you easily.
The formula is infused with cocoa-butter (So maybe you want to use it on the ol' belly, too!), making it super moisturizing. It's an easy pick for the best safe sunscreen for pregnancy in my mind, and it's perfect for touch-ups on the beach!
Click here to learn more about Countersun Mineral Sunscreen Stick.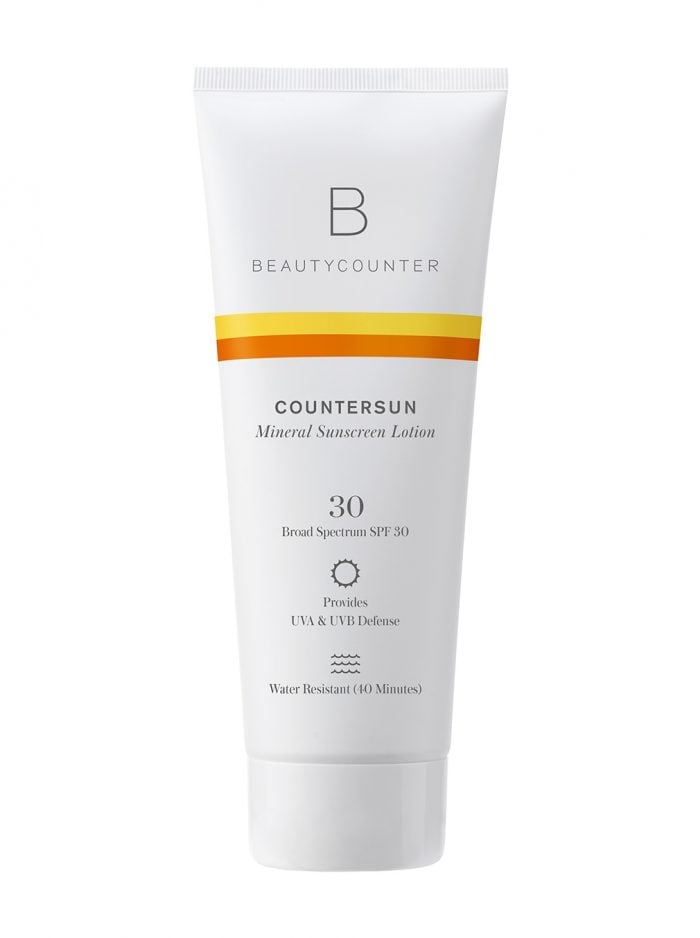 Prefer the more traditional sunscreen lotion to sprays and sticks? Got you, girl. With all the benefits of the other Countersun products, the Countersun Mineral Sunscreen Lotion is a great product to have on hand and pairs beautifully with either the mist or the stick (or both!).
With 6.7 ounces in a tube, the Countersun lotion is actually more affordable than Beautycounter's original Protect All Over Sunscreen, so I think the Countersun lotion is the way to go! I'm always unbelievably impressed with how Beautycounter takes their products and constantly improves on them, and the sun protection line is no exception. The only catch is… the original Beautycounter Protect sun protection line was amazing, too!
Click here to learn more about Countersun Mineral Sunscreen Lotion.
Other Options for Safe Sunscreen for Pregnancy
On a very tight budget or need it today? Totally get it. Here's EWG's list of the best widely available and affordable sunscreens. You can find many of them at places like Target or Whole Foods!
Aveeno Baby Continuous Protection Zinc Oxide Mineral Sunscreen Lotion (SPF 50)
Babyganics Mineral-Based Baby Sunscreen Lotion (SPF 50)
Bare Republic Mineral Baby Sunscreen Lotion (50 SPF)
Blue Lizard Australian Sunscreen, Baby Formula (30 SPF)
CeraVe Baby Sunscreen (45 SPF)
Goddess Garden Organics Facial Natural Sunscreen (30 SPF)
Neutrogena Pure & Free Baby Mineral Sunscreen Broad Spectrum (50 SPF)