This quick chicken brine results in the most tender and juicy chicken ever. Plus, it's so easy to make and brines a whole chicken or chicken parts in just a couple hours.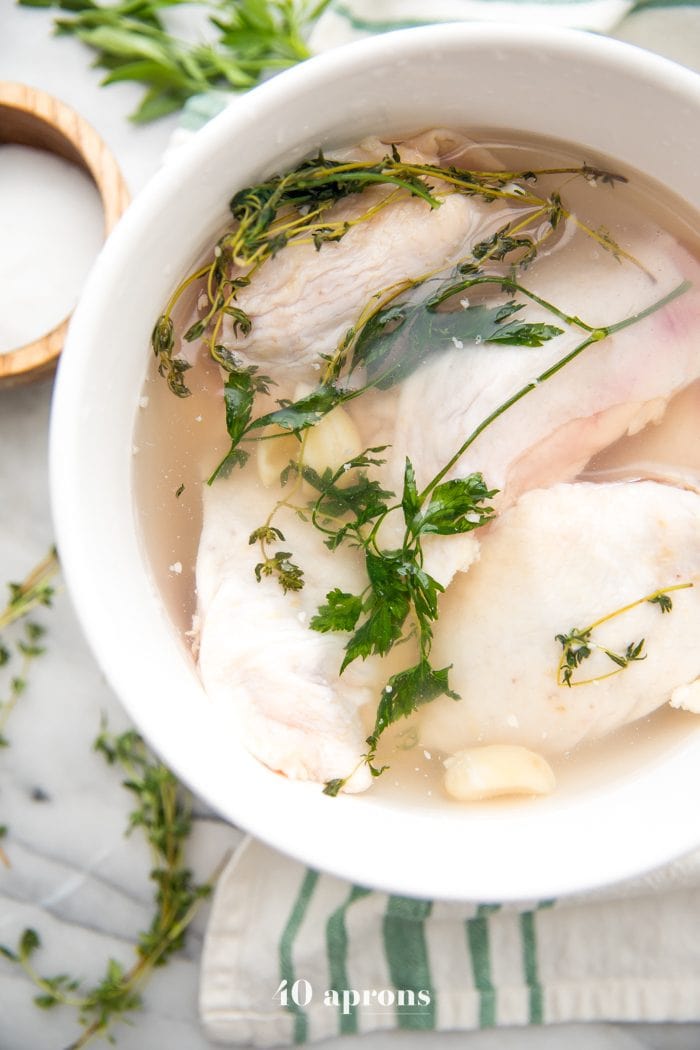 You probably know that brining your chicken helps impart a rich, savory taste and creates an unbelievably moist, tender texture. But how often do you brine your chicken? Once a year, except that chicken is a turkey? Only when you remember the night before?
I'm no good at that "let marinate overnight" junk – I'm just not that organized, and honestly, most of the time I don't decide what we're eating on any given night until that morning! Cravings rule our home, but I haven't figured out a way around that just yet. This quick brine is everything I ever wanted and more (no hyperbole, I swear). It's flavorful, simple, and quick.
You only need a couple hours for this brine, making it totally doable when you remember that, oh yeah, you have to cook dinner tonight, just like every night. You know that's how it happens…at least in our house. The salt solution is the perfect ratio to infuse the chicken with flavor and tender tenderness in just a few hours, without over-salting the bird. The original ratio comes from Mark Ruhlman, who wrote the book Ratio, so the man knows his ratio-related stuff.
You can include garlic, peppercorns, herbs, citrus, or any other aromatics you might fancy, but it works wonders on the taste of your lowly chicken without all the fancy add-ins, too. Especially if you're stretching a chicken to use over several recipes, this basic salt+water gig can be the best choice, so you don't find yourself with rosemary-infused chicken in, I don't know, a Thai dish. Could be cool, but… probably not your favorite.
I like to brine my chicken in the morning, then drain after a few hours, and let air dry in the fridge until I'm ready to use. Air drying allows the skin to really dry out, so that when you sear, fry, or roast it, the skin gets unbuh-buh-believably crisp and delicious. Is there anything worse than flabby, rubbery skin? No, there's nothing worse, except that new Miley Cyrus video. Am I the only one finding myself begging for Hannah Montana to make a comeback? Like.. a permanent comeback? I digress.
Why brine chicken?
We've all had overcooked chicken – not so good, right? What a chicken brine does is two things: it gives the poultry flavor and keeps it juicy. When you brine chicken, you're essentially installing a failsafe on your dish. You have more wiggle room to cook the bird without it becoming dry after one minute too long in the oven, and you have creative control over the flavors you'd like to lend to the entire muscle meat of your chicken, not just what you're seasoning it with right before cooking.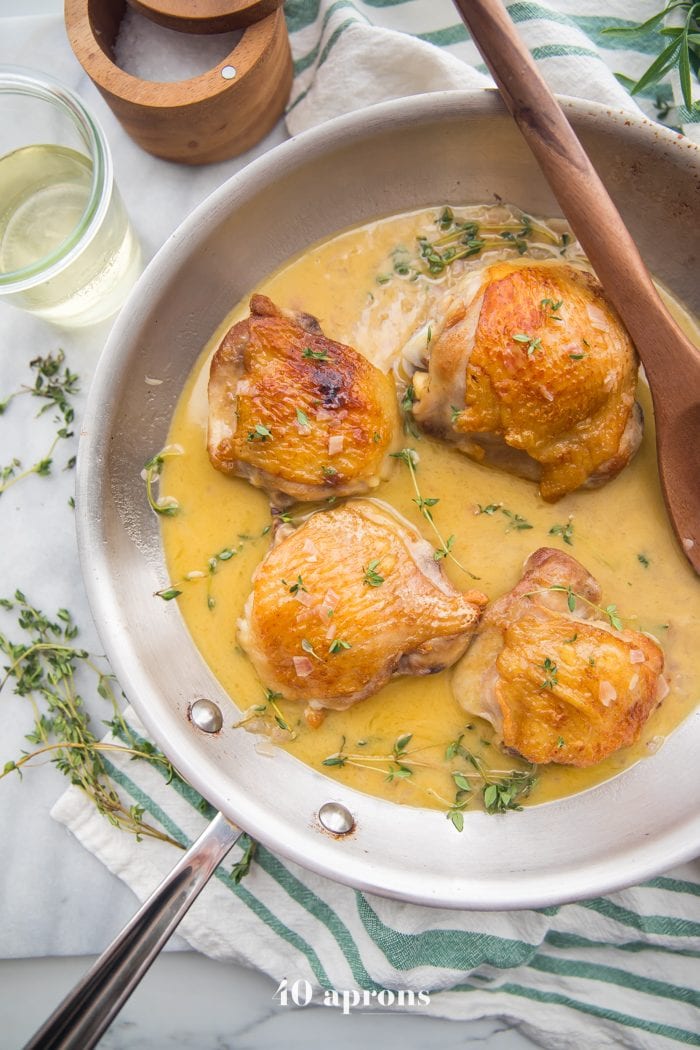 Why this recipe works
This quick chicken brine works for a couple reasons: the content of salt is higher than most brines, so it works more effectively quicker than a standard brine.
And by including fresh garlic and herbs, you're imparting a rich flavor to the entire chicken meat, rather than just seasoning the surface in a recipe.
Using ice to cool down the hot salt solution quickly makes this chicken brine super easy and speedy.
Tips for the perfect quick chicken brine
Don't over-brine the chicken! The salt solution is higher than your standard overnight brine, so you want to make sure to limit your brining time to 2-3 hours at room temperature or 4-6 hours in the fridge.
Make sure you actually weigh your ingredients to make sure you have the exact right proportions. This digital scale is a great kitchen item to have on hand anyway!
Dissolve the salt completely before you take it off the heat.
After brining, salt your chicken skin only lightly before cooking.
Variations
Use fresh cilantro and a sliced fresh jalapeño for Mexican chicken brine vibes.
Lightly crush a few black peppercorns underneath a heavy skillet and add those to your chicken brine.
Experiment with different fresh herbs and dried spices.
How to make quick chicken brine
You need just a few things: water, salt, smashed garlic, and a couple sprigs of fresh herbs.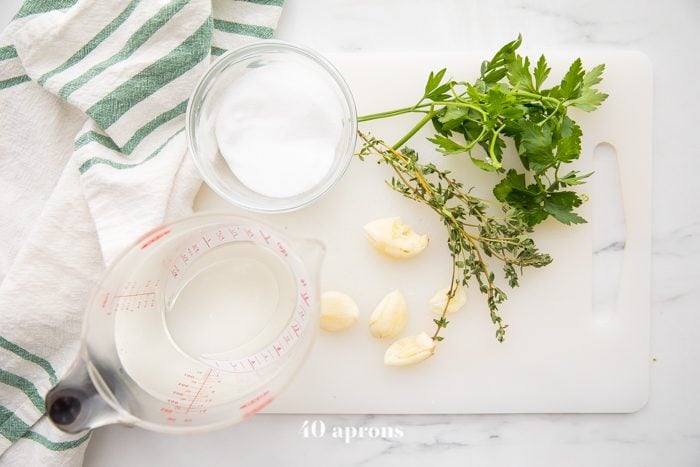 Combine your water, salt, garlic, and herbs in a saucepan and dissolve the salt completely. Bring to a boil.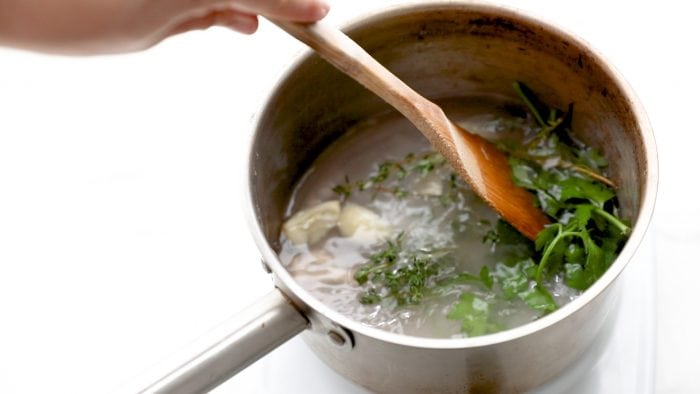 Remove from heat and cover. Let stand 10 minutes.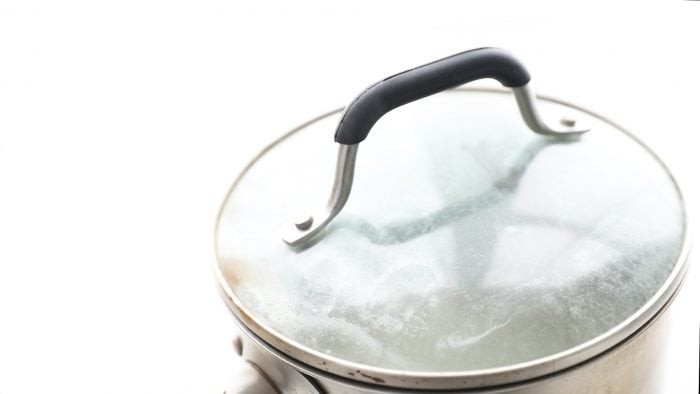 Pour hot brine over ice and stir to dissolve completely.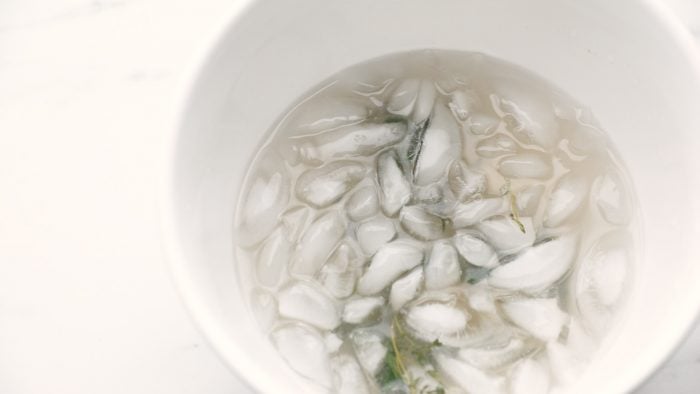 Add chicken or chicken pieces and brine for 2-3 hours at room temperature or 4-6 hours in the refrigerator. Drain, discard herbs and garlic, and pat very, very dry. Use in any recipe, but make sure to salt the chicken pieces very lightly.

Did you make and love this recipe? Give it your review below! 👇 And make sure to share your creations by tagging me on Instagram!
Quick Chicken Brine
An easy, quick chicken brine that creates the most flavorful and tender chicken and poultry.
Total Time
2
hours
20
minutes
Ingredients
15

ounces

water

1/2 liter

3

ounces

salt

100 grams

couple sprigs

fresh herbs

like rosemary, thyme, or parsley

4

cloves

garlic

15

ounces

ice

500 grams ice, or 15 ounces of ice water

1

3-4 pound

chicken or chicken pieces
Equipment Needed
Instructions
Combine water, salt, and aromatics (garlic, herbs, etc.) in a medium saucepan over high heat. Bring to a boil. Cover and remove from heat. Let stand for 10 minutes.

Place ice (or ice water) in a large bowl (or very large measuring cup) and pour brine over ice. Stir until ice is melted.

Place chicken in a large plastic bag and pour brine over chicken. Seal and let sit at room temperature for 2 to 3 hours, or refrigerate for 4 to 6 hours.

Drain chicken and pat dry. Use in any recipe, but make sure to only lightly salt the chicken surface once you've brined it.
Recipe Notes
Adapted from Mark Ruhlman.
Mark's original brine also includes:
1 small onion sliced
1 lemon halved
2 bay leaves
2 teaspoons black peppercorns, cracked beneath a saute pan
Try these extras or include your own. I keep mine simple.
This recipe was originally published in October 2013 but was updated with new tips, photos, and video in June 2018.
175