Sous Vide Chicken Breast

Posted: 04/26/23 Updated: 11/06/23
When you're wanting a super juicy, tender chicken breast, the sous vide just can't be beat. This easy, foolproof slow-cooking method gives you perfectly moist boneless, skinless chicken breasts every time. Seasoned any way you like, this recipe for never-tough, never-dry chicken will be your go-to for holidays, large gatherings, or any time at all.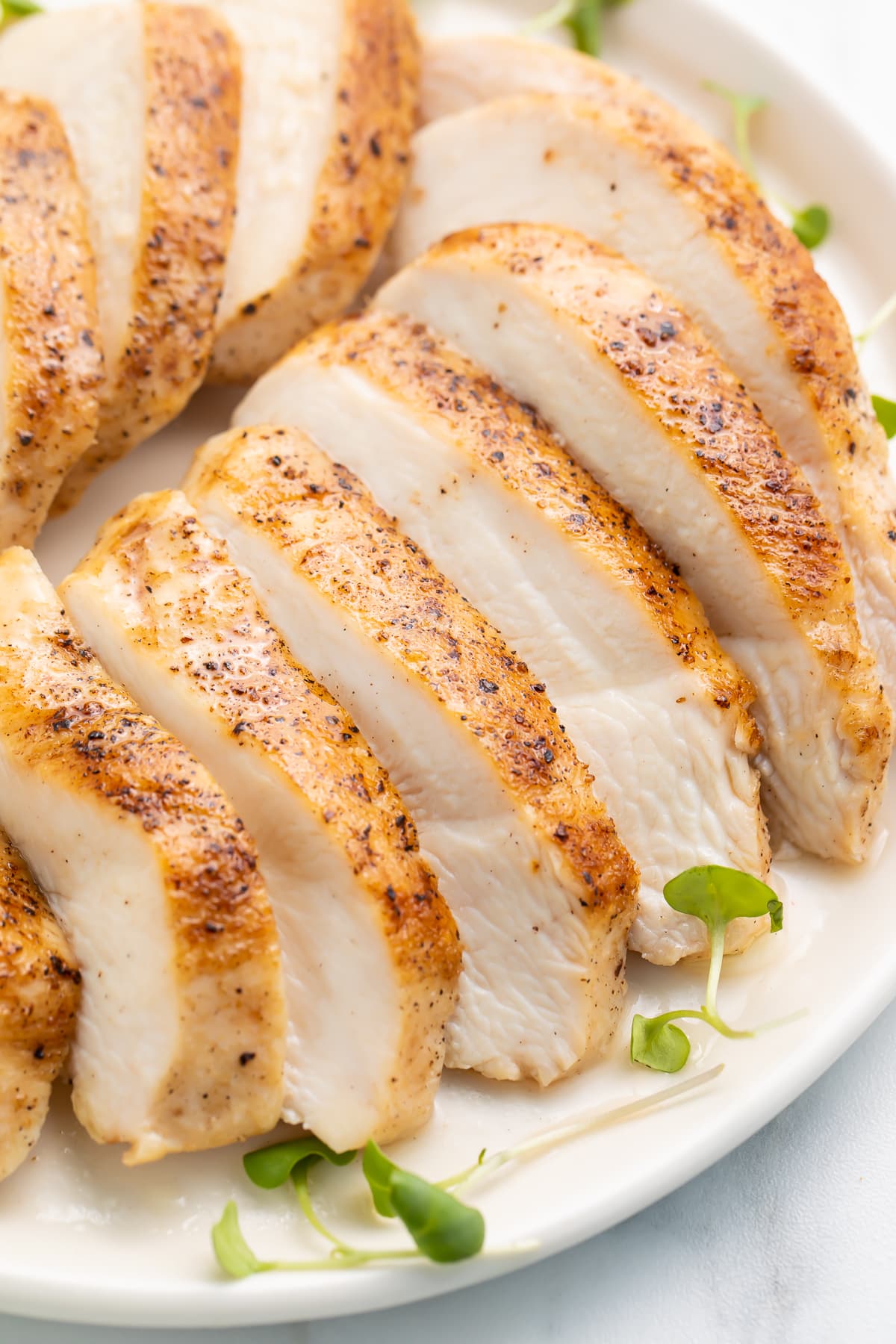 ♨️ What is "Sous Vide"?
Sous vide, meaning "under vacuum" in French, is a method where food is precision-cooked in a vacuum-sealed pouch that's submerged in a heat-regulated water bath.
The water bath keeps the food (in this case, chicken breasts) at a consistent temperature for longer periods of time than other cooking methods. This ensures the food is cooked evenly all the way through to the center, without the risk of overcooking the outer edges at the same time.
🐔 What Makes This Recipe So Good
I. Love. Sous vide cooking. The method is just so easy – and SO foolproof. Drop the food in a water bath, come back later to perfectly cooked proteins or sides. It's pretty much impossible to mess up. It's also pretty much impossible to overcook the chicken breast this way, which can't always be said for other methods.
Another really great thing about a sous vide chicken breast recipe is that it's super versatile. I used a simple salt-and-pepper seasoning with olive oil, garlic, and an infusion of fresh herbs, but you can season your chicken literally any way you like it. BBQ, garlic herb butter, lemon pepper, Cajun seasoning… anything goes!
The sous vide method works for a frozen chicken breast, too. Trust me, you'll be thrilled to have this option when you suddenly realize you forgot to defrost the chicken for dinner tonight. Just follow the recipe instructions as they're written below, but add at least 30 minutes to the initial cook time. That gives the chicken extra time to thaw and then cook completely.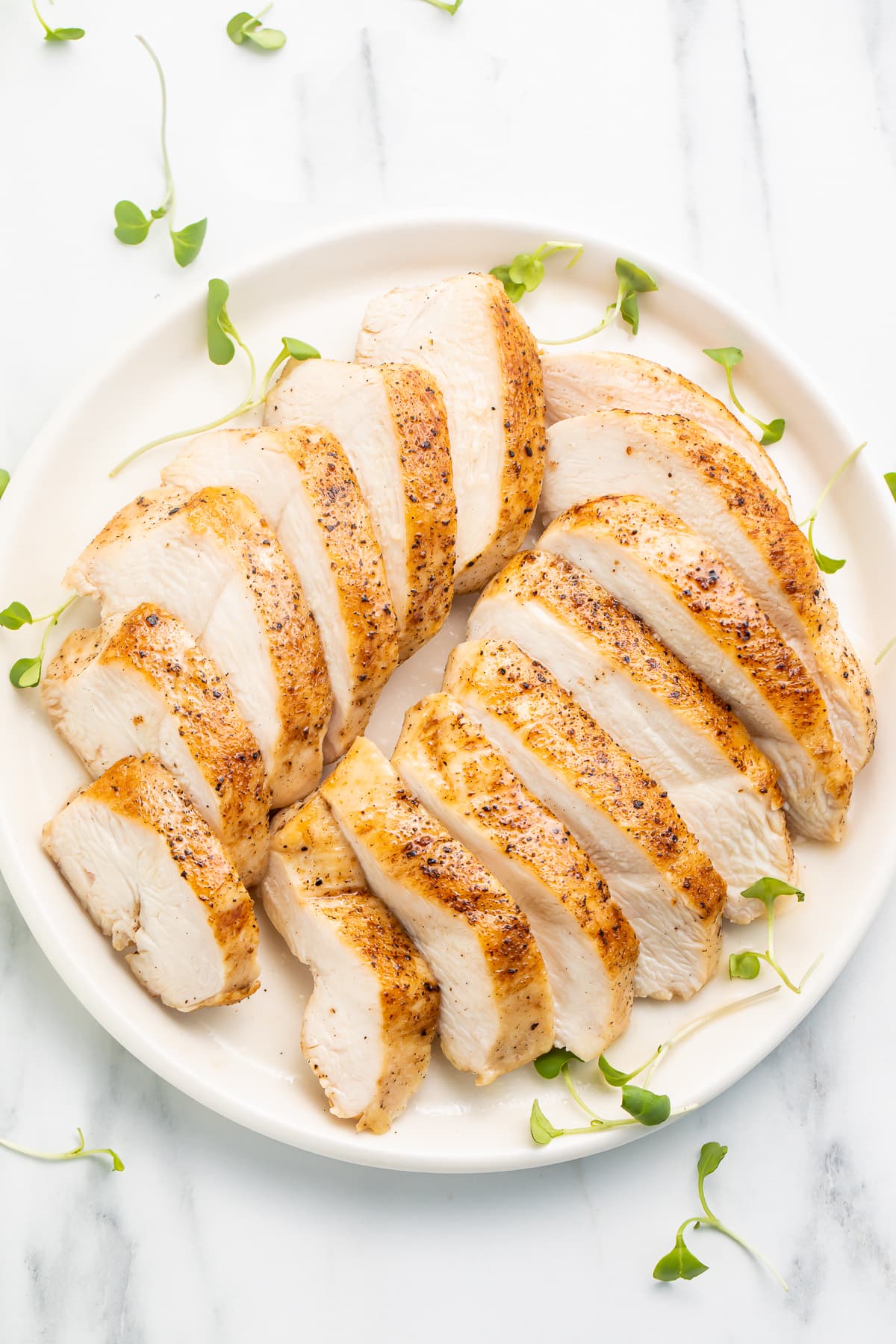 👩🏼‍🍳 Chef's Tips
As with any sous vide recipe, it's absolutely crucial that the food is fully submerged in the water bath for the entire cook time. If it's not completely submerged, it won't cook evenly, so you might end up with undercooked sections or spots that are tough or dry. Basically the exact opposite of what we want here. If your chicken breasts just will NOT stay underwater, you can weigh them down by adding pie weights to the bag, taping silverware to the outside of the bag, or by using sous vide weights specifically for this purpose.
You can actually sous vide chicken breasts ahead of time and finish them with a quick sear just before it's time to eat. To do that, fill a medium bowl with ice water, then transfer the bag of cooked chicken from the sous vide to the ice bath at the end of the cook time. Let the bag chill in the ice bath for 20 minutes or so. After that, refrigerate the chicken (still in the bag) until you're ready to sear them. Make sure to heat them through completely in the skillet or you'll end up with both hot and cold bites.
Do you have to finish off a sous vide chicken breast on the stovetop? Not technically, no. If you plan to use it in another recipe, like a shredded chicken salad or chicken tacos, you don't really need that crisp outer layer. If you're serving the chicken as-is, though, with just a side or two, I definitely recommend searing it first. There's no browning or caramelization (a.k.a. the Maillard reaction) with the sous vide process. Because of that, sous vide recipes are typically finished in a skillet with a bit of fat to go that extra mile.
🌡️ How Is This Chicken Safe to Eat?
While the general food-safe temperature for chicken breast is 165° Fahrenheit, that's actually an oversimplified standard.
What really matters is that pasteurization occurs, killing the salmonella bacteria – and that process depends on both temperature AND time.
165°F is the general guideline because at that temperature, pasteurization occurs instantly. Hit that number and boom, no more salmonella.
At 145°F, pasteurization takes around 9-10 minutes. That means the chicken has to reach 145°F all the way through and then be kept at that temperature for about 10 minutes. It takes a little while for the chicken breasts to reach 145°F, though, which is why this recipe has a minimum 1-hour cook time.
💬 Frequently Asked Questions
How long do you cook a chicken breast in a sous vide?
I prefer to cook the chicken for just an hour, to keep things quick and easy. In a water bath kept at 146.5° Fahrenheit, though, chicken breasts can be cooked up to 4 hours before the texture is negatively affected.
Is it safe to eat a sous vide chicken breast cooked at 146° Fahrenheit?
Yes – as long as the chicken is cooked at that temperature for a minimum of one hour.
Why is my sous vide chicken breast rubbery or mushy?
That typically means at least one of two things. Either your water bath temperature was too high, or you left the chicken in the water bath too long.
🥘 Other Easy & Delicious Recipes You'll Love
Sous Vide Chicken Breast
An easy and versatile sous vide recipe for perfectly cooked chicken breast that's juicy, tender, and super moist, every time you make it.
Ingredients
2

medium

boneless, skinless chicken breasts

approximately 6 ounces each

2

teaspoons

olive oil

salt

to taste

freshly cracked black pepper

to taste

2-4

sprigs

fresh herb(s) of choice

thyme, rosemary, dill, etc.

1-2

cloves

garlic

peeled, smashed

2

tablespoons

butter

or ghee, avocado oil, or refined coconut oil
Equipment
Large pot

or other large, heat-resistant container

Sous vide immersion circulator

Cutting board

or large plate

large food-safe vacuum sealing bag

or large sealable food-safe plastic bag

vacuum sealer

optional, see Notes for alternative

Large skillet

Tongs

Large plate

Paper towels
Instructions
Fill large pot or other large, heat-resistant container with water. Insert sous vide immersion circulator and set temperature to 146.5° Fahrenheit. Note: pot must be deep enough that water level falls between minimum and maximum indicators on circulator.

Place

2 medium boneless, skinless chicken breasts

on cutting board. Brush or rub

2 teaspoons olive oil

evenly over all sides of chicken breasts, then liberally season chicken with

salt

and

freshly cracked black pepper

on all sides.

Place chicken in large sealable food-safe bag. Add

2-4 sprigs fresh herb(s) of choice

and

1-2 cloves garlic

, then remove as much air as possible from bag using vacuum sealer or water displacement method (see Notes). Seal bag completely.

Once water bath is preheated to 146.5° Fahrenheit, place sealed bag in water bath. Make sure chicken breasts are fully submerged in water. If needed, use sous vide weights, silverware, or pie weights to keep chicken completely submerged.

Cook chicken breasts 1 hour. Toward end of 1-hour cook time, heat skillet over medium-high heat. When pan is warm, add

2 tablespoons butter

. Swirl and tilt pan to distribute butter across surface, letting butter melt completely.

While butter melts, remove bag from water bath. Transfer chicken breasts to large plate and pat chicken completely dry on all sides with paper towels.

Once butter begins to foam, place chicken breasts in skillet. Sear chicken 1 minute, then flip chicken over and sear 1 additional minute or until chicken is browned on both sides.

Plate seared chicken with desired sides and serve warm.
Notes
The chicken absolutely MUST be fully submerged in order to cook properly. Weigh the bag down as needed to keep the chicken underwater the entire hour.
Vacuum Sealer Alternative: If you don't have a vacuum sealer, you can use the water displacement method to push the air out of the bag instead. Place the chicken breasts in an appropriately-sized sealable food-safe bag and seal the bag halfway across the top. Slowly lower the half-sealed bag into the heated water. The temperature difference outside the bag will force the air out of the bag – you should see the plastic cling to the meat. Once the food is entirely submerged and the air is all out, seal the bag completely and continue with the recipe.
Make it Whole30/Paleo: Use ghee, avocado oil, or refined coconut oil instead of butter.
Alternate Seasoning Suggestions
Nutrition Information
Serving Size:
1
serving (1 chicken breast)
,
Calories:
333
kcal
,
Protein:
36
g
,
Fat:
20
g
,
Saturated Fat:
9
g
,
Trans Fat:
0.5
g
,
Cholesterol:
139
mg
,
Sodium:
288
mg
,
Potassium:
641
mg
,
Total Carbs:
1
g
,
Fiber:
0.1
g
,
Sugar:
0.03
g
,
Net Carbs:
1
g
,
Vitamin A:
407
IU
,
Vitamin C:
3
mg
,
Calcium:
17
mg
,
Iron:
1
mg
Number of total servings shown is approximate. Actual number of servings will depend on your preferred portion sizes.
Nutritional values shown are general guidelines and reflect information for 1 serving using the ingredients listed, not including any optional ingredients. Actual macros may vary slightly depending on specific brands and types of ingredients used.
To determine the weight of one serving, prepare the recipe as instructed. Weigh the finished recipe, then divide the weight of the finished recipe (not including the weight of the container the food is in) by the desired number of servings. Result will be the weight of one serving.