Vegan Lemon Ricotta Cheesecake with Blueberry White Wine Sauce

Posted: 03/19/14 Updated: 03/08/19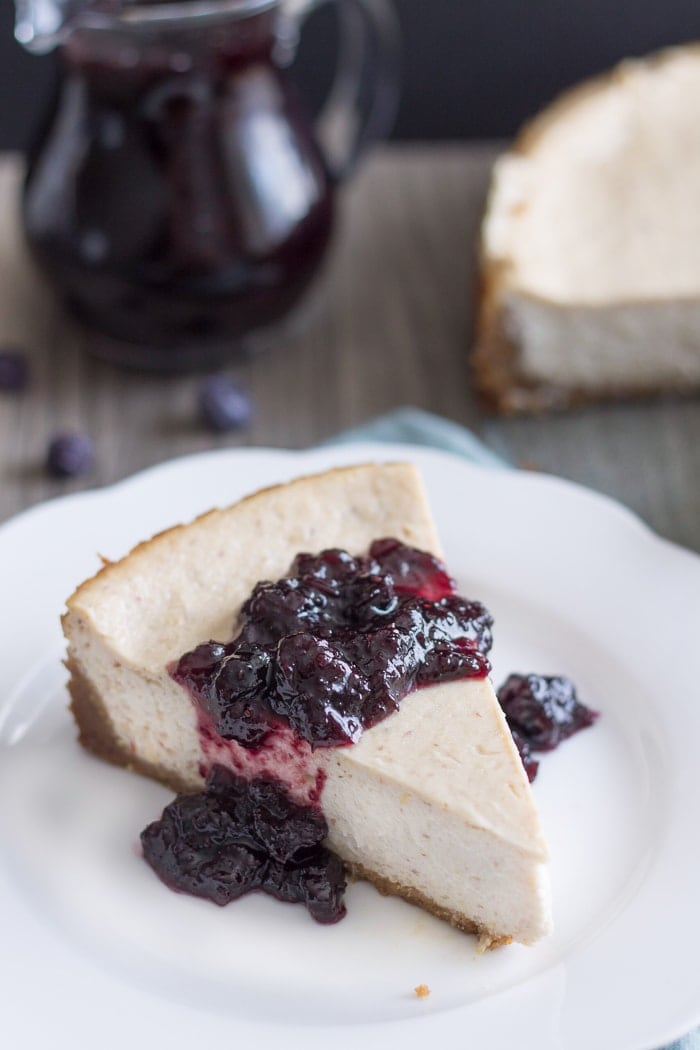 So… you've been just overloaded with all these recipes I've been posting lately, right? "Chill out with the Publish button, woman!" you say. "I haven't caught up from the last twenty!"
Yeah.. I know. I haven't been posting at all. Like hardly at all, but there's a reason for that, promise. No, I don't have some cookbook coming out, and I'm not perfecting my smeyes (smiling.. with your eyes, thanks Tyra) for my upcoming Food Network gig. No, I'm.. dun, dun, dun, tying the knot!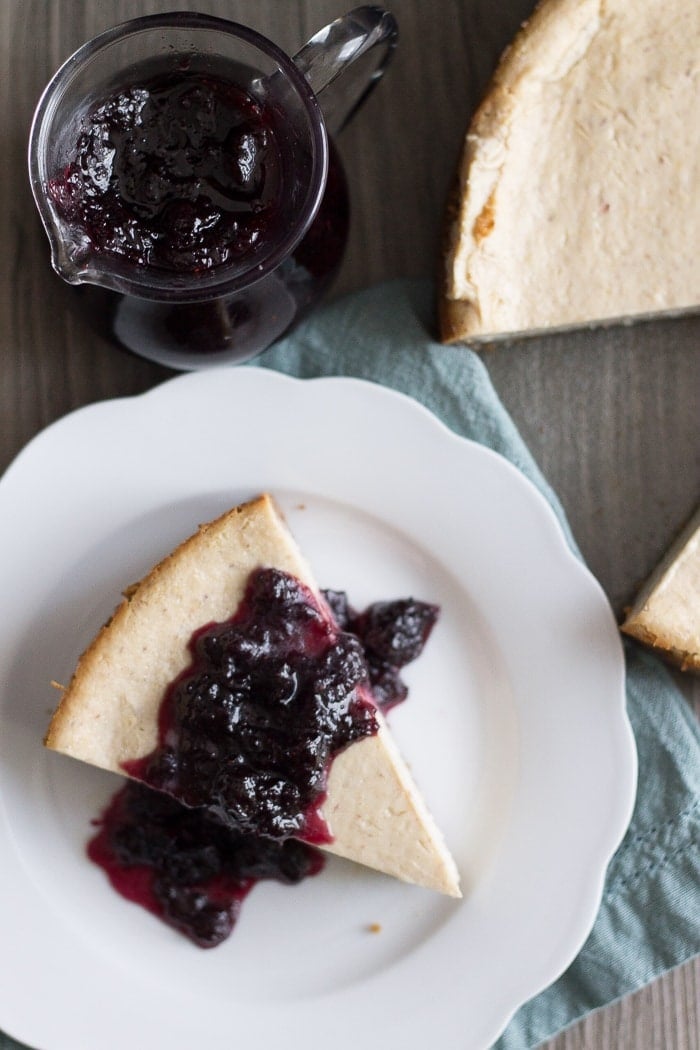 O and I are making it official in under 25 days now, and then following up the big day with a two-week honeymoon to Europe. Poor me, right? Except, because I don't have a straight job (an office job, that is), I'm working doubletime this month to take care of my clients while I'm gone, and the crazed week of the wedding. The first thing on my mind is the four hundred things I have to do just to make this wedding happen without, I don't know, losing all of my clients, and the last thing on my mind is.. making dinner at 10:00 a.m. so I can get really great natural light.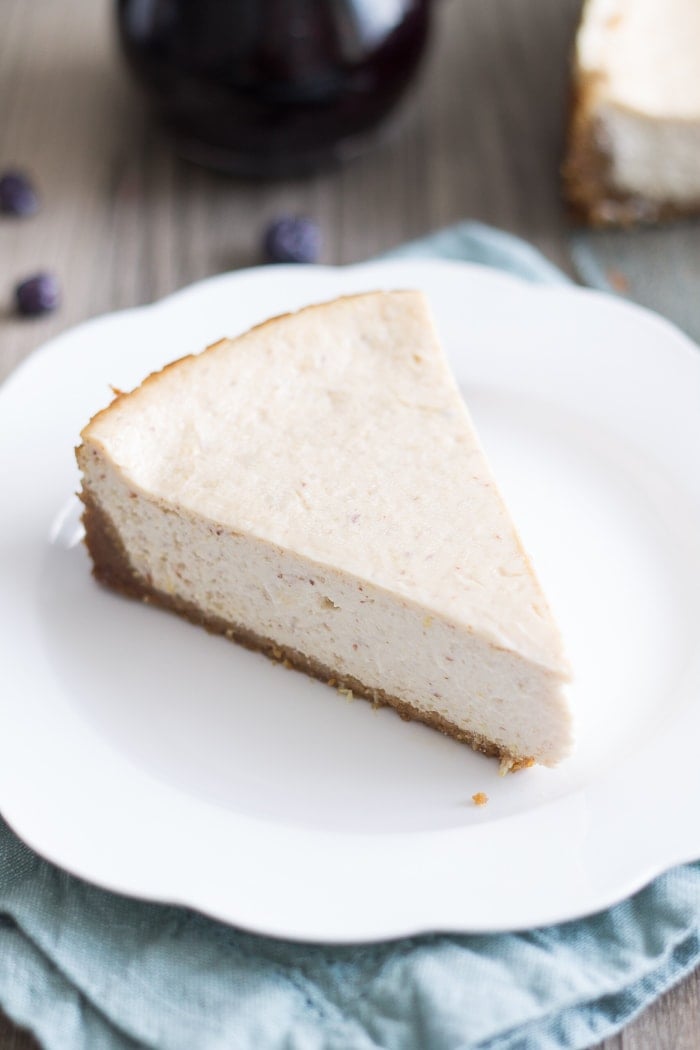 So, don't lose hope. Bear with me. To ease the pain, I've brought you something super special.. my official work for Tofutti! Tofutti and I got connected several months back when I linked them as my go-to vegan dairy replacement in my vegan red velvet cupcakes recipe. I published a guest blog for them when I made these gorgeous vegan peppermint-swirl chocolate cupcakes for the holidays, and you might notice a Tofutti ad at the top(ish) of my sidebar. But now it's even cooler. I wrote an official recipe for Tofutti and couldn't be more pleased with it.
I don't think there's any way in this world you'd know this cheesecake is vegan, it's that good. The ricotta gives it this fabulous texture, making it a bit lighter than a super dense New York-style cheesecake. The lemon adds a brightness that's to-die-for, and the blueberry white wine sauce will change your life.
Change. Your. Life.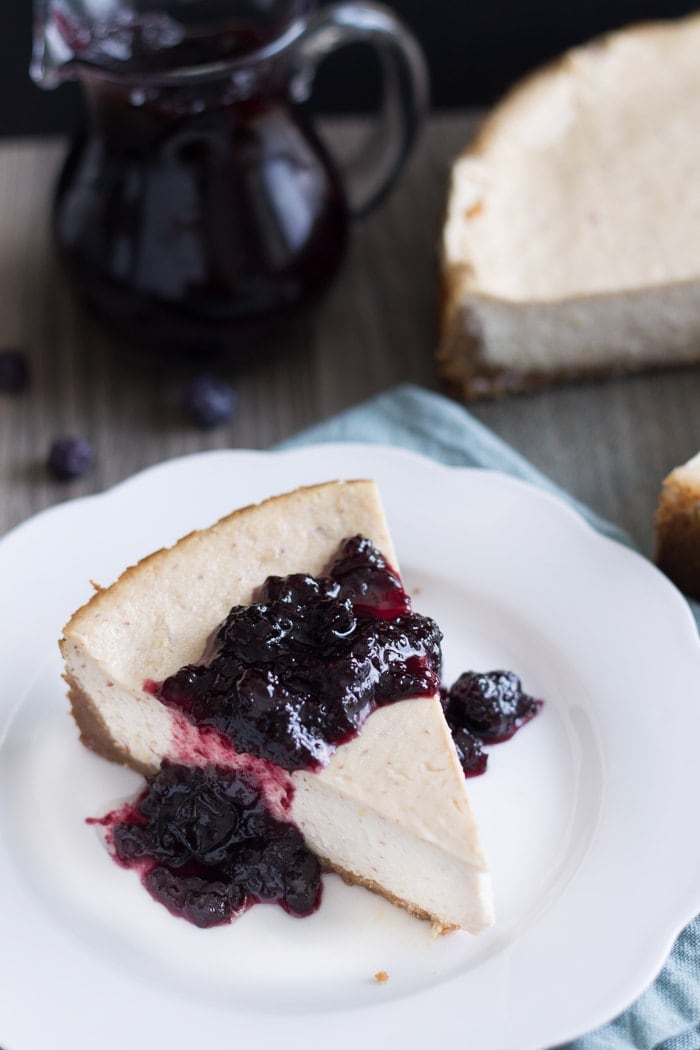 Pretty extreme claims, but I feel confident I can back them up. I mean what do you think happens when you reduce fresh blueberries, a super generous helping of white wine, a bit of coconut oil and agave, and some lemon zest? Magic is what happens. Magic. Spooned over the lemon ricotta cheesecake, and I just might call off the wedding.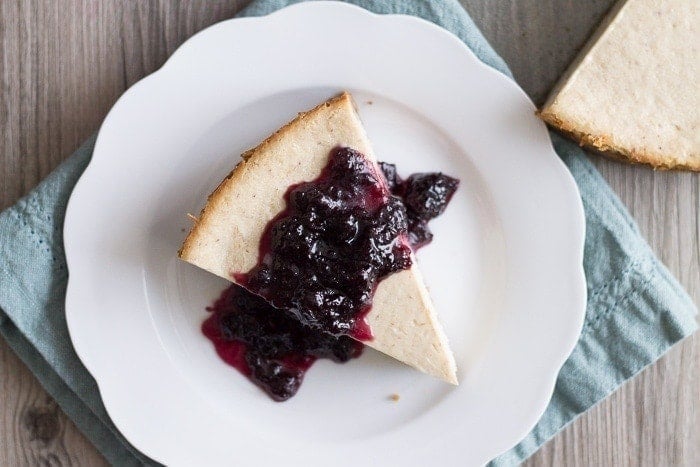 So I can marry the cheesecake. That's where you thought I was going, right?
If I'm not making sense, please ignore. Pre-wedding loopiness, I blame you.
I'm injecting the final photos from the cheesecake shoot for your food porn needs, and make sure you check out the recipe on the Tofutti page!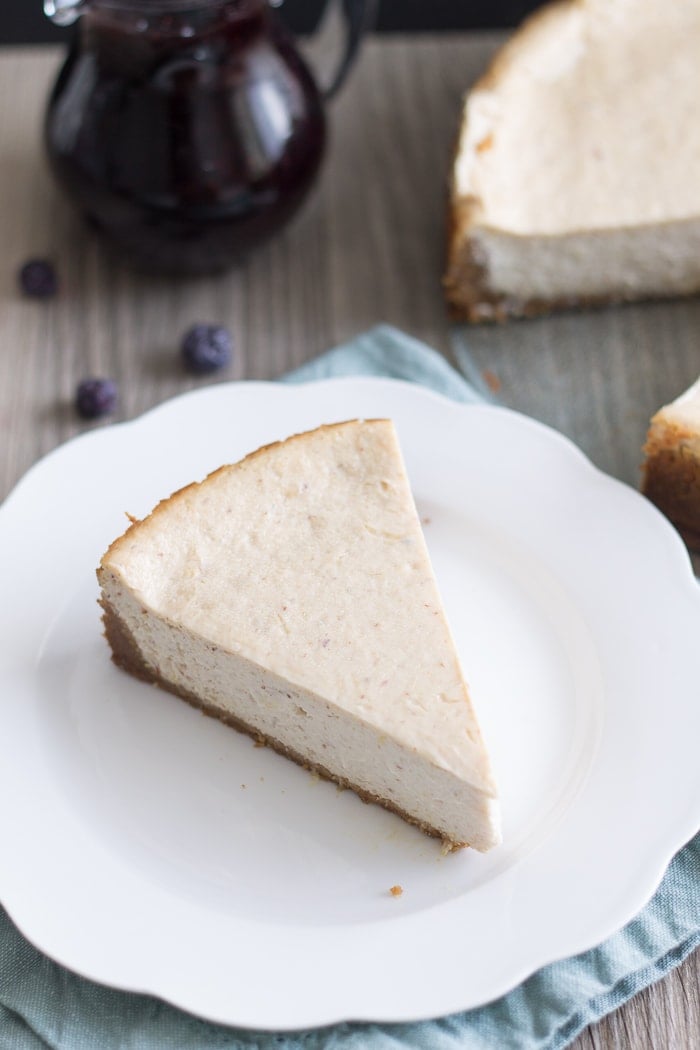 Make this. Puh-leeeease. Validate my wedding insanity.
Check out the Vegan Lemon Ricotta Cheesecake with Blueberry White Wine Sauce here!