Skinny Chimichurri

Posted: 01/15/14 Updated: 05/15/22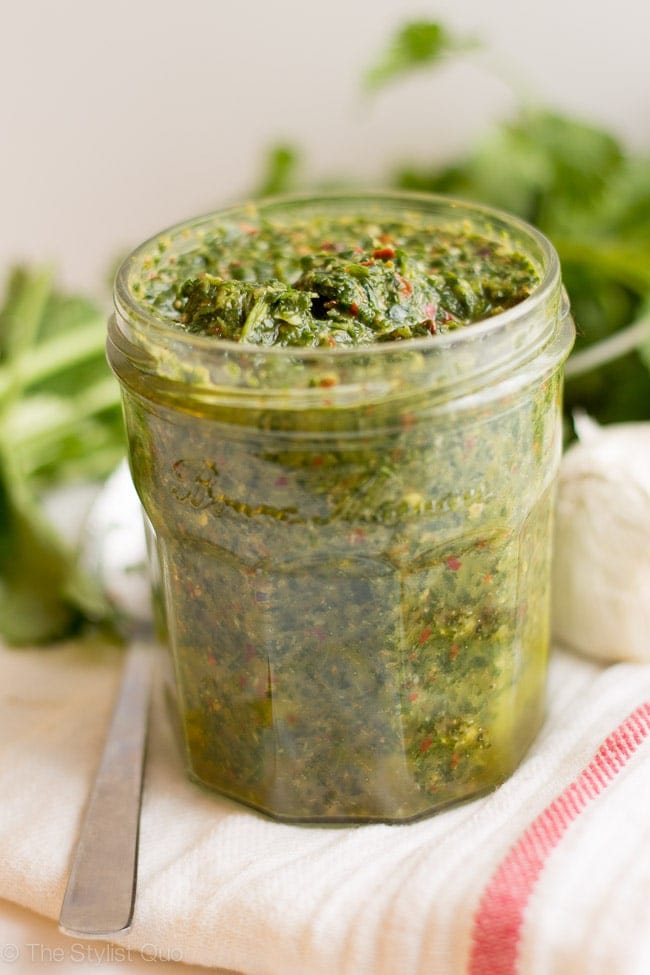 What Inspired This Recipe?
A few months ago, I proclaimed my undying love for chimichurri with a fervor typically relegated to hairsprayed televangelists. What I don't love, however, is the feeling of glee my fat cells get when they watch me pour one full cup of vegetable oil (conveniently also the best oil for you! Ha! Haha.. ha…) into the blender as I whiz together a batch of the herbaceous, spicy sauce. Argentinian ketchup, they call it, but I don't like ketchup, so that doesn't make sense. Argentinian magic-sauce is what they should call it, but I don't know if that'll catch on; it sounds like too much of it might cause hallucinations or "overall feelings of contentment" and is only legal in Colorado and California.
Where was I going with this? Oh, right.
My fat cells jump for joy when I break out the megabottle of vegetable oil to make my original chimichurri.
"The more the merrier!" they squeal, elated. "But even more birthdays to remember…" Their brows begin to furrow as even they question this decision.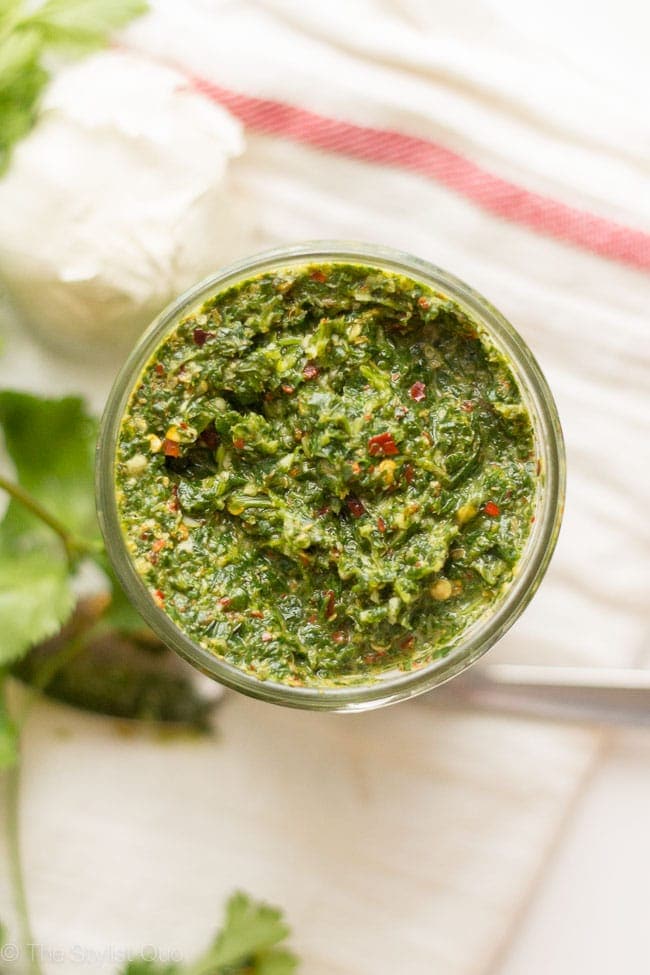 Why You'll Love It
Thanks to a recent health kick (a.k.a. nutrition documentary marathons on Netflix and a library full of vegan and vegetarian reads on Scribd), I've endeavored to remove a fair amount of oil from my cooking, so I gave the love of my life (the sauce version, that is! O, you're safe) a makeover. Less oil, more herbs–freaking tons of flavor; way, way less fat; and far fewer calories.
In the original recipe: 1991 calories (A good year–my fourth birthday party: Peppermint Kitty-themed, floral jumpsuit with a lace collar, tantrum over not getting to take as many turns at pin-the-nose-on-the-whatever-it-was as I wanted. Wasn't it my birthday?! Hrmph; not as good a number in terms of calories, though there's at least 16-32 servings in a batch, depending on how much you like Argentinian magic-sauce)
In the entire batch of this skinny chimichurri:322 calories (coincidentally my birthday, though it's probably fairer to call "the week of March 22nd" my birthday. Amiright, ma?)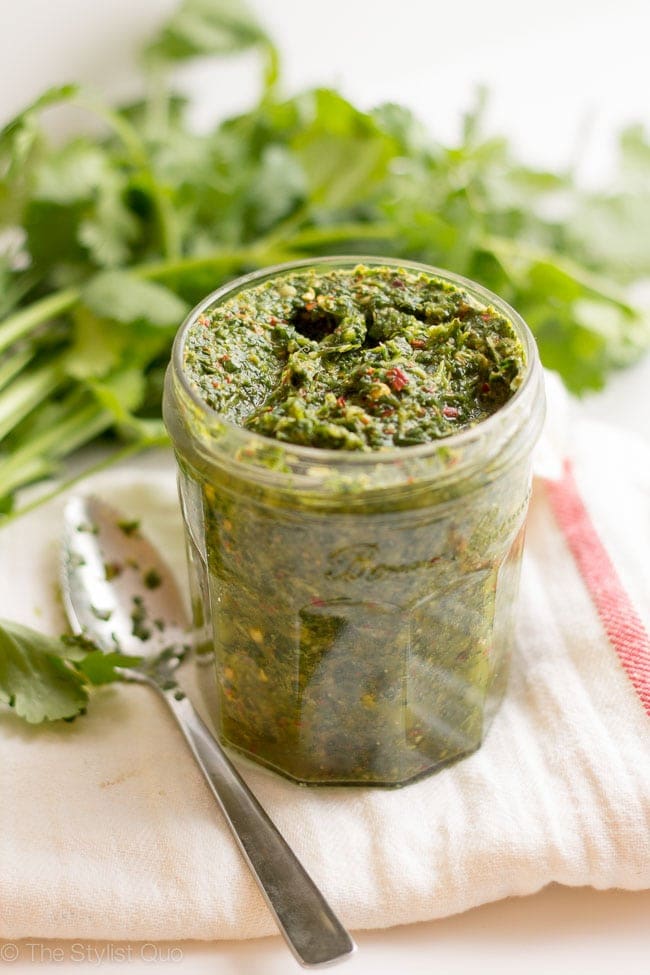 You COULD leave out the olive oil altogether, but I think it plays an important role in making the sauce, well, a sauce.
It's perfect for marinating and absolutely delightful smothering, well, just about anything (word still out on cold cereal). Atop a perfectly grilled or seared flank steak salad? I die. Skinny. I'll die over that, but I'll be skinny.
Go on and make this already, so I can stop rambling!
Skinny Chimichurri
yields about 2 cups. total time: 5 minutes
Ingredients
4 cloves garlic, peeled and roughly chopped
1 cup cilantro
1 cup parsley
1/4 cup lemon juice
2 tablespoons olive oil
3/4 cup vegetable broth (or chicken broth)
1 tablespoon oregano
1 tablespoon red pepper flakes
salt, to taste (we use about 1/2 tablespoon)
Directions
Blend all ingredients (except the salt) until smooth. Season with salt to taste. Refrigerate to allow the flavors to meld.