Immune System Booster Shot Recipe (Maximum Strength!)

Posted: 09/20/19 Updated: 10/15/22
This immune booster shot recipe has everything you need to support that immune system! With everything from garlic, ginger, lemon, and orange juice, to apple cider vinegar, honey, and turmeric, it's jam-packed with immune boosting, good-for-you ingredients.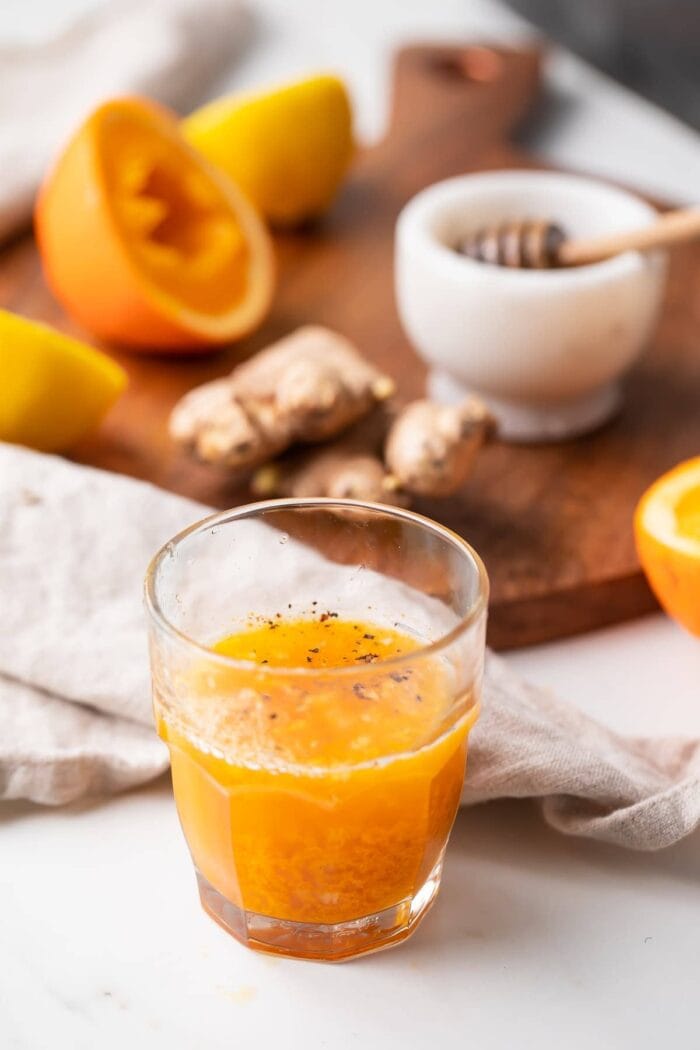 Why This Recipe Is So Good!
It's packed full of good-for-you ingredients that have been shown to provide a variety of health benefits. Am I claiming it's a miracle cure for whatever ails you? Of course not! But there is some research and logic behind this combo of spices and liquids.
Ever had fire cider? Well, this immunity shot is like that… only it's way easier to drink. No onions, no horseradish, and you don't have to soak the ingredients in ACV for days or weeks ahead of time. Honestly, this one is really pretty tasty!
Other than the orange and the lemon, you can keep all the ingredients for an immune booster shot on hand in your pantry or fridge, meaning you're well prepared whenever you start to sniffle or feel that tingle in the back of your throat. Even if you don't have the ingredients handy, though, you shouldn't have to go out of your way to track anything down. Everything is most likely available at your local grocery store!
What's In an Immune System Booster?
Don't let the ingredients scare you away. I promise, this elixir is ridiculously delicious! Naturally sweet with a little zing for an at-home remedy that you'll actually look forward to drinking.
Honey. Rich in antioxidants and often used to soothe sore throats. It adds a natural sweetness to the drink.
Lemon Juice. Very high in vitamin C and can help to support heart and digestive health.
Orange Juice. Naturally high in vitamin C, folate, and potassium, as well as being a great source of antioxidants.
Garlic. Known to boost the function of the immune system, and in studies it has been shown to reduce the symptoms of a common cold.
Ginger. Has a very long history of use in traditional and alternative medicine. Is commonly used to help digestion, reduce nausea, and help fight the common cold and other illnesses. It also gives the immune booster shot a little zing.
Cayenne. Contains capsaicin which is known to have a number of health benefits. It's said to help boost metabolism and lower blood pressure.
Turmeric. A great anti-inflammatory and antioxidant.
Black Pepper. Just a pinch, used to activate the curcumin in the turmeric.
Apple Cider Vinegar. Can kill harmful bacteria, keep your digestive system on track, and support your immune system. It's important that you use an organic, raw, unfiltered ACV that contains "the mother", which is made up of strains of proteins, enzymes, and good bacteria (a.k.a. probiotics!).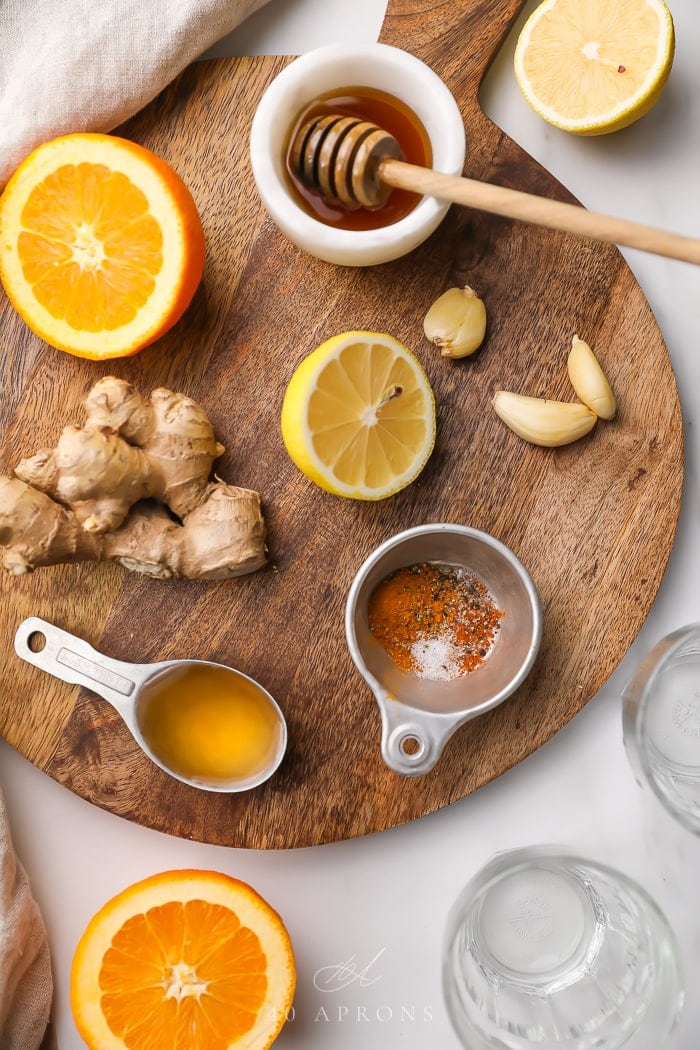 Chef's Tips
Make sure all of your ingredients are fresh, especially the spices! Avoid bottled orange juices, since they're highly processed and full of added ingredients. Use raw ACV rather than filtered, and fresh garlic and ginger rather than jarred, dried, or paste.
Let the garlic rest a little. Cutting garlic cloves releases enzymes that form antioxidants and healthy compounds like allicin. Just cutting it isn't enough, though – those enzymes need to react to oxygen in order to form those compounds, and the longer you can let the cut garlic sit and oxidize, the stronger those compounds will be. That's true whether you're making an immune system booster or just cooking dinner as usual, so let your garlic rest for extra benefits each and every time you use it!
Can I Make This Recipe Ahead of Time?
Technically, yes! The ingredients are most potent when they're fresh, so it's best to consume the mixture immediately for maximum immune boosting benefits. That being said, you can make it ahead of time if you need to. Simply prepare the mixture exactly as written, then refrigerate it in an airtight container until you're ready to drink it. Consume the refrigerated immunity shot within 2 days of preparing it!
Does This Immunity Shot Really Work?
Look, I'm not a doctor, and I don't pretend to play one on the internet. I won't make you any promises that this immune booster shot will rid you of a fever or eliminate your sinus issues or anything like that.
What I can tell you, though, is this: whenever I start to feel like I'm coming down with that infamous crud, I down one of these bad boys and get a little rest. Sure enough, every time I've done it, I've never gotten fully sick. When I haven't done it? UGH. So, I'll let you decide for yourself if it "works" for you or not. For me, I figure there's no harm in consuming any of the ingredients (for me personally at least), so why not take all the precautions I can?
Please note that we are not medical professionals, and the information contained on this blog should not be used to diagnose, treat, or prevent any disease or illness. Please consult with a qualified healthcare professional before acting on any information presented here.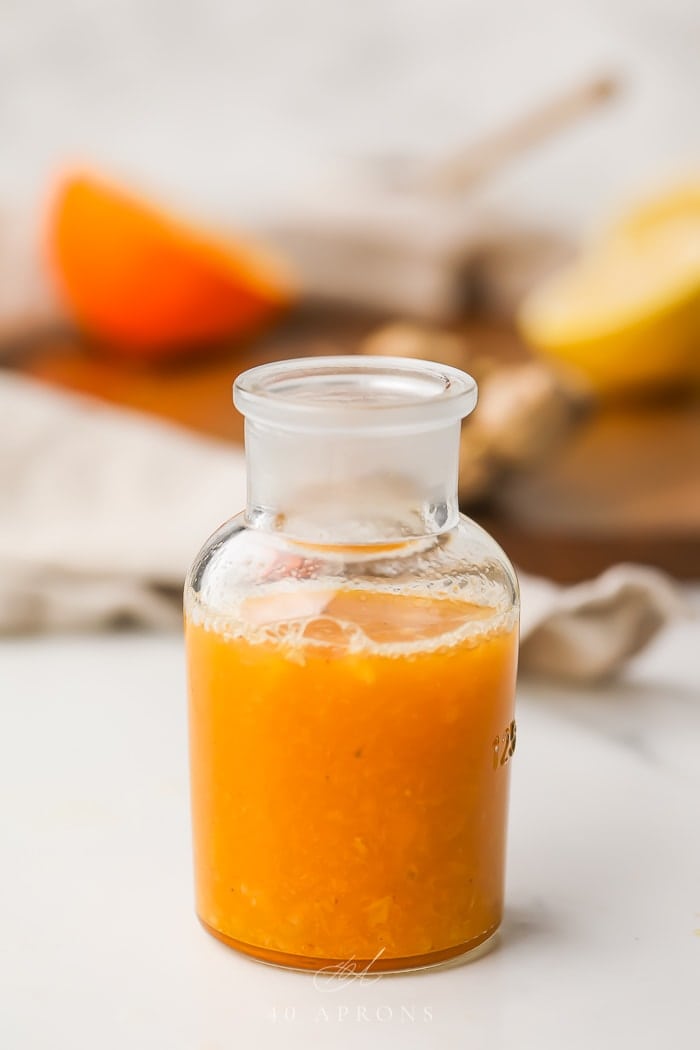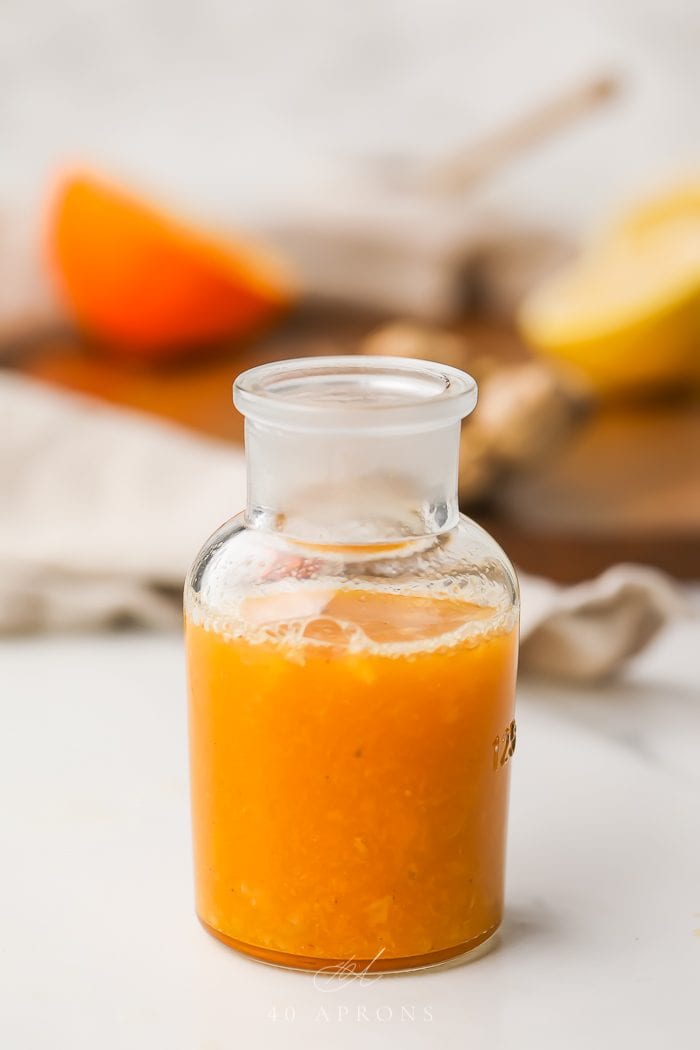 More On Health & Wellness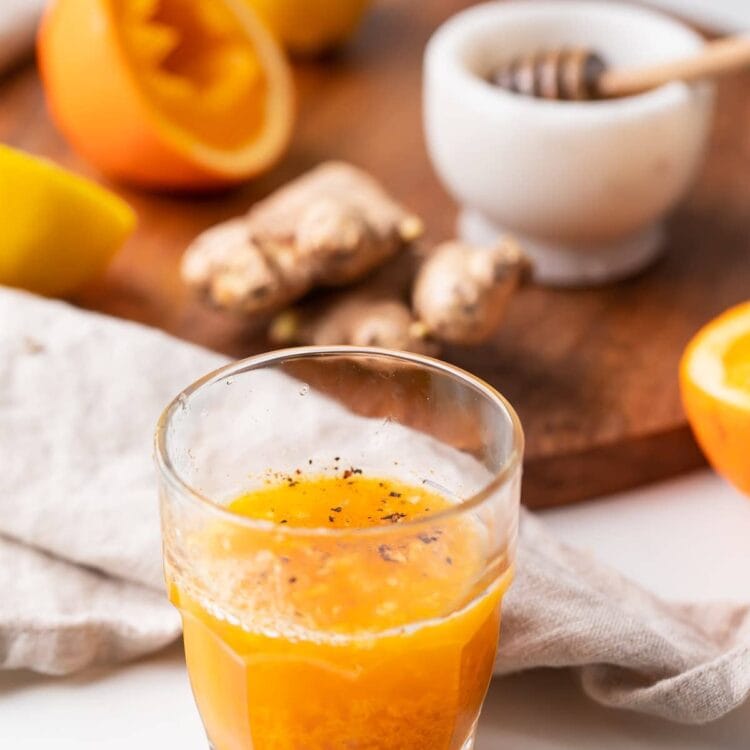 Immune Booster Shot Recipe (Maximum Strength!)
Made with all natural ingredients, this immune booster shot has everything you need to stave off sickness this cold & flu season.
Ingredients
1-2

cloves

garlic

1

tablespoon

honey

¼

teaspoon

turmeric

1

tablespoon

hot water

2-3

tablespoons

freshly-squeezed lemon juice

juice of 1 medium lemon

4-5

tablespoons

freshly-squeezed orange juice

juice of 1 medium navel orange

1

dash

cinnamon

1

dash

cayenne pepper

1

dash

sea salt

1

pinch

freshly ground black pepper

1

tablespoon

organic, unfiltered apple cider vinegar

see Notes

1

teaspoon

grated fresh ginger
Equipment
garlic press or sharp knife; press preferred

Small bowl

juicer optional

glass or cup

Whisk

cheese grate
Instructions
Press garlic cloves through garlic press and into small bowl. Set aside 10 minutes (see Notes). Alternately, finely mince and mash garlic cloves with knife, then set aside.

Once garlic has rested close to 10 minutes, add 1 tablespoon honey, 1 tablespoon hot water, and ¼ teaspoon turmeric to glass or cup. Whisk until ingredients are fully combined.

Add fresh lemon juice, fresh orange juice, cinnamon, cayenne pepper, sea salt, and black pepper to glass with honey. Whisk until ingredients are fully incorporated.

Add apple cider vinegar, ginger, and garlic to glass. Whisk until ingredients are fully incorporated. Consume mixture immediately for maximum benefits.
Notes
Apple Cider Vinegar: Use a raw, unfiltered apple cider vinegar that includes the mother. Pasteurized apple cider vinegar won't have the same health benefits since it doesn't contain the mother.
Garlic:  Pressed or crushed garlic releases enzymes that react with oxygen, triggering the formation of healthy compounds. The longer it sits in open air, the more time the enzymes have to form these compounds. Before making your immune booster shot, let the cut garlic oxidize 10-15 minutes, for maximum health benefits.
Make Ahead: For maximum benefits, this booster shot should be consumed immediately after making. It can be made ahead of time, though, if needed. Simply prepare the mixture as written, then refrigerate it in an airtight container. Consume within 2 days of making.
Nutrition Information
Serving Size:
1
serving
,
Calories:
127
kcal
,
Protein:
1
g
,
Fat:
0.4
g
,
Saturated Fat:
0.1
g
,
Sodium:
43
mg
,
Potassium:
280
mg
,
Total Carbs:
33
g
,
Fiber:
1
g
,
Sugar:
26
g
,
Net Carbs:
32
g
,
Vitamin A:
218
IU
,
Vitamin C:
62
mg
,
Calcium:
36
mg
,
Iron:
1
mg
Number of total servings shown is approximate. Actual number of servings will depend on your preferred portion sizes.
Nutritional values shown are general guidelines and reflect information for 1 serving using the ingredients listed, not including any optional ingredients. Actual macros may vary slightly depending on specific brands and types of ingredients used.
To determine the weight of one serving, prepare the recipe as instructed. Weigh the finished recipe, then divide the weight of the finished recipe (not including the weight of the container the food is in) by the desired number of servings. Result will be the weight of one serving.