Medicinal Mushrooms for Anxiety
Posted: 12/03/19 Updated: 03/01/22
Looking for a healthier way to naturally relieve anxiety? Did you know that medicinal mushrooms have powerful health benefits for easing anxiety and stress? Learn which ones are most effective and where to get them!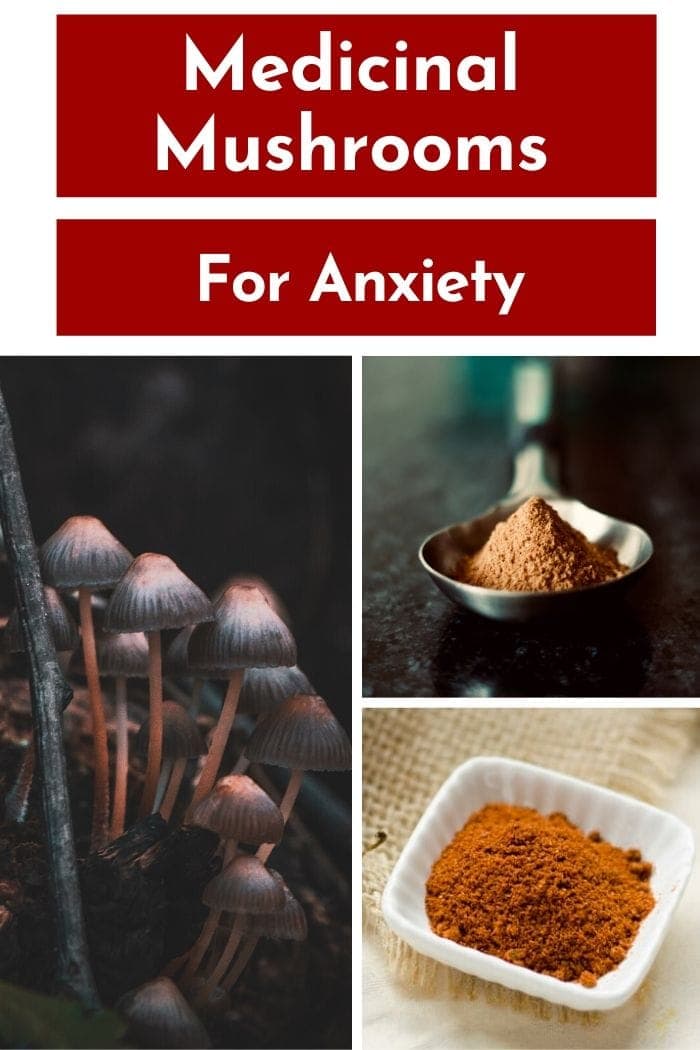 Why Medicinal Mushrooms Are the New Natural Remedy for Anxiety!
Let's talk about Medicinal mushrooms – still a fairly new topic. While most instantly think of "magic mushrooms" when hearing about medicinal mushrooms, these adaptogens are having a comeback as the next big superfood.
Now that celebrities like Kim Kardashian and Gwyneth Paltrow risk the Instagramability of their green smoothies by mixing in some brown shroom powder, we ask ourselves whether we should all jump on the 'shroom bandwagon?
Research suggests a self-treatment using adaptogens for anxiety, such as medicinal mushrooms, might be a good idea for all of us suffering from stress, anxiety, and mild depression — the most common diseases of the 21st century!
These illnesses are basically the fallout our bodies feel on a nervous level when we push ourselves too hard. Which we all do (read my blog post on self-care NOW). That, or when we experience something traumatizing and devastating.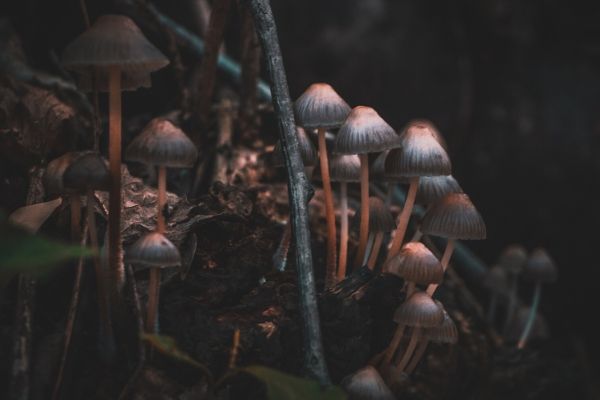 What are Medicinal Mushrooms?
While medicinal mushrooms may be new to the wellness world and to you, these superfoods have actually been used since the time of the Ancient Egyptians and Chinese for their numerous health benefits.
Mushrooms are great for immune health and also helping the body adapt to stress. Not only that, they are rich in protein, full of antioxidants and have antibacterial and antiviral properties.
Translation: they are mega good for you.
Stellar for helping your body build up a strong natural resistance against various diseases and viruses.
Mushrooms, how come you're so brilliant? Well, evolutionarily, fungi are more closely related to humans than they are to plants. This is why the components that help them to defend themselves against enemies can also support our body's defense measures.
Each medicinal mushroom species has its own specific health benefits based on their own unique blend of polysaccharides which aids our bodies in different ways.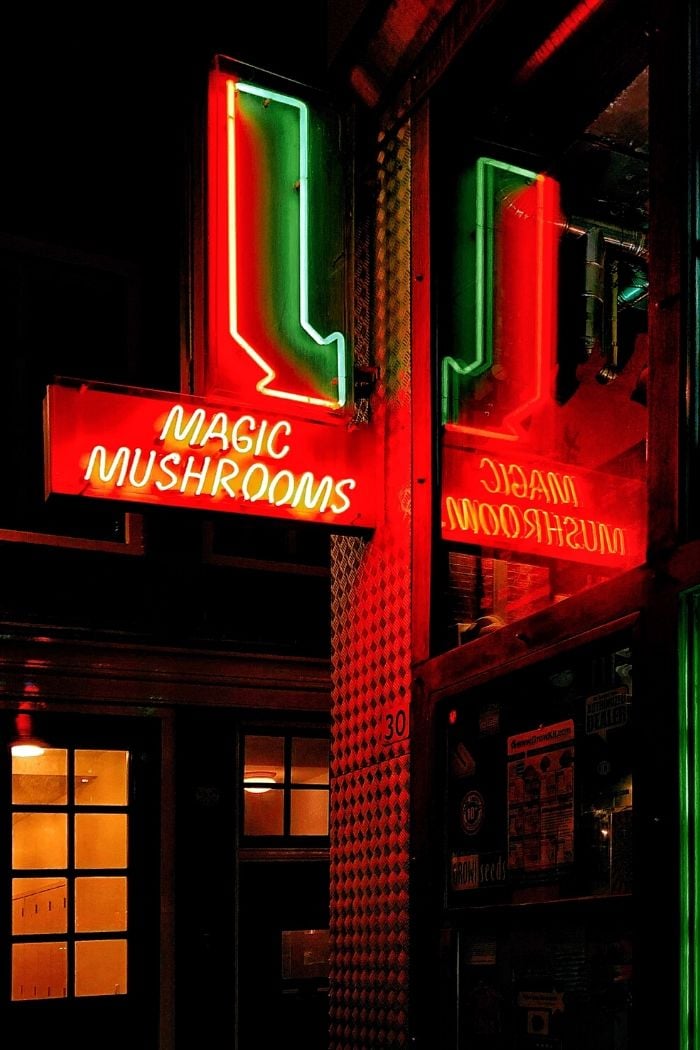 What's the Difference Between Medicinal Mushrooms and Magic Mushrooms?
I hate to be the spoilsport here, but when we say medicinal mushrooms, we don't mean magic mushrooms!
The medicinal mushrooms won't get you high – it's only psilocybin mushrooms that possess psychedelic properties, not these superfood 'shrooms you'll find in in health food stores.
3 Medicinal Mushrooms to Ease Anxiety
Here are the 3 best medicinal mushrooms that will each offer their own unique healing properties to help your body combat anxiety.
Reishi
Reishi mushroom powder helps the body to cope and adapt to the challenges it may be facing. And what bigger challenge than getting yourself out of a full-blown anxiety attack.
Reishi brings the body and it's systems back into balance. This mushroom powder is considered to be soothing and relaxing, aiding us to unwind and supporting deeper restful sleep which can be hard to achieve for those suffering from anxiety.
An excellent choice for calming the racing mind and easing anxiety. By promoting sleep, grounding and centering us this medicinal mushroom is also helps foster greater resilience to stress over time.
We love Reishi so much that we dedicated a whole blog post to this magic shroom! Head over to All about Reishi for more info!
Reishi is not an edible mushroom and must be processed to extract the medicinal actives within. When purchasing a reishi product, we recommend making sure it is coming from a clean source. These medicinal mushrooms may seem like a bit of an investment up front, but you take a little bit each day so they last a long time.
Recommended Product:
Reishi Mushroom Powder can be brewed as a tea or mixed into coffee and shakes. And how delicious does this recipe for Reishi Latte sound? The possibilities are endless. For those who are sensitive to bitterness, we recommend adding it to broths and soups to mask its naturally bitter taste.
We enjoy Anthony's Red Reishi Mushroom Powder as it dissolves super easily, tastes better and is way less gritty than other powders we have tried. And, yes: it's USDA organic certified, gluten-free and most importantly batch-tested.
Lion's Mane
Meet Lion's mane (aka) your brain fog's worst enemy! It is a medicinal edible mushroom that has been part of traditional Chinese medicine for millennia, so it has some serious street credit.
It is a marvelously beautiful white mushroom that looks a lot like a funky cotton ball or a mophead – but with a similar flavor to a lobster, as opposed to, well mophead! That's good news!
If you've been feeling "out of it" Lion's mane is your new BFF. It alleviates mood disorders by reducing brain inflammation which has been linked to mental illness in recent research.
Reduced inflammation improves blood flow, which provides your brain with more oxygen. More oxygen in your brain means better brain performance, period. More focus + less anxiety? Hit me up!
No human studies have examined the side effects of Lions Mane mushroom or its extract but Lions Mane is considered to be safe. No adverse reactions have been found even at high doses over a three month period.
Recommended Products:
Our current go-to morning beverage is this Four Sigmatic Mushroom Coffee with Lion's Mane and Chaga. We feel it supports productivity, focus, and creativity making it perfect to kickstart our morning and power through our workday at the office.
Cordyceps
Anxiety drives our sympathetic nervous system into overdrive. It not only raises our heart rate and blood pressure, but also increases muscle tension, and releases toxins into our system that can cause inflammation. All of this can make you feel drained and tired.
Cordyceps helps people struggling with fatigue by improving energy levels and physical endurance naturally – without the post-coffee crash.
How? It increases the production of ATP (Adenosine Triphosphate) to deliver energy to muscles and improve oxygen utilization during physical activities. Try it in the morning for a more sustainable energy boost.
As an added bonus, it fights off various age-related health declines such as poor memory and low libido.
Recommended Products:
These organic cordyceps mushroom capsules are perfect for those who do not like the distinct flavor of mushrooms. Simply take two capsules once or twice a day depending on your condition
All in One: Recommended Blends:
This supplement by Genius Mushrooms comes highly recommended for social anxiety and OCD and trusting the reviews, this 3-shroom blend seems to have definitely calmed these issues down and helped me work through them.
Further Reading:
Reishi – the Mushroom of Immortality
20 Self Care Ideas for a Happy Healthy You