35 Whole30 Meal Prep Recipes

Posted: 02/01/18 Updated: 02/02/23
These Whole30 meal prep recipes will make your Whole30 lunches and Whole30 breakfasts SO much easier. Instead of having no idea what to do for lunch, these Whole30 meal prep recipes will leave you stoked about your next meal!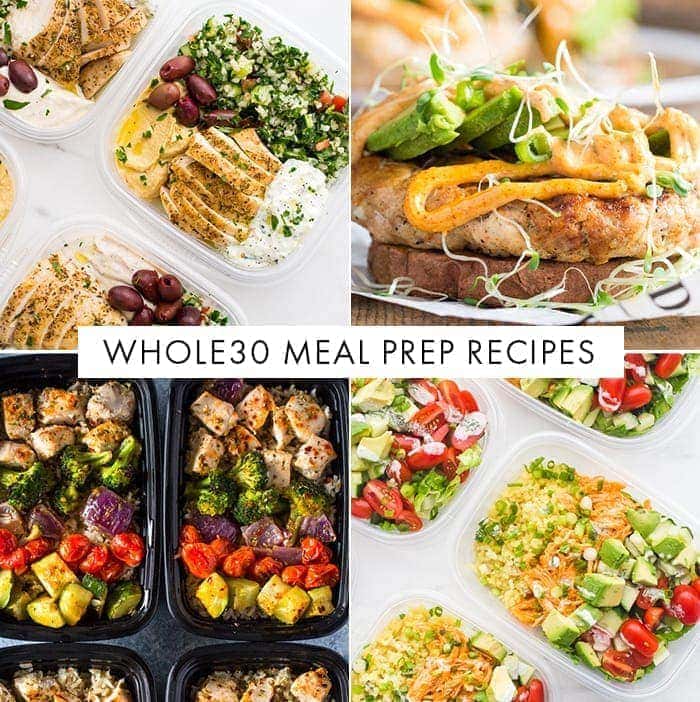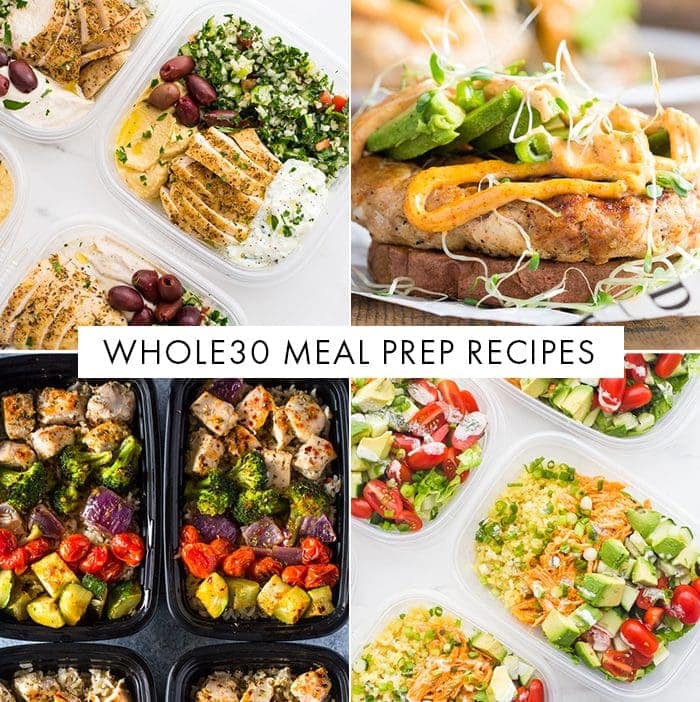 On a Whole30, meal prepping is unavoidable. Unless your job is to sit around all day, day after day, and whip up brand new recipes from scratch every time you get the least bit hungry, you've got to prep if you're going to succeed.
Like the adage I see passed around the Whole30 community regularly, "If you fail to plan, you plan to fail."
Clever… but damn true, too.
The reality is, though, that it's really pretty easy to meal prep for a Whole30, especially for breakfast and lunch. Make a big batch of something, portion it out, and boom, you're ready for the week. When it's time to head to work in the morning, just open the fridge, grab a couple containers, and you're set.
And in my family, we refuse to settle for boring meal prep. There's no way we'd make it eating one-pan chicken and veggies every week – nope. We go big with buffalo chicken ranch meal prep and my healthy Greek meal prep, or my Whole30 sweet potato apple breakfast bake or hashbrown casserole. No one is suffering here, y'all. Not a soul.
That's why I've rounded up my 35 favorite Whole30 meal prep recipes, to help you plan to succeed rather than eat the nearest office donut. Right? From one-pan meals to heavenly, flavorful meal prep ideas, this is the only list of Whole30 meal prep recipes you need.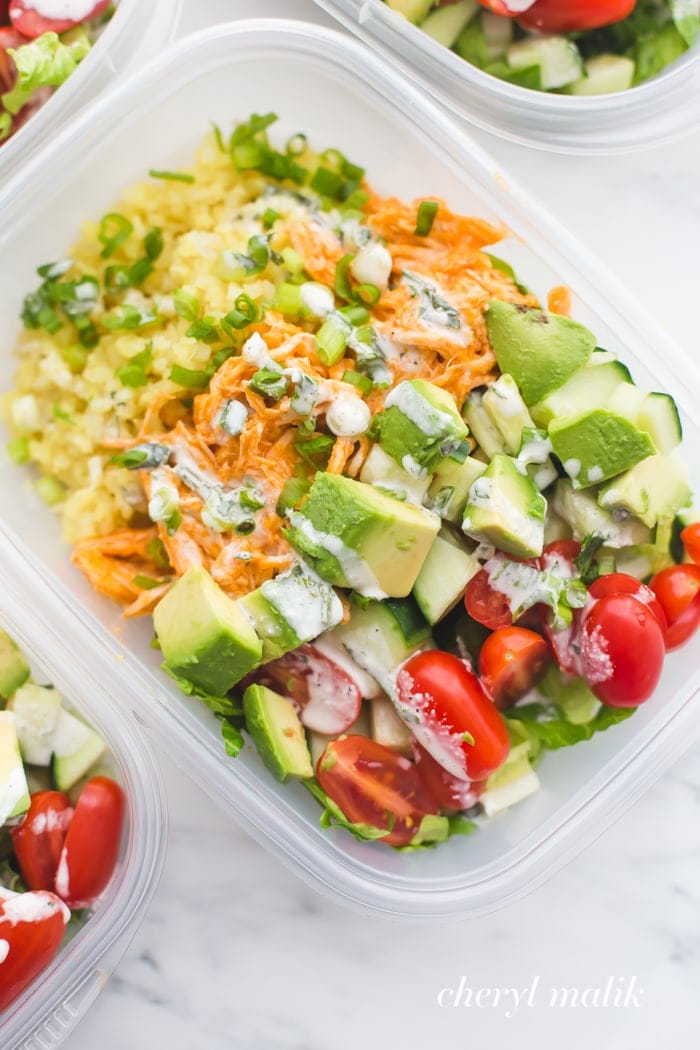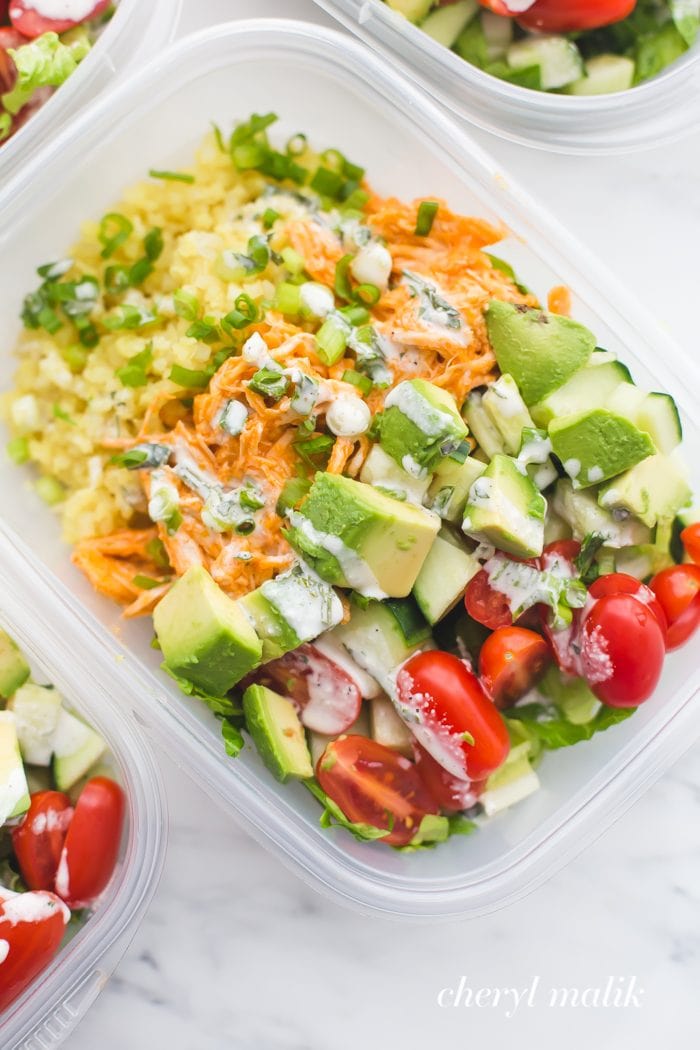 Buffalo Chicken Ranch Whole30 Meal Prep from 40 Aprons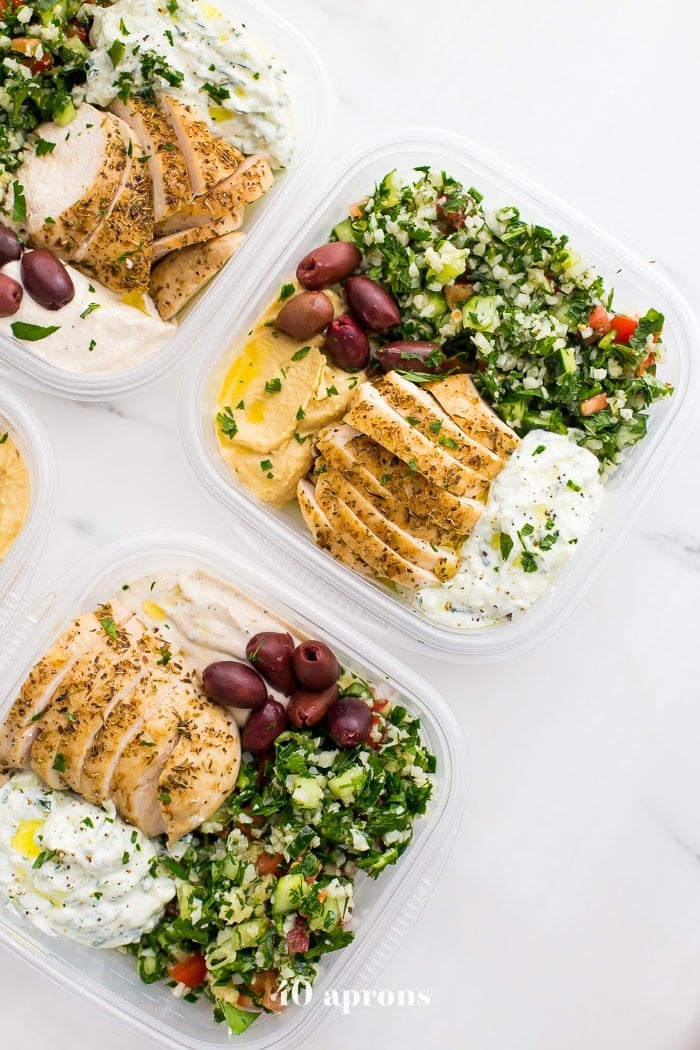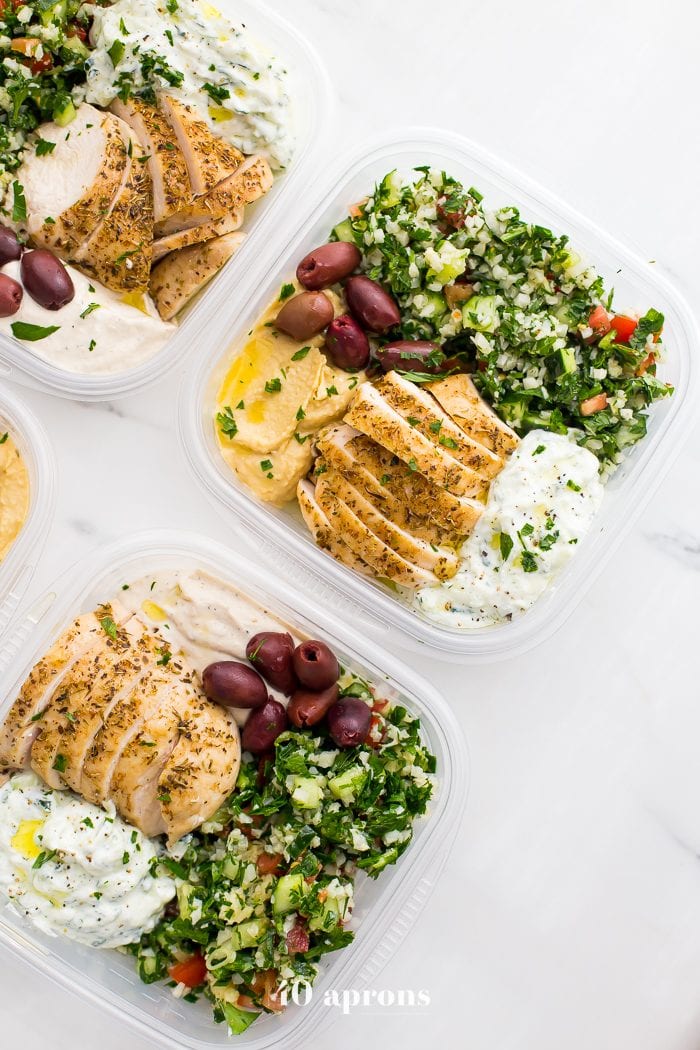 Greek Healthy Meal Prep Recipe from 40 Aprons. Make sure you use coconut yogurt for the tzatziki and baba ganoush instead of hummus.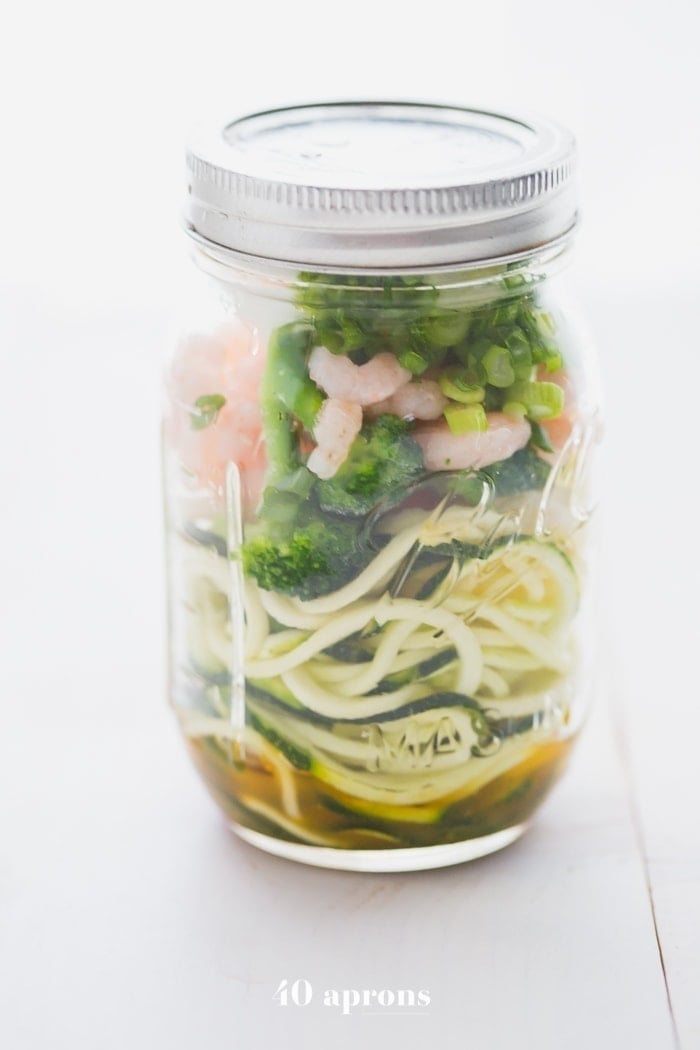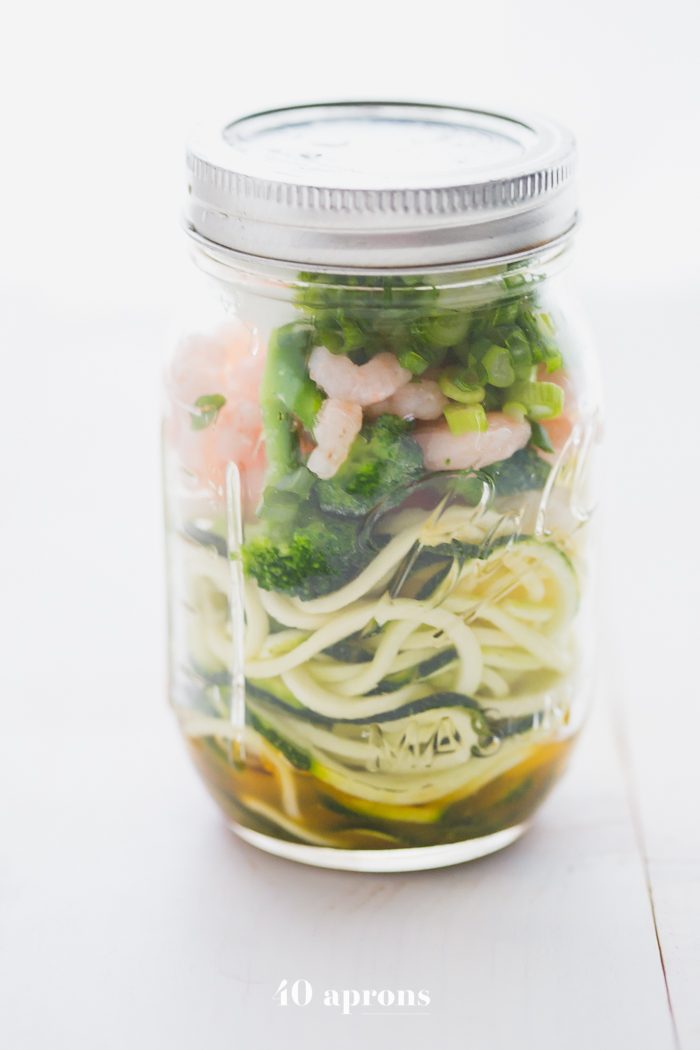 Whole30 Cup Zoodles from 40 Aprons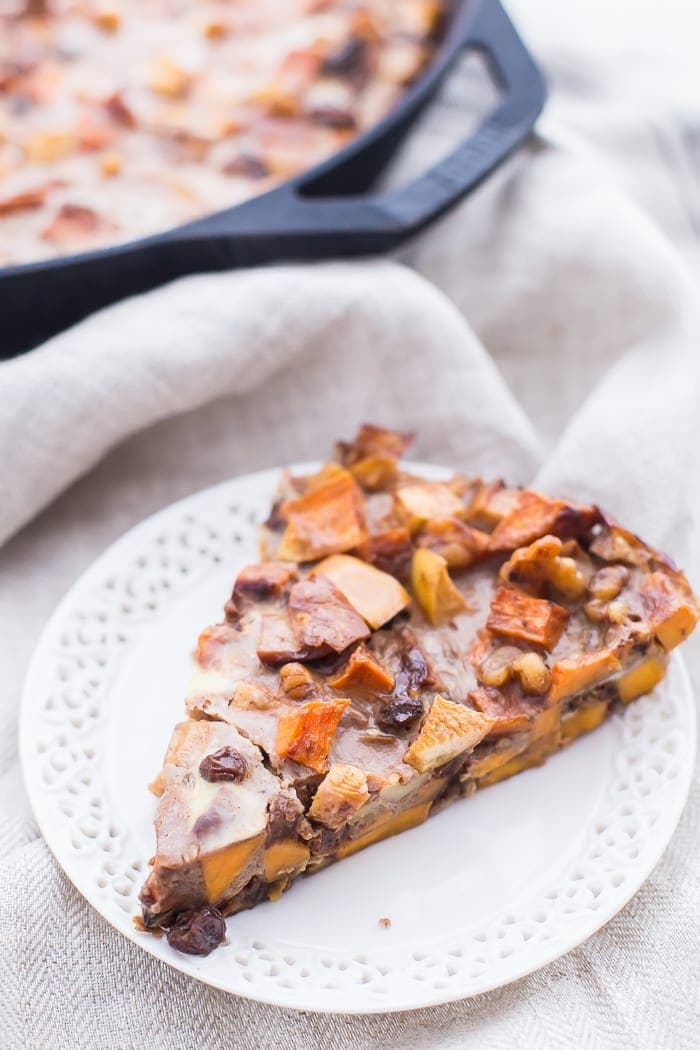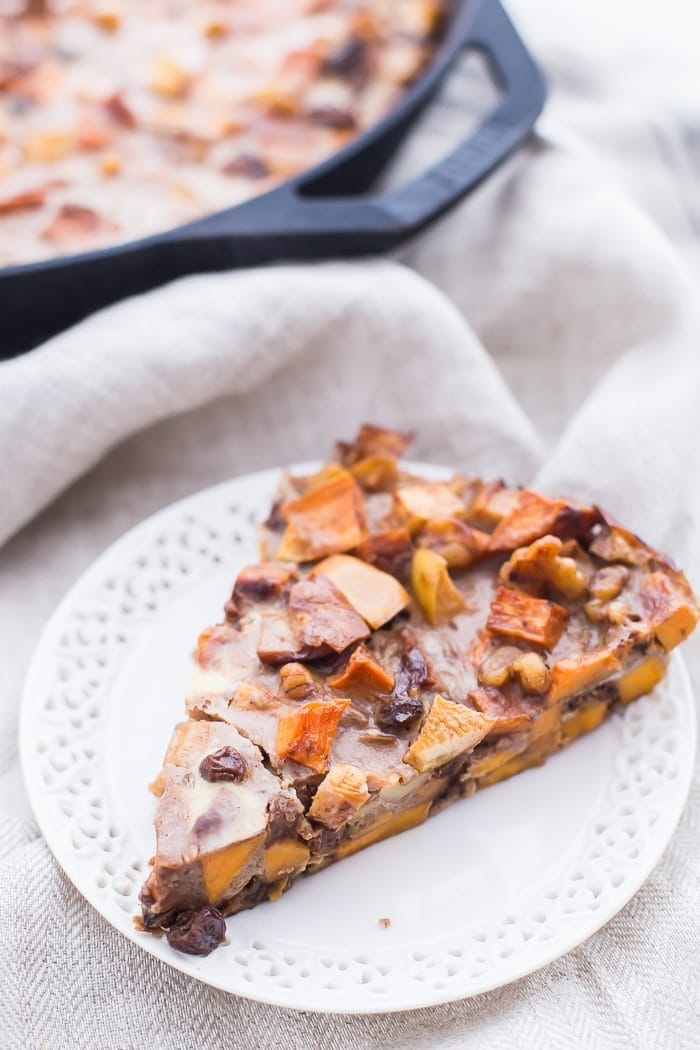 Whole30 Sweet Potato Apple Breakfast Bake from 40 Aprons. My favorite Whole30 breakfast of all time. I could eat this every single day for the rest of my life!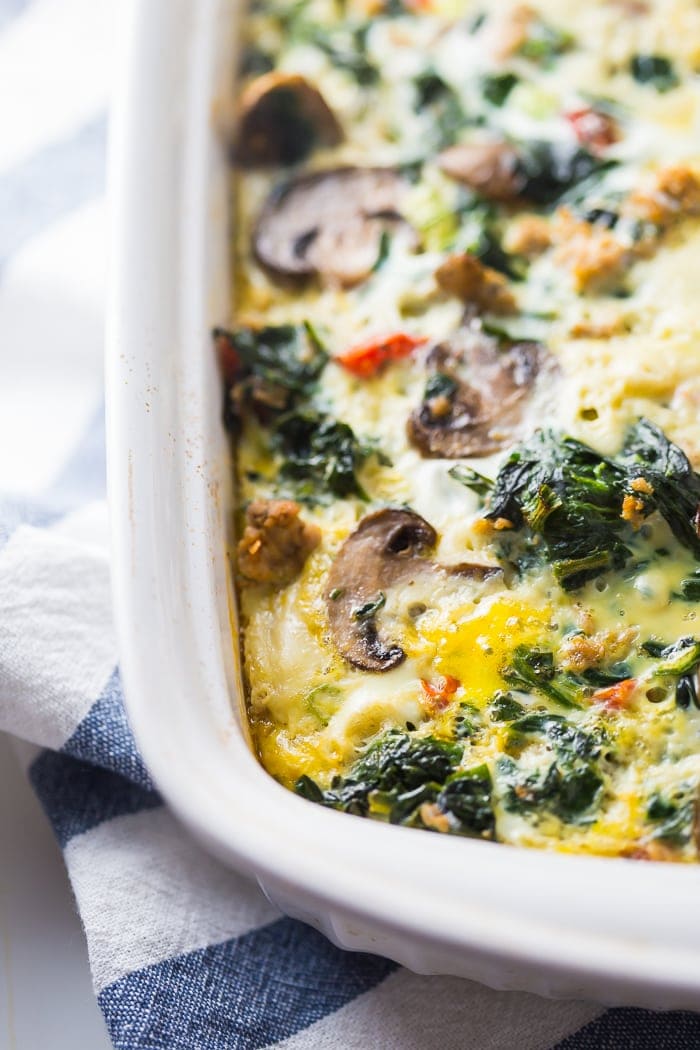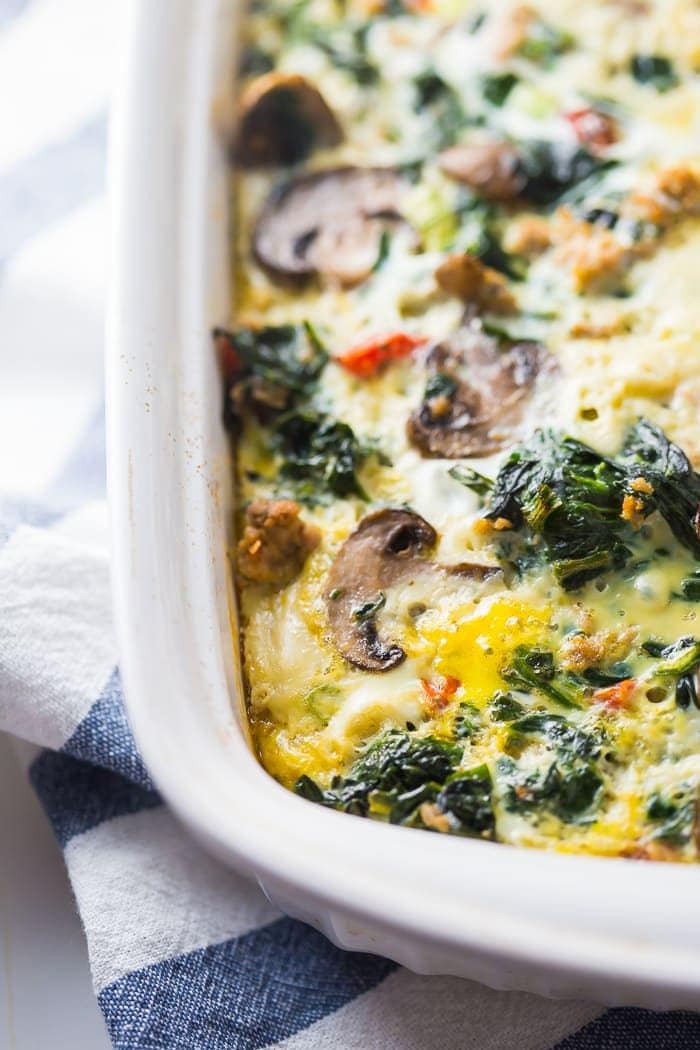 Whole30 Breakfast Bake with Sausage, Eggs, Spinach, and Mushrooms from 40 Aprons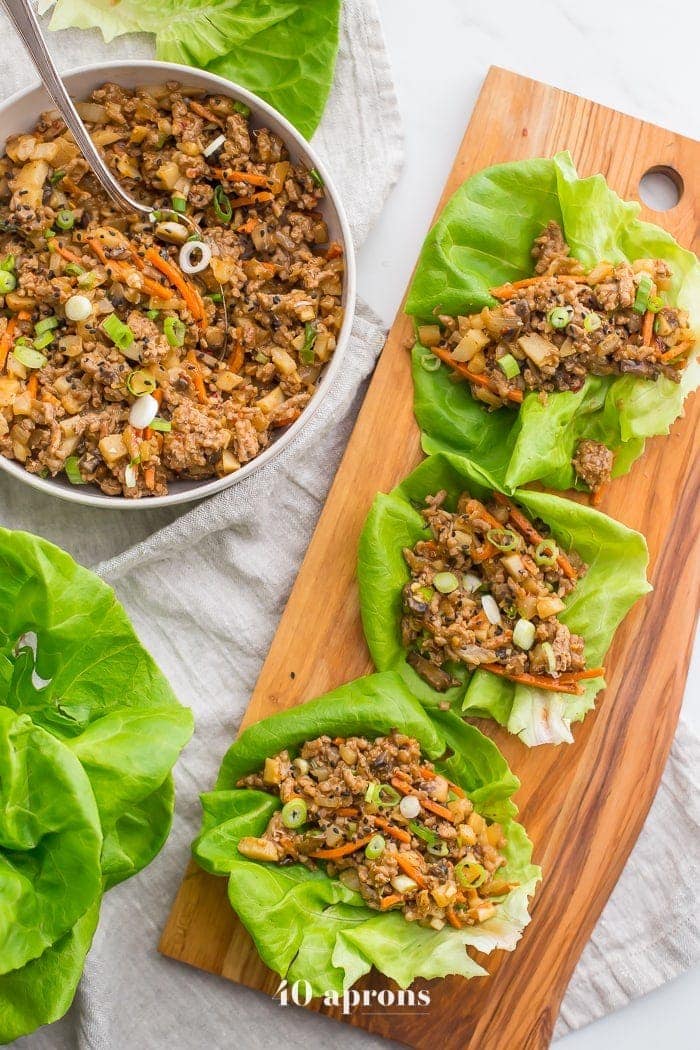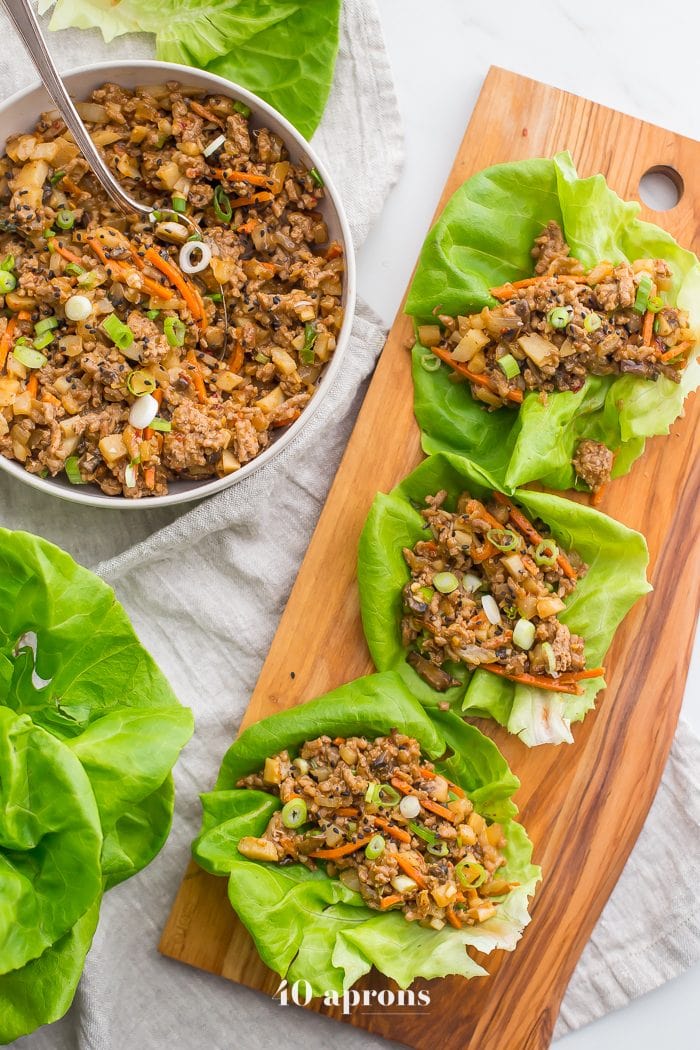 Whole30 Lettuce Wraps from 40 Aprons. A favorite lunch from my readers!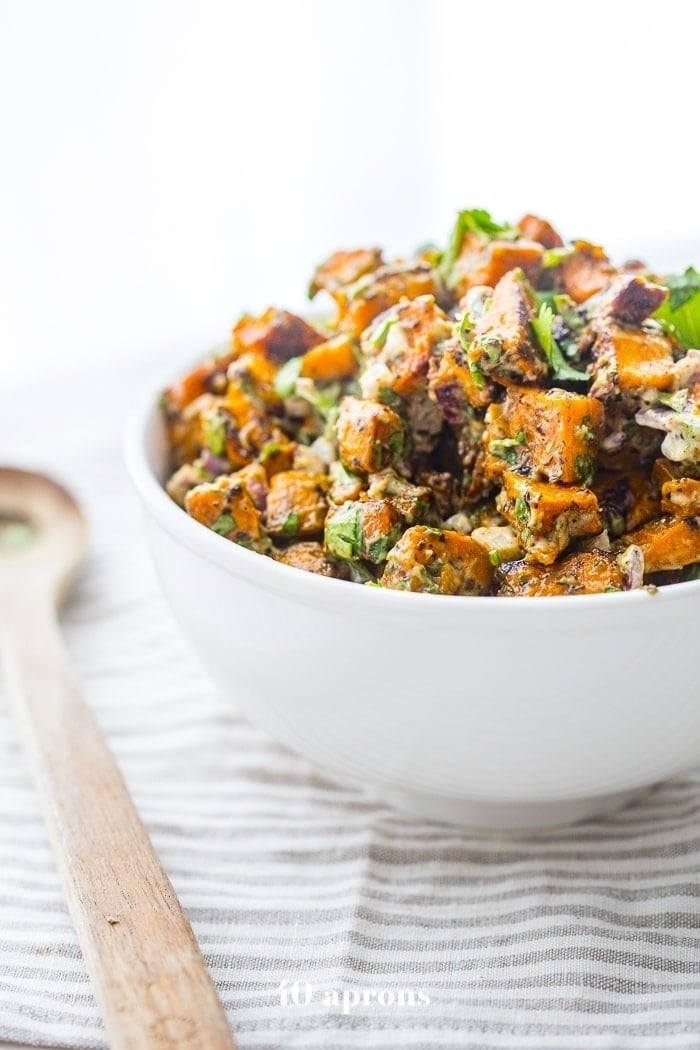 Herb-Roasted Sweet Potato Salad from 40 Aprons. A great side for any of the meatballs or proteins below.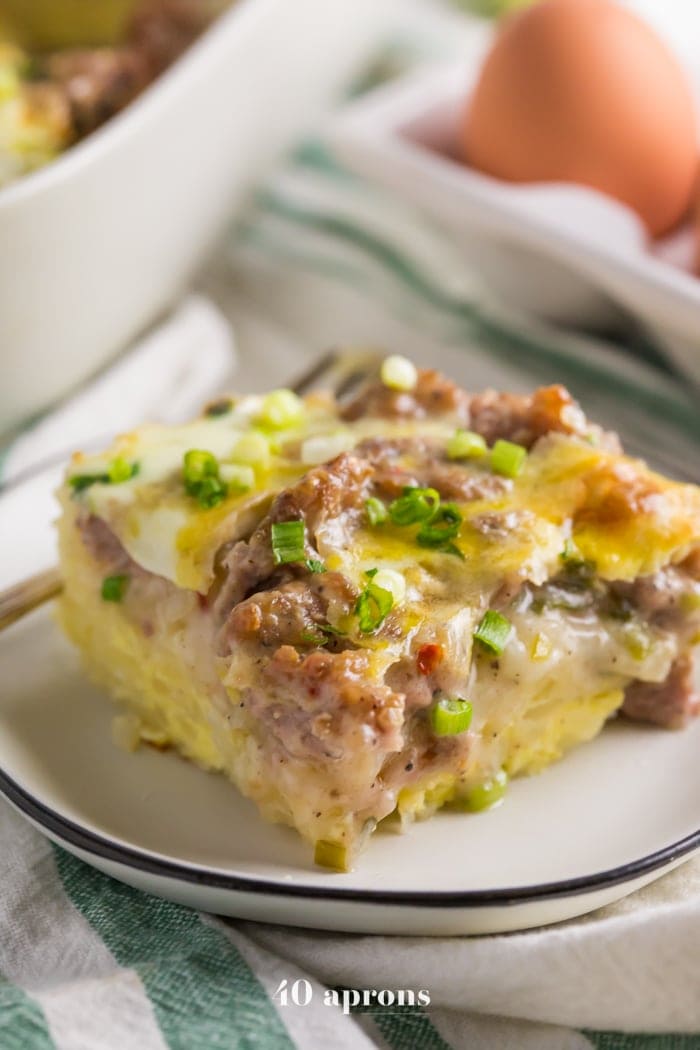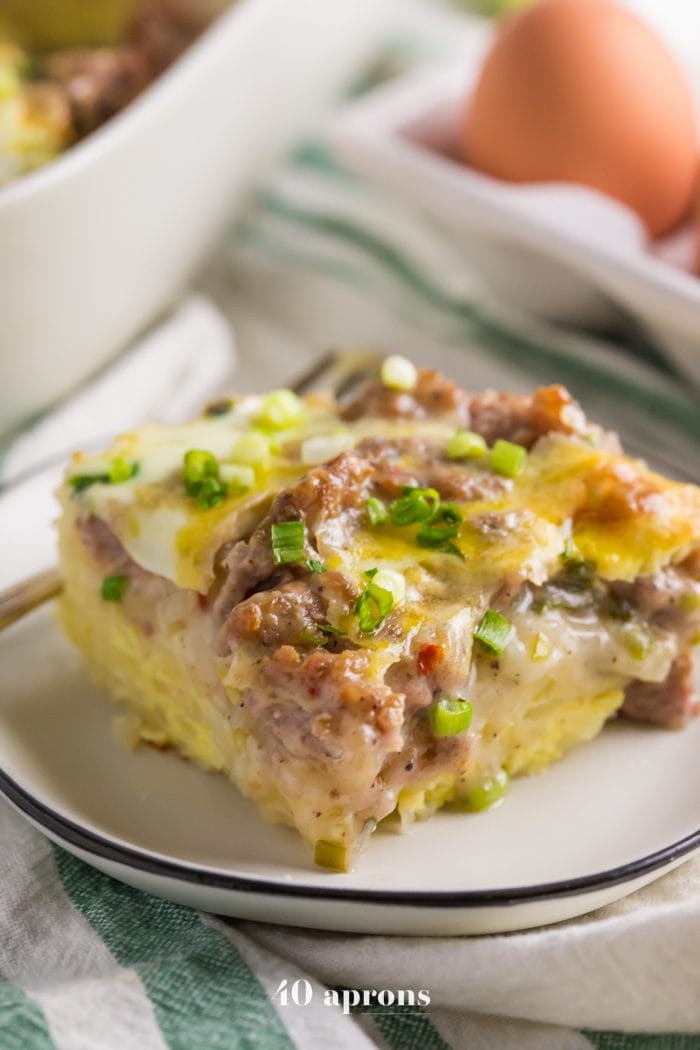 Whole30 Hash Brown and Sausage Breakfast Casserole from 40 Aprons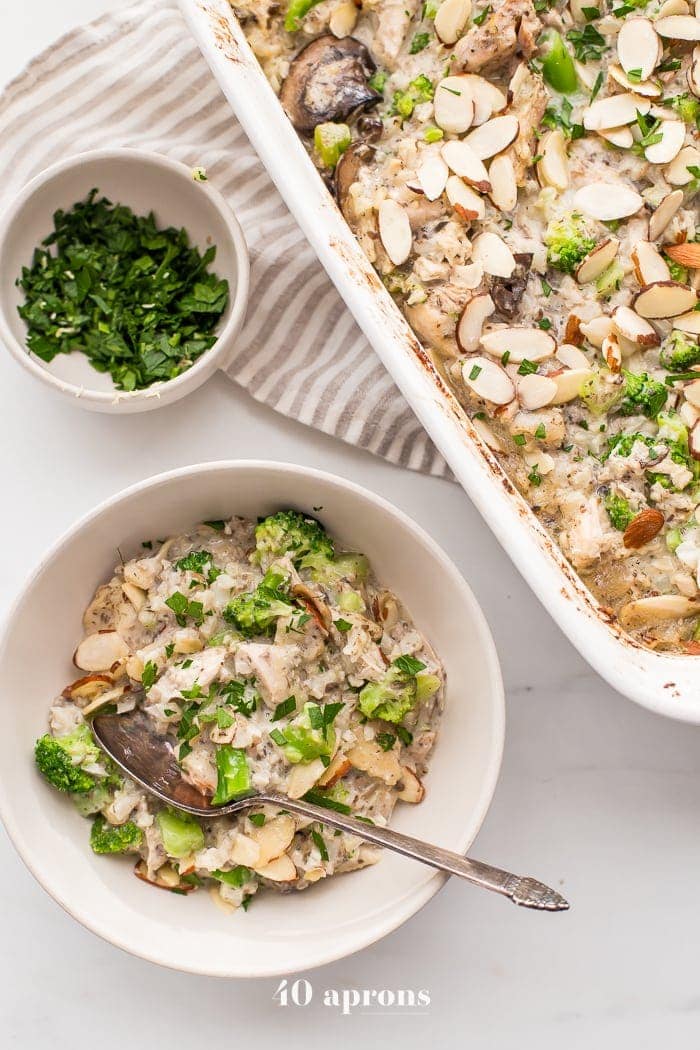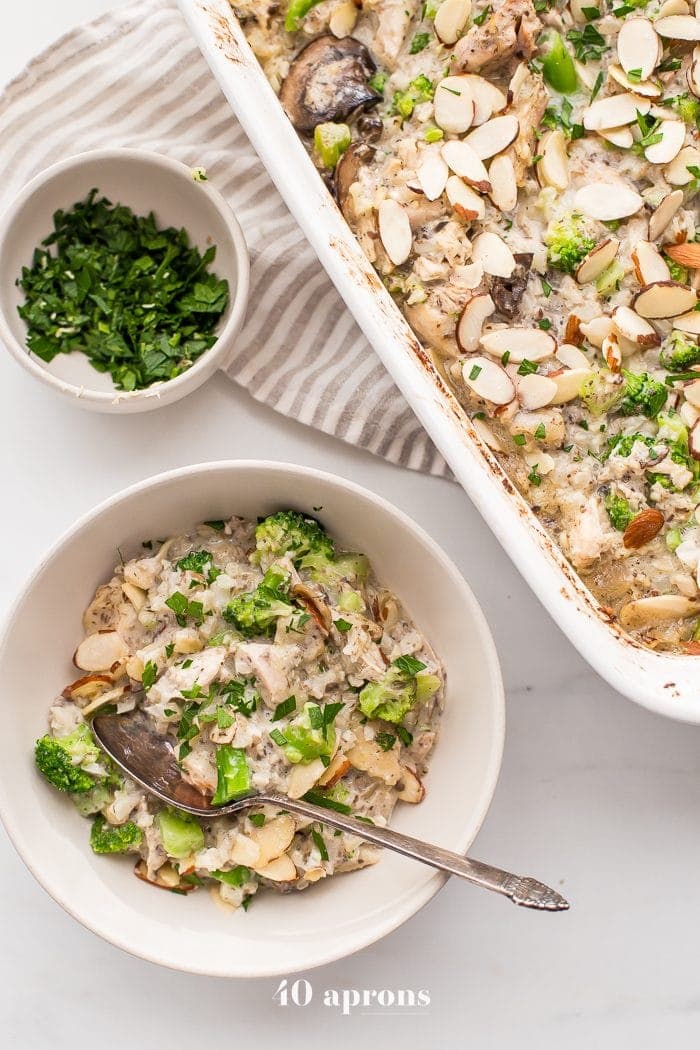 Whole30 Casserole with Chicken, Broccoli, "Rice," and Mushrooms from 40 Aprons. SO GOOD and it's a meal in itself!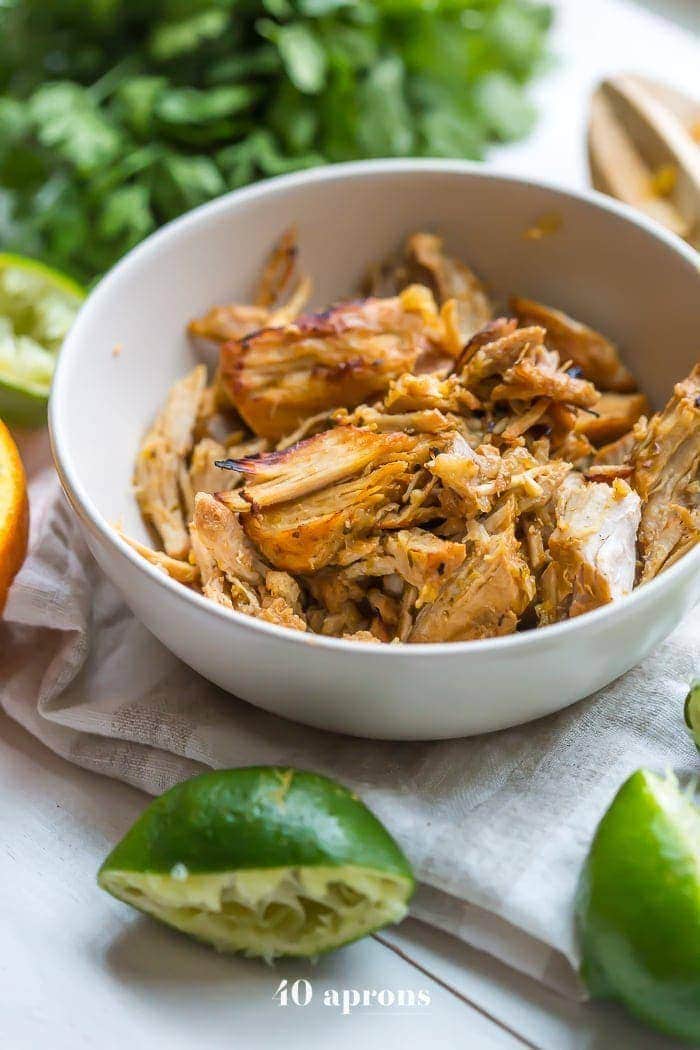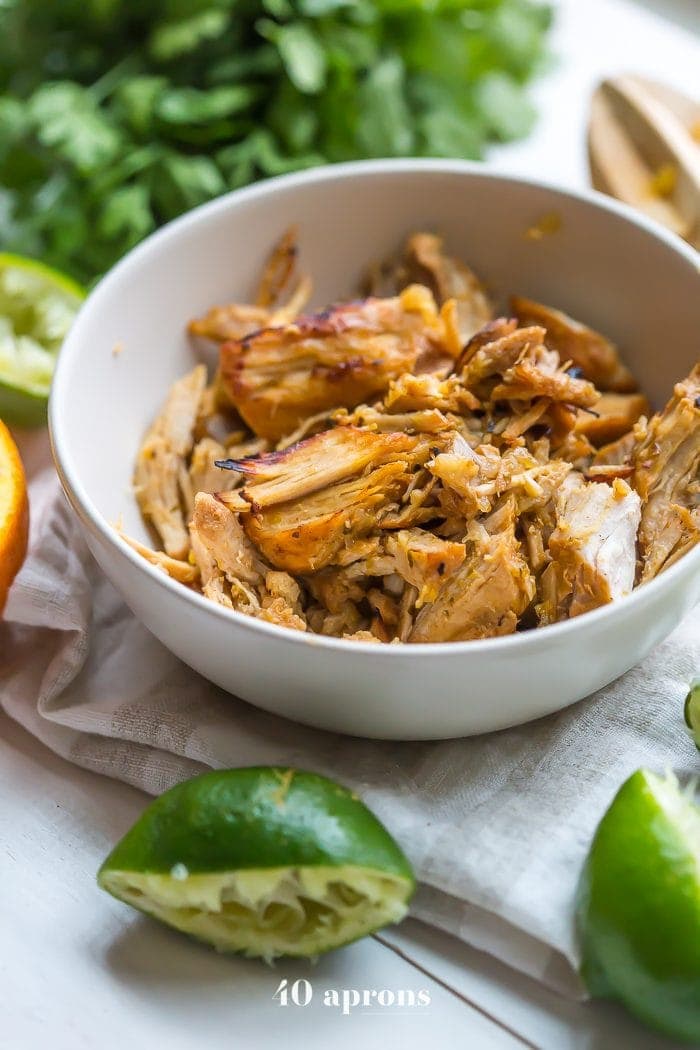 Perfect Paleo Instant Pot Carnitas from 40 Aprons. My fave carnitas recipe and so good for lunches during the week. Top with a quick avocado smash and a bit of salsa, and you're pretty good to go!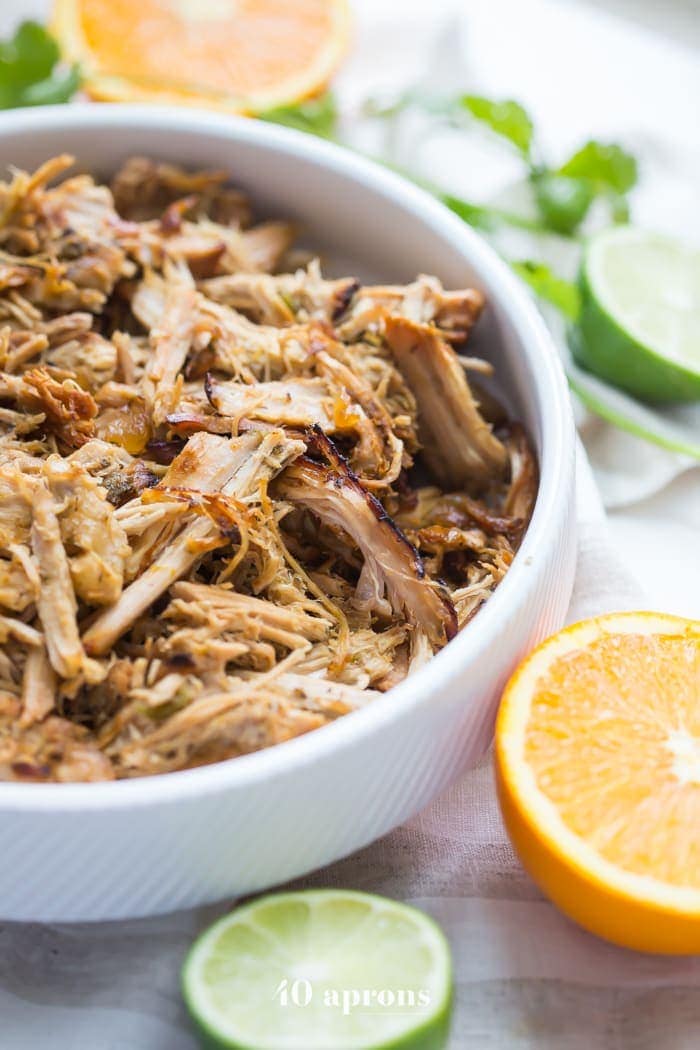 If you don't have an Instant Pot, my paleo carnitas made with pork loin are a reader fave. From 40 Aprons, of course.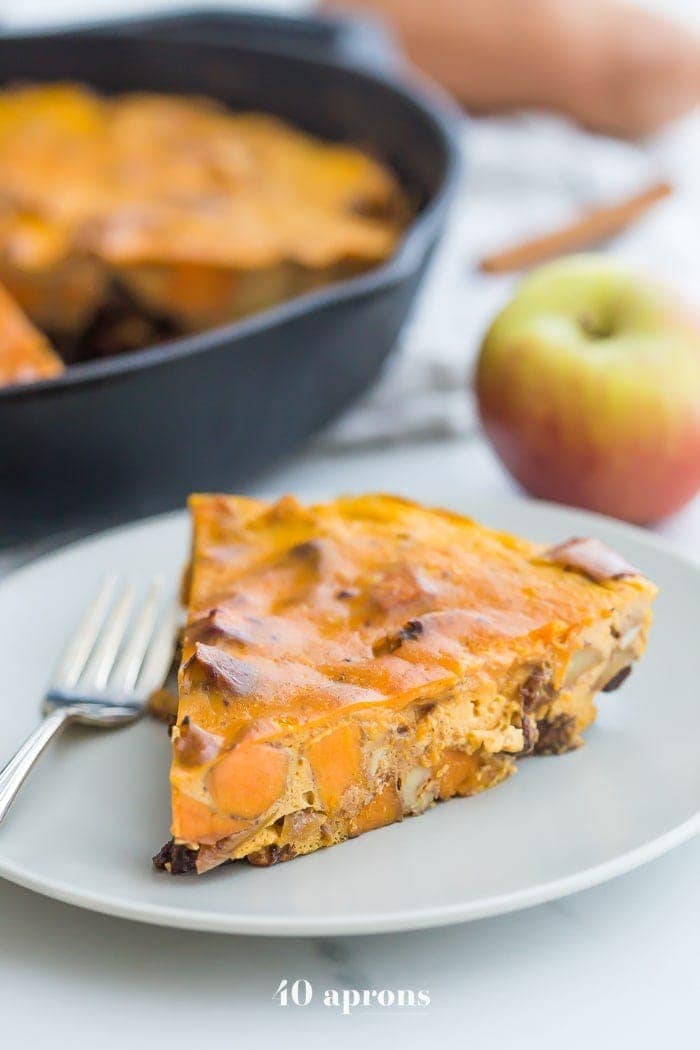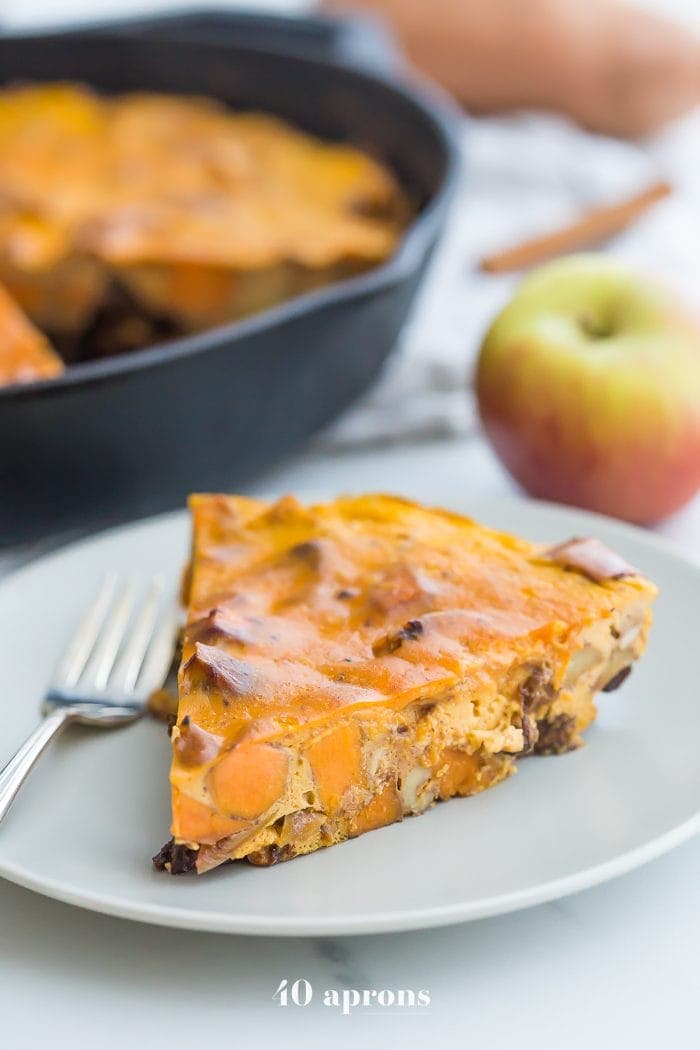 Whole30 Pumpkin Breakfast Bake (Sweet Potato, Apple, Vanilla Bean) from 40 Aprons
Whole30 Egg Roll in a Bowl with Creamy Chile Sauce from 40 Aprons. An all-time reader fave and a leftovers fave in our home!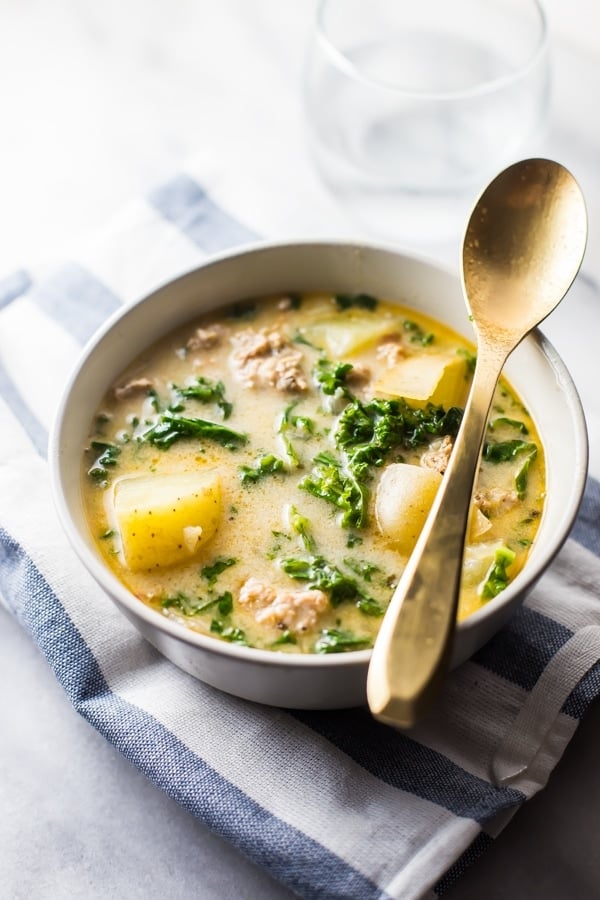 Whole30 Zuppa Toscana from 40 Aprons. Another reader fave that reheats so, so well.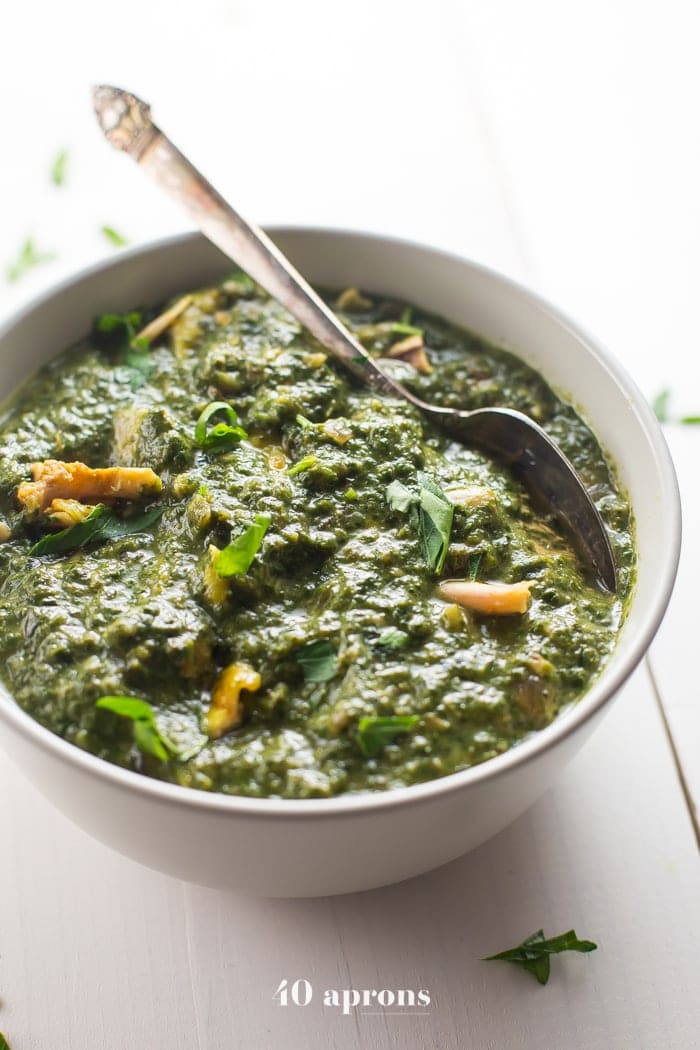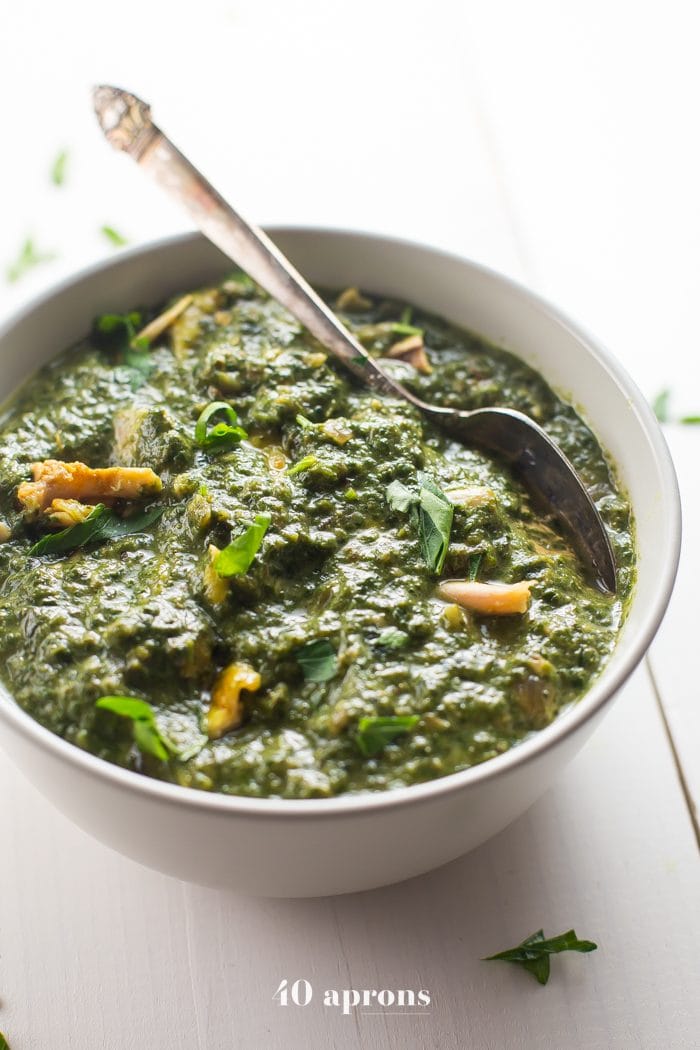 Whole30 Indian Saag Chicken from 40 Aprons. Reheats SO well. Serve over plenty of steamed cauliflower rice.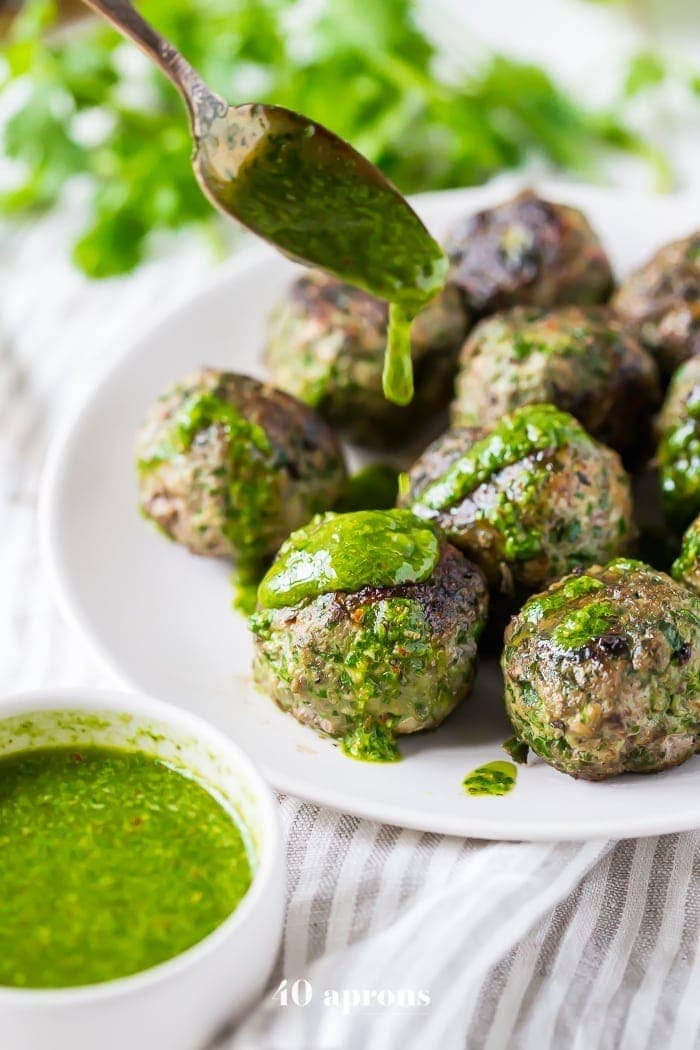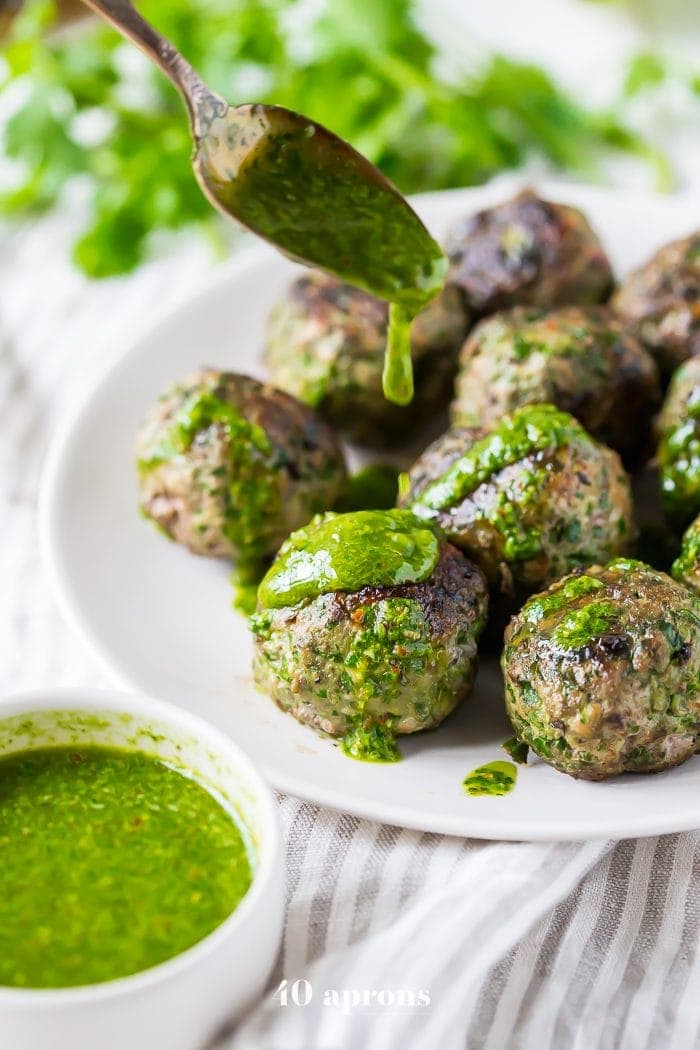 Whole30 Chimichurri Meatballs from 40 Aprons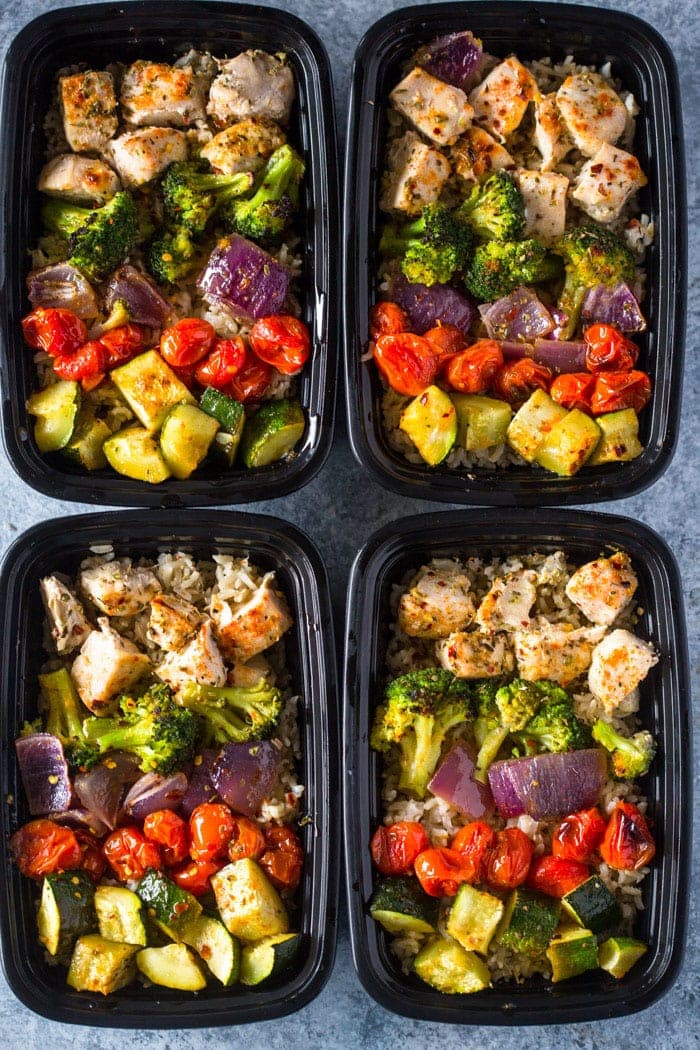 Healthy Roasted Chicken and Veggies from Gimme Delicious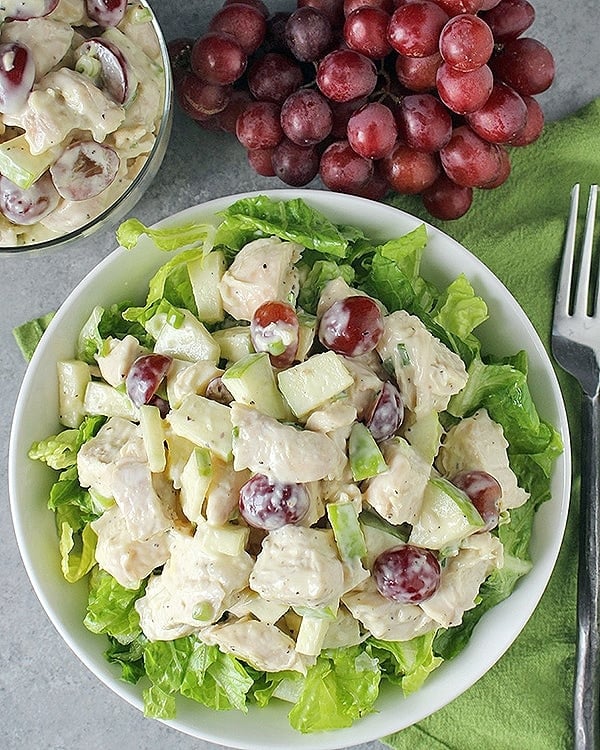 Whole30 Chicken Salad from Jay's Baking Me Crazy. Our all-time favorite chicken salad recipe. We make at least a couple batches every Whole30.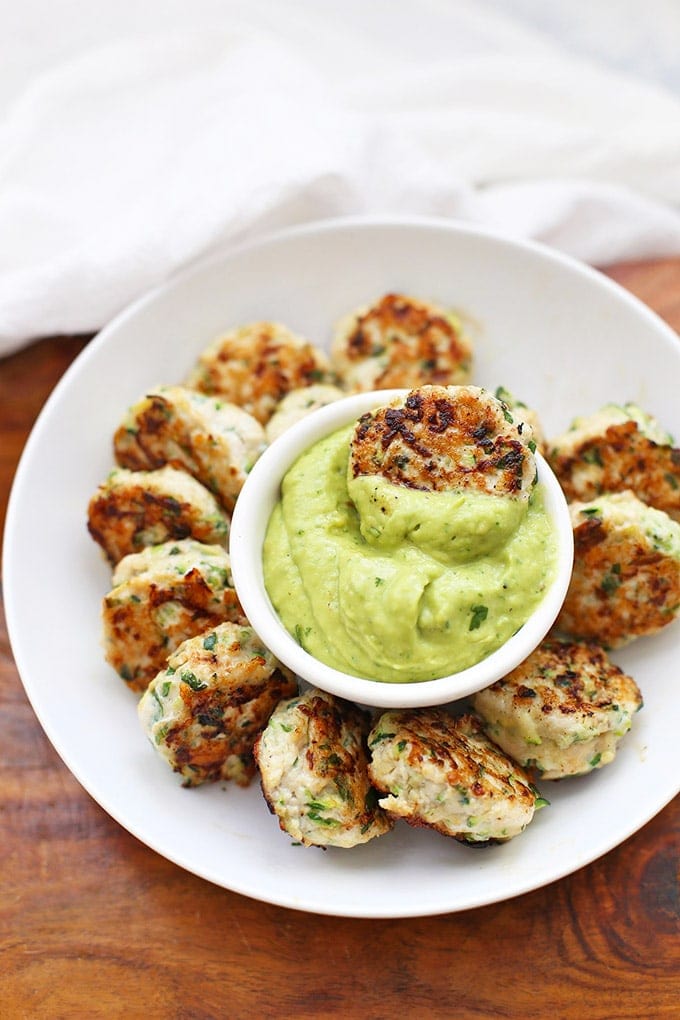 Chicken Zucchini Poppers from One Lovely Life. Make a bunch, package them up with Whole30 ranch dressing, and some roasted veggies. Yum yum yum.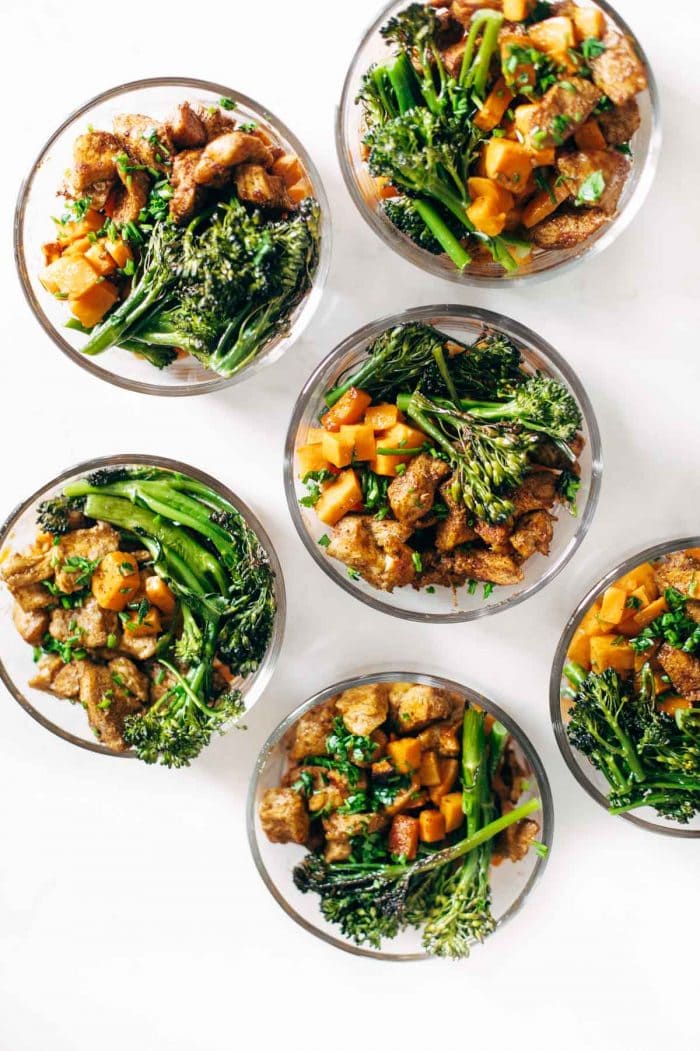 Spicy Chicken and Sweet Potato Meal Prep Magic from Pinch of Yum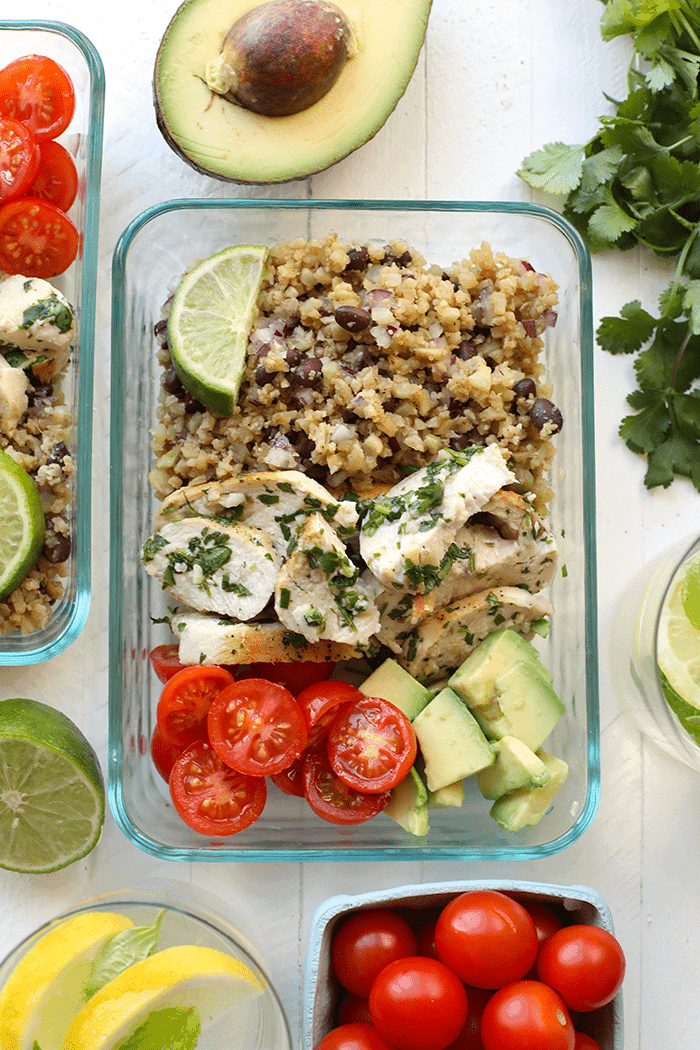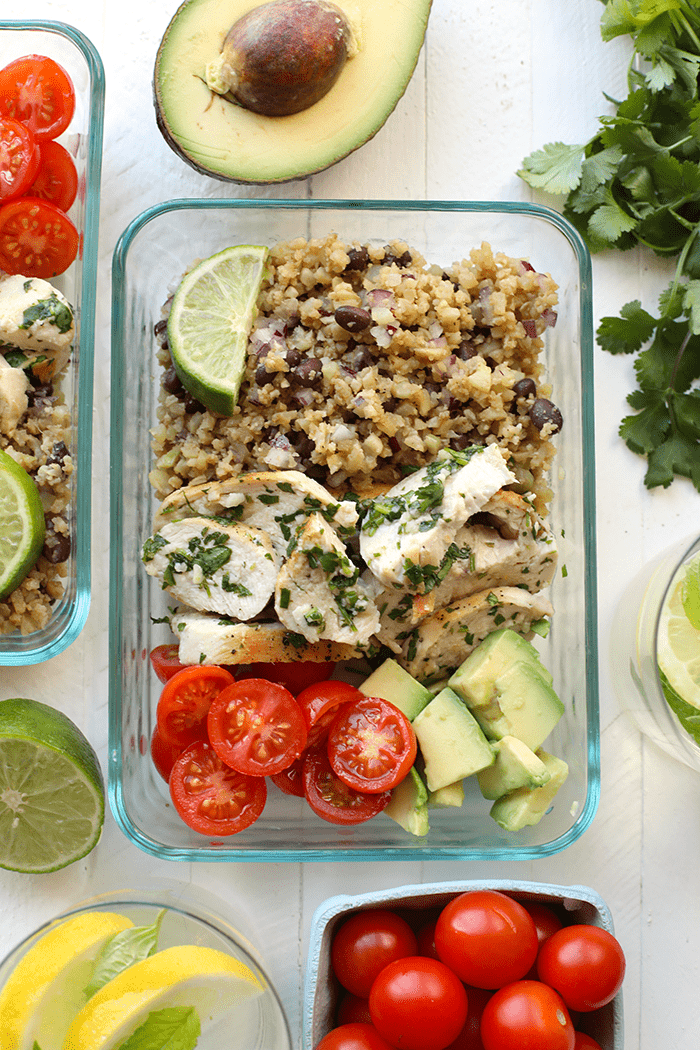 Cilantro Lime Chicken with Cauliflower Rice from Fit Foodie Finds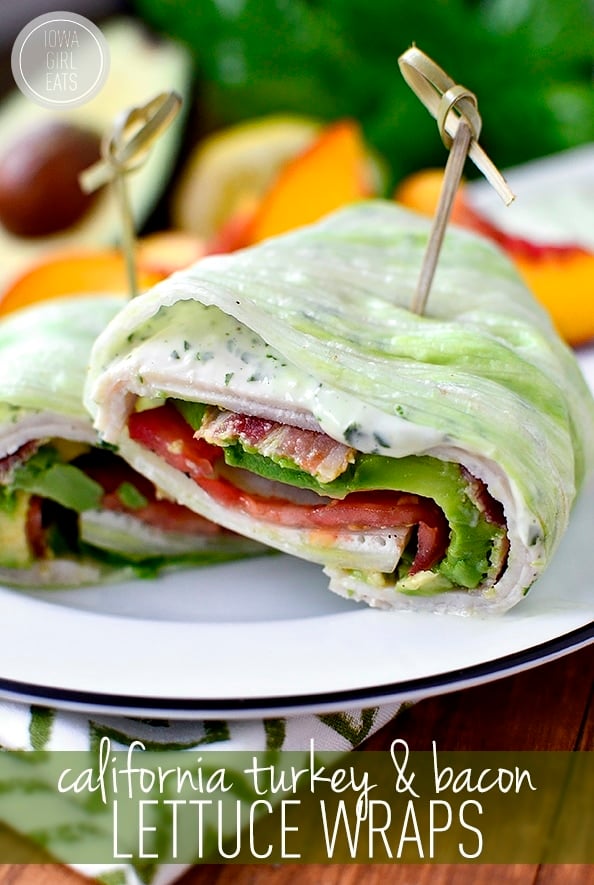 California Turkey and Bacon Lettuce Wraps with Basil-Mayo from Iowa Girl Eats. Of course, use compliant bacon and mayo, like my one-minute Whole30 mayonnaise!
Chili-Rubbed Sockeye Salmon with Strawberry Kiwi Salsa from Ingredients of a Fit Chicken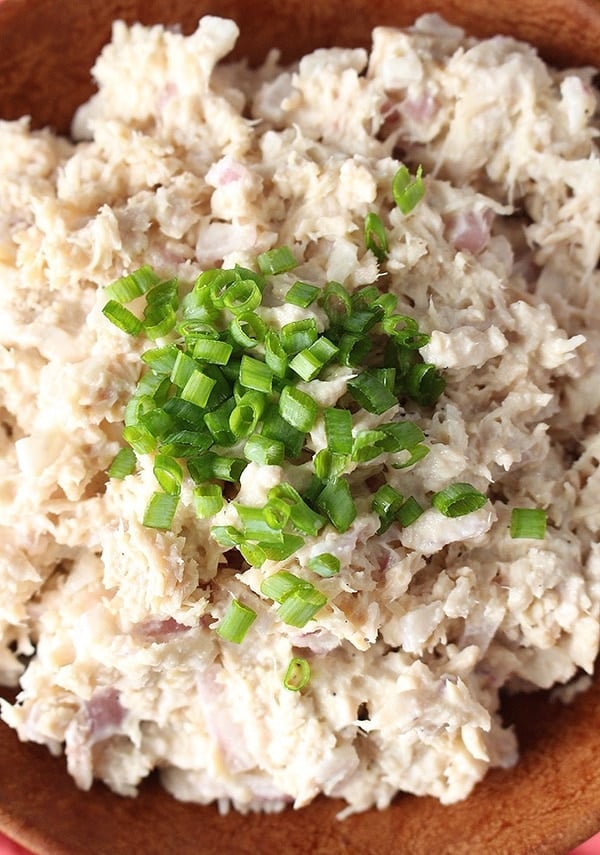 Paleo Smoked Tuna Salad from Jay's Baking Me Crazy. Serve over romaine or spinach with more veggies on the side – grape tomatoes would be delicious!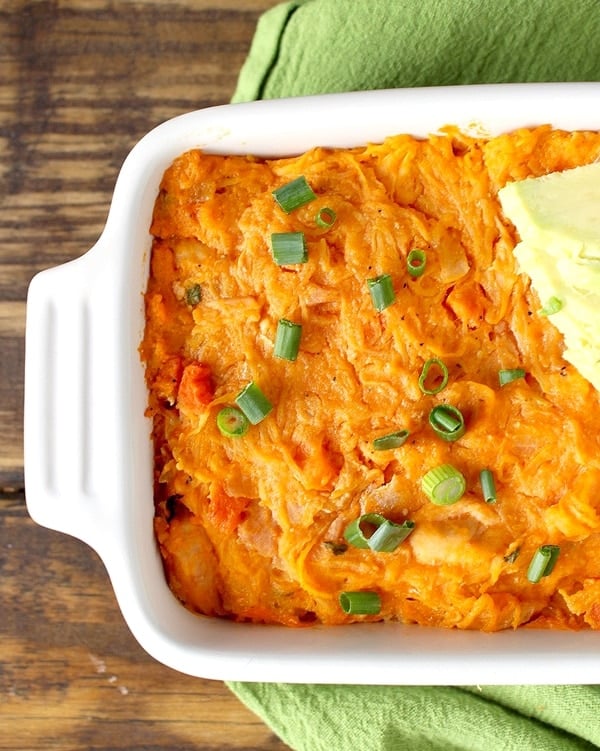 Paleo Buffalo Chicken Casserole from Jay's Baking Me Crazy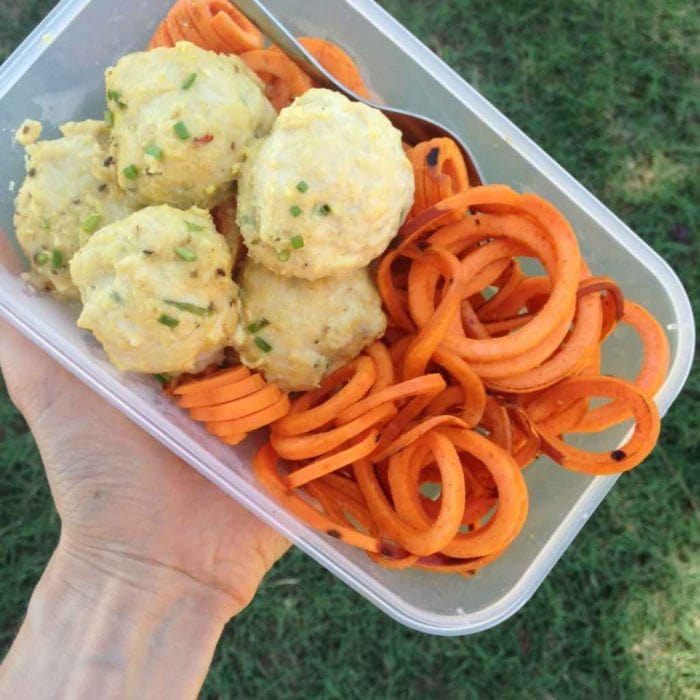 Thai Turkey Meatball Prep from Meal Prep on Fleek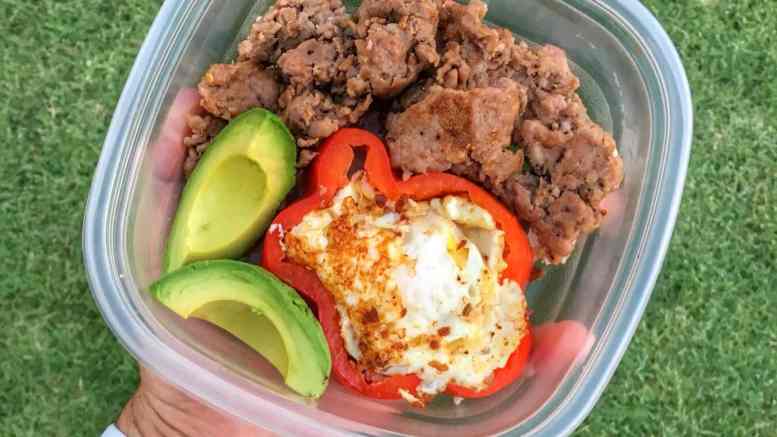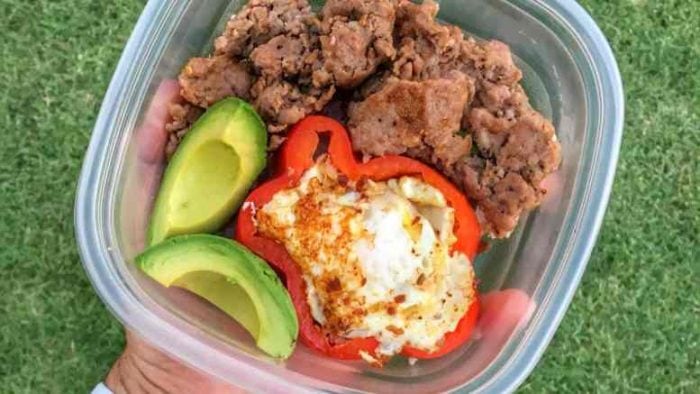 Egg, Sausage, Bell Pepper, and Avocado Breakfast Meal Prep from Meal Prep on Fleek
Chipotle Ranch Chicken Burgers. Package with plenty of roasted veggies and extra ranch for drizzling over them!
Asian Turkey Meatballs with Whole30 Teriyaki Sauce from Little Bits of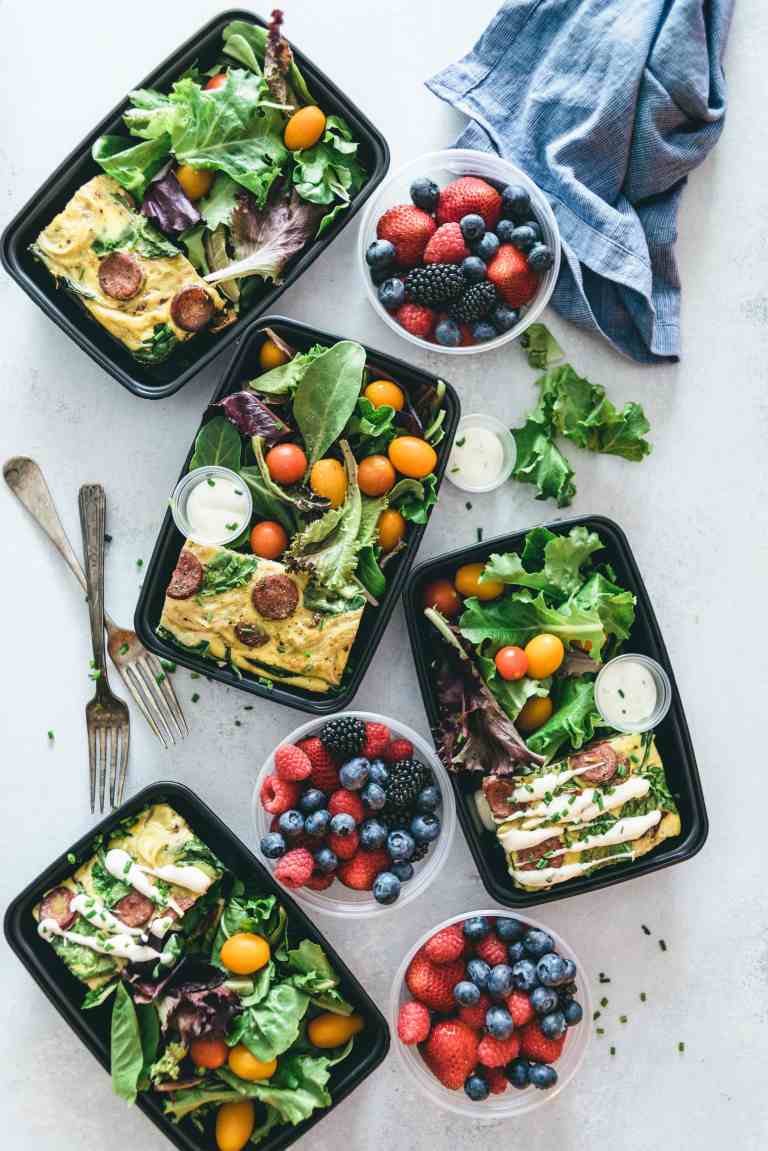 Sausage Lovers Hashbrown Casserole from Meal Prep on Fleek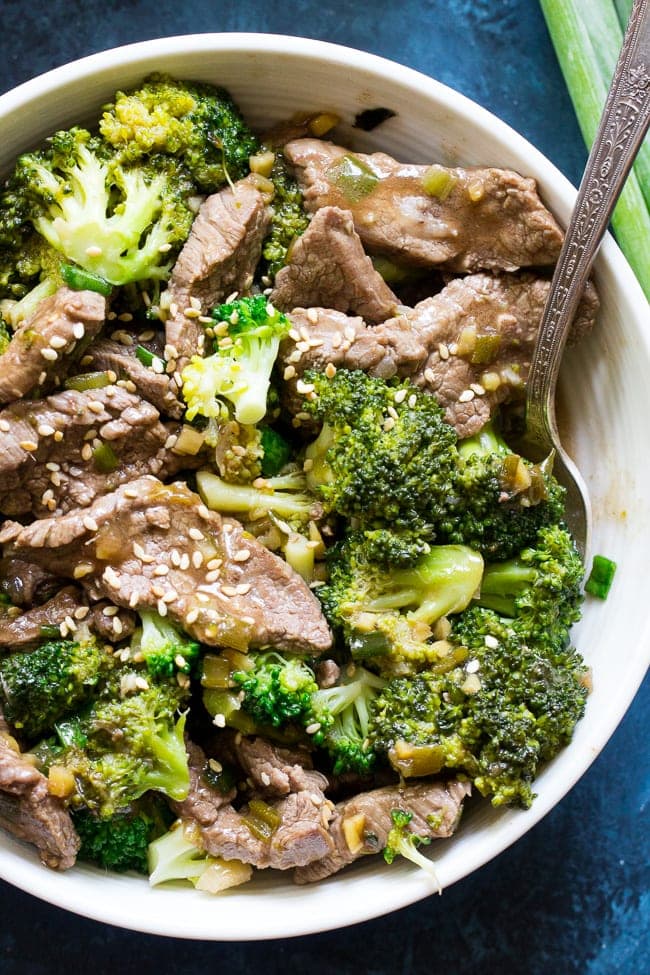 Beef & Broccoli Easy Stir Fry from Paleo Running Momma
Paleo Cauliflower Fried Rice from Jay's Baking Me Crazy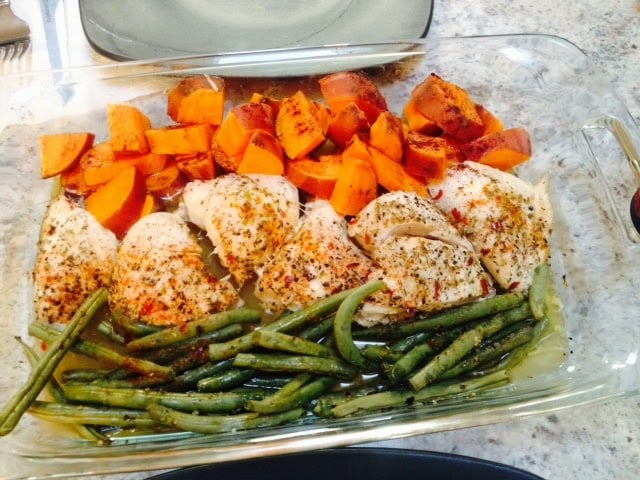 One Pan Chicken with Sweet Potatoes & Green Beans from Paleo Made Painless
One Pan Roasted Salmon, Asparagus, and Potatoes from Meal Prep on Fleek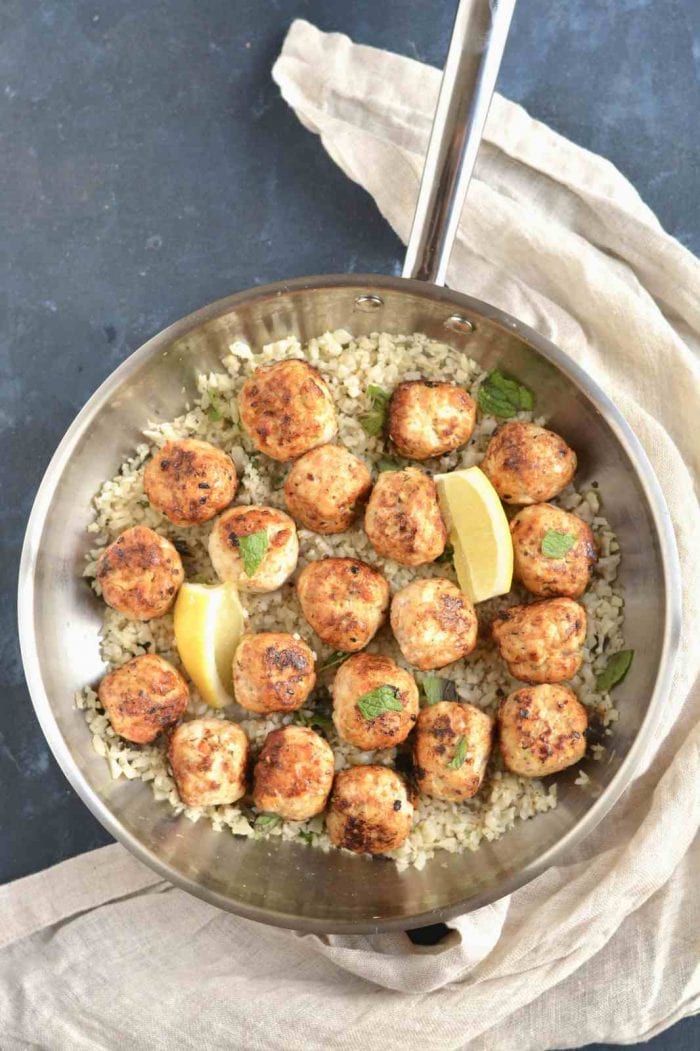 Carrot Meatballs with Mint Cauliflower Rice from Meal Prep on Fleek
Lemongrass Steak Banh Mi Bowls from The Defined Dish