This immersion blender Whole30 mayo is ready in just about one minute – totally life-changing for this Whole30 staple! It's rich and so versatile and pretty darn fool-proof, made with only a few ingredients. Paleo and clean eating.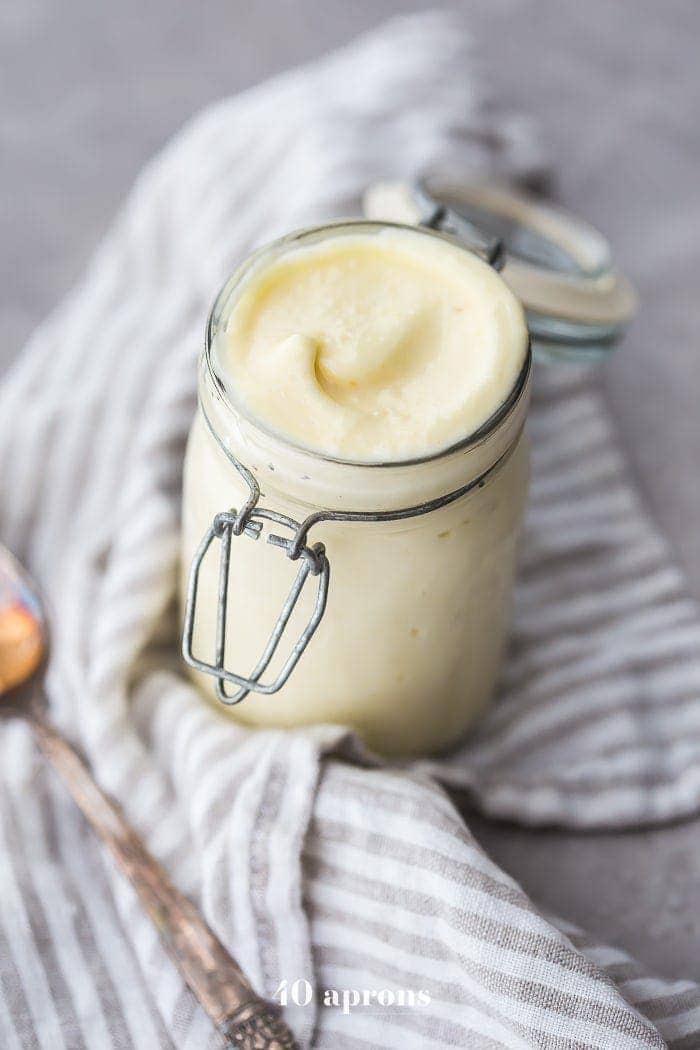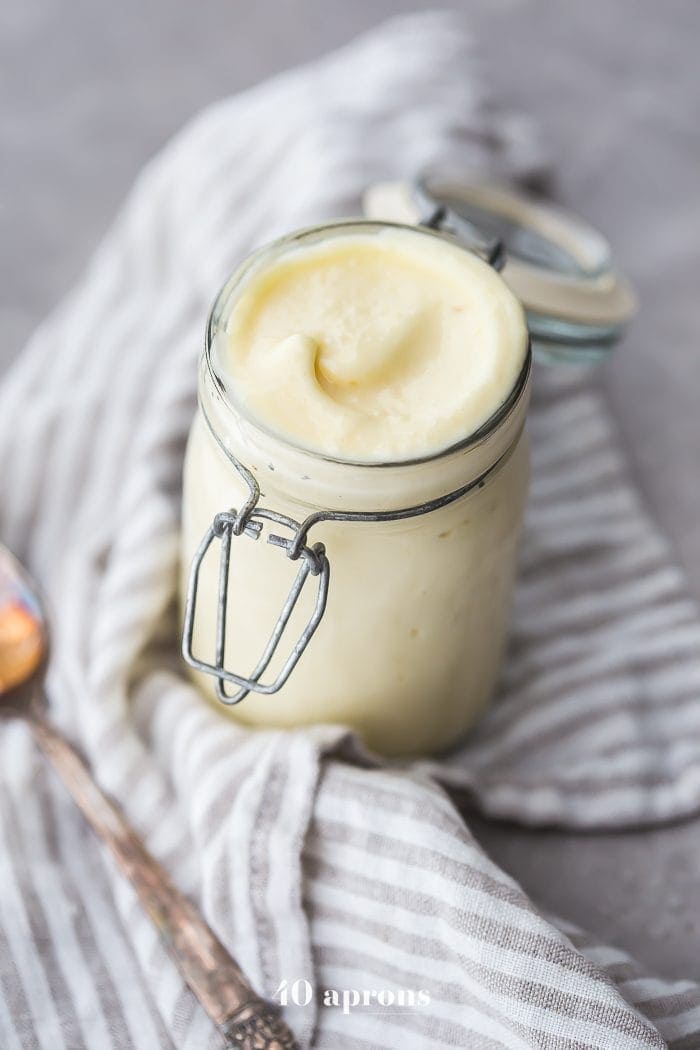 Homemade mayo is truly nothing like packaged and jarred mayonnaise, though I have to admit I still love the premade stuff. But homemade mayo? There's a creaminess there, a richness from the fresh ingredients that will turn you on your head and make you repent for all your mayo-shunning ways. You can blend in cloves of fresh garlic, add a bit more spicy mustard powder, more salt, more lemon juice… It's quite possibly the most versatile thing you can keep in your fridge, functioning as about half of an entire dish when blended with plenty of fresh garlic and served alongside blanched veggies and salt cod for a traditional Niçoise gran aïoli.
Or as the creamy base for a quick creamy chipotle sauce, blitzed together with smoky chipotle peppers, rich adobo sauce, and bright lime juice.
Or you can just stir in a generous portion of smoked paprika, serving the neon orange dip alongside a seared steak and duckfat-roasted potatoes.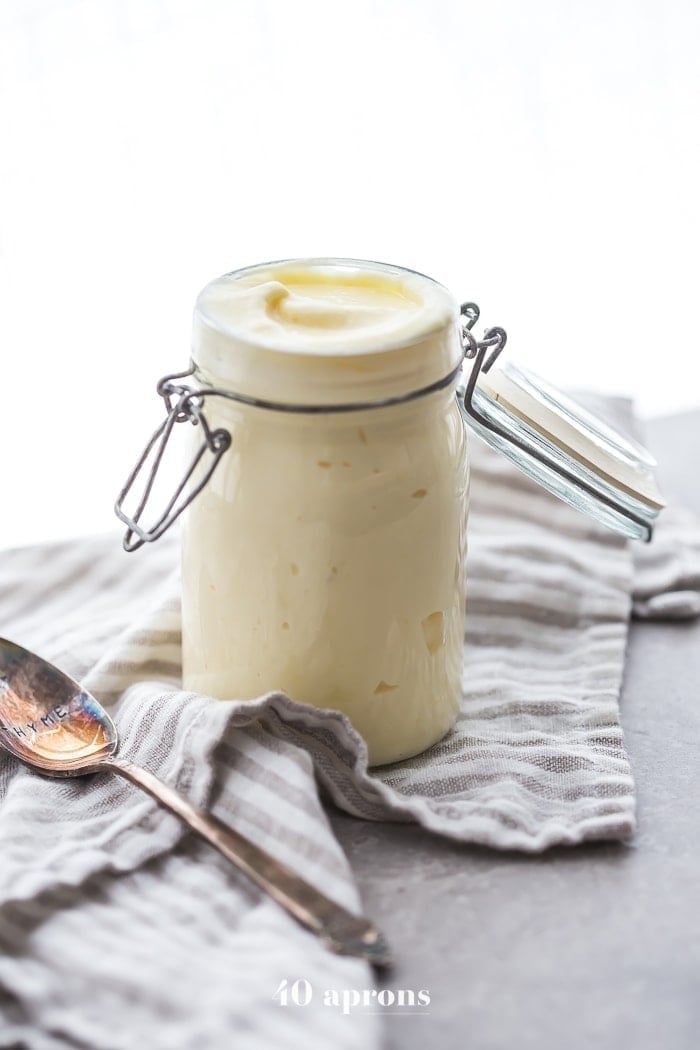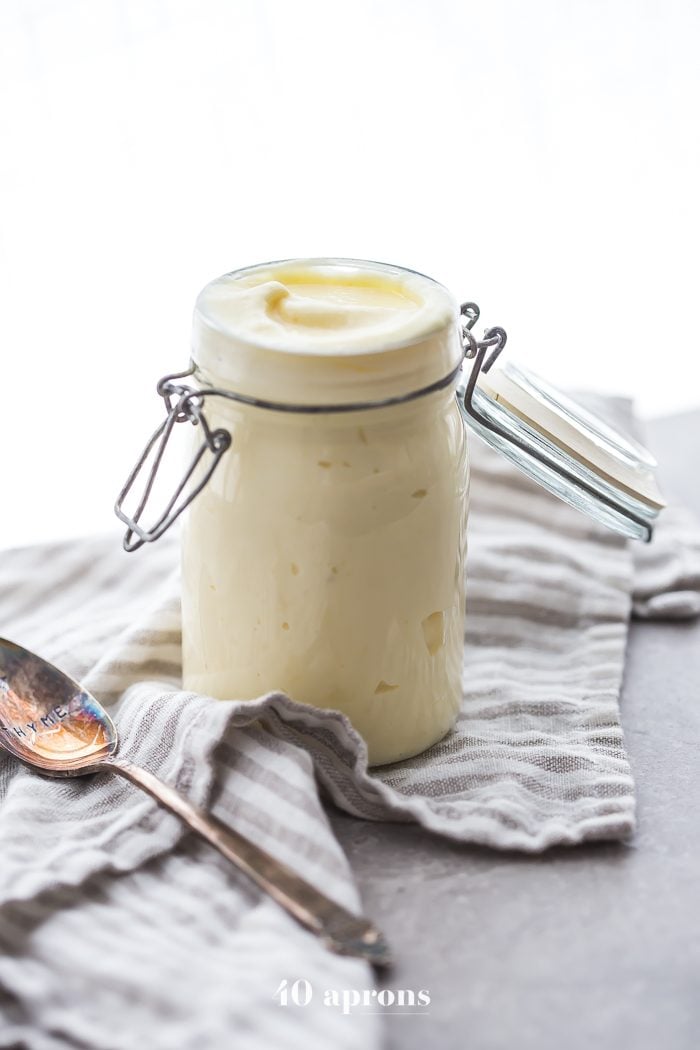 Why this one minute Whole30 mayo is so perfect:
It's insanely creamy and rich, nothing at all like the stuff from the jar.
The immersion blender lets this emulsion come together super quickly – in just about one minute!
This Whole30 mayo is basically foolproof: mine has never, ever broken.
You don't need to use room temperature eggs – chilled is fine!
All of that to say this: homemade mayonnaise is amazing, and on a Whole30 mayo is a total must. It adds creaminess and flavor to so many dishes, elevating a simple meal of protein + veggies to a gourmet experience. The catch is… you have to make your own. Unless you buy Primal Kitchen Avocado Oil Mayonnaise (totally compliant!), there are really no compliant storebought brands out there. Luckily, it's SUPER easy to make your own.
Tips
Make absolutely positively sure that you do not use "regular" olive oil in this Whole30 mayo; this will result in a bitter mayo.
You can use three compliant oils for this Whole30 mayo: light-tasting olive oil, avocado oil, or fractionated (liquid state, not melted) coconut oil. Costco has a great avocado oil, and we use this often for an economical Whole30 mayo!
Use a jar that is not much wider than the head of your immersion blender; the jar that comes with the blender is great. Mason jars and silicone measuring cups work well, too. This is important, though!
Start your Whole30 mayo with the head of the blender touching the bottom of the jar. Start blending and work your way up to high speed, making sure you see a creamy emulsion at the bottom before moving the blender around. Once you see that creamy emulsion, start lifting the blender up a bit and pressing it back down, essentially emulsifying the mixture above the mayo at the bottom, bit by bit. Follow this method and this Whole30 mayo is totally foolproof!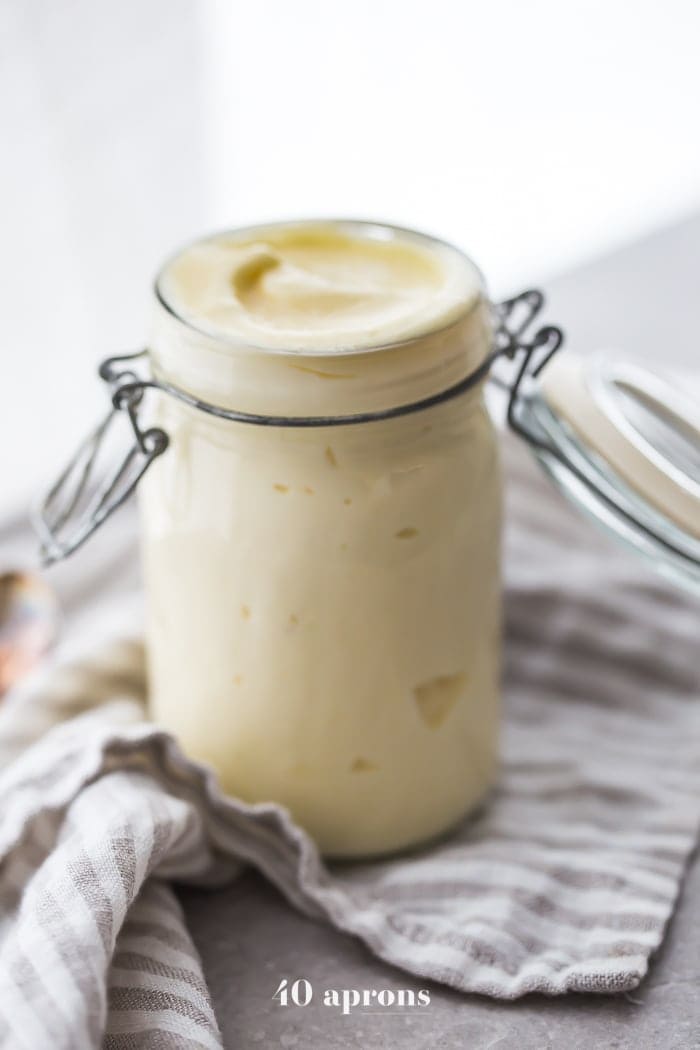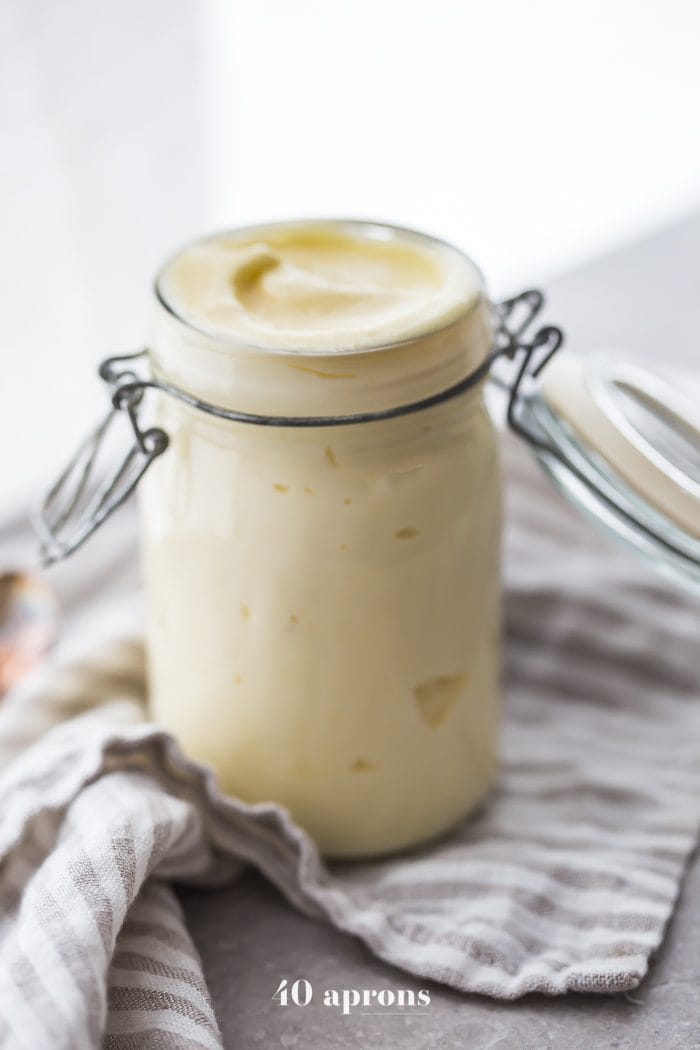 Variations
Up the fresh garlic in this Whole30 mayo for a seriously delicious garlic aioli.
Stir in some of my Whole30 sriracha for a spicy, creamy red chile sauce or sriracha mayo. This is exactly what is drizzled over my Whole30 egg roll in a bowl!
Mix in a generous portion of smoked paprika to make a delicious side for steak and roasted fingerling potatoes, or swap the smoked paprika for chipotle pepper powder for a chipotle aioli! Great on everything, especially my Whole30 fish taco bowls.
Use this Whole30 mayo as a base for my Whole30 ranch dressing. Even better, use the same method to make my favorite ever Whole30 dump ranch recipe.
Is mayo allowed on Whole30?
Yes! And no. Mayonnaise the condiment is definitely allowed, but "standard" mayonnaise like Hellman's is not, since it almost always has sugar, canola oil, soybean oil, etc. This Whole30 mayo is absolutely compliant, but if you need to buy some in a pinch, check out Primal Kitchen Avocado Oil Mayo. I get this delivered to my door super cheap thanks to Thrive Market, so check that out, too!
How to make one minute Whole30 mayo in the immersion blender:
Throw all your ingredients in a jar that fits pretty tight around the head of the immersion blender. You can add the garlic and salt in a bit later if you want to play it safe.
Press the head of the immersion blender down to the bottom of the jar and turn it on. Leave it at the bottom of the container until the mixture becomes thick and white, within truly only a few seconds. Work up to high speed in this time.
Then slowly pull up the immersion blender, working the remaining oil into the mayo mixture. I try to work the oil into the mayo by either taking my finger off the power button and pushing the oil down into the bottom of the jar while the immersion blender is off or by simply inching my way up above the mayo into the oil mixture with the blender head (still on).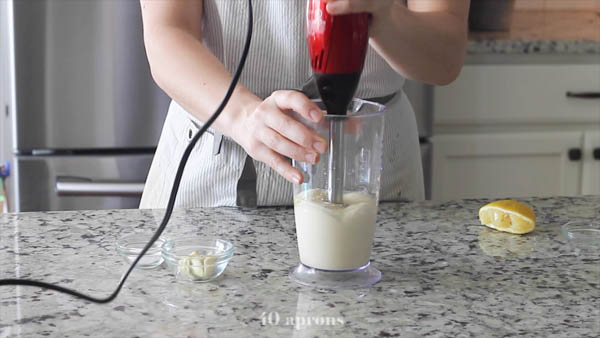 When all the oil mixture is emulsified, add in garlic and salt to taste. Blend again until the garlic is totally blended.
How long can you keep fresh mayonnaise?
This Whole30 mayo will keep in an airtight container, like a glass mason jar, about 2 weeks.
Other recipes you'll love:
To make this Whole30 mayo in the immersion blender I used (affiliate links!)…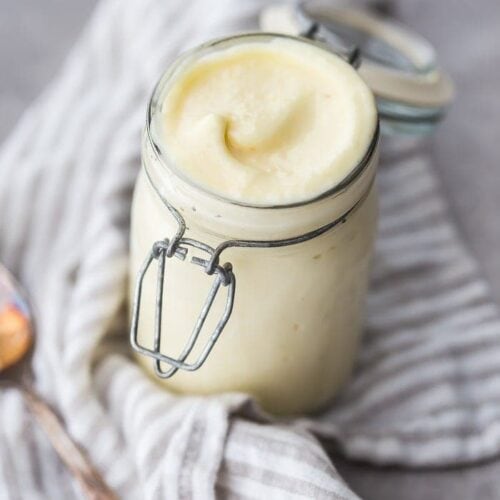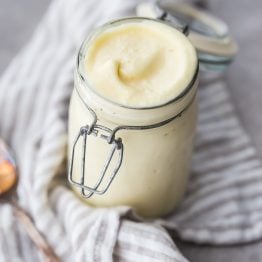 One Minute Whole30 Mayo Made in the Immersion Blender
This immersion blender Whole30 mayo is ready in just about one minute - totally life-changing for this Whole30 staple! It's rich and so versatile and pretty darn fool-proof, made with only a few ingredients. Paleo and clean eating.
Makes about 1 ¼ cup.
GO PREMIUM - AD FREE + MEAL PLANS
Ingredients
1

egg

whole

juice of ½ lemon

about ½ tablespoon

2

teaspoons

mustard powder

1-2

cloves

garlic

medium, peeled and smashed

1

cup

light olive oil

or avocado oil or fractionated coconut oil

Kosher salt
Instructions
Place all ingredients in the jar that just fits the head of your immersion blender - if your immersion blender came with a jar, that's perfect. The size of the jar is important, though: the circumference of the jar must be only slightly larger than the head of the blender (letting it fit at all) and the mixture must reach the blades. Let ingredients settle for a few seconds.

Place head of immersion blender down into the mixture, at the bottom of the jar. Turn on low speed. Do not move the head until a white, creamy, thick mayo forms at the bottom by the head - this will take a few seconds. Increase the speed to medium and then to high. Begin to slowly tilt and lift the immersion blender in order to emulsify all the oil; turn the blender off and use the head to push down the oil at the top if necessary. When all oil is emulsified, remove blender and season with salt to taste.
Notes
Store in an airtight container in the refrigerator for up to two weeks.
Can be easily doubled.
Adapted from the Serious Eats method.
Recipe yields approximately 1 1/4  cups of mayonnaise. Nutritional values shown reflect information for 1 serving out of 10, roughly 1/8 cup or 2 tablespoons. Macros may vary slightly depending on specific brands of ingredients used.
Nutrition
Serving:
1
serving
Calories:
200
kcal
Carbohydrates:
1
g
Protein:
1
g
Fat:
22
g
Saturated Fat:
3
g
Trans Fat:
1
g
Cholesterol:
16
mg
Sodium:
7
mg
Potassium:
11
mg
Fiber:
1
g
Sugar:
1
g
Vitamin A:
24
IU
Vitamin C:
1
mg
Calcium:
4
mg
Iron:
1
mg
This recipe was originally published July 2017 but was updated with video and tips July 2018.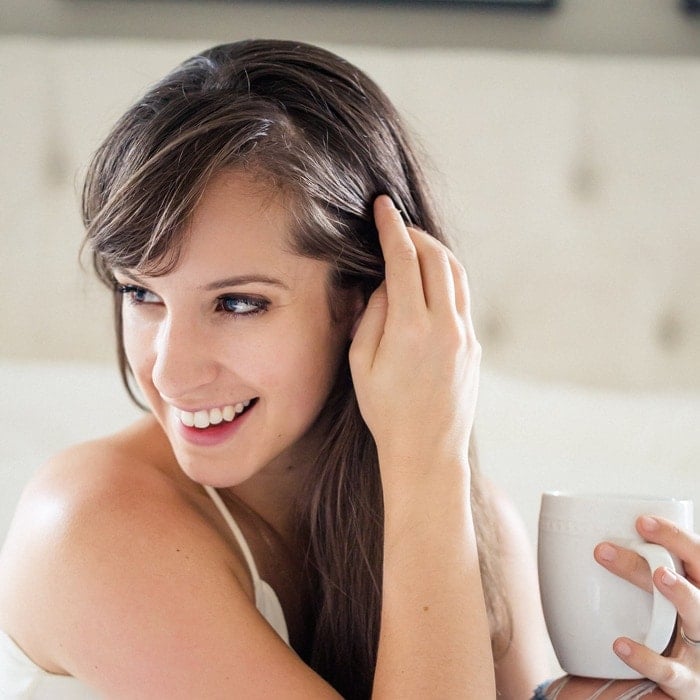 Cheryl Malik is the recipe developer, writer, and photographer behind the healthy, flavorful, family friendly recipes at 40 Aprons. She's been a blogger for 10+ years and is known for her delicious recipes and detailed recipe instructions. Cheryl is a mom of three who lives in Memphis, TN.