Introducing the best Whole30 ranch dressing! Garlicky with fresh herbs, it's the best paleo ranch dressing out there. Promise. An absolute must for any and every Whole30.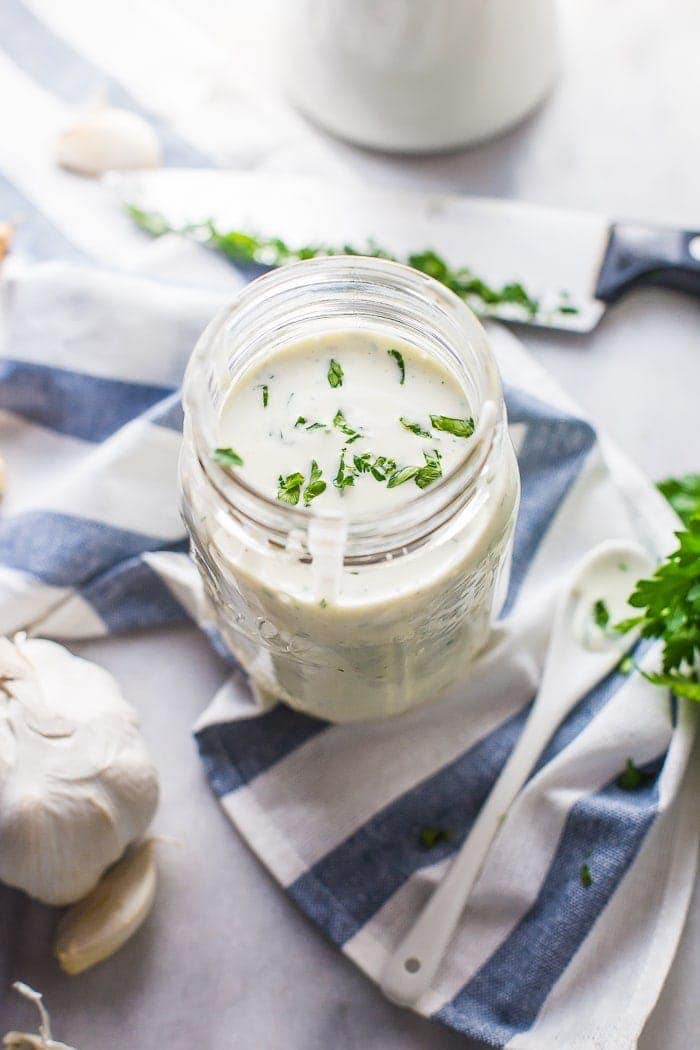 If you've ever done a Whole30, you've without a doubt heard the term "dump ranch." Throw all the ingredients into a container and let the immersion blender do the work: it's easy but unfortunately named…
But I'ma need you to step aside, dump ranch. You're about to get dumped, ranch. Because this is the best Whole30 ranch dressing on the block. Don't even get me started on paleo ranch dressings (this one wins that, too).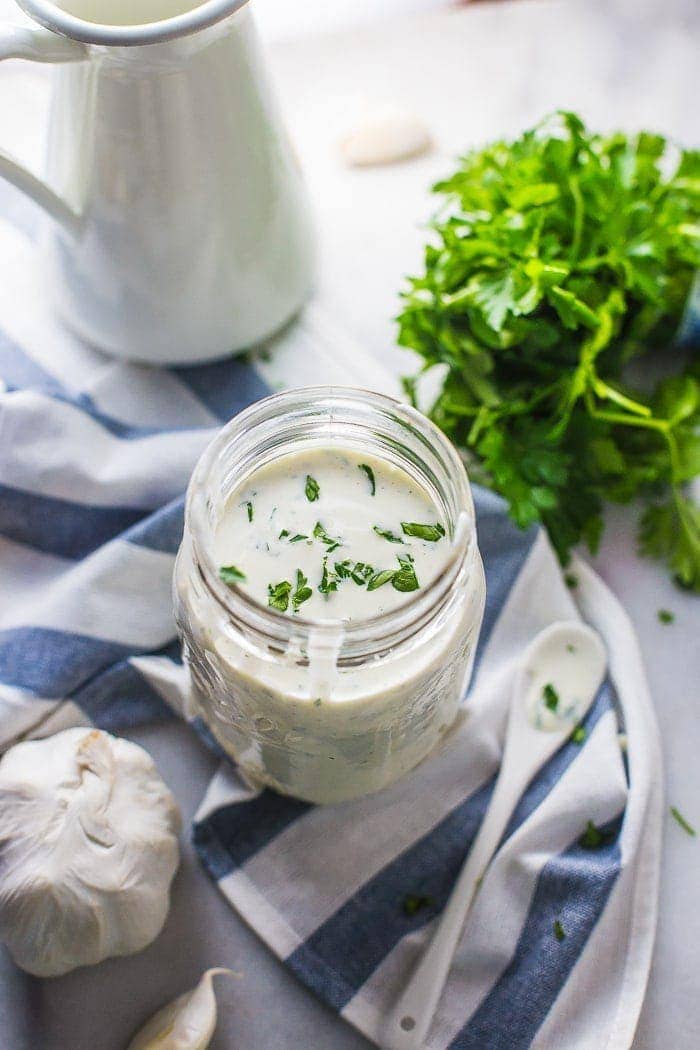 What makes this Whole30 ranch dressing so good? Well, it's based on my homemade ranch dressing recipe, swapping a buttermilk substitute and paleo garlic mayonnaise for their standard American diet counterparts. There's fresh garlic and fresh parsley, making this recipe restaurant-quality but still super easy. You already likely have Whole30-compliant mayo on hand, right? Well, then you're like, oh, 2 minutes from the best ranch dressing you've ever had.
And no, not just the best Whole30 ranch dressing you've ever had. This is my favorite ranch dressing ever, Whole30 or no. Big talk, I know, but you've gotta try it. If you're not into garlic, fresh herbs, or, you know, flavor, you might not be as big of a fan. But, can you tell?, I am REALLY into it.
This Whole30 ranch dressing recipe uses garlic mayo, which I'm including a recipe for, too, but if you want to use plain mayo, no fear. Just blend together a small clove or two of garlic with the cup of paleo mayo, and voilà! Try the Whole30 garlic mayonnaise, recipe, though, because garlic + mayonnaise = all the good stuff in life, amiright?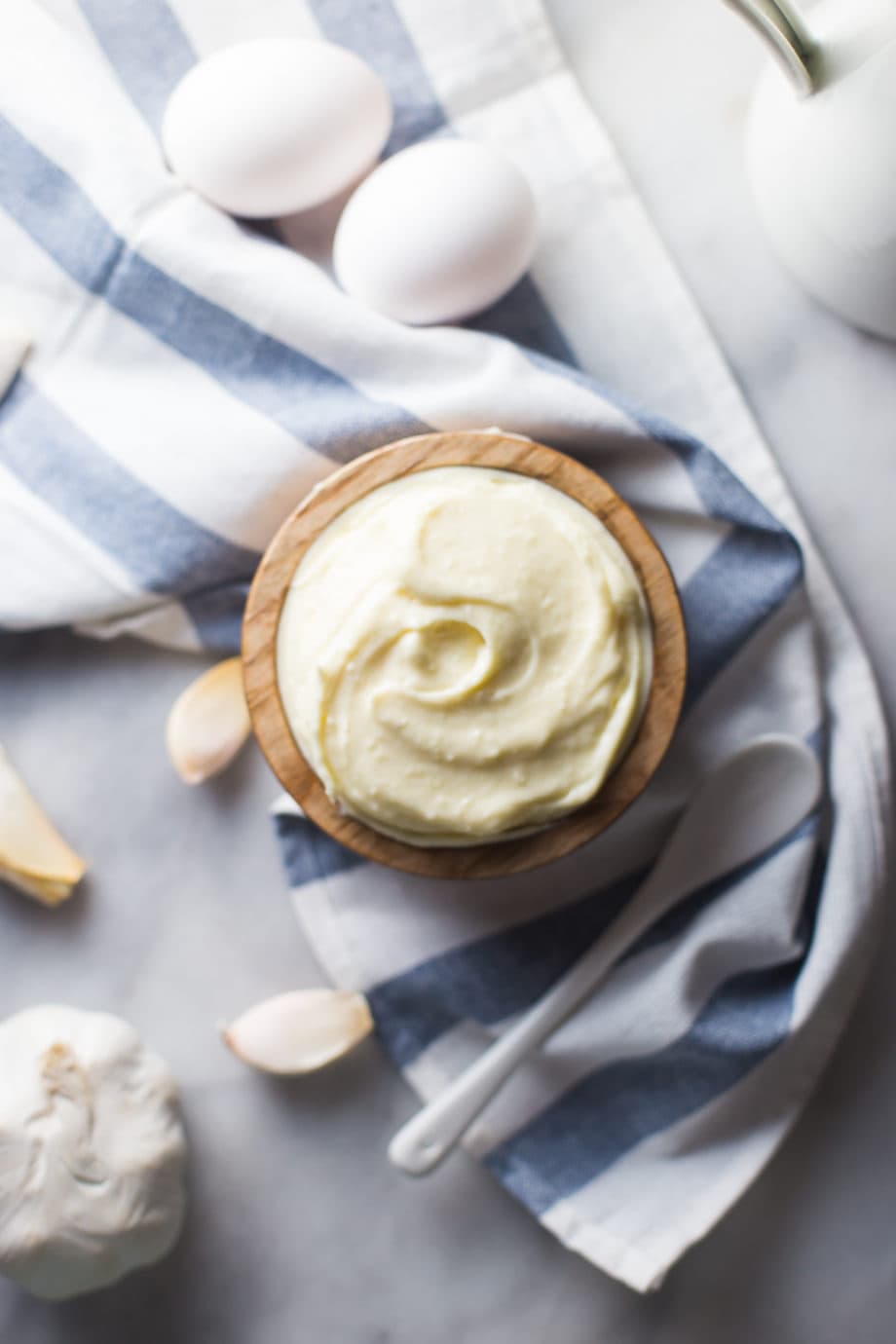 This Whole30 ranch dressing goes beautifully on my steakhouse-style steak salad which is coming right up! Stay tuned, my friends. And take heart: if you started your Whole30 at the beginning of January, you're in the home stretch!
You'll love this paleo ranch dressing because it's quick, easy, and absolutely full of flavor. It goes perfectly with pretty much everything, from chicken zucchini poppers and turkey-curry bites to sweet potato fries to salads to YOU GUYS MY CHILD DRINKS IT STRAIGHT.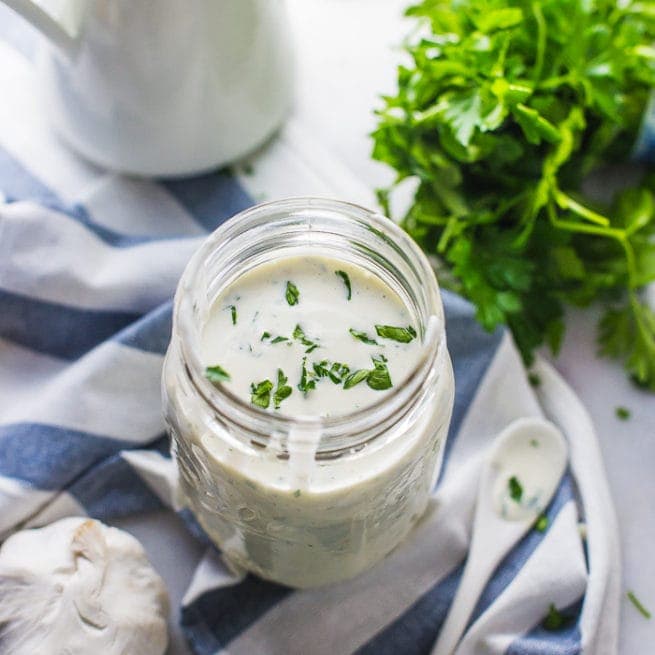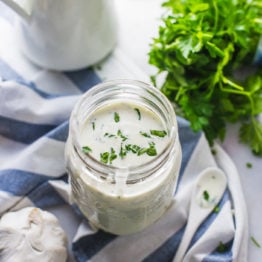 Best Whole30 Ranch Dressing
The best Whole30 ranch dressing. Garlicky with fresh herbs, it's the best paleo ranch dressing out there!
GO PREMIUM - AD FREE + MEAL PLANS
Ingredients
1

tablespoon

lemon juice

1/2

cup

almond milk

1

cup

garlic mayonnaise

, recipe below (or blend 1 cup paleo mayonnaise with 1 cloves of garlic in the blender/food processor)

1/4

cup

fresh parsley

, chopped

1-2

drops

white vinegar

1

tsp

freshly cracked black pepper

, to taste

1

tsp

salt

, to taste
Instructions
Make your "buttermilk": add 1 tablespoon lemon juice to a 1/2 cup measuring cup and add about 1/2 cup almond milk to make 1/2 cup. Let sit for a couple minutes or until "curdled."

Combine mayonnaise, parsley, and vinegar in a bowl and whisk well. Add "buttermilk" until desired consistency. This dressing will thicken a little in the fridge, so you can err slightly on the thinner side.
Notes
Add salt and pepper to taste.
Nutrition
Serving:
8
g
Calories:
135
kcal
Carbohydrates:
4
g
Protein:
1
g
Fat:
11
g
Saturated Fat:
2
g
Cholesterol:
9
mg
Sodium:
573
mg
Potassium:
10
mg
Fiber:
1
g
Sugar:
1
g
Vitamin A:
158
IU
Vitamin C:
3
mg
Calcium:
21
mg
Iron:
1
mg
Net Carbs:
3
g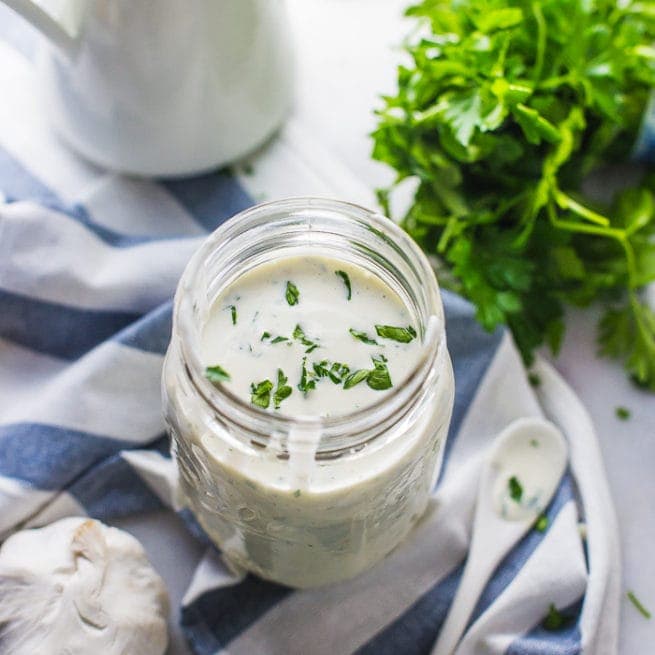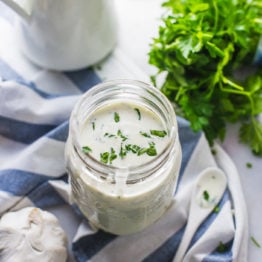 Whole30 Garlic Mayonnaise
Whole30 garlic mayonnaise: this paleo garlic mayo is amazing! You need a jar in your fridge at all times during a Whole30, I promise.
GO PREMIUM - AD FREE + MEAL PLANS
Ingredients
2 1/2

cups

light-tasting olive oil

, divided

2

eggs

, at room temperature (or let sit in hot, but not boiling, water for a few minutes)

1

teaspoon

mustard powder

1

to 1 1/2 teaspoon salt

1

lemon

, juiced

3

cloves

garlic

, smashed and peeled
Instructions
Crack the eggs into a mixing bowl, blender, or food processor. Add 1/2 cup olive oil, mustard powder, and 1 teaspoon salt. Blitz or whisk for a few seconds until well-combined.

While the food processor or blender is running (or while mixing in a bowl with an immersion blender), begin slowly drizzling in the remaining 2 cups of olive oil. Stream oil in very slowly until mixture has thickened substantially, then you can add oil in a bit faster.

Once the rest of the oil has been added, add the fresh lemon juice and garlic and blend until very smooth. Add more salt to taste.
Notes
If your mayonnaise breaks (won't emulsify and thicken), remove from blender or food processor. Add a new room temperature egg to blender or food processor with about 1/4 cup of your broken mayo. Blitz until smooth, then begin very, very slowly drizzling in the rest of the broken mayonnaise. Err on the side of caution and go slowly this time! After about 1/2 cup drizzled in or so, your mixture should thicken up. Then you can begin drizzling in a bit more quickly. Never dump, always stream slowly!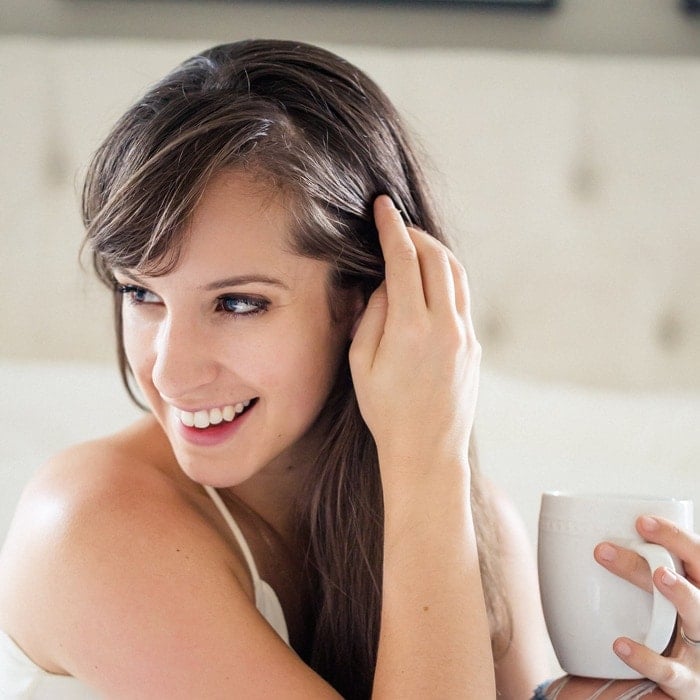 Cheryl Malik is the recipe developer, writer, and photographer behind the healthy, flavorful, family friendly recipes at 40 Aprons. She's been a blogger for 10+ years and is known for her delicious recipes and detailed recipe instructions. Cheryl is a mom of three who lives in Memphis, TN.