This steakhouse-style Whole30 steak salad is indulgent and full of flavor, you might just forget it's Whole30-approved. Cajun-seasoned steak seared to a perfect medium rare, garlicky ranch dressing, and rich, soft-boiled eggs? Forget the steakhouse; we're staying in tonight for this paleo steak salad!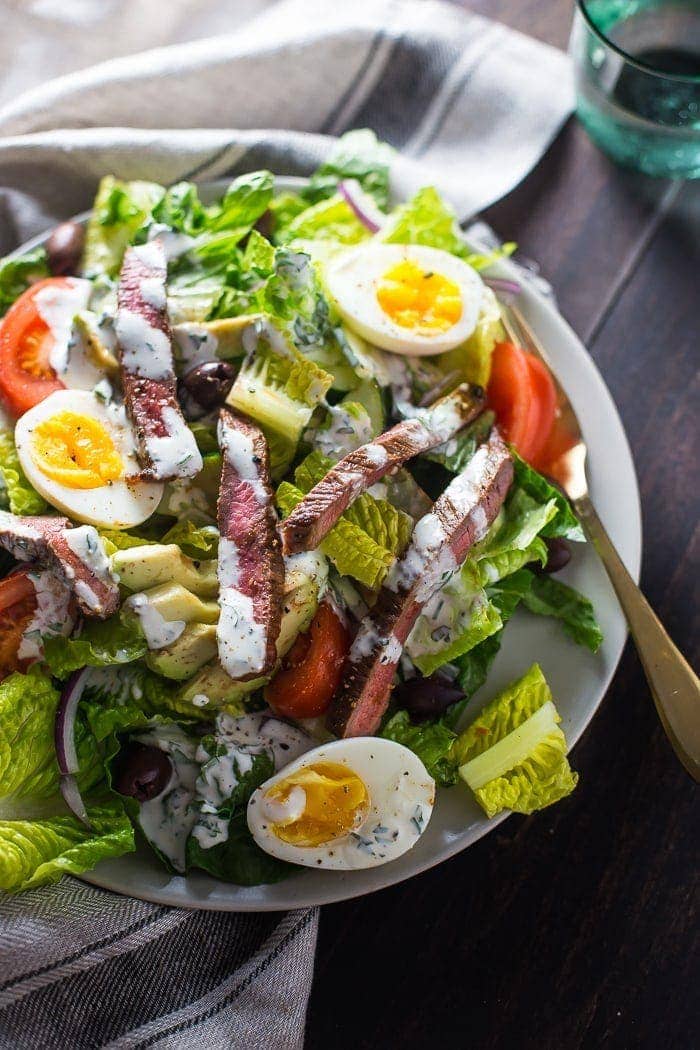 I have these strange lunch habits when I work at a particular location, and when I worked at Guitar Center many (, many) moons ago? It was walking to the Colton's in the same parking lot at 4 p.m., or whenever my equally strange lunch hour was scheduled, stuffing myself with sweet yeast rolls and gorging on a sirloin steak salad.
"I hate to be so obnoxious, but um… between rare and medium-rare?" I'd respond to the question of my steak's temperature with a question. "Because, you know, it's sirloin so… OK… just… yes, I will in fact take another basked of rolls…"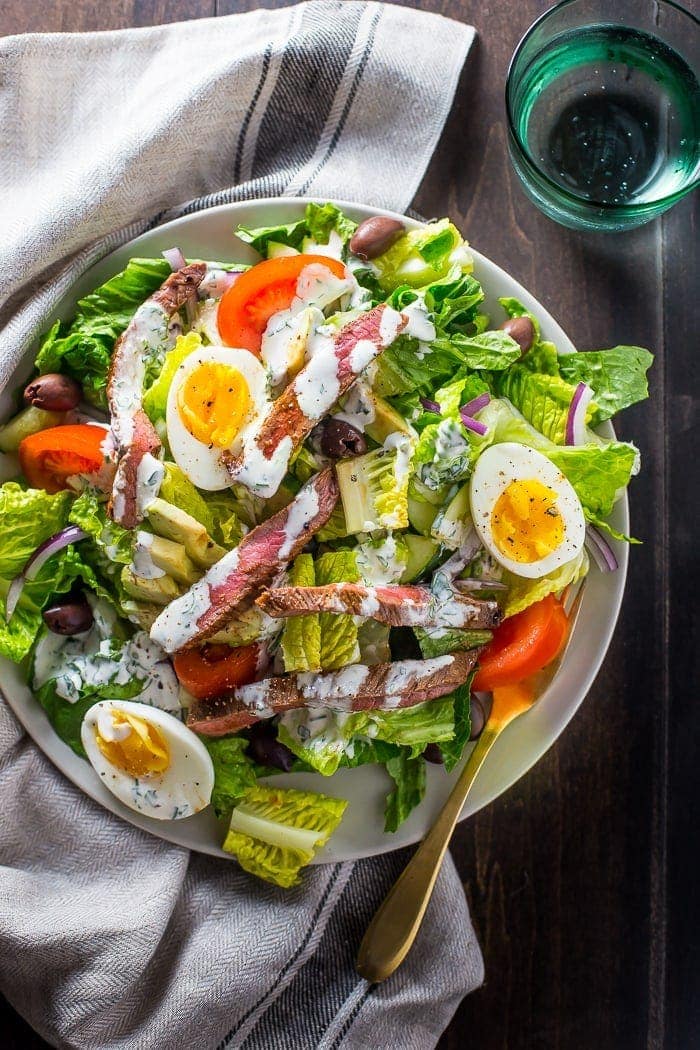 And something about the crisp lettuce, positively drenched in garlicky ranch, layered with tomatoes, hard-boiled eggs, croutons, and shredded cheese, topped with the tender sliced steak… Well, it was my go-to the entire time I worked there. The manager knew me; the waiters came to anticipate my vaguely pretentious steak temperature request. And because I was oh, 20 years old or something, I could eat three baskets of rolls a day and not gain an ounce…
Now that I'm almost ten years old and focused on eating healthier, we skip the Colton's and opt for steakhouse-style Whole30 steak salads at home instead. On a Whole30, I get so sick of choking down slabs of protein for dinner by day, like, 2. I end up making a berjillion types of meatballs, tons of zoodles, and loads of these Whole30 steak salads.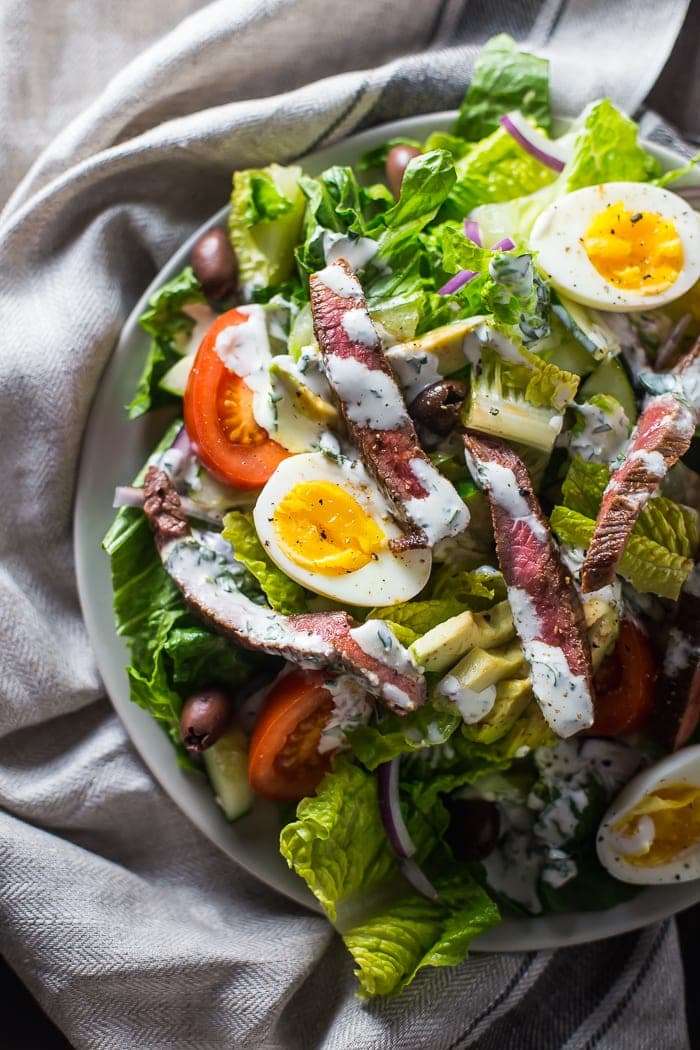 Something about the crisp coolness of the salad seems to cut the meatiness of the dish for me without leaving me feeling hungry at all. It's the perfect dish towards the end of the Whole30, when you never, ever want to see chicken or eggs or sweet potatoes ever again.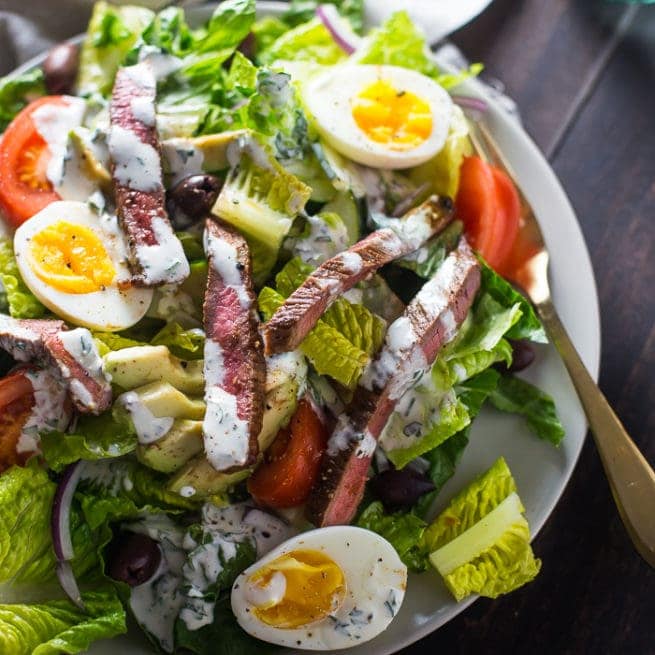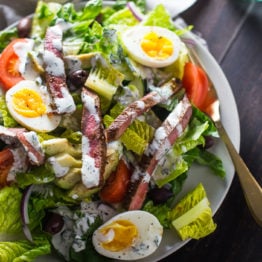 Whole30 Steak Salad Steakhouse-Style (Paleo)
This Whole30 steak salad (steakhouse style!) is full of protein and flavor, with cooling ranch and crispy lettuce. It'll become one of your favorite paleo salads even after you're done with the Whole30!
GO PREMIUM - AD FREE + MEAL PLANS
Ingredients
Steak
12

ounces

sirloin steak

1

tbsp

Plenty of compliant Cajun seasoning

(I make this recipe), about 3 tablespoons

2

tablespoons

ghee

1

whole

small head romaine lettuce

, washed and sliced into about 1 1/2" slices

1

Roma tomato

, diced

1/3

cup

cucumber

, diced

8

eggs

, soft- or hard-boiled

1/4

cup

kalamata olives

2

whole

ripe avocados

, peeled and sliced

1/2

cup

Ranch dressing

, using my Whole30 ranch dressing recipe
Instructions
Season your steak very liberally with Cajun seasoning on both sides, about 1-2 tablespoon per side.

Heat a cast-iron skillet over medium-high heat for a few minutes, or until very hot. Add ghee and then add your steaks. Let cook, without touching or moving, 90 seconds. Flip and cook another 90 seconds.

Remove from pan and let rest for 5 minutes. Meanwhile, assemble your salads. Slice steaks after resting and lay on top of assembled salads.

.
Nutrition
Serving:
4
g
Calories:
351
kcal
Carbohydrates:
4
g
Protein:
20
g
Fat:
29
g
Saturated Fat:
9
g
Cholesterol:
88
mg
Sodium:
513
mg
Potassium:
401
mg
Fiber:
1
g
Sugar:
2
g
Vitamin A:
1046
IU
Vitamin C:
3
mg
Calcium:
42
mg
Iron:
2
mg
Net Carbs:
3
g