Virtual Happy Hour

Posted: 04/26/20 Updated: 05/11/22
Needing a night out but without gross bathrooms, overpriced drinks, and too many obnoxious strangers? A virtual happy hour is all the fun of going out, but on your couch! Pick a theme, create a menu, and play virtual host or hostess in the comfort of your own home. No tipping required!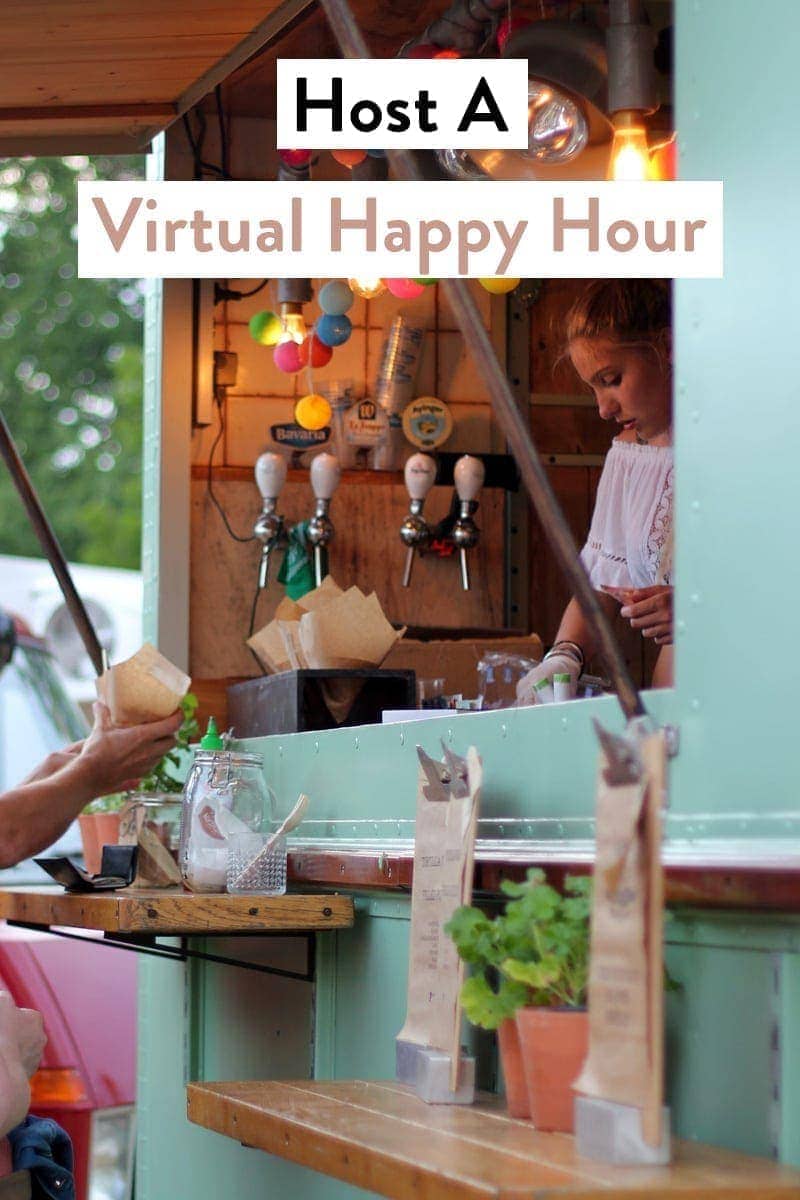 Set a Theme
Home theatre: Pick a movie that's streaming or play one on your computer and share your screen. Horror movies, vintage classics, and campy films are perfect for watching as a group (think long-distance MST3K). Keep the microphones ON for the ultimate movie theatre experience and convo.
Book club: Pick a book to read each month (or week, depending on how fast your group inhales them), and get together once a week to discuss. The New York Best Sellers List is a great place to start, but don't forget about classic novels, a good mystery, and book series (Outlander, anyone?).
Cooking class: Are your friends always bugging you for your famous caramel apple pie recipe? Or are you always trying to enlist someone to become your personal chef so that you don't have to learn how to set the oven to broil? Create your very own pretend cooking show à la Jennifer Garner. Pick a recipe (I mean, I know where you can find a few, hint hint), send out a shopping list with your invitation, and get cooking! Make sure to mention what tools and dishes are needed to make your recipe so that even amateur cooks can get in on the fun (even if they have no clue what an Instant Pot is).
Trivia night: Pick a trivia theme, like a favorite TV show or book series, or just come up with a ton of tricky questions and host your own game of trivia. There are tons of resources online for coming up with questions and answers. Offer up a small prize like a gift card or just bragging rights, and have your participants come up with team names.
Support group: Sometimes you just need to vent. Creating a weekly virtual get-together, especially when physical outings just aren't feasible, can be a major emotional release. Conversation doesn't necessarily have to be serious; sometimes it's just nice to talk to someone who gets it. Mom groups, students, people in your career field, and other like-minded people may get as much out of a weekly chat-fest as you do. (Obviously, you may want to have a sober happy hour depending on what type of group you plan on hosting!)
Dance party: Don't let those sweet, sweet dance moves go to waste while you're not hitting the club! Create a party playlist on Spotify or, even better, enlist the services of a DJ friend to host. Pull out your strobe lights, disco ball, and highest platform heels for a night of dancing.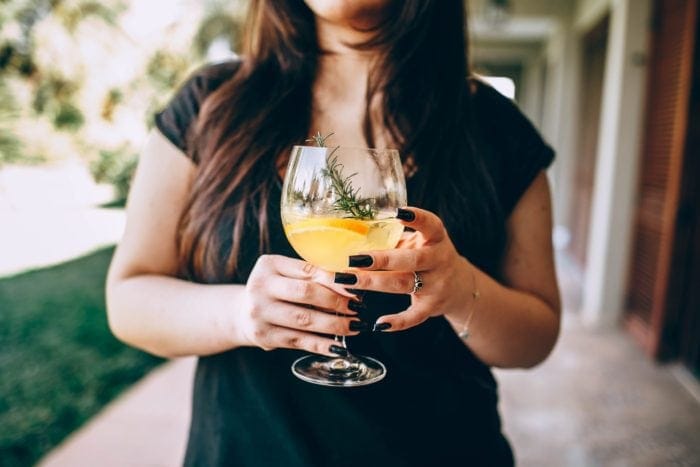 Make a Menu
Obviously, this part is totally optional, but it can really make your happy hour more fun. You don't have to come up with anything fancy, but what about a signature cocktail? Or an easy appetizer? You could even suggest some local restaurants that fit with your theme (or just what you're craving).
Signature cocktail and mocktail ideas:
White Russian – 2 ounces vodka, 1 ounce coffee liqueur like Kahlua, and a splash of cream
Moscow mule – 2 ounces vodka, 1 ounce lime juice, and 6 ounces ginger beer
Dirty martini – 6 ounces vodka or gin, 1 dash dry vermouth, 1 ounce green olive juice from a jar, garnished with olives
Baby bellini (non-alcoholic) – 2 ounces peach nectar, 2 ounces sparkling cider
Negroni – 1 ounce gin, 1 ounce Campari, 1 ounce sweet vermouth
Bay breeze – 2 ounces vodka, 3 ounces cranberry juice, 3 ounces pineapple juice
Arnold Palmer (non-alcoholic) – 5 ounces lemonade, 5 ounces iced tea
Easy recipe ideas: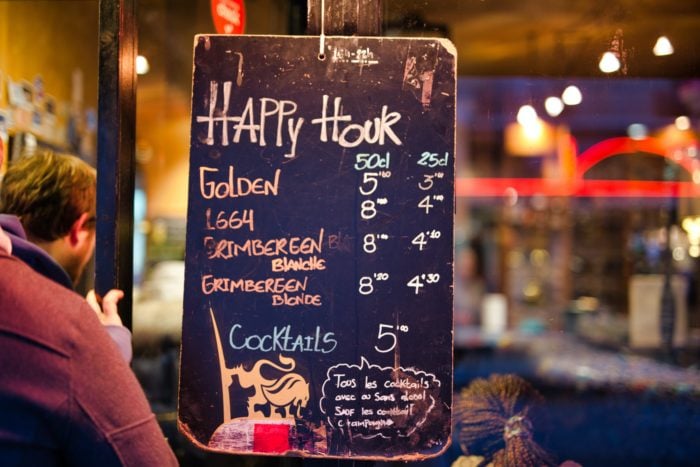 Pick a Platform
Zoom is obviously a great way to host a large online group, and it's perfect for scheduling a meeting for a set time and sending a link. This works especially well as a party host or hostess, since you can start the meeting when you're ready, share your screen, and can set the meeting to show you in full screen if you are giving directions, playing a song, or doing something that needs attention.
House Party is another great option, especially for small groups. Participants can come and go as they please, and House Party is available both as an app for your phone, and also on a Mac or Chrome.
Send The Invites
Yeah, you could just send a text, but an e-vite is so much more fun! Paperless Post, for one, has the cutest online invitations (check out these two!). You can also create adorable flyers that hold all the info for your fête.
Get Fancy
Tempting as it may be, do not stay in your pajamas for your happy hour. (Unless PJs are the theme, of course!) Especially if your guests are long-distance, or you haven't seen them in awhile, now is the time to dress to impress. For even more fun, ask your guests to dress up, too. How about black tie, old high school prom dresses and suits, a specific decade, costumes, characters from a movie, or beach wear? Giving your guests a reason to show up and show out makes your virtual get-together more memorable and way more fun to get ready for.
And now, decorate! If you picked a specific theme, pick decor that fits in with it. Or, even easier, just pick a background for your screen on your video platform. You could go fancy house, serene beach, or even local dive bar. Even better? There's nothing to clean up after.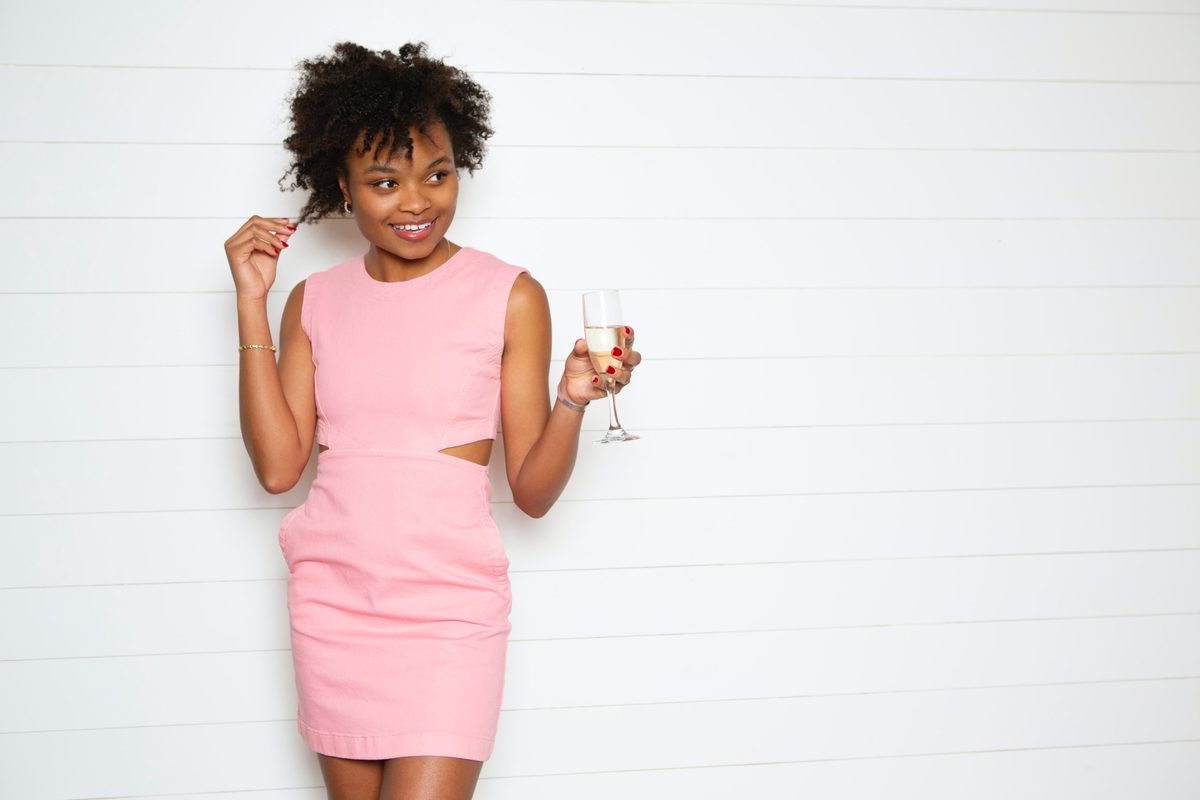 Have Fun!
Remember, you're doing this for fun, and to spend time with those you love who can't be physically with you. Don't stress! Your virtual happy hour is almost guaranteed to be the easiest party you ever throw. You may never want to have one IRL again!
More Posts on Living Well
Hey – you've made it this far, and now we're best friends! Make sure you follow me on Instagram, Pinterest, and Facebook, too!