Daily Harvest Review – Organic Meals and Fall Feels

Posted: 10/12/21 Updated: 12/13/21
I'm always excited about healthy, convenient, nutrient-dense foods, so I couldn't resist giving Daily Harvest a try… especially with fall flavors on their menu! Check out some of my thoughts on this gluten-free, dairy-free, refined-sugar-free, plant-based food company.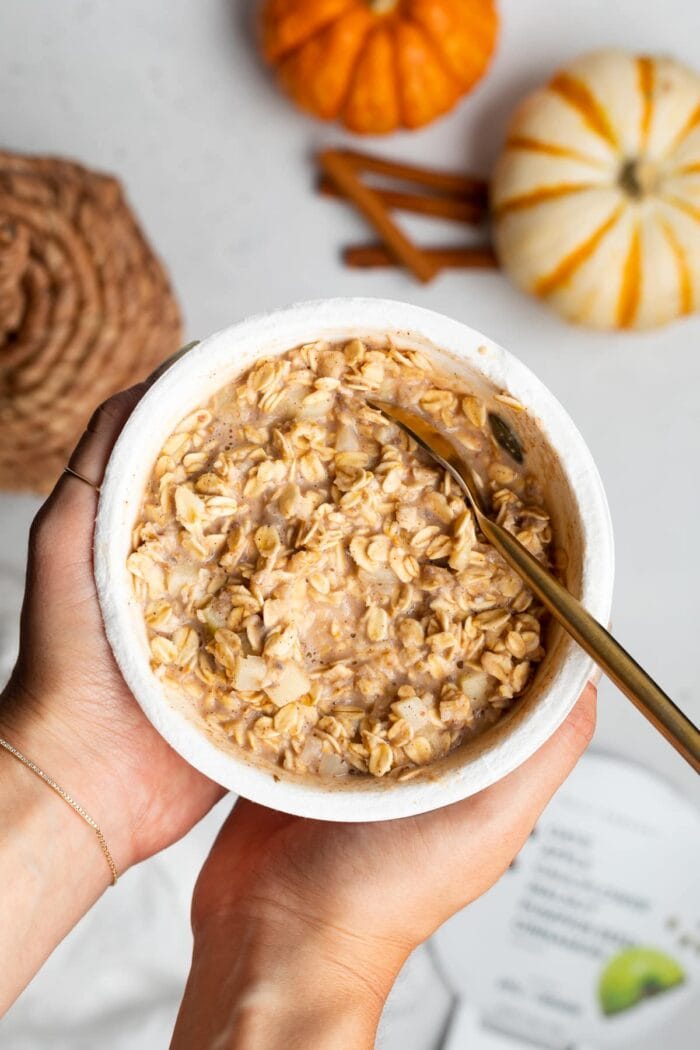 Full Disclosure: The foods in this sponsored post were supplied by Daily Harvest in exchange for my honest review. All thoughts and opinions are my own.
What is Daily Harvest?
So, the whole idea behind this food delivery company is to provide food that tastes great, is super convenient, and is built on whole, organic fruits and vegetables for happier, healthier lifestyles. Almost all of their ingredients are organic, and they don't use any refined sugars, gums, preservatives, harmful oils, or anything artificial.

Um, LOVE.
What's So Great About Daily Harvest
It's no surprise that I'm pretty focused on nutrition and eating healthy (as much as possible, at least). Browse my site and you'll find options ranging from paleo & Whole30 to low carb & keto to vegan & vegetarian to gluten free & dairy free – and they're all recipes my family and I enjoy on a regular basis. Daily Harvest fits right in by offering food that fits almost any dietary need!

With 3 kids and everything else, though, things get pretty busy around here pretty fast. There are definitely some days when cooking an elaborate, healthy breakfast or dinner just isn't in the cards, no matter how many Instant Pot meals I've got up my sleeve. Thankfully, Daily Harvest makes it possible to have satisfying, nutritious options ready and waiting for that exact "guess it's a bowl of cereal for dinner" moment.

Everything shows up at your door frozen to lock in nutrients, antioxidants, and flavor. You just keep the foods in your freezer until you're ready to eat them. That makes it SO easy to eat more fruits and veggies every day.

To make it even better, their foods are always gluten free, dairy free, and plant-based, and they have over 90 options for any time of day. 90! Of course, I couldn't resist kicking off the season with a bunch of festive fall flavors. Apple + Cinnamon Oat Bowls, Kale + Sweet Potato Flatbreads, Sweet Potato + Wild Rice Hash Harvest Bowls… Talk about fall feels!
Interested in trying Daily Harvest yourself? Right now, you can save up to $40 off your first box with the promo code 40APRONS
What Does Daily Harvest Offer?
These are just a few of the collections and foods you can choose from when you build your Daily Harvest box. Besides the foods I tried, they also offer soups, chia bowls, lattes, and so much more. To see everything within all 11 collections, head to the Daily Harvest site.
I had to start off with the Apple + Cinnamon Oat Bowl, and OMG. If you're a fan of fall flavors, you'll LOVE this one. So this bowl is full of oats, apples, cauliflower, walnuts, pumpkin seeds, and cinnamon. Real, whole fruits and vegetables and SO much flavor. The ingredients in this Daily Harvest oat bowl have some pretty awesome immune-boosting, anti-inflammatory properties, and they're a solid source of vitamins and nutrients your body will thank you for.

Making this couldn't be easier. Just add half a cup of your favorite milk (or liquid of your choice), then warm everything on the stovetop or in the microwave for 2 to 3 minutes. Give it a stir and dig in!
I know I said I was embracing the fall flavors, but I couldn't resist one last taste of summer. With coconut, strawberries, dragonfruit, raspberry, and vanilla bean, the dairy-free and plant-based Strawberry + Rich, Rippled Berry Compote Scoops was calling my name. One thing I really love about this one is that it also includes probiotics, so besides being delicious, it's good for the gut, too. Pro tip: let the Scoops sit out for a little while to soften before eating. They'll be creamier and tastier that way.

I've got my eye on the Vanilla + Sweet Salted Caramel Scoops next.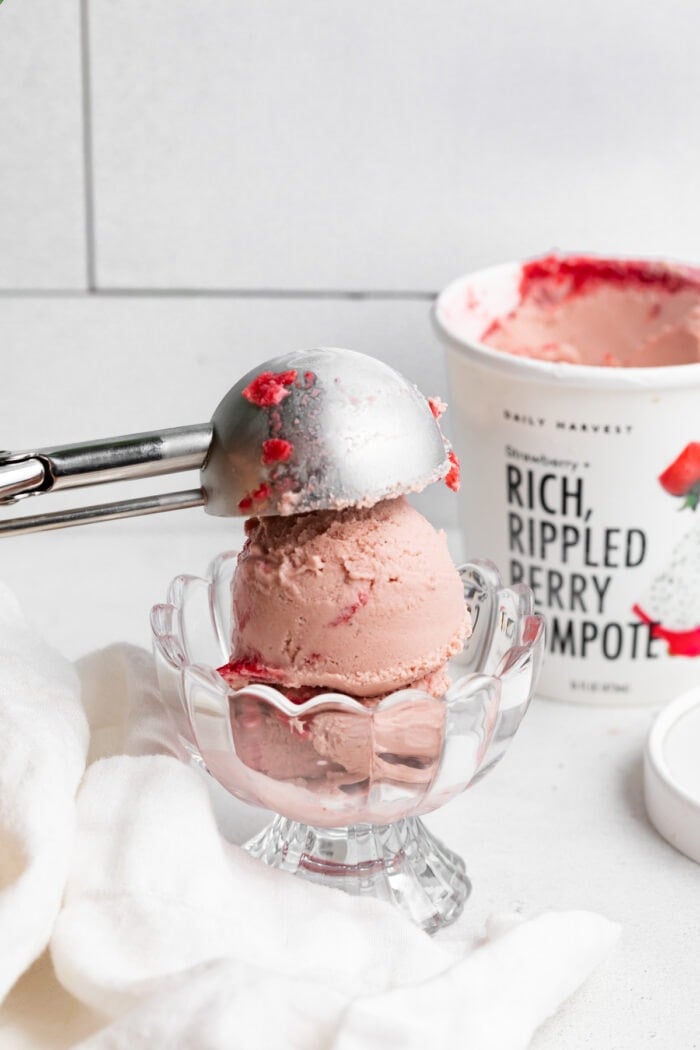 Can we just TALK about how GORGEOUS this Kale + Sweet Potato Flatbread is?! Look how vibrant those veggies are!

Daily Harvest really knows how to pack in the nutrients. This flatbread has a sweet potato crust, and it's topped with red cabbage, kale, cauliflower, spinach, and coriander. Lots of high-fiber, anti-inflammatory, immunity-boosting ingredients! It's the red cabbage that gives the dish that rich, natural purple color, thanks to its anthocyanin. It's almost too pretty to eat. Almost.

Cooking the flatbread couldn't be easier – all you have to do is pop it in the oven for 20-25 minutes!
I love energy bites, so there was no way I was passing these up. These Cacao Nib + Vanilla Bites taste like chocolate chip cookie dough, but they're made with chickpeas, coconut, cacao, kabocha squash (Japanese pumpkin), maca (an energy-boosting Peruvian superfood), and vanilla bean. Dates give them a little sweetness, and pumpkin and chickpeas contribute to the energy boost.

Each cup has 7 bites, so you can enjoy them all in one sitting (I won't tell), or sneak one out of the freezer every now and then when you just want a treat.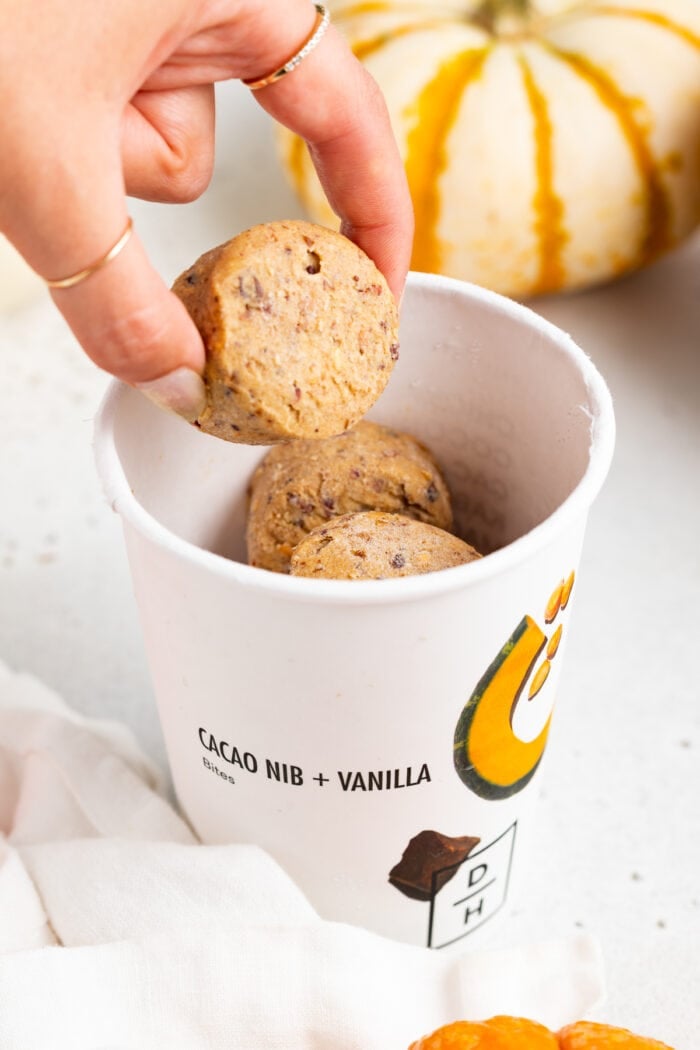 Smoothies are one of the easiest, tastiest ways to get in plenty of fruits and vegetables. With the right combination, you can sneak in some of your least favorite foods and never even know they're there.

There's nothing in this Açai + Cherry Daily Harvest Smoothie that I don't like, though. Cherries, blueberries, bananas, raspberries, açai, kale… All organic, all great sources of vitamins and antioxidants. Just add your favorite liquid, blend it all together in a blender, and enjoy! I used milk for a creamier smoothie but water or coconut water would totally work and give you a little extra hydration.

These are perfect for breakfasts on those really crazy mornings. I love that I don't even have to think about what I might put in a smoothie that day, whether I have everything I need, whether I let those fresh blueberries from the grocery store hang out in the fridge for a day too long…
Okay, last but not least – the Harvest Bowls.

I tried the Sweet Potato + Wild Rice Hash Harvest Bowl. It's made with tomatoes, sweet potatoes, wild rice, Great Northern beans, avocado, and maitake mushrooms, and it tastes like you took a delicious, autumn-inspired breakfast burrito, ditched the tortilla, and mixed it all up in a bowl. A.K.A. it's really good. And hearty. But not heavy.

Like with their other foods, Daily Harvest kept the cooking really easy with these. All you have to do is heat the Harvest Bowls on the stove or in the microwave for 4 to 5 minutes. If the mixture's too thick for your liking, you can add a little water or broth, but really all you have to do is heat and stir.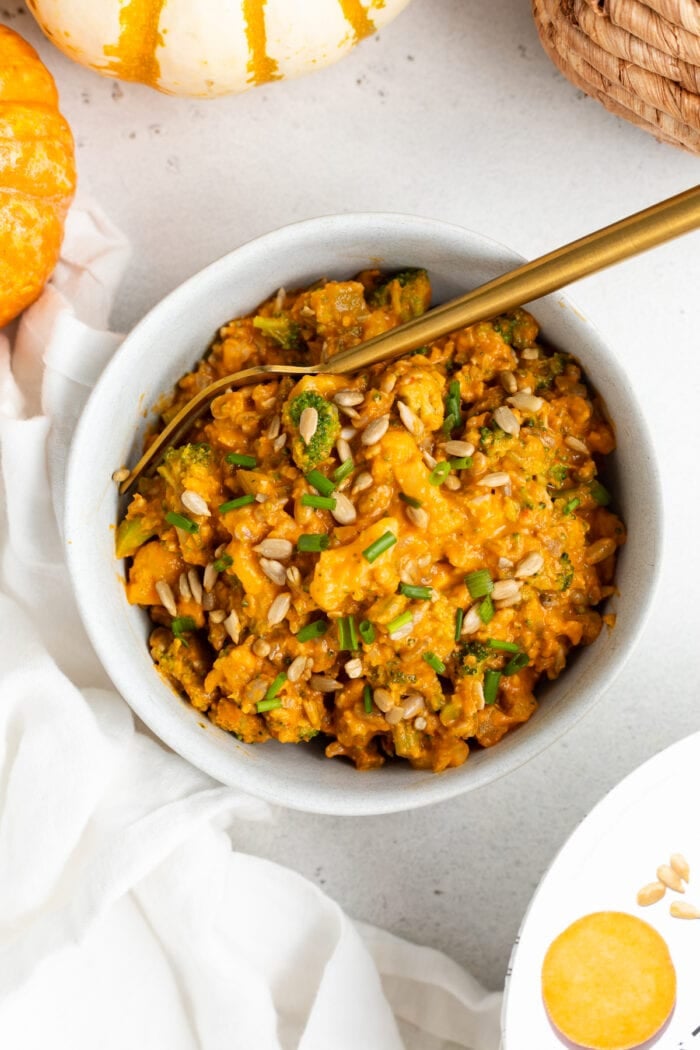 My Thoughts on Daily Harvest (and a Daily Harvest Discount)
So, what's the verdict? Is Daily Harvest worth it?

If gluten-free, dairy-free, refined-sugar-free, plant-based, nutrient-dense, super-convenient food is your thing, you should definitely look into a Daily Harvest delivery. There are so many incredible foods and flavor combinations that I'm positive you'll find something you love. Their foods will keep in the freezer up to 6 months, so it's really nice to have them on hand.

I'll be honest. Depending on the number of items you want, the frequency of your deliveries, and the combinations of options you choose, a box could be a little pricey. Especially if you're new to purchasing items made with organic, whole ingredients. The whole set-up is pretty flexible, though. You can modify your selections, the items in your box, and your delivery schedule to fit your needs and your budget, and you can pause your plan or skip weeks whenever you want. PLUS, right now, you can try them out AND save up to $40 on your first box. Just use the code 40APRONS.