Making the Most of Your Family Road Trip This Summer

Posted: 06/22/21 Updated: 05/31/23
There's nothing quite like a family road trip in the summer. The sights, the experiences, the food, the memories! My family and I love to travel so I've become a sort of road-trip-pro over the years, especially when it comes to traveling with littles in tow. This is a look at my tried-and-true routine that helps each of our road trips go as smoothly as possible.
This post is sponsored by Ibotta, but all thoughts and opinions are my own. All offers were valid as of publish date. Don't forget to check your app for details as offers change frequently and may not be available in all areas.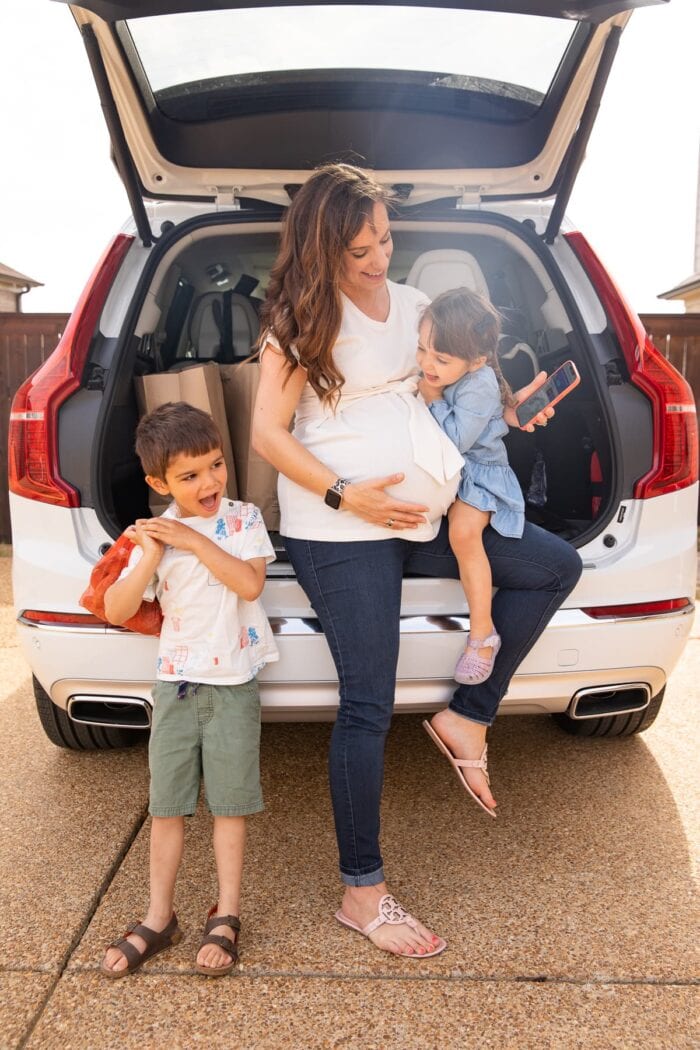 Hi, my name is Cheryl, and I'm a self-proclaimed family road trip BEAST. Seriously, after I-don't-even-know-how-many trips with kids, without kids, with one kid, with two kids, with extended family, without extended family – you get the picture – I feel like I've got this whole traveling thing down to a science. No matter where we're going or how long a trip we're taking, this is my finely-tuned, pre-trip routine that gets everything (mostly) off to a smooth start.
Family Road Trip Step 1 – Be Prepared
A lot of last-minute things come up when kids are involved, so I'm not going to tell you "leave nothing to the last minute". I am going to tell you, though, to get as much together as possible ahead of time. Trust me, you'll thank me (and yourself) when you're not scrambling, wondering what on earth you forgot because you know you forgot something important, then realizing later it was really important. Isn't it always the really important stuff?
Entertainment
So, we don't have TVs for the kids, but we do have tablets for them. Their tablets come in really handy in the car. In the few days before we leave, I'll load up their tablets with shows and movies that I know they like and that will hold their attention. Amazon Prime, Netflix, and Disney+ all give you the option to download shows directly to your device so you don't have to worry about using data or not having wifi or whatever. I download more than enough to cover the amount of time we plan to be on the road and any unexpected traffic jams or detours or anything that might come up.

Pro Tip: Amazon Prime lets you download movies, which is a total saving-grace because Prime shows don't autoplay for some reason. A movie means the grown-ups don't have to climb in the backseat every 20-30 minutes to start the next episode. Ask me how I know.

Also, I don't worry about screen time when we're on the road. I get bored being in the car for a long time so it's no surprise that they'd get bored, too.
Must Have Road Trip Accessories
We have these really great tablet holders that we got off Amazon so the kids don't have to hold on to their tablets. We narrowed down the choices and then let them pick which ones they wanted. They loved getting to be a part of the road trip prep! My oldest son, who is in a front-facing seat, has a holder that attaches to the seatback in front of him. It extends out so he can reach his tablet and handle all his own controls. My daughter is still rear-facing, so her holder straps flush on the headrest right in front of her. She can watch it fine but she can't reach it.

Since we're bringing tablets (and also our phones, and GPS) we always, always, always make sure we've got really long charger cables that plug in to the USB ports in the car. Having hours worth of shows and movies on your kids' tablets won't do any good if the battery dies! We also bring a couple of fully-charged portable power banks. There's just never enough charging ports in the car for everyone to be plugged in at the same time.
Don't Forget – Charge Your Devices!
Can NOT stress enough how crucial it is to make sure everything is charged up and ready to go the night before. A tablet dying 15 minutes after hitting the road is not how you want to start the day. Charge everything up the day before and then (this part's really important) leave them off until you're in the car. That keeps the battery that you know you just charged from running down before you actually need it.

Also, bring your chargers.
Family Road Trip Step 2 – Stock Up on Snacks
I don't know what it is, but you just can't take a road trip without snacks. You can't! Snacks are a quintessential part of the family road trip experience, and we actually really enjoy choosing which snacks we're going to take with us. Thankfully, Ibotta makes it super easy to earn cash back on groceries, which means we can save a little money on our road trip snacks! I use Ibotta whenever I'm shopping for groceries, whether I'm in-store using their app or online using their browser extension.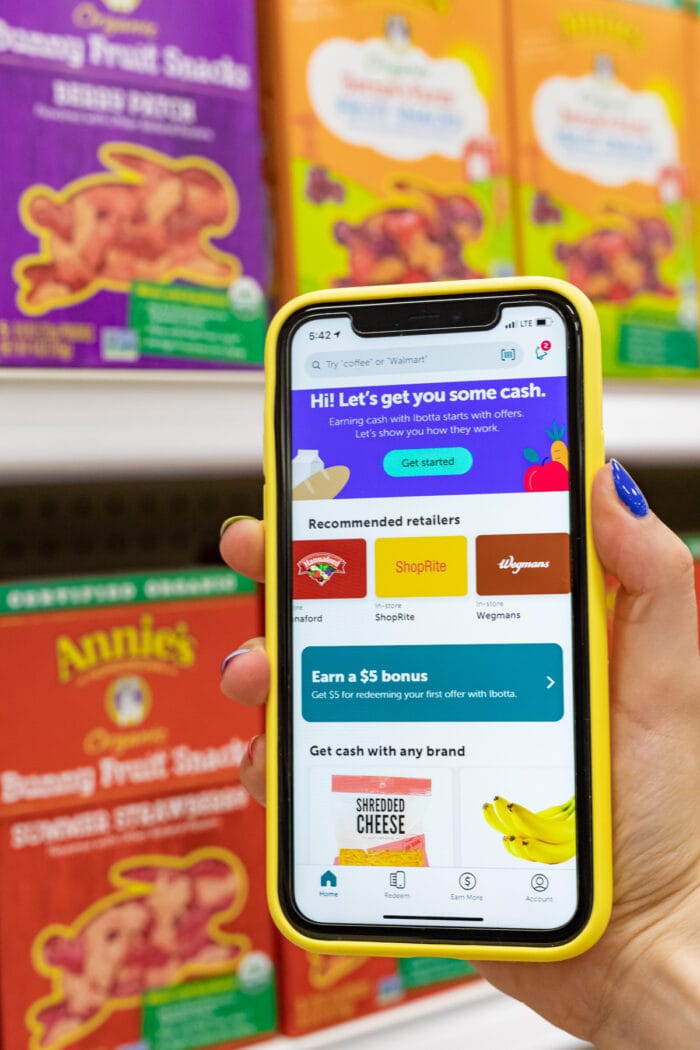 One of the great things about the Ibotta app, besides being super easy to use, is that it works at a ton of different retailers. That means I don't even have to think about where I'm shopping when we're out of town, since odds are pretty good I can use it wherever we stop. Go on vacation and earn cash back rewards? Uh, okay! There are always deals for a ton of different brands and products, too!
Think Easy, Tasty, and Healthy…ish
I say "healthy…ish" because we regularly eat pretty healthy at home, and I try to keep that up for the most part on our road trips. I don't stress over it, though – it's vacation! I've found that it's way more important to pack foods they'll be excited about and will actually eat, even if it's something that's not part of their every day meal rotation. Like a piece of a chocolate croissant. Not necessarily part of a typical breakfast, but as part of a special vacation breakfast? You bet!

I also pick up a bunch of prepacked, mostly healthy snacks, like Larabars and Annie's crackers and Pirate's Booty and things like that. Anything that's individually packaged is super perfect for snacking in the car, since you can just hand the kids the bag. You can pick up a larger package of whatever, too, though, and make your own portioned-out snack bags.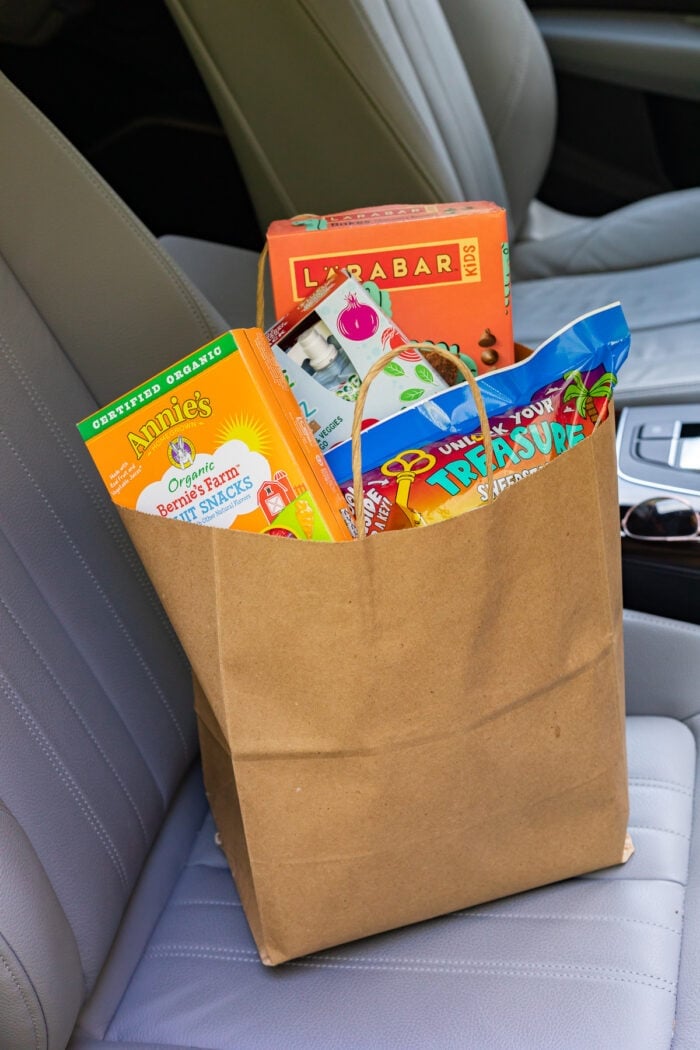 Bento Boxes for Breakfast or Lunch
Bento boxes make for really easy, convenient, healthy homemade-Lunchable-type meals that are perfect for the car. I can prep them the night before, toss them into a lunchbox or cooler, and give them directly to the kids in the car. I pack them with foods the kids can handle on their own – nothing they need me to open or assemble-in-the-car or anything like that.

A typical bento box for our road trips might include yogurt pouches, cut up fruit, part of a blueberry muffin or a chocolate croissant, crackers, veggies, egg bites, a turkey wrap, whatever! I usually pack bottles of water in the cooler, too, and keep that handy.

Between the food and the compartments, the bento boxes keep the kids busy and entertained for at least 30 minutes. 30 very valuable road trip minutes.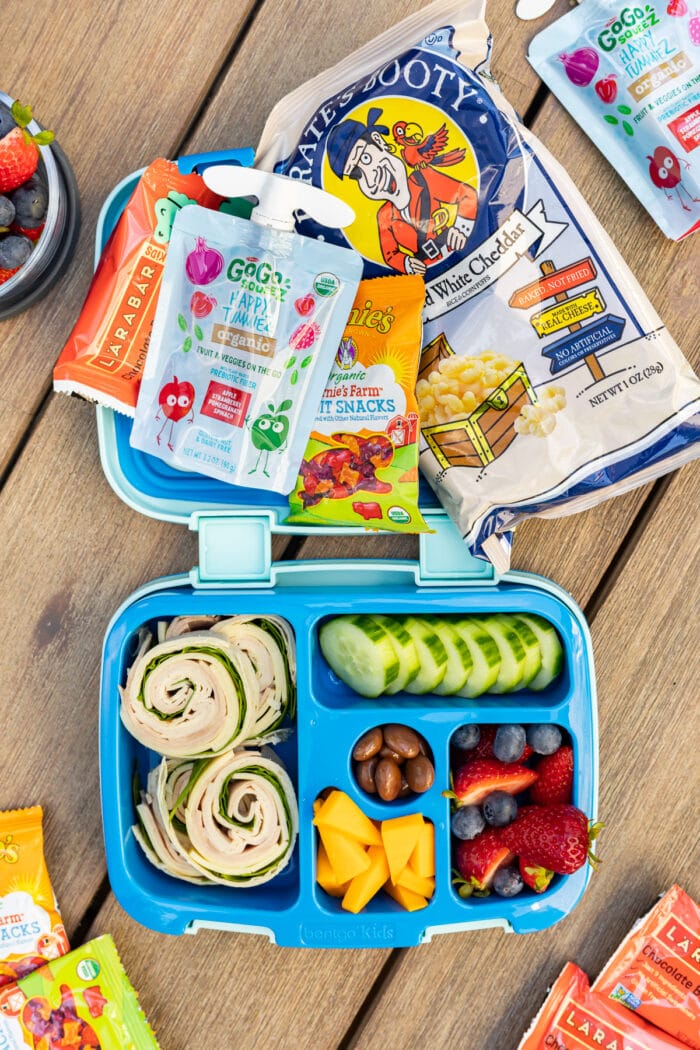 Family Road Trip Step 3 – Travel Day
Hit the Road Early
Leaving the house early in the morning is a big part of our road trip success. It's just so much easier on the kids (ok, easier on everyone) when we get up and just get out the door. I pack the car the night before with anything that we won't need in the morning. Prep the bento boxes, put together a cooler if it's a long trip, and get any last minute things together (there's always last minute things). In the morning, we wake up, wake the kids up, get them dressed and put them in the car and hand them breakfast. See? So much easier.
Road Trip Bag
This is my little road trip secret weapon. The special road trip bag gets packed full of new little toys or activities that the kids have never seen before. They don't come out until the road trip.

My oldest son loves Legos so on our last road trip, we found these fun little packets of Legos that were the perfect travel-size. Those went right in the road trip bag. For my daughter we went with things like these great sticker pads we found on Amazon. They're these reusable, puffy stickers that come in a kit with a glossy background. She can make different scenes and outfits and things like that on the background, over and over again. It's great! I think we bought like six of those.

Coloring books are also great options, or if your kids are older, you could even do travel board games. Oh, and snacks! Always snacks.
Have a Schedule
We really benefit from having a schedule when we're home, and for us, it makes family road trips easier, too. Things just seem to run more smoothly. It's not a super strict schedule or anything (again, vacation!). We'll just kind of outline the time in the car to break up the day a little. It might look something like…
7:00am – Hit the road, have breakfast in the car
9:00am – Snacktime
11:30am – Stop for lunch
12:30pm – Try for naps
We'll play some family road trip games in between, or they'll watch their shows, or play with toys, or whatever. For lunch, we like to find somewhere we can sit outside (like a park with picnic tables). That's really great because everyone can stretch their legs and get some fresh air, and you get to explore a little. It takes a little time away from driving, which makes the overall road trip a little longer. It's worth it, though. Not being cooped up in the car the whole time keeps everyone happy. The kids can run around and burn off some energy, and usually they'll be ready for a nap not too long after.

When it's nap time, we'll make a point to be really quiet. We turn on some of their lullabies that we use for them every night at home to calm them down. We also make sure to bring a blanket or a lovie or a stuffed animal or whatever their go-to comfort item is, so they can cozy up in their car seats and snooze. White noise sounds are another good option to play on the car radio during nap time. Usually the grown ups can still whisper over white noise more easily than over lullabies!
Happy Travels
So that's it! A little look at what goes into our road trips to help them go as smoothly as possible. Let me know if you use any road trip tricks of your own!

Happy road tripping!
Other Family-Oriented Posts You Might Enjoy
Fun Activities to Do While Your Kids are Home for the Summer
Our Favorite Family-Friendly Summer Recipes
Fun Ways to Keep Kids Learning Through the Summer